Show190
<< Floating Stones | Episodes | Devious Delinquent >>
#190: The Case of the
Festive Felon
Original Airdate: 11/28/63
From The Perry Mason TV Show Book (Revised)
Wealthy but dying Bebe Brent gives the bulk of her estate in the form of a cash gift of $1 million to her loyal nurse, Hetty Randall. This last act angers the remainder of the Brent clan and leads to a murder. Perry enters to solve the family dispute, dig up a few skeletons in the closet, and figure out who did it.
Jon Hall, formerly in television's Ramar of the Jungle, came out of retirement to film this episode.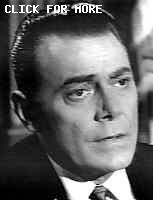 Opening
Starring Raymond Burr
in The Case of THE FESTIVE FELON
Based upon characters created by Erle Stanley Gardner
Barbara Hale, William Hopper, William Talman, Ray Collins
Trailing
Directed by Earl Bellamy
Written by Samuel Newman
Arthur Marks | Producer
Gail Patrick Jackson | Executive Producer
Jackson Gillis | Associate Producer
Samuel Newman | Story Consultant
Raymond Burr as Perry Mason
Barbara Hale as Della Street
William Hopper as Paul Drake
William Talman as Hamilton Burger
Ray Collins as Lt. Tragg
Wesley Lau as Lt. Anderson
Cast
Jon Hall as Max Randall
Sherry Jackson as Madeline Randall
Kathie Browne as Carla Eden
Anne Seymour as Hetty Randall
Jeff Morrow as Lawton Brent
Ray Stricklyn as Reed Brent
Gilbert Green as Chester Brent
Elisabeth Fraser as Eloise Brent
John Howard as Justin Grover
Nelson Leigh as Judge
Anne Barton as Bebe Brent
Michael Fox as Surgeon
Marshall Reed as Policeman
Louise Lewis as Mrs. Taylor
Uncredited Actors
Don Anderson as Courtroom Spectator
Bert Stevens as Court Clerk
Robert Wegner as Seated Bailiff by the window
Crew
"Perry Mason"
Director of Photography … Howard Schwartz, A.C.E.
Art Direction … Lewis Creber
Assistant Director … Robert G. Stone
Film Editor … Richard H. Cahoon, A.C.E
Casting … Harvey Clermont
Makeup … Irving Pringle
Hair Stylist … Annabell
Wardrobe Supervision … Ed McDermott, Evelyn Carruth
Set Decoration … Carl Biddscombe
Properties … Ray Thompson
Production Sound Mixer … Herman Lewis
Script Supervision … Marashall Schlom
Theme Composed by … Fred Steiner
Perry Mason
Produced by the CBS Television Network in association with Paisano Productions
Sherry Jackson makes her only Perry appearance here as Madeline Randall. Sherry Jackson's best-known role was as Danny Thomas' daughter Terry Williams for 104 episodes of Make Room For Daddy. Submitted by PaulDrake 33, 29 September 2009.
+ Both Sherry Jackson and Kathie Browne would make memorable (at least from the male point of view) appearances in Star Trek. Submitted by 65tosspowertrap, 11/27/2013. P.S. Happy Thanksgiving.
++ Agreed! Sherry was Android Andrea in "What Are Little Girls Made Of? ['66]" & Kathie was Deela in "Wink of an Eye ['68]" [IMDb]. Mike Bedard 3.5.15.
Ray Stricklyn, who played the beloved - and perhaps relative: see below - of Sherry Jackson('s character) was in fact 14 years her senior. Fortunately he had enough of a baby face so as to not interject 'age difference' into their already troubled relationship. Notcom 052419.
+Ray Stricklyn and Elisabeth Fraser also appeared in TCOT Bashful Burro. Submitted by Steve Fox, 2/5/2023
Once again, Lt. Tragg (Ray Collins) appears only in the billing. Submitted by gracenote, 2/24/2011.
Nelson Leigh Judged 9 Perrys & 2 FBIs [IMDb]. Mike Bedard 3.4.15.
Sightings: Two favorite frequent faces appear in the courtroom gallery today: Distinguished Gentleman #1 and Little Old Lady #1. Submitted by gracenote, 2/24/2011.
+We find the Quiet Old Man #1 seated in the back row behind Burger. Submitted by BigBill767, 6/17/2016.
The Curious Coffee Set makes an appearance at Perry's office. Submitted by gracenote, 8/3/2011.
Marshall Reed, as "Policeman", gets just one line in this episode. At the burning house, in answer to Madeline's ". . . in the house, there's a man!", Policeman says "No lady . . . there was a man." In the preceding episode TCOT Floating Stones, Reed, as the Fisherman, also got only one line: "Here it is, catch." (the little package). Policeman's grim response to Madeline seems more in character with Reed's normal tough-cowboy roles. Added by Gary Woloski, 3/18/14.
+ In this story the Policeman had more lines. He appeared as a witness in court. Added by H. Mason 3/5/15
CARS. At 20:20 Policeman's Car (1) rushes to the fire with siren wailing passing background Car (a):
(1) 1957 Ford Custom Fordor Sedan B&W with "POLICE" on door and 1963-pattern Black-Plate, possible Lic No (Exempt) E 5233.
(a) 1955 Simca Aronde 1300 Coupé de Ville, white body w/ black roof is parked at roadside and passed by Car (1). What a Beaut! Ride the French countryside in one of these on youtube (13:30, all-round viewing of car in last 45 secs). See the Witkin-Wolf "driving holiday" ad aimed at school-teachers, top of page 2 of the Los Angeles School Journal, April 26, 1955. More on Simca Aronde in Ep#51 Comments.
There are two other shots showing minor background cars:
The shot with the police car at 20:20 is a bit odd. The black-plate indicates that this is not reused footage filmed before 1963. Yet they didn't use one of the two '63 Ford Galaxie TV/movie police replicars that have been used exclusively since ep#169, instead opting for what I believe is an actual ex-LA County Sheriff cruiser of 1957 vintage (roof equipment is correct). Did Marshall Reed (playing the Policeman) show up with this car? In ep#189 he came in a boat. Added by Gary Woloski, 3/18/14.
This is the second of three PM directing credits for prolific television director Earl Bellamy, who directed 82 episodes of Bachelor Father...MikeM. 12/22/2016
This is the third of four PM appearances for Kathie Browne, who also appeared in three episodes of "Ironside"...MikeM. 3/30/2017
This is the first of two PM appearances for Anne Seymour, whose show business family traced their theatrical roots back to Ireland in the 1700's...MikeM. 4/19/2018
The Felony Murder Rule after a long period of laying low has recently been in the news in California (although if my reading of the recent changes is correct, they would not have impacted Madeline's prosecution.) Notcom, 052419.
Comments

Edit
The title here seems like a comparatively poor choice, despite the nice alliteration. None too informative or indicative of the plot! Submitted by Ed Zoerner, 6/12/09.
+ Better titles would be TCOT Fraudulent Family or Conniving Clan. Mike Bedard 3.4.15.
++ Who was the titular Felon anyway? submitted by DyNama, 3/6/2015.

Raymond Burr as adversary of "Mason"? After viewing this episode on MeTV, I switched over to TCM and caught the end of "Maru Maru" (1952) starring Errol Flynn as Gregory Mason and RB as Brock Benedict. RB initially works in a possibly criminal enterprise with Gregory Mason, but they end up as enemies. Wikipedia says that RB's weight had dropped from 300 to 175 before he was signed for the role...MikeM. 12/22/2016
Despite the ludicrous title, an entertaining episode with several interesting points on inheritance law. Potentially everyone who knew of the check and denied such knowledge could face a charge of attempt to defraud. DODay 12/27/17

Madeline Randall is Bebe Brent's daughter. Reed Brent is Lawton Brent's son. Bebe and Lawton are brother and sister. How could Madeline and Reed marry being first cousins? Why wasn't Madeline's father, Max Randall, persistent that they don't marry? Submitted by Dreamrider 12/22/16
+ Great point to bring up. Legality of first cousin marriages varies by state. It is legal in some states, banned in others, and a criminal offense in some. Of those states that ban it, some states extend recognition of such marriages provided they were legally performed in a state that permits it, and some states will not recognize such marriages within their borders no matter where they were performed. California currently permits first cousin marriages. This link will take you to a current map, which is only suggestive of what the laws may have been in the 1960s: https://en.wikipedia.org/wiki/Cousin_marriage_law_in_the_United_States_by_state Submitted by catyron, May 23rd, 2018
+ The family relationships are confusing, but Bebe Brent was not a blood relative of the Brents. She was married to Lawton and Chester's deceased brother, Philip Brent. Madeline is Bebe's child by Max Randall. She and Reed are not cousins and have no blood relationship. I hope they got married, reinvested the money in the family business, moved Max and Aunt Hetty in with them--and never invited greedy Chester and sleazy Eloise to any family holiday dinners! Submitted by JazzBaby, 4/17/2019.
++ Actually, legally they are first cousins as a child born during the term of a marriage is legally the child of the husband, even if the husband is physically unable to father a child or had no access to the mother during the time of conception. Since Bebe Brent was legally still married to Phillip Brent when Madeline was born, Madeline is Phillip's daughter and, therefore, Reed's first cousin. jfh 23May2019.
<< Floating Stones | Episodes | Devious Delinquent >>