Show188
<< Reluctant Model | Episodes | Floating Stones >>
#188: The Case of the
Bigamous Spouse
Original Airdate: 11/14/63
From The Perry Mason TV Show Book (Revised)
Felton Grimes doesn't have both oars in the water, or so his wife's best friend, Gwynn Elston, thinks. It seems that the oddball Felton is often out of town on business, so much so that his wife Nell has asked Gwynn to move in with her. Gwynn does so and soon likes her new home and her job selling encyclopedias door to door.
But she doesn't like Felton. When he's home, he's constantly trying to put the move on Gwynn. One day on the job, Gwynn is astonished to see Felton's picture in someone else's house. Not only that, but to the Gillette family, Felton Grimes is Frank Gillette, husband and father. Then Felton, or whatever his real name is, tries to poison Gwynn. It's a close shave, but she survives. She sees Perry for advice. It's a good thing, too. Because when Felton is found shot to death, the police arrest Gwynn for the crime.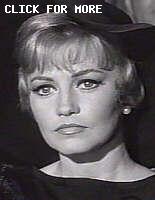 Opening
Starring Raymond Burr
in Erle Stanley Gardner's
The Case of THE BIGAMOUS SPOUSE
Barbara Hale, William Hopper, William Talman, Ray Collins
Trailing
Directed by Arthur Marks
Teleplay by Jackson Gillis
Art Seid | Producer
Gail Patrick Jackson | Executive Producer
Jackson Gillis | Associate Producer
Samuel Newman | Story Consultant
Raymond Burr as Perry Mason
Barbara Hale as Della Street
William Hopper as Paul Drake
William Talman as Hamilton Burger
Ray Collins as Lt. Tragg
Wesley Lau as Lt. Anderson
Cast
Pippa Scott as Gwynn Elston
Patrick McVey as George Belding Baxter
Karl Swenson as Corley Ketchum
Michael Conrad as Felton Grimes
Allan J. Melvin as Carl Jasper
Jacqueline Loughery as Nell Grimes
Charles Irving as Judge
Claude Stroud as Bolton
Betsy Hale as Little Girl
Ann Mitchell as Mrs. Gillette
Jim Drum as Plainclothesman
Uncredited Actors
Lee Miller as Sgt. Brice
Don Anderson as Courtroom Spectator
Crew
"Perry Mason"
Director of Photography … Howard Schwartz, A.S.C.
Art Direction … Lewis Creber
Assistant Director … Gordon A. Webb
Film Editor … Al Clark, A.C.E
Casting … Harvey Clermont
Makeup … Irving Pringle
Hair Stylist … Annabell
Wardrobe Supervision … Ed McDermott, Evelyn Carruth
Set Decoration … Carl Biddiscombe
Properties … Ray Thompson
Production Sound Mixer … Herman Lewis
Script Supervision … Marshall Schlom
Theme Composed by … Fred Steiner
Automobiles Supplied by … Ford Motor Company
Modern Furniture Settings courtesy of … John Hall Originals, Malibu, California
Perry Mason
Produced by the CBS Television Network in association with Paisano Productions
Michael Conrad makes his only Perry appearance here playing the title role. Even though Mr. Conrad would act for 30 years on television, it would be his final role as Phil Easterhouse on Hill Street Blues that would bring him his greatest fame and two primetime Emmys. Sadly Michael Conrad would die during the run of Hill Street Blues in 1983 at the age of 59. "You all be careful out there." Submitted by PaulDrake 33, 29 September 2009.
Allan Melvin appeared in 2 other Perrys - TCOT Sausalito Sunrise & Careless Kitten - 2 Lost In Spaces & 8 Dick Van Dykes, often as Rob Petrie's Army Buddy [IMDb]. Mike Bedard 3.3.15.
Allan Melvin would also be known to many as Sam the butcher, Alice's boyfriend on The Brady Bunch. From IMDb, Melvin also did lots of cartoon voice work in the last decades of his career. Bob Brown, 27 Dec 2017.
Claude Stroud from Kaufman, Texas, played many roles on TV and in the movies, including the piano player who tired of playing Liebesträume at the dinner party thrown by Margo Channing in "All About Eve". jfh 25Sep2017.
Uncredited Actors: At the crime scene, Sgt. Brice (Lee Miller) consoles Mrs. Gillette. Don Andeson watches events at the evidentiary hearing with great interest. Submitted by gracenote, 2/18/2011.
Sightings: In the background, the Thin Man is busy taking pictures of the car at the crime scene. Showing up in the courtroom to watch Perry in action is the Quiet Old Man #1. More here. Submitted by gracenote, 2/18/2011.
+ Distinguished Gentleman #1 can be seen in the back row on the prosecutor's side of the court when Burger is questioning Mrs. Grimes. In addition, there are several People of Color among the spectators, including the African-American Couple. Submitted by JazzBaby, 4/14/2019.
++ Still hoping to get Rudolph "Rudy" Salinger a.k.a. D.G. #1 a series of "Uncredited" appearances at IMDb.Submitted by catyron, August 12th, 2021.
Pulp Westerns. While waiting in the ol' RanchHouse, Perry looks through a stack of old magazines, holding one up conspicuously so that the camera gets a good shot of the cover. It's a "Pulp Western" magazine, RANCH ROMANCES - Love Stories of the Real West (first issue Sep 1924, last Nov 1971 - "The Last of the Pulps"). The one that Perry holds up is the second issue for Aug 1942 (vol 108, #1), shown here. More about the series here. Checklist here or here. Later in this episode there is a dialogue reference to the Pulp Westerns in the ranch-house. Submitted by Gary Woloski, 6 Dec 2011.
The Cheviot Drive Address. At 49:00 (DVD) Perry displays Gwynn's "Prospects List". Above the "Gillette" entry is one for " Mr. & Mrs. Raymond S. Thompson " including their full address on the 10400-block Cheviot Drive. This is the same "Ray Thompson" credited for "Properties" throughout the PM Series from Ep#1 to Ep#271! See this page for Raymond Samuel "Ray" Thompson.
That real-world Cheviot Drive address previously appeared on Automobile Registration forms in Episodes 9 (for character John Addison), 68 (for Edward Garvin), 95 (for Donald J. Evanson) and 169 (for Constant Doyle, truncated to 104 Cheviot). It seems likely that the Cheviot Drive address on the Prospects List was Ray Thompson's real home address.
Props were Ray Thompson's job and they all passed through his hands. He was surely involved with the Automobile Registration pranks (eg, the studio address entries on them) and was almost certainly in cahoots with Richard Cahoon & Lewis Creber on these & other gags such as ep#145's Ledbetter promotion and ep#183's Dixon/Delacourt sign. Gary Woloski, 2/13/14.
+ Thank you, Gary, for solving this mystery. The only thing I have to add is that Ray Thompson's credit was for "properties" and the Cheviot Drive address was literally his property! And what a property it is. As I write this, the house at 10460 Cheviot Drive, a charming Tudor home built in 1939, is for sale with an asking price of well over a million dollars. It is not a mansion by any means, just a very sweet home on a nice lot, with beautiful old hardwood floors, a nifty staircase, built-in bookcases, two fireplaces, exposed-beam ceiling rafters, mature landscaping, and just about everything you could ask for in a house of its era. See the listing here. Added by catyron, 6/21/18.
The police officer called "Evans" by Andy, who his holding the gun on a pencil (or something), seems to look into the camera for a brief second as he is speaking to Andy, just before Paul approaches. Also, he may be Jim Drum, listed as Plainclothesman, since there is no one actually listed as "Evans". Submitted by mesave31, 04/21/15.
Gynne enjoys breakfast with the Grimeses, who serve coffee from Curious Coffee Set. Mrs. Grimes uses it another morning as well. Submitted by gracenote, 8/3/2011.
Can one of our motor vehicle experts tell us about the great coupe Michael Conrad's characters were driving? It looks like some sort of Buick Riviera - customized to fit his newfound affluence. JohnK, 29 October 2015
CARS. (1) Gwynn's light-colored 1963 Mercury Meteor 4-Door Sedan, Licence No GZW 468. This was a relatively uncommon car in the USA: the Meteor thudded (Laurence Jones photo article).
(2) At 10:53 Gwynn finds a shark-like white-bodied car, Licence Number DEM 265, at the edge of the Baxter estate. On the registration form she reads that the owner is Frank Gillette, 8243 Rosetta. It's a customized 1963 Buick Riviera. At 17:35 & 18:10 compare the views to the 2nd photo down here and the 3rd photo down on right here. See "Frank Gillette's Car" in Comments for more on this unique George Barris custom "Villa Riviera" Buick.
Baxter's front yard becomes a police crime scene at 18:00. Seen along with Car(2) are:
At 32:06, in front of LA County Courthouse it's the old Season 6 shot showing Paul's TBird behind:
Background Cars. As Gwynn approaches her first sales call of the episode (2:36) she passes:
After a fade-out for a commercial break at 40:25 (DVD) the location is reset by a view of the County Courthouse from the other side of Hill Street. I don't recall seeing this shot in any previous episode. The cars are:
Added by Gary Woloski, 2/20/14.
at the Baxter mansion is shown in a B&W photo at this link; scroll to the fourth photo from the bottom. The photo shows the set, crew, cast and Cars (2)-(6) [(6) mostly obscured by a tree]. On the Right, to the rear of the ambulance, it looks like they've left Michael Conrad stretched out under the sheets wearing a suit & tie, sweltering under the hot mid-day sun while they've gone on to film the rest of the scene. Such is the life of an actor!
The photo with caption was published on page 78 of the book Barris TV & Movie Cars, Chapter 4 "For Those Who Think Young". The caption would have been written by Barris or an associate, which explains why the 2nd sentence of the photo's caption is erroneous. An alternate link to the photo is given in the Comments section, "Frank Gillette's car". Added by Gary Woloski, 2/24/14.
This is the only PM appearance for Jacqueline Loughery, who was Miss USA in 1952...MikeM. 12/20/2016
+ Not only was she "Miss USA in 1952", she was the first Miss USA!
+ According to IMDB, Ms. Loughery is still alive, at 91. And so is Pippa Scott (see below) Rick P 12/16/21

According to Wikipedia, Barbara Hale's children were born in 1947, 1951, and 1953. Betsy Hale, a child actress in this episode, was born in 1949, which would fill a Hale inside straight. Unfortunately, I can't find any information about any relationship between Betsy and Barbara Hale...MikeM. 12/20/2016
+ As "Hale" is Barbara's stage name, this is likely merely a coincidence; see below under "Comments" for further discussion of this. OLEF641 6/17/21
This is the first of two PM appearances for Pippa Scott, whose mother was an actress and whose father was a screenwriter...MikeM. 3/28/2017
+ According to IMDB, Ms. Scott is still alive at 86. Rick P 12/16/21
This is the third of three PM appearances for Claude Stroud, whose twin brother, Clarence, is the father of actor Don Stroud. Don Stroud began his acting career on an episode of Ironside in 1967...MikeM. 4/17/2018
Comments

Edit
Alas, we have no Ray Collins (Lt. Tragg) today, even though his name appears in the credits, more than likely because of his health. Submitted by gracenote, 8/3/2011.
+ Between Burger and Tragg, there were an awful lot of missed episodes. That's really a shame, because they are adamant yet respectful foils to Our Hero. And I am knitting a "gracenote" shawl. Submitted by cgraul, 1/20/2012.
This is another episode where we see someone's vehicle registration attached to the steering column for anyone to see. Would anyone know if that was the law in California at that time? Submitted by 65tosspowertrap, 11/25/2013.
+ Yep! At the time Perry Mason was filming it was required to attach your registration to the steering column. They even sold leather holders (kinda like a luggage tag) that attached with a couple of metal springs that wrapped around the steering column. Submitted by Lynne, 3/25/2015.
Powerful Pippa: A great episode. I don't know any of the other work of Pippa Scott (Gwynn Elston, our heroine) but I think she shows great energy in her acting. It also helps that it's a "genuine" Perry Mason story by ESG with those twists in Bakersfield. Michael Conrad was on his toes, too. Last, is Betsy Hale - who played the little Gillette girl - the daughter of Barbara? IMBD does not specify. JohnK, 29 October 2015.
+ According to wikipedia, her daughters were named Juanita and Jodi. Of course, her son, William Katt, played Paul Drake in the movie series. Submitted by Perry Baby 8/25/15
++ It is highly unlikely that Betsy is Barbara's daughter. Barbara's "real-life" surname was Katt, the birth name of her husband, who acted under the name Bill Williams. It seems likely a daughter might have been credited under her actual name, as their son, William Katt, was when he began his career in 1970. He went on to play Paul Drake Jr. for the first nine Perry Mason TV movies; he is still acting as of 2021 (age 70) according to IMDb. OLEF641 6/17/21
Frank Gillette's car is the one-of-a-kind Buick Villa Riviera, decked-out in white paint and without bumpers, the same as it was for the 1964 movie For Those Who Think Young. The car was transformed from a 1963 Buick Riviera by L.A. car-customizer George Barris, builder of Cars of the Stars (& the Batmobile!). Modifications to incorporate what Barris called "the latest in European design concepts" included a lengthened body, a removable roof section (not yet called a targa top) and relocation of the headlights from the grill to the front wings behind the fixed (non-opening) visors. apparently liked danger, drawing attention to himself by driving this unique car around L.A. in either or both halves of his double life!
The car's part in For Those Who Think Young is recounted here in Chapter 4 of the book Barris TV and Movie Cars, pages 76-80. The Villa Riviera has been painted red, white or blue (but not all at the same time). After appearing in Perry Mason and For Those Who Think Young the car received bumpers and red paint before appearing in The Outer Limits The Duplicate Man (aired 19 Dec 64, note the headlights ON behind the covers). It wasn't long before the Villa Riviera's hidden-headlight styling appeared on the standard production 1965 Buick Riviera: see "+" immediatly below. Added by Gary Woloski 12/8/11, revised 2/27/14.
+ A dark-painted car with hidden headlights and an apparently identical front end to the Barris '63 Villa Riviera is shown in a long approach shot in Episode #258 TCOT Vanishing Victim. What we see of the side profile says "Buick Riviera" as well. However, the car is not Barris' customized '63 Villa Riviera; it is actually an unmodified 1965 Buick Riviera! When Buick was designing the new Riviera line for introduction in 1963, the intention was to have hidden headlights but they were unable to engineer the innovation in time (the '63 & '64 Rivieras had the headlights exposed on the grill). It wasn't until the '65 model that Buick had a solution to conceal the headlights: read the story here. See 32sec video of the '65 "Clamshell Headlights" here. Added by Gary Woloski, 12/29/11.
++ My grandfather owned a 1965 Riviera Gran Sport. Although I was only ten when he died, I was old enough to appreciate that amazing car. Incredibly, when he died neither of his two adult sons wanted the car; it was sold! Submitted by 65tosspowertrap, 11/6/2013.
+++ Correction: At our Thanksgiving feast my cousin told me that her father did indeed keep the car. That makes me feel better. Submitted by 65tosspowertrap, 12/18/2013.
++++ Lucky You! The more I look at them, the more I think that the '63-'65 Rivieras are the best-looking U.S. standard-production cars ever made. And the '65s are the best of the lot! GSW, 2/28/14.
The case of the B surnames: We have Belding Baxter in this show and the exterior shot of the mansion looks very familiar. Submitted by Perry Baby 8/25/16
A Confederacy of Pitkins: Reporting his investigative findings to Perry, Paul comments that Frank Gillette's father had a "rather unusual name"--Gorman Gillette. Unlike, one supposes, some of the other characters in the episode: Felton Grimes, George Belding Baxter, and Corley Ketchum. Submitted by BobH, 29 October 2017.
Another episode in which the traditional court interior bears no relation to the modern exterior. The only episode I recall in which Perry's client takes the stand. In keeping with the tradition of alliterative titles, this one should be called "TCOT Bigamous Blackmailer". Perry's questioning of Mrs. Gillette about the attempted poisoning of Gwynn is odd. Why should she know anything about that? In my opinion, one of the best, most neatly plotted episodes, with some great performances and directed with a bit more flair than usual, although I do wonder what TV detectives would do if folks didn't put their initials on everything. DOD 01/20/20
TCOT Smart Remarks: This episode is notable in that it contains several extra-funny asides as part of the dialog -- one from Gwynn, another from the caretaker, and a third from Paul Drake. It's from a "genuine" ESG story, although I don't have a copy and don't know if they are in the original. Or maybe the script writers were just inspired. JohnK, 23 August 2018
Testy Drake After Drake returns from the murder scene to Perry's office, Drake tells Perry to never send him to retrieve evidence from a crime scene "again." I have never seen Drake scold Perry like that. He was obviously peeved. Drake was probably concerned about losing his license or worse. Perry just explains that Drake would not be liable since Drake didn't know it was a crime scene at the time. Legal response of course. Rick P 12/16/21

Mason's cross-examination questions to Baxter keep getting objected to. One question that Mason -could- have asked during the cross-examination (and was the point of his questions) would be about Baxter's name, since Baxter would have to have sworn in and identified himself by name. He could have asked "You identified yourself as 'Baxter,' but were you always known by that name?" Although it was pointless to cross-examine him then, since he was going to be called later as Mason's witness and Mason could have asked him anything. --yelocab 03JUN19
Mason also asked Gwynn, on the stand, "Who could have had your compact?" but that should have been objected to as speculation. --yelocab 03JUN19
Gwynn didn't notice that one address on her list was typed in a completely different font? and that address was where she saw the photo of the bigamist. --yelocab 03JUN19
> I don't think it's so much she wouldn't notice as it wouldn't mean much: nowadays personal computers and printers make it easy to edit things, and reprint them whole, but when this was produced I'm sure ad hoc revisions - to original documents - were commonplace. (Even in the 1980's, in the early days of word-processors, I can remember an instructor telling my team he liked our paper because it looked professional.."a lot of them you could see had been typed on three different typewriters!") Nostalgically, Notcom 061721.

Another Indulgent Client Not only does Nell let her friend Gwynn be falsely accused of the murder, Nell also plants the compact to frame Gwynn. Gwynn's response when her "friend" Nell is exposed? "Poor Nell!" Good grief. Rick P 12/16/2021
<< Reluctant Model | Episodes | Floating Stones >>