Show258
<< Midnight Howler | Episodes | Golfer's Gambit >>
#258: The Case of the
Vanishing Victim
Original Airdate: 01/23/66
From The Perry Mason TV Show Book (revised)
Dr. Stacey Fielding is supposed to be flying his own plane to Salt Lake City on business. Monkey business is suspected when the plane crashes and the body is found with Veronal poisoning. His wife Miriam is arrested for murder since the last thing Stacey drank was whiskey from a flask she had given him.
But Miriam is cleared when Perry contends the body has not been positively identified as her husband, and Perry's second guess as to who the body is is also incorrect, causing her to be rearrested. To prevent her from being put on trial a third time, Perry has to solve the mystery.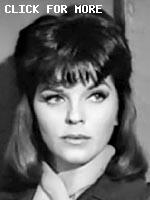 Opening
Starring Raymond Burr
in Erle Stanley Gardner's
The Case of THE VAINISHING VICTIM
Based on The Case of the Fugitive Nurse
Barbara Hale, William Hopper, William Talman
Trailing
Directed by Harmon Jones
Written by Ernest Frankel & Orville H. Hampton
Arthur Marks \ Art Seid | Producers
Gail Patrick Jackson | Executive Producer
Ernest Frankel | Story Consultant
Orville H. Hampton | Associate Story Consultant
Raymond Burr as Perry Mason
Barbara Hale as Della Street
William Hopper as Paul Drake
William Talman as Hamilton Burger
Richard Anderson as Lt. Steve Drumm
Dan Tobin as Terrence Clay
Music | Richard Shores

Cast
Lisa Gaye as Laraine Keely
Jeanne Cooper as Miriam Fielding
George Wallace as Stacey Fielding
Richard Erdman as Jud Bennett
Russell Arms as Reed Kavanaugh
John Matthews as F.A.A. Investigator
S. John Launer as Judge Telford
John Goddard as Al Dolby
Carl Prickett as Operations Clerk
Carol Brewster as Ruth Kavanaugh
Tom Vize as Process Server
Lee Miller as Sgt. Brice
Glen Vernon as McGill
Uncredited Actors
Don Anderson as:
Police Officer
Courtroom Spectator
(spotted by FredK, 12/24/2010)
Crew
Director of Photography … John M. Nickolaus, Jr.
Art Direction … Lewis Creber
Assistant Director … Robert G. Stone
Film Editor … Richard W. Farrell
Casting … Harvey Clermont
Makeup … Irving Pringle
Hair Stylist … Annabell
Wardrobe Supervision … Bob Wolfe, Evelyn Carruth
Set Decoration … Carl Biddiscombe
Properties … Ray Thompson
Production Sound Mixer … Herman Lewis
Script Supervision … Marshall Schlom
Theme Composed by … Fred Steiner
Automobiles supplied by … Ford Motor Company
Perry Mason
Produced by the CBS Television Network in association with Paisano Productions
Location: About halfway through the episode Perry and Paul go to the Burbank Airport and you can see the exterior of the terminal and parking lot. I confirmed this with Les Copeland, president, of the Burbank Aviation Museum. Burbank Airport is now called Bob Hope Airport and is also featured in episodes #39, 99, 165, and #220. Posted by Eric Cooper, 25 September 2009. Some pictures here.
+ Note that over the main entrance it says "Lockheed Air Terminal". At the time of filming this was still the name of the airport. Interestingly enough, though long known colloquially as "Burbank Airport" that has never been its legal name.
Though apparently still legally Bob Hope Airport as of 2021, it was re-branded in 2017 as Hollywood Burbank Airport, with even their website, hollywoodburbankairport.com, using that designation. Over the course of its existence BUR has had seven different names, being called United Airport when it opened in 1930. OLEF641 9/15/21
> BUR seems to be a remarkably vivid example of an airport where urban growth has pushed development up to the very legal/functional limits (compared to something like DEN...which occupies a space the size of a small state) Historic aerials indicate this process predated the show, but still it would have been interesting to view it from the ground. Unfortunately, PM seems to have not made it much beyond the parking lot. Lamented by Notcom 091521.
+++ When the airport was founded in 1930, the San Fernando Valley was mostly farmland -- and commercial airplanes were much smaller. It was WWII that converted the SFV from farmland to suburbia, Most of the development in the immediate vicinity of the airport is industry of one sort or another, and the process was complete by the time of the filming.
Every few years another kerfuffle breaks out over aircraft noise under the landing pattern, but I'm afraid I have no sympathy for the complainants; it's not like the airport and its traffic weren't already there when the complaining residents moved in!
LAX is similarly "built up around", but take-offs, which are noisier than landings, go west towards the ocean. There used to be a residential neighborhood between that airport and the ocean, but some time ago all the properties were purchased and the houses torn down. OLEF641 9/23/21
While the later scenes were filmed at Burbank Airport, I believe the earlier airport scenes were filmed at Whiteman Airport, a general aviation field nearby. Burbank is a commercial airfield and the type of aircraft seen tied down in those earlier scenes doesn't fly out of there, as a rule. OLEF641 9/23/21
Jeanne Cooper makes her final of 5 appearances here on Perry playing Miriam Fielding. Since 1973, Ms. Cooper has been essaying the role of matriarch Katherine Chancellor on the daytime drama The Young And The Restless. She is probably most famous, however, for being the mother of Corbin Bernsen. Submitted by PaulDrake33, 10/27/2009.
This episode of Perry Mason (TCOT Vanishing Victim) and the first season episode TCOT Fugitive Nurse (#22, 1.22) are both based on the same Erle Stanley Gardner novel titled The Case of the Fugitive Nurse. So this current episode is often considered to be a "re-make" of the first season episode TCOT Fugitive Nurse. See repeated episodes here. Submitted by Charles Richmond, 26 April 2013.
Uncredited Actors: This episode is another three-timer for Don Anderson. In the first trial of Mrs. Fielding, he's seen as spectator leaving the courtroom after the dismissal. Mid-episode he appears as a uniformed policeman at the airport standing behind Burger and Drumm as they escort Kavanaugh off the plane. Finally, in the last trial, he's a spectator in the front row behind the defense table. This time he wears the dark-rimmed spectacles he's been using in the latest episodes. Submitted by FredK, 24 December 2010.
Sightings: Turning up at the first evidentiary hearing are Quiet Old Man #1 and Little Old Lady #1. In the second hearing they are joined by "Miss Carmody." Read about these and other regulars here. Submitted by gracenote, 6/1/2011.
Continuity Error: The Little Old Lady mentioned above magically teleports from one side of the courtroom gallery to the other depending on the shot. Submitted by gracenote, 6/1/2011.
Miriam's Muscle Car. Soon after the flying mishap, Miriam arrives at the airfield driving a dark, full-size, fast-looking car (Lic No MGZ 035). The car's sharp, swept-back lines and the absense of visible headlights look identical to those features of the one-of-a-kind George Barris "Villa Riviera" which appeared in 1963's Mason episode #188, TCOT Bigamous Spouse. It is not, however, the same car. Miriam's is an unmodified, standard-production 1965 Buick Riviera. 1963 & '64 Rivieras had conventional headlight placement but for 1965, Buick introduced Clamshell Headlights; see the Clamshells operate here (12 sec video). For more details see "Frank Gillette's Car" in the Comments at Episode #188. Submitted by Gary Woloski, 29 December 2011.
Lisa Gaye makes her final of 7 appearances on Perry Mason playing Laraine Keely. Submitted by Perry Baby 1/12/14.
Deja Vu: If the plot device seems somewhat familiar, it is because the "faked death via airplane crash" had been previously used in TCOT Frantic Flyer in Season 3. Submitted by cgraul, 1/10/2012.
+Deja ReVu. It also bears more than a little similarity to the Second Season Premier TCOT Corresponding Corpse, including the most obvious of all: in both Jeanne Cooper plays the non-victim's wife. Added by Notcom 071117.
This is the only PM appearance for Carol Brewster, who recovered from a bout with polio in the 1950s...MikeM. 3/28/2017
This is the 32nd of 33 times S.John Launer judged a PM episode. According to IMDb, Launer's last career role was as a judge on the 1987 television movie "Billionaire Boys Club"...MikeM. 4/3/2018
This is probably one of the few PM episodes where the word "Vietnam" is spoken. Ruth Kavanaugh tells Paul that her husband had been called back into the Air Force, and that he had served in World War II, Korea, and now, Vietnam...MikeM. 4/3/2018
Continuity: The plane being (supposedly) flown by Stacey Fielding is not the same plane that was being worked on by Al Dolby in the opening sequence. Kilo 8/8/2019.
Comments

Edit
I thought this was one of the better episodes (tight directing, fast pace) despite having a few plot holes (like why the mechanic was not missed or interviewed). I wonder when the rules of discovery (prosecution and defense sharing information) was active given Hamilton Burger withholding witnesses, etc. Submitted by Perry Baby 1/12/14
+ I don't know about all the other remakes, but this remake was rated slightly higher by IMDB reviewers than the original "Fugitive Nurse." I like them both a lot, but give the nod to this one. It is more intense and dramatic. Rich P 10/25/21
I liked the Scene where Paul Drake's operative, posing as a press photographer at the airport, served a Defense SUBPOENA on Burger's witness - with the DA at his side! "Subpoena" comes from Latin words meaning "UNDER PENALTY," Amendment 6: "In all criminal prosecutions, the accused shall enjoy the right...to have COMPULSORY PROCESS For Obtaining Witnesses In His Favor." Mike Bedard 3.3.15.
Laraine Keely's apartment set was seen in the previous episode, 'Midnight Howler', and just a few shows ago in 'Silent Six'. We get a good look at Della's odd filing system - eight individual drawers for the letters 'I' through 'P'. Questioning Drumm regarding the many sets of fingerprints on the flask, Perry never suggests that any one of those people could have spiked the whiskey. Drumm can't make up his mind whether to pronounce Los Angeles with a hard or sift 'G'. DOD 04/02/18
"Morgue" was the "name of [a] Building in Paris housing Dead bodies not Identified" (Webster's Unabridged Dictionary). Mike Bedard 3.3.15.
"[Ancient] Fingerprint History: Prehistoric picture writing of a hand with ridge patterns was discovered in Nova Scotia. In ancient Babylon, fingerprints were used on clay tablets for business transactions. In ancient China, thumb prints were found on clay seals. In 14th century Persia, various government papers had fingerprints (impressions) & 1 official, a Doctor, observed that No 2 fingerprints were Exactly alike (US Marshals Service For Students website). Mike Bedard 3.3.15.
At the time of the '66 episode, there was a Federal Aviation AGENCY created in 1958; in 1967, the Federal Aviation ADMINISTRATION was placed in the new Department of Transportation (FAA website). Mike Bedard 3.3.15.
I had to edit the summary to remove a fact actually only revealed in the last 2 minutes of the episode. That's a spoiler! Submitted by DyNama, 3/3/2015.
Speaking of editing, the entire first scene at the airport is cut from the MeTV version. It's shown in the FETV version. I wonder what scenes were cut from the latter? Certainly not the shower scene.LOL My satellite subscription broadcasts both channels, so I get a total of six episodes a day, morning, afternoon, and night. One of the few shows worthwhile to watch, even multiple times. Someday, I'll get the DVD series. Joe B. 05/26/2022
+ Be sure to check to also check your lineup for Sundance TV which airs 5 PM episodes Thursdays beginning at midnight CT and again Friday AM, 2 episodes at 3AM CT. jfh 13Sep2022

Lisa Gaye is stunning here! Submitted by DyNama, 3/3/2015.
+ She's beautiful when she's angry. JohnK, 21 November 2015
+ + She is also clever using the same tactic Perry did with the defendant, the old slipping out the back door/window trick when Perry visits her apartment. Submitted by HamBurger 07/01/2017
When Perry and Paul see a picture of Loraine (Lisa) for the first time, they both describe her as "nice" and then we had the gratuitous shower scene with her. Interesting how she was in the shower with the door closed, possibly behind a closed bedroom door, with the record player on with music, and somehow she heard Perry knock on the front door and told him to come in. She has great hearing and trusting. Submitted by Perry Baby 1/24/17.
+ Yes, Lisa as Loraine displays many fine qualities. Nevertheless I am troubled by the music Loraine is listening to in the gratuitous shower scene. Lisa starred in the trailblazing 1956 film Rock Around The Clock as the principal dancer for Bill Haley's Comets, as well as some other early rock movie classics, and would never listen to such dopey stuff. JohnK, 23 February 2018
+I am much more troubled by Perry's inappropriate behaviour in that shower scene. He has pulled the same stunt many times, intruding into a woman's apartment, startling her, and forcing her to talk to him, but this was the creepiest version of it yet. He could have called out to her and given her a chance to dress, but no...he prefers to come across as a sexual predator! Ugh. I guess it was just another excuse, typical of these late seasons, to let the viewers ogle a semi-naked woman. Oh, the "liberated" Sixties! Submitted by JazzBaby, 6/24/2019.
+ Indeed it was creepy. The shots were so far up her leg you can briefly see the edge of her bathing suit, at least in the IMDB version. Rich P 10/26/21
Interesting to see some addressed envelopes in this episode without zip codes. I would have thought they'd have been in use by the time this was filmed.
+ Yes, zip codes came along in 1963, accompanied by the two-letter state-codes (CA for Calif, PA for Penna). The system only became mandatory, however, in 1967, and then only for bulk commercial mail. People who has printed non-zip return addresses on their stationery were allowed to use up their supplies, however, and the White House did not add the zip code to their own address until 1971. As late as 1973, the Post Office was issuing a 10 cent first class stamp that urged people to use zip codes, because even after a decade, the digitization system was unpopular with the public. Submitted by catyron, August 3rd, 2018
+ Several of the envelopes only had name, street, and "L.A." Not even the state. I guess that was ok with intra-Calif mail; otherwise would be a monster to sort. Rich P 10/26/21

Early in the episode, Al Dolby (the mechanic) unwraps a stick of chewing gum, and casually tosses the wrapper on the floor. As Jud Bennett enters to give Fielding his case, he bends down, and picks up the wrapper. He makes such a show of noticing it, and picking it up, I thought for sure it would be a plot point brought up later. I don't think it was, or did I miss something? Submitted by Chief Kurtz, 20 January 2022.



The only problem with having Richard Erdman in a show (of any kind) is that it's better than even odds that he's gonna play the baddie .. man just LOOKED suspicious! Submitted by MikeReese 5/17/2013
This may be the only show where the name of the murder victim is not known until the last few minutes of the show. Submitted by PaulDrake 33. 3 March 2015
+ I guess no one missed the mechanic when he did not show up for work. Also, when the camera was behind the pilot just prior and could not see his face, a viewer gets suspicious. Submitted by Perry Baby 1/17/17.
We been hoodwinked: We were supposed to believe the man in sunglasses waiting outside Laraine's house was Kavanaugh and if you look closely it actually is Russell Arms (Kavanaugh). However, when Lt. Drumm brings him and Laraine into court he has changed into Stacey Fielding! Kavanaugh showed up in court later on his own. Submitted by Kilo 2/4/2018.

Fraudulent Invoice Since this comes out during the final scene in Perry's office, I don't think it is a spoiler; however -- Paul Drake admits to padding his bill to Perry by $175 ($1400 in 2021 dollars) for the personal purchase of golf clubs?! That is so unethical. But it is treated as a joke. I really don't think this would have played well in an early episode. Rich P 10/26/2021
<< Midnight Howler | Episodes | Golfer's Gambit >>