Show257
<< Bogus Buccaneers | Episodes | Vanishing Victim >>
#257: The Case of the
Midnight Howler
Original Airdate: 01/16/66
From The Perry Mason TV Show Book (Revised)
Obnoxious talk show host Barney Austin is the hottest thing on radio. One night on his midnight call-in show, Barney gets a note to call his boss, wealthy Kevin Steele. While Barney is talking to Steele on the air, the audience hears Steele argue with someone and then two shots ring out.
Steele was murdered all right, and Perry, in a twist of the plot, becomes a key witness for the prosecution. Watch for Daniel Travanti, Captain Furillo of Hill Street Blues, as Barney Austin.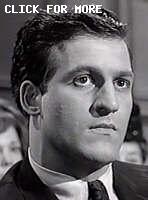 Opening
Starring Raymond Burr
in The Case of THE MIDNIGHT HOWLER
Based upon characters created by Erle Stanley Gardner
Barbara Hale, William Hopper, William Talman
Trailing
Directed by Jesse Hibbs Marks
Written by Robert E. Kent
Arthur Marks \ Art Seid | Producers
Gail Patrick Jackson | Executive Producer
Ernest Frankel | Story Consultant
Orville H. Hampton | Associate Story Consultant
Raymond Burr as Perry Mason
Barbara Hale as Della Street
William Hopper as Paul Drake
William Talman as Hamilton Burger
Richard Anderson as Lt. Steve Drumm
Dan Tobin as Terrance Clay
Music | Richard Shores

Cast
Lee Patterson as Dan Thorne
Myrna Fahey as Holly Andrews
Dan Travanty as Barney Austin
Alan Baxter as Gorden Sellers
Cathleen Cordell as Clara Michaels
Ian Wolfe as Abel Jackson
Grandon Rhodes as Judge
Pitt Herbert as Medical Examiner
Lee Miller as Sgt. Brice
Marc Desmond as Control Room Man
Phil Arnold as Mechanic
Crew
Director of Photography … John M. Nickolaus, Jr.
Art Direction … Lewis Creber
Assistant Director … Gordon A. Webb
Film Editor … Richard H. Cahoon, A.C.E.
Casting … Harvey Clermont
Makeup … Irving Pringle
Hair Stylist … Annabell
Wardrobe Supervision … Bob Wolfe, Evelyn Carruth
Set Decoration … Carl Biddiscombe
Properties … Ray Thompson
Production Sound Mixer … Herman Lewis
Script Supervision … Marshall Schlom
Theme Composed by … Fred Steiner
Automobiles supplied by … Ford Motor Company
Perry Mason
Produced by the CBS Television Network in association with Paisano Productions
Location: Quick shot of Parker Center about 7 minutes in and Stanley Mosk Courthouse at the 30 minute mark. Submitted by Eric Cooper, 30 September 2010.
Character Names: The mechanic's name is Mr. Richards. Submitted by gracenote, 5/31/2011.
Sightings: At Clay's Grill, our "Miss Carmody" sits at a table while drinking tea and chatting with a friend. In the courtroom gallery, Quiet Old Man #1 is on hand to observe Perry in action. Read more about these and other favorite frequent faces. Submitted by gracenote, 5/31/2011.
Lee Miller's Sergeant Brice has a Speaking Part: "Yes Sir," he said to Lieutenant Drumm. Mike Bedard 3.2.15.
+ Actually, he has several lines speaking to Drumm during the lineup. Submitted by Kilo 2/3/2018.
This is the last of four appearances of Myrna Fahey. In two episodes she was the defendant and the murder victim in "TCO the Gambling Lady".
+ The two episodes where she was the defendant were "TCOT Nimble Nephew" (1960) and "TCOT Violent Vest" (1961). OLEF641 9/20/21
Jersey City-born Grandon Rhodes Judged 16 Perrys (6%): 11 as Judge, 1 as Judge No. 2, 1 as Divorce judge, 1 as Judge Lennox, 1 as Judge Kippen & 1 As Grandon "R." Rhodes [IMDb]. Mike Bedard 3.2.15.
Ian Wolfe played Judges in "The Andersonville Trial (Board of Military Judges)," "Daniel Boone" & "Judd For The Defense"; he also appeared in 2 Star Treks & FBIs [IMDb]. (Coincidentally the Wardrobe Co-Supervisor for TCOTMH was Bob Wolfe, but No relationship is cited on IMDb.) Mike Bedard 3.2.15.
+ He also appeared in one episode of Ironside. OLEF641 9/22/21
+ Wolfe had a recurring role as Hirsch, a wisecracking and insubordinate butler to Mrs. Carlson, radio station owner of WKRP in Cincinnati. Submitted by Chief Kurtz, 18 January 2022
This is the second of two PM appearances for Cathleen Cordell, who was born in Brooklyn, but raised in England and France....MikeM. 3/27/2017
Inspiration (of a sort) Although it's impossible to know who - if anyone - was the inspiration for the Barney Austin character, a likely candidate is Joe Pyne who was rising to prominence at the time this show was produced. Notcom, 070717.
+ My college buddy alerted me to the Joe Pyne TV show. To this day I still use "take a hike" (Joe's way of dismissing a speaker he didn't like) but in a humorous tone. Submitted by Kilo 2/3/2018.
++ I agree; the character seems reminiscent of Joe Pyne. Submitted by catyron, August 2nd, 2018
This is the first of two PM writing credits for writer/producer Robert E. Kent, who sometimes wrote under the pseudonym James B. Gordon. Robert Kent was born in the Panama Canal Zone in 1911 and passed in Los Angeles in 1984...MikeM. 4/2/2018
This is the only PM appearance by Dan Travanty, who took billing as Daniel J. Travanti starting in the mid 1970s. Travanti became a household name in the 1980s playing Capt. Frank Furillo on Hill Street Blues. It's fun seeing the consummate good guy actor playing a total lout here. Old Dave, 9/8/2020
+ Late in his career Travanti played another unlikable, to put it mildly, character, a serial killer, and father of a serial killer, in the "Criminal Minds" episode "Remembrance of Things Past" OLEF641 9/20/21
Comments

Edit
This episode differs from most others in an important way: the murder takes place at the very beginning. Normally, we have 20 minutes or so of seeing the soon-to-be victim mistreating everyone! This of course builds up the suspect list. In this episodes, all of the motivations have to be explained after the fact—a little less effective in my view. Submitted by Ed Zoerner, 9/15/2009.
+ . . but, more like the real world (at least IMHO), where the motivations and details are usually only discovered after the fact. OLEF641 9/22/21
[Moved spoiler portion of comment to below banner]
Holly Andrew's apartment set was also used in 'TCOT Silent Six'.
Perry drives his Lincoln during the accident scene, but is shown exiting a Galaxie at the courthouse. He also changes jackets - exiting the car, he has a white pocket square; in the courtroom, his jacket has no breast pocket.
DOD 04/12/19
+ Ah, the dangers of using stock footage . . . OLEF641 9/22/21
So just who is playing the court clerk? He has a line, but no credit! Queried by gracenote, 5/31/2011.
Continuity: When Perry is getting his first aid kit to help the injured Holly he is standing in the open door of his car facing the interior. When the shot cuts to a closeup he is standing at the rear fender facing away from the car. Kilo 11/6/2018.

[Spoiler comment moved from above banner]
Actually, the murder has happened before the episode even begins and we never see our victim; we do hear his voice, but briefly, and he sounds very much like Edward Platt, best known as "Chief" on "Get Smart". DOD 04/12/19
Another difference is that an important clue to the solution of the murder is given up front. In fact, so many times was that clue brought to the viewer's attention that for the only time since I have started watching Perry I was able to solve the murder in the first five minutes of the show, which was both gratifying and disappointing. (No surprise at the end.) Submitted by gracenote, 5/31/2011.
+ Me too. The close-up of the watch-face was the clincher give-away for me. A nicely played show, but the solution was too easy. Submitted by catyron, August 2nd, 2018
This episode is a lot like a Columbo episode where Perry (Columbo) figures out how the killer did it while faking his alibi. Submitted by HamBurger, 8/9/2020
<< Bogus Buccaneers | Episodes | Vanishing Victim >>