Show256
<< Golden Girls | Episodes | Midnight Howler >>
#256: The Case of the
Bogus Buccaneers
Original Airdate: 01/09/66
From The Perry Mason TV Show Book (Revised)
Tony Polk has a police record, but still manages to land a job as an actor on The Bennet Buccaneer Show. Part of his job consists of delivering free gifts to viewers at their homes. Another actor trades lists with Tony and lands him in deep trouble. One of the women on the list is murdered with a buccaneer's hook, the one belonging to Tony. Not only that, but a neighbor says that Tony fought with the woman.
Perry takes the case and learns, among other things, that the dead woman was blackmailing the star of The Bennet Buccaneer Show.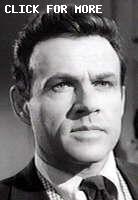 Opening
Starring Raymond Burr
in The Case of THE BOGUS BUCCANEERS
Based upon characters created by Erle Stanley Gardner
Barbara Hale, William Hopper, William Talman
Trailing
Directed by Arthur Marks
Written by Henry Farrell
Arthur Marks \ Art Seid | Producers
Gail Patrick Jackson | Executive Producer
Ernest Frankel | Story Consultant
Orville H. Hampton | Associate Story Consultant
Raymond Burr as Perry Mason
Barbara Hale as Della Street
William Hopper as Paul Drake
William Talman as Hamilton Burger
Richard Anderson as Lt. Steve Drumm
Dan Tobin as Terrance Clay
Music | Richard Shores

Cast
Rhodes Reason as Martin Eldridge
Patricia Cutts as Ann Eldridge
Mary Mitchel as Beth Polk
Richard Jaeckel as Mike Woods
Kathleen Crowley as Grace Knapp
John Milford as Clayton Douglas
Steve Harris as Tony Polk
Leonard Stone as Harlan Kean
Michael Fox as Abe Heyman
Meg Wyllie as Mrs. Webb
Willis Bouchey as Judge
Lee Miller as Sgt. Brice
Len Hendry as Officer #4
Linda Lee as Girl in Newspaper Office
John Strong as Buccaneer C
Jack Swanson as Officer #1
Hugh Warren as Officer #2
John Underhill as Officer #3
Jack Shea as Officer #5
Patricia Joyce as Receptionist
Crew
Director of Photography … John M. Nickolaus, Jr.
Art Direction … Lewis Creber
Assistant Director … Robert G. Stone
Film Editor … Richard W. Farrell
Casting … Harvey Clermont
Makeup … Irving Pringle
Hair Stylist … Annabell
Wardrobe Supervision … Bob Wolfe, Evelyn Carruth
Set Decoration … Carl Biddiscombe
Properties … Ray Thompson
Production Sound Mixer … Herman Lewis
Script Supervision … Marshall Schlom
Theme Composed by … Fred Steiner
Automobiles supplied by … Ford Motor Company
Perry Mason
Produced by the CBS Television Network in association with Paisano Productions
The rickrack hat worn by Mrs. Webb is also seen in #204, TCOT Woeful Widower and #250, TCOT Wrathful Wraith. Submitted by Karrin Kain, 2/14/2005.
Sightings: In the corner of courtroom gallery sits Quiet Old Man #1. The nurse in the last scene might be "Miss Carmody," or it might be that other extra who resembles her. Submitted by gracenote, 5/26/2011.
+ My husband freeze-framed it from the DVD, and the nurse in the last scene is definitely Miss Carmody. Submitted by catyron, August 1st, 2018
Richard Jaeckel (Willie in TCOT Lover's Leap '63) played multiple Sergeants in 1967: MP Sgt. Bowren in "The Dirty Dozen," Sgt. Mueller in "The Time Tunnel: The Ghost of Nero," & Sgt. Stryker in "The Wild Wild West: The Night of the Cadre" [IMDb]. Mike Bedard 2.27.15.
+ He also appeared in one episode each of Ironside and Kingston: Confidential (remember Kingston: Confidential? I don't! ) OLEF641 9/15/21
This is the second of two PM writing credits for Henry Farrell, who wrote the novel "What Ever Happened to Baby Jane?"...MikeM. 3/24/2017
This is the only PM appearance for Rhodes Reason, whose twin-like older brother, Rex Reason, also had a single PM appearance. Rhodes Reason had lead roles in two television series, "White Hunter" and "Bus Stop"...MikeM. 3/30/2018
This is the only PM appearance for Steve Harris, who may be most recognizable for his performance as Breech in the classic Outer Limits episode, "Demon with a Glass Hand". Submitted by Kenmore 6/06/2021
Observation + Does anyone else think Steve Harris has a remarkable resemblance to a young Stacy Keach? Submitted by Tragg, 5th August 2022
Tho not the only, it is the last appearance of Michael Fox; and it is the only one where he appears as something other than a doctor (usually the autopsy surgeon). So prolific were his appearances, actually, that one wonders if the (rather silly looking IMHO) mustache is an effort to prevent him from being identified. It's also the final appearance (of two) of Patricia Cutts. Alas, no amount of hair can disguise her British accent. Notcom, 100522.
When Perry and Paul borrow an office to use for their casting-call ploy, a view out the window shows the one-storey Queen Anne cottage we earlier saw in episode 144, TCOT Candy Queen. Submitted by catyron, August 1st, 2018
Comments

Edit
Perry's Finest Hour: The producer asked Perry what it would take for him to keep quiet & received this reply: "The assurance that it's in the Best Interest of BOTH my client AND JUSTICE." Mike Bedard 2.27.15.
The apartment set looks like the same as used in "Silent Six" DOD 05/07/21
The original Summary called the fictional TV series Bad Buccaneers, but the name that flashes on the television screen in the opening scene is The Bennet Buccaneer Show. Unfortunately, the "Bennet" part is almost indecipherable in the syndication print as it "blasts out" from overexposure, and it requires playing a recording of the episode at slow speed to see it clearly. Summary has been changed accordingly. Submitted by gracenote, 5/26/2011.
There is an older gentleman in the second row behind the defense that cannot stay awake. His head is down often and trying to prop it up. Must have been a long day. Submitted by Perry Baby 1/23/17.
The combo of Rhodes Reason, Richard Jaeckel, Steve Harris, and John Milford gives this episode a particularly high hunk factor. DOD 04/11/19
Pitkin-esque. Actor Rhodes Reason's birth name was . . . Rhodes Reason. And there is no truth to the rumor that Rhodes's parents consulted with Erle Stanley Gardner before settling on "Rhodes." (See Episode # 18 for an explanation of ESG's fondness for Pitkinesque names.) Submitted by BobH, 4 February 2017.
Is this the only episode in which the Title appears on a Front Page: "Preliminary Trial Begins in Bogus Buccaneer Case"? Mike Bedard 7.7.17.
Character Error: In the opening scene Grace Knapp turned on the TV with the channel selector knob. Later she turned down the volume with the channel selector knob. If you're old enough to remember (and I know that you are) TV sets of that era had a manual channel selector to select channels 2-13 and an outer knob around the selector knob used to fine tune the channel. The on/off/volume switch on Grace's set is on the left hand side. Kilo 11/5/2018.
A big "Atta Girl!" to Della for her clobbering Clayton Douglas with that cast iron skillet! No shrinking violet she! OLEF641 9/21/21
Perry mentions at the end being one of the baby's "three godfathers". That's the title of a John Wayne movie, third remake of a 1916 movie with that title. I have a feeling there really isn't any connection, except maybe it was a favorite of the scriptwriter and ended up there unconsciously? OLEF641 9/21/21

I wonder how well the police analyzed and managed the evidence at the murder scene. On the witness stand near the end of the episode, a testifier states, "She [Grace Knapp] grabbed me by the hair. I fought back and I got the hook from her. And then I hit her." As the police (and a competent attorney like Perry) know, every contact leaves a trace. So, even if this struggle did not break one of the victim's fingernails, what did the police make of the detritus under her fingernails and whatever was in or on the hook itself? Also, the police would have seen that the apartment had a back entrance that neighbor Mrs. Webb could not see. All this could have exonerated Tony Polk at the 10-minute mark. Submitted by (lowercase, with a comma and period) masonite, 07/11/13.
On the stand Perry challenged Mrs. Webb's view of the hook in the right hand and the back hand swipe but clearly the hook was done overhanded so should have been clearly visible to Mrs. Webb. If you watch it carefully, after the swing, Grace Knapp falls in the background and no where near the actual swing of the hook next to the door. Submitted by Perry Baby 1/5/14
+ Perry goes out of his way to get her to persuade herself that she saw a backhanded blow. We, of course, saw the actual attack and know that what she actually saw was an overhand blow. This is a typical defense manoeuvre to undermine a prosecution witness into impeaching their own testimony and introducing "reasonable doubt". OLEF641 9/21/21
<< Golden Girls | Episodes | Midnight Howler >>