Show255
<< Baffling Bug | Episodes | Bogus Buccaneers >>
#255: The Case of the
Golden Girls
Original Airdate: 12/19/65
From The Perry Mason TV Show Book (Revised)
This is the second episode based on Gardner's 1940 novel The Case of the Vagabond Virgin.
Victor Montalvo is co-owner of the popular Golden Bear Club, a nightclub featuring beautiful waitresses known as Teddy Bears. One night, Victor gives a ride to a young female hitchhiker and is later surprised to see the girl in the club working as a Teddy Bear. Not only that, but Debbie Conrad, the young lady in question, attempts to blackmail Victor, threatening to claim he took advantage of her.
Debbie is working the scam with her boyfriend, Rick Durbin, and Victor grudgingly agrees to pay them off. Before he can, he has new problems. His partner in the club, Stacey Garnett, is murdered and Victor is the chief suspect. In order to clear Victor, Perry first has to get testimony from Debbie Conrad, who is played by Angela Dorian, Playboy magazine's "Playmate of the Year" in 1967.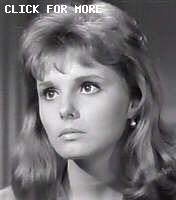 Opening
Starring Raymond Burr
in Erle Stanley Gardner's The Case of THE GOLDEN GIRLS
Based on The Case of the Vagabond Virgin
Barbara Hale, William Hopper, William Talman
Trailing
Directed by Arthur Marks
Written by Orville H. Hampton and Ernest Frankel
Arthur Marks \ Art Seid | Producers
Gail Patrick Jackson | Executive Producer
Ernest Frankel | Story Consultant
Orville H. Hampton | Associate Story Consultant
Raymond Burr as Perry Mason
Barbara Hale as Della Street
William Hopper as Paul Drake
William Talman as Hamilton Burger
Richard Anderson as Lt. Steve Drumm
Dan Tobin as Terrance Clay
Music | Richard Shores
Cast
Philip Bourneuf as Victor Montalvo
Paula Stewart as Beverly Garnett
Angela Dorian as Debbie Conrad
Mark Roberts as Irving Florian
Jean Engstrom as Corinne Richland
George Neise as Stacey Garnett
Bruce Glover as Rick Durbin
John Gallaudet as Judge
Lee Fredericks as Sgt. Eggers
Lee Miller as Sgt. Brice
Charles Stroud as Ad-Lib Man
Annazette as Teddy Bear #1
Nancy Czar as Teddy Bear #2
Crew
Director of Photography … John M. Nickolaus, Jr.
Art Direction … Lewis Creber
Assistant Director … Gordon A. Webb
Film Editor … Richard H. Cahoon, A.C.E.
Casting … Harvey Clermont
Makeup … Irving Pringle
Hair Stylist … Annabell
Wardrobe Supervision … Bob Wolfe, Evelyn Carruth
Set Decoration … Carl Biddiscombe
Properties … Ray Thompson
Production Sound Mixer … Herman Lewis
Script Supervision … Marshall Schlom
Theme Composed by … Fred Steiner
Automobiles supplied by … Chrevrolet Division of General Motors Corp.
Perry Mason
Produced by the CBS Television Network in association with Paisano Productions
This episode features lots of peppy rock music with trebly guitar—apparently part of the CBS stock library. One of the songs, which plays at about the 25-minute mark when Debbie is fussing with the Teddy Bear cases at the club, features prominently in an episode of Gilligan's Island. It's the music to which Mary Ann, Ginger, and Lovey (performing as the Honeybees) sing their smash hit "You Need Us." (Bzzzz!) Great stuff! Submitted by Ed Zoerner, 9/17/2009.
+ It's also playing on the car radio when Stacey Garnett picks Debbie Conrad up at the beach in the opening scene. OLEF641 9/18/21
This episode of Perry Mason (TCOT Golden Girls) and the first season episode TCOT Vagabond Vixen (#9, 1.9) are both based on the same Erle Stanley Gardner novel titled The Case of the Vagabond Virgin. (Note the book title is "virgin" and not "vixen".) So this current episode is often considered to be a "re-make" of the first season episode TCOT Vagabond Vixen. See repeated episodes here. Submitted by Charles Richmond, 26 April 2013.
Hooray (if a sexually charged environment can be cheered) for racially diverse "Teddy Bears" in this 1965 episode. [Unsigned]
+ Indeed. We have come a long way from the silent (and uncredited) black judge to the talkative black Teddy Bear played by Annazette. And i think that's a good thing. Submitted by catyron, July 31st, 2018
+ The beautiful Annazette Chase appeared regularly on the small and big screen throughout the 60's and 70's, notably as Isaac Hayes' love interest in Truck Turner(1974), and oddly enough Isaac Hayes' daughter in The Rockford Files episode The Hammer of C Block(1976). Submitted by Chief Kurtz 18 January 2022.
++ Thanks to the recently added MeTV+, I'm watching the Burke's Law television series (ah, the oversexed, sexist 60's) for my first time. According to Wikipedia, Annazette Chase (billed in BL S2Ep8 as Annazette Williams) will appear in four episodes. jfh 19Sep2022
In the first half-hour, we see quite a bit of Victoria Vetri/Angela Dorian as she appears only in either her two-piece swimsuit or her Teddy Bear costume. As she leaves the Golden Bear Club, she throws on an overdress of sorts, but when Della, Perry, and Paul come to her aid after being beaten by her boyfriend, she is, once again, only clad in her Teddy Bear costume.
+ Kudos to the director: when Paul calls Perry away from Ms Conrad's bedside, Perry's wide shoulders discreetly block what would have been yet another gratuitous view of her in her Teddy Bear costume. jfh 29Mar2018
++ I found all of the ogling in this episode creepy, and the costumes were not attractive. Submitted by catyron, July 31st, 2018
This episode marks actor George Neise's fourth Mason appearance as a murder victim, a series record. It all began with his unintentionally humorous post mortem hijinks as Albert Tydings in TCOT Baited Hook (Episode #14). Submitted by BobH, 6 March 2016.
Debbie Conrad's boyfriend, Rick Durbin, here is played by Bruce Glover in his only Perry appearance. Bruce Glover is most famous as the father of Crispin Glover. As an added irony, the same year (1965) Bruce Glover appeared in this episode, he also appeared in a movie called Who Killed Teddy Bear. Submitted by PaulDrake 33, 16 October 2009.
Speaking of Bruce Glover, we have a James Bond "back to back" connection. Mr. Glover played "Mr. Wint" in Diamonds Are Forever (1971). In the previous episode, TCOT Baffling Bug, Teru Shimada was featured. He appeared in You Only Live Twice (1967). Both Bond films featured Sean Connery. Submitted by Bill-W2XOY on 08/02/2013..
Debbie Conrad, who was a Teddy Bear at a gentleman's club in this episode, was played by Victoria Vetri using the name Angela Dorian. Two years later, "Angela Dorian" posed for Playboy as Miss September, 1967. She was chosen as 1968 Playmate of the Year, and was one of the most popular Playmates of the Vietnam War era. (Info from IMDb.) Submitted by Charles Richmond, 11/12/2009.
+ On 16 October 2010, Victoria Vetri a/k/a Angela Dorian shot her husband, Bruce Rathgeb. Her husband survived, but on 7 September 2011, at the age of 67, Victoria was sentenced to 9 years in a California prison. Submitted by PaulDrake33, 15 November 2011.
++ This was the only PM appearance for Angela Dorian, whose birth name was Victoria Vetri. I have been trying to determine if the 72-year-old 1968 Playmate of the Year is still serving time for shooting her husband in 2010. She was legally known as Victoria Rathgeb when she was sentenced to nine years... MikeM. 3/23/2017
+++ According to the State of California Inmate Locator site, inmate Victoria Rathgeb (Angela Dorian), age 73, has been transferred to the custody of the Community Transitional Reentry Program in Santa Fe Springs, California... MikeM. 3/29/2018
++++ Great research, MikeM -- thanks! Submitted by catyron, July 31st, 2018
Location: I believe the Golden Bear Club Rancho de Oro is in fact Serra Retreat in Malibu. The original structure pictured here burned down in a 70's fire and has been rebuilt. Consequently due to lack of photos it's hard for me to match scenes up. However, I have been there many times and the road, view and mountain backgrounds all match. Serra Retreat was used in another Perry Mason episode #136, TCOT Renegade Refugee. Submitted by Eric Cooper, 27 September 10.
+ The night exterior shot of Debbie Conrad's apartment hotel is the old Sheraton West, previously the Town House, at Wilshire and Commonwealth in LA's Westlake district. It's now low income housing. Added by OldDave1, 4/29/2020.
Uncredited Actors: We can spot Don Anderson among the patrons of the Teddy Bear Club, though it's Charles Stroud who gets the lecherous lines and behavior. Submitted by FredK, 11 January 2011.
Sightings: Both our "Miss Carmody" and Quiet Old Man #1 appear noticeably in the courtroom gallery. Submitted by gracenote, 5/25/2011.
+ And Miss Carmody is back to her regular hair colour and style. I think that aberration last time was a wig. Submitted by catyron, July 31st, 2018
TCOT Paper Cups: Okay, I regretfully accept that the Curious Coffee Set is gone, and was replaced by the abhorrent plastic West Bend Thermo-Serv carafe and mugs -- but now we are down to paper cups! Della serves Perry and Paul their coffee in paper cups! Noooooo. Submitted by catyron, July 31st, 2018
Comments

Edit
Despite the title, Bea Arthur, Rue McClanahan, Estelle Getty, and Betty White do not appear in this episode. As a matter of fact none of these four women ever appeared in Perry despite being the right age. Submitted by PaulDrake 33. 16 October 2009.

Philadelphia-born John Gallaudet presided in 21 Perrys (8%): 4 as Judge Penner, 1 as Judge Penna, 1 as Superior Court Judge, 1 as Municipal Judge & 14 simply as Judge [IMDb]. Mike Bedard 2.25.15.

Yay for Della, and the writers, of course, for her closing comment to Clay. jfh 23Mar2017.

That hard working staircase appears yet again. Just two episodes ago it was in a hotel lobby in Germany. DOD 3/29/18

Was it ever explained how the pistol got into Montalvo's car in the first place (he arrived after the murder), or how it came to relocate from Debbie's case back to one at the club? Submitted by Chief Kurtz, 18 January 2022.
A major point not explained - our killer's motive was to "save" Montalvo - so what was the plan should Montalvo have been found guilty? DOD 05/23/22
<< Baffling Bug | Episodes | Bogus Buccaneers >>