Show259
<< Vanishing Victim | Episodes | Sausalito Sunrise >>
#259: The Case of the
Golfer's Gambit
Original Airdate: 01/30/66
From The Perry Mason TV Show Book (Revised)
Chick Farley is an obnoxious golf pro at an exclusive golf club. Farley never did make it on the big money circuit; it was his wife, a former real pro golfer, who did. Now, he's just living off her past glory. He's also supplementing his income with a little blackmail enterprise calculated to help him keep his job as local pro.
One night, Farley discovers that someone has been stealing from the pro shop. He calls club member Hamilton Burger at his home to tell him about the theft. While Farley's on the phone, someone takes a sand wedge to his skull. Perry is called on to defend Farley's assistant, Jim Harrell, who had motive, opportunity, and a mean trap shot.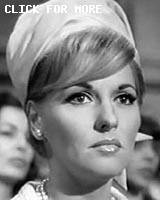 Opening
Starring Raymond Burr
in The Case of THE GOLFER'S GAMBIT
Based upon characters created by Erle Stanley Gardner
Barbara Hale, William Hopper, William Talman
Trailing
Directed by Jesse Hibbs
Story by John Elliotte Bast
Teleplay by Orville H. Hampton
Arthur Marks \ Art Seid | Producers
Gail Patrick Jackson | Executive Producer
Ernest Frankel | Story Consultant
Orville H. Hampton | Associate Story Consultant
Raymond Burr as Perry Mason
Barbara Hale as Della Street
William Hopper as Paul Drake
William Talman as Hamilton Burger
Richard Anderson as Lt. Steve Drumm
Music | Richard Shores

Cast
Carl Reindel as Danny Bright
Nancy Kovack as Dina Brandt
Harry Townes as Erwin Brandt
Phyllis Hill as Alma Farley
Dennis Patrick as Chick Farley
Don Dubbins as Bill Vincent
Alan Reed, Jr. as Jim Harrell
Bartlett Robinson as Edward "Pat" Patterson
Gertrude Flynn as Rosalind - Mrs. Hedrick
Regina Gleason as Rosalie
Byron Morrow as Judge
Bill Brundige as Announcer
Ted Stanhope as Butler
Maurice Wells as Golf Official
Bud Perkins as Photographer
Maureene Gaffney as Operator-P.A. Voice
Crew
Director of Photography … John M. Nickolaus, Jr.
Art Direction … Lewis Creber
Assistant Director … Gordon A. Webb
Film Editor … Richard H. Cahoon, A.C.E.
Casting … Harvey Clermont
Makeup … Irving Pringle
Hair Stylist … Annabell
Wardrobe Supervision … Bob Wolfe, Evelyn Carruth
Set Decoration … Carl Biddiscombe
Properties … Ray Thompson
Production Sound Mixer … Herman Lewis
Script Supervision … Marshall Schlom
Theme Composed by … Fred Steiner
Automobiles supplied by … Ford Motor Company
Perry Mason
Produced by the CBS Television Network in association with Paisano Productions
Anomaly: Although spelled D--n-n-y in the credits and the closed captions, everyone calls Carl Reindel's character "Denny" or "Den." Submitted by gracenote, 6/3/2011.
Byron Morrow Judged 5 Original & 1 New Perry Masons; 3 Owen Marshall, Counselor At Laws; a Wild, Wild West, Police Story, Judd For The Defense & Bonanza; he was an Admiral in 2 Star Treks, a Black Sheep Squadron & The Winds of War + a Deputy Police Chief in The Rockford Files (Byron also had 2 Non-Judge PM roles in "The Arrogant Arsonist" & "Singing Skirt") [IMDb]. Mike Bedard 3.3.15.
Uncredited Actors: A bespectacled Don Anderson dances with his lovely escort at the post-tournament banquet. He's among those who thoughtlessly laugh when someone is pushed into the fountain. Submitted by gracenote, 6/3/2011.
Sightings: Squirreled in the recesses of the courtroom sits an observant Quiet Old Man (#1). Submitted by gracenote, 6/3/2011.
Hamilton Burger actually takes the witness stand in this one. I do not recall him doing this in any others, but I am sure someone would know for sure. ;-> submitted by mesave31, 03/04/15
+ I checked my notes and this was the only story Mr. Burger was on the witness stand. Added by H. Mason 3/4/15
Don Dubbins appeared in 7 Perrys: as ASSISTANT DA Bill Vincent in Golfer's Gambit questioning Burger & as DEPUTY DA in Misguided Model & Impetuous Imp; he was different characters in the 4 others, including the victim in Counterfeit Crank [IMDb]. Mike Bedard 3.4.15.
Character Notes Harry Townes and Nancy Kovack (aka: Mr. and Mrs. Brandt) were in reality 21 years apart in age. This is the third (and final) appearance of Phyllis Hill; in each episode theft - an inside job - played a key role, and in each she played a(n increasingly) pathetic character. Noted by Notcom, 062316.
Actor Harry Townes was often typecast--as in this episode of PM, as well as in "TCOT Lazy Lover" and "TCOT Woeful Widower"--as a milquetoast, sometimes forced to display his mettle. For other examples of Townes's specialty, check out the "Gunsmoke" episode entitled "Tail to the Wind" (1959) and the "Have Gun, Will Travel" episode entitled "The Bostonian" (1958). Submitted by BobH, 10 December 2016.
This is the second of two PM appearances for Nancy Kovack, who is married to conductor Zubin Mehta...MikeM. 3/29/2017
This is the second of two PM appearances for Regina Gleason who, according to her biography on IMDb, had a real life run-in with the law in 1964. After being cited for wearing illegally-thick sunglasses while driving her sports car, she had a discussion with the prosecuting attorney and the charges were dropped...MikeM. 4/4/2018
Comments

Edit
For nearly nine seasons Raymond Burr has sported the same general hairstyle until this episode. Here, is hair is now parted along the side and swept over, a style that would continue for the rest of the season and into his "Ironside" days. Submitted by Kenmore 10/24/2012
+ Actually, his hair has always been parted on the left, it's just now shorter on top and combed straight to the side rather than longer on top and swept back.[unsigned, undated]
++ Ugh. That haircut is unflattering. And Della got hers butchered too this week. At least Paul and Hamilton kept their wavy locks. Submitted by catyron, August 7th, 2018
+++ Has anyone considered that Ironside may have been in development when the final PM episodes were being filmed, and Ray changed his hairstyle to accommodate screen tests, hair and makeup checks, etc.? The pilot aired May 1967, and probably was in pre-production well ahead of that. Submitted by Chief Kurtz 18 January 2022.
++++ I disagree with the "butchered" comment above re: Della's hair. Looks much better short. Submitted by Clothears, 13 June 2022.
Does ANYONE do nasty as well as Dennis Patrick? You almost want this sadist (Chick Farley) to get it. And Perry's final line (to the guilty one) sounds almost satirical - 'You had to have done it - it could only have been you.' Submitted by MikeReese 5/17/2013
+ He did it well with the sneering grin and that pointed nose. This was a better than average episode with plenty of suspects as Chick gave each one a motive. Submitted by Perry Baby 1/24/17.
++ And the winner of the 1965-66 Robert H. Harris Award for Hammiest Performance by a Guest Actor (Victims' Division) is . . . Dennis Patrick. Submitted by BobH, 24 September 2021.
+++ Another actor that could play mean and so clearly enjoy it was Larry Hagman, aka J.R. Ewing. For about five seasons, Patrick (as banker Vaughn Leland) and the Ewings butted heads. [Krazy Karl 82 3/3/2023]
The producers must have been on an efficiency kick - the Farley apartment has appeared, slightly redressed, in four out seven consecutive episodes. What is usually a bathroom door, here is the entrance. The canister set in the kitchen remains the same.
Can we infer Mr Burger is a bachelor?
We get a brief partial glimpse of that staircase set in Rosalind's house.
All in all, one of the better plotted episodes, without any of those gaps in logic or miraculous deductions by Perry we've grown accustomed to. DOD 04/04/18
I loved the way Paul was smoking his cigarette in Perry's office the scene after he had been "questioning" Rosalie. He seemed most contented. Submitted (with a wink) by Rickapolis 04/16/19
+ Is Rosalie's a brothel? and Rosalie the madam? jfh 06Mar2023

About a year after this episode Dennis Patrick began appearing on the soap Dark Shadows as another nasty character involved in blackmail ... and who eventually gets killed. He appeared as the character in 46 episodes over a period of 4 months. He was on the show when the character of Barnabas Collins was introduced. Submitted by Wiseguy70005, 2/7/18.
This is the final of four PM appearances by Dennis Patrick. In October of 2002, while living with a serious cancer diagnosis, he and his pet dog died in a fire at Patrick's home, overlooking the San Fernando Valley. [Krazy Karl 82 3/6/2023]
Conversely, this episode humanized Hamilton Burger because we got to see him multiple times outside the courtroom, including his self-effacing humor when presenting the trophy at the Tournament Banquet. Mike Bedard 3.4.15.
+ Hamilton Burger sports a tuxedo in this episode, something Perry and Paul had done in the first season. Submitted by PaulDrake 33. 4 March 2015.
++ After being cross examined several times by District Attorney Burger in previous seasons, Perry finally gets his chance to question Hamilton on the witness stand under oath. Submitted by PaulDrake 33. 4 March 2015.
Once again the "official" summary leaves something to be desired: Chick certainly didn't discover the theft the night he was murdered - indeed the working premise thruout the show is that he is the thief !! - and that doesn't seem to be why he's called Hamilton (tho the reason for the call is less clear than the identity). Maybe with the summaries, as with the cast appearances, we should only note the anomalies...like when they're correct !! Sinking a one-footer, Notcom 082919.
Erroneous Ruling - At least according to what I heard just today while watching the 2020/1 Ryder Cup. Jim's offer of fact, ruled advice by the official, and causing him a 2-stroke penalty, should not have been ruled as such. It was not advice; it was a simple statement of fact. I am not a golfer, and I could be wrong on this. OLEF641 9/24/21
+ Under USGA rules, advice is defined as "Any verbal comment or action (such as showing what club was just used to make a stroke) that is intended to influence a player in: Choosing a club, Making a stroke, or Deciding how to play during a hole or round." It's a jerk move, and Jim should have known better, but under the rule, the penalty was valid. Submitted by Chief Kurtz, 18 January 2022.
<< Vanishing Victim | Episodes | Sausalito Sunrise >>