Show260
<< Golfer's Gambit | Episodes | Scarlet Scandal >>
#260: The Case of the
Sausalito Sunrise
Original Airdate: 02/13/66
From The Perry Mason TV Show Book (Revised)
What more can happen to an innocent art dealer and his girlfriend? Francis Clune's treasures are replaced with fakes before they even reach the gallery. His girlfriend Bobbi Dane has been kidnapped twice and run down by a car. Now Francis and Bobbi are arrested for a cop killing and the death of a hijacker.
They need Perry and Paul to fight back. Paul goes undercover to work the hijacking ring and gets himself arrested, and Perry almost gets shot confronting a killer no one would suspect. The familiar story is based on one of Gardner's novels that was featured early in the Mason series.
Note: The Summary states that Bobbi was kidnapped twice. She was the victim of an attempted kidnapping twice. OLEF641 9/25/21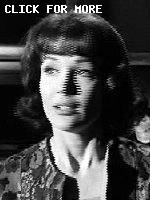 Opening
Starring Raymond Burr
in Erle Stanley Gardner's
The Case of THE SAUSALITO SUNRISE
Based on The Case of the Moth-Eaten Mink
Barbara Hale, William Hopper, William Talman
Trailing
Directed by Jesse Hibbs
Written by Orville H. Hampton and Ernest Frankel
Arthur Marks \ Art Seid | Producers
Gail Patrick Jackson | Executive Producer
Ernest Frankel | Story Consultant
Orville H. Hampton | Associate Story Consultant
Raymond Burr as Perry Mason
Barbara Hale as Della Street
William Hopper as Paul Drake
William Talman as Hamilton Burger
Richard Anderson as Lt. Steve Drumm
Dan Tobin as Terrance Clay
Music | Richard Shores

Cast
Francine York as Bobbi Dane
Donald Murphy as Francis Clune
Mark Tapscott as Sgt. Deke Bradley
Allan Melvin as Bert Kannon
Peter Mamakos as Olaf Deering
Elisabeth Fraser as Estelle Paige
Richard Angarola as Campbell Boyd
Stanley Clements as Floyd Walters
Steve Conte as Mac
Paul Genge as Bud
Kenneth MacDonald as Judge
William Erwin as Counterman
Dirk Evans as Detective
Bebe Kelly as Nurse
Linda Burton as Student Nurse
Charles Cirillo as Waiter
Uncredited Actors
Don Anderson as Gallery Gala Guest, as Plainclothesman, and as Courtroom Spectator
William H. O'Brien as Diner Customer at Counter (from IMDb)
Lee Miller as Sgt. Brice
Crew
Director of Photography … John M. Nickolaus, Jr.
Art Direction … Lewis Creber
Assistant Director … Robert G. Stone
Film Editor … Richard W. Farrell
Casting … Harvey Clermont
Makeup … Irving Pringle
Hair Stylist … Annabell
Wardrobe Supervision … Bob Wolfe, Evelyn Carruth
Set Decoration … Carl Biddiscombe
Properties … Ray Thompson
Production Sound Mixer … Herman Lewis
Script Supervision … Marshall Schlom
Theme Composed by … Fred Steiner
Automobiles supplied by … Ford Motor Company
Perry Mason
Produced by the CBS Television Network in association with Paisano Productions
Anomaly: Elisabeth Fraser, listed as Estelle Paige, is identified as Estelle Gaige in three ways. Submitted by Lisa & Mack McLendon.
The painting "featured" in the scene where Perry confronts the murderer can also be seen in #146, TCOT Absent Artist, and #187, TCOT Reluctant Model. See the appearances here. Submitted by Leah, 1/29/2003.
This episode of Perry Mason (TCOT Sausalito Sunrise) and the first season episode TCOT Moth-Eaten Mink (#13, 1.13) are both based on the same Erle Stanley Gardner novel titled The Case of the Moth-Eaten Mink. So this current episode is often considered to be a "re-make" of the first season episode TCOT Moth-Eaten Mink. See repeated episodes here. Submitted by Charles Richmond, 26 April 2013.
+ In a certain sense, this episode also remakes second season episode TCOT Purple Woman, in that both take their title from a painting ( though - happily!! - we're not reminded of the title every few minutes here). Observed by Notcom, 062316.
Uncredited Actors: Don Anderson hits another three bagger in this episode. In the opening scene at the Clune Gallery, he's among the crowd viewing the art. He wears his tux and dark-rimmed spectacles. Mid-episode, the glasses disappear when he's the non-speaking one of two San Francisco plainclothesman who surprise Paul Drake at the bus depot parcel check. At the trial, his glasses reappear so he can better watch the action from the last row of the gallery on the defense side of the courtroom. Submitted by FredK, 28 December 2010.
There must have been something about actor Donald Murphy that just screamed "Art!" to the Mason team. In this episode he's art gallery owner Francis Clune. In Episode #48, TCOT Purple Woman, he plays art critic Wayne Gordon. And in Episode #231, TCOT Lover's Gamble, he's philandering art professor Dr. Philip Stark (whose wife was named "Frances" in that episode, as his is "Francis" here --- jfh 13Sep2022). Submitted by FredK, 28 December 2010.
+ Donald Murphy became an interior designer and antiques expert in Santa Fe, New Mexico. Talk about life imitating art. Submitted by BobH, 24 June 2016.
Sightings: Two favorite faces appear in the courtroom gallery today: Quiet Old Man #1 and Miss Carmody. The young brunette also appears in the courtroom on the prosececutor's side on the back row. Submitted by Perry Baby 1/16/14
+ Miss Carmody also appears to be taking admittance tickets at the entrance to the "Pop" art show. Submitted by JazzBaby, 6/25/2019.
+ Miss Carmody is also seen in the background at Clay's, as she and a friend make their way presumably to a table. Submitted by Clothears, 13 June 2022.
Fate must have been working overtime in the casting of Paul Genge as the thug who tries to kill Bobbi Dane twice, once in her hospital room, then dies in a fiery crash trying to hijack Paul Drake as an undercover truck driver. In about two years he will try the same actions in Peter Yates' Bullitt, though in that case he's chased through the hospital and fatally run off the road by Steve McQueen. Submitted by FredK 5 June 2012.
Although it is only in the show we get to hear his voice. DOD 04/29/20
During WWII, "Sausalito was a shipbuilding town with 6 shipways operating 24 hours...A cast of 20,000 filled this stage,...launching 93 ships...The war effort ended and the shipyards were cleared for the next production -- a 1950s art film featuring painters, sculptors, dancers, writers, musicians, mask makers, bohemians, hippies & houseboaters," the City Of Sausalito website observes: that heritage made Sausalito the Logical Location for this episode. Mike Bedard 3.4.15.
Location: Where is Clune Galleries? At the 2 minute mark when Bobbi leans up against the wall in the Clune parking lot you can see the famous, now demolished, Tiny Naylor's Googie style Coffee shop with the Mobil Gas Station on the other corner. The Mobil station is still there. The intersection is Sunset and La Brea. That would put Clune Galleries just above what is now Jim Henson Studios. It was originally Charles Chaplin studios and in the early 50s was where the Adventures of Superman were shot. In the 70s it was A&M Records. But what was this studio used for from 1962 to 1966? Some show called Perry Mason. A minute or 2 later we see the Pop Art Premiere and you can see "Hotel Roosevelt" sign which would be a couple blocks due North. Eric Cooper, 24 June 16
This is the second of two PM appearances for Francine York, who worked from 1959 until her passing in January 2017, at the age of 80...MikeM. 3/30/2017
This is the third of three PM appearances for prolific character and voice actor Allan Melvin, who was Sergeant Bilko's Corporal Henshaw and Archie Bunker's friend Barney Hefner. He was also the voice of Magilla Gorilla. Allan Melvin was married to his wife, Amalia, from 1944 until his passing in 2008 at the age of 84...MikeM. 4/5/2018 + And Sam the butcher on The Brady Bunch, and Charlie Hacker on Gomer Pyle, USMC, and nearly a dozen bits on The Andy Griffith Show. Submitted by Chief Kurtz, 20 January 2022
Artwork Inventory: At the opening of the episode, the policeman is reading from a list of artworks implicated in the case. This is the list, as transcribed by my dear husband:

1. WAR IN THE COSMOS - VAL. $1250.
Broken child's toys, tubing, toilet brushes,
etc.

2. LOST ECSTASY - VAL. $1850
Collage, Dance Programs, ticket stubs,
plastic soda straws, bar napkins.

3. RAMPANT DAEMON - VAL. Appr. $975.
Collage. Cut up plastic animals, glued
over garden hose, two plumbers' plungers,
etc.

4. AURORA OVER ARMAGEDDON - VAL. $2250.
Very large 'cyclorama' collage. Forest
of mushroom clouds, twisted Erector set
assemblies, wrecked slot cars, battered
toy airplanes.

5. DEEPS OF DESPAIR - VAL. $725.
Great pools of dark blue paint with brass
clockwork gears, whorls of confetti, cigar
bands and candy bar package wrappers.
Some bottle crowns.

6. TOURNEY ON TANTALUS - VAL. $1200.
Long, crossed toy horns mounted on base
of lifting weights. Festooned with brass
cartridge cases strung like beads.

Note that not a single one of these pieces appears in the gallery or the stock room. Also, much to my surprise, one of the assemblages that is shown at the gallery opening in a face surrounded by bent wall-sconce lamps -- the same lamps that have been appearing on-set in lower-class homes and hotels in the series since 1957. The prop man went wild! Submitted by catyron, August 8th, 2018
In the opening gallery scene, Della is decked out in a gorgeous fur stole! I guess the dream she expressed way back in TCOT Moth-eaten Mink came true, hopefully, thanks to Perry! Lili-beth 02.16.2020
+ And she even has her hair all dolled up too! Submitted by HamBurger, 8/15/2020

Della's doubletake? At the gallery event, Della drops her purse, and reporter Bert Kannon picks it up for her. She says thank you, and he just walks off with no reaction; Della does a doubletake, troubled by his taciturn behavior. What was the point of this scene? Seems odd. Rick P 10/13/21

Actor Paul Genge as Bud, (making his 4th and final PM appearance) who with Mac attempts to lure Paul into their hijack trap, and, having failed, gets into a chase with the truck, later participated in another famous (perhaps the most famous) filmed car chase, in Bullitt (1968).
Comments

Edit
Just in the last few episodes we've seen Mason on the witness stand (#257), Burger on the stand (#259) and now Paul on the stand (#260). Submitted by Wiseguy70005, 6/14/12.
+ Paul stated in his testimony: "I was hired to pose as a truck driver ["George Turner"] by Olaf Deering [his murdered client]"; this is 1 of the few times we see PD in an Undercover role. Mike Bedard 3.5.15.
Calendar in the trucking co office appeared to have the year and month and perhaps a sponsor or logo fuzzied out. The calendar / year are initially fuzzed but as the camera angle changes so does the fuzzing so almost seems like it was on the lens. I read it as January 1966. Submitted by Perry Baby 1/15/14
+ The smudge or fuzz (at 25.40) is on the lens. It first appears on the ceiling, then moves downward as the camera angle changes. I don't think it was an attempt to blur the date or a logo on the calendar, just a smear on the lens. Submitted by catyron, August 8th, 2018
What a line! "I tried to wise him up, but he wouldn't wise." I laugh every time I think of it! Now, I'm just looking for a chance to use it - short of committing a crime! Submitted by MikeReese, 5/17/2013
Just received Season 9, Volume 2 in the mail today. I now own all 271 episodes, plus 76 of the 82 books. Wooo Hooo! This was the first episode I watched. Despite negative reviews on other websites, "Sunrise" is in my list of the Top 50 episodes. Maybe it's the connection to TCOT Moth Eaten Mink, my favorite novel. Submitted with delight by Bill-W2XOY on 08/17/13..
Not counting the three Perry Mason short stories written by ESG (at least one of which, "Crimson Kiss," was adapted for the series)? Some readers may also be interested in the two Perry Mason novels written by Thomas Chastain in the late 1980s (Too Many Murders and Burning Bequest.) So far, I have 50 Perry Mason novels/stories including two of the short stories and the two new novels. I only have the first three seasons on DVD [not counting the two episodes held over for the fourth season ("Treacherous Toupee" and "Credulous Quarry.") I wish DVD makers would release production seasons rather than broadcast seasons, but I digress...] Submitted by Wiseguy70005, 8/20/13.
Perry-Lt. Drumm Relationship: TCOT Silent Six was their most COLLEGIAL episode, TCOT SS was their most CONFRONTATIONAL Both inside/outside the courtroom, but Perry compliments LD in the End as "One, Good, Honest Cop." Mike Bedard 3.5.15.
Paul Drake drives a semi truck in this episode. Quite the renaissance man, Paul. As a former truck driver I can tell you it is not a simple thing to learn to drive a semi. Paul must have had some previous training, maybe in the military. Submitted by PaulDrake 33. 6 March 2015.
+ He would also need to have the proper class of license ...which isn't something he would be likely to maintain unless he often took these kind of assignments; IMHO, this would have been a good opportunity to have Paul employ one of his (oft-mentioned but seldom seen) operatives, tho of course that would remove Paul from the center of the action during some key scenes. Notcom, 083019.
++ Speaking of Paul Drake's semi driving, what were the bad guys thinking trying to run a semi truck off the road with a sedan? That's asking for an early grave. Submitted by PaulDrake 33. 6 March 2015.
A Variation on a Theme by Atwater. Actor Peter Mamakos offers an interesting variation on how to sprawl across the top of a desk, a theme addressed earlier in Season Nine by Barry Atwater (See "TCOT Cheating Chancellor", #245): Grab hold of the other side of the desk, do the Atwater hand tuck, and hang on until someone finds your body. Submitted by BobH, 30 January 2018.
How many, if any, other episodes feature TWO defendants? Submitted by catyron, August 8th, 2018
Not just two defendants, but two murders. Although, just two shows from now, we'll have another double murder in "Twice Told Twist". DOD 05/02/20
Continuity: A couple of items. In the long shot of the car chasing Paul in the semi the two men can be seen to be stunt drivers. Ditto in the long shot of the semi. Stunt drivers for Paul and Bert Kannon. The car going over the ledge is not the same car seen chasing Paul. (Stunt car?) Kilo 11/9/2018.
+ The car going over the cliff is likely stock footage. And, nowhere on any road going anywhere near Bakersfield then on to San Francisco (per Deering's instructions to Paul on the secret route he was to take) is there a road on a cliff over the ocean -- which the car falls down into. OLEF641 9/25/21
Lt. Drumm handling the gun on the witness stand: finger on trigger, points gun at Burger's stomach! Yikes! Kilo 5/10/2020.

This was one of the few episodes where there was a tell tale clue given to help identify the killer. It was when Paul was asking Floyd who he knew had seen the manifest but was interrupted by Bradley. Submitted by Perry Baby 1/26/17.
Perry displays a rare foolishness when he leaves court to check out some "new evidence" in the gallery storeroom, suspecting as he did that the killer might also be heading there. His life was saved only because Lt. Drumm happened to ask Della where her boss was going. (And if we are to believe Perry didn't know Drumm had followed him, we have to admire the casual demeanor Perry displayed as he was about to be murdered!) Submitted by francis, 4/24/14
I've always wondered why a line like, "Don't you know me by now (Hamilton, Tragg, etc..)", or "I know Perry. He always works within the law, even if we don't like it," wasn't written into an episode or two. That's the only way the dramatic scene in the gallery storeroom would make sense: if the police and prosecution thought that Perry was playing dirty, that scene where Drumm shows up to 'save the day' would make no sense. Even with Drumm asking Della where Perry was going, if he thought Perry was a crooked lawyer, he probably would have assumed that he was planting evidence or such .. Submitted by MikeReese, 6/12/2014
Goofs: In this episode, I think there are two goofs in the last one or two scenes (I'm watching MeTV). When Bradley is shot by Drumm, he has no bullet holes in his shirt, and no blood is visible as he slides to the floor. Then, after they cut away to Drumm, the following shot shows blood and actual bullet holes in the shirt. ALSO, during that shootout when Drumm shoots Bradley, Bradley gets off one wild shot that knocks a large chunk out of the picture frame that is sitting on the table there. But later, just before the final fade-out, as the camera pans over to the same picture frame, the frame is no longer damaged/no chunk missing… double oops! ;-> Submitted by mesave31, 03/18/15.
+ Shall we make it a triple ?? While not, strictly speaking, a "goof", and it helps prolong the tension in the scene, it seems dubious that Drumm wouldn't call out the something - even the cliched "drop it" - before firing. Notcom 101122.
It never fails - whenever we have a "guest" police officer, he invariably turns out to be the bad guy. DOD 04/05/18
The Downside of Remastered (and Hi-Def) Episodes. Occasionally, a remastered (or Hi-Def) version of an episode provides more visual information than was originally intended. At the beginning of this episode and after Harry Marburg's murder, someone is seen leaving the Clune Galleries and getting into a car. The remastered, crisper version makes it pretty clear who that person is: actor Mark Tapscott, who is later revealed to be the murderer. You have to wonder whether a non-remastered, fuzzier print of the same scene, as originally shown in 1966, would have been quite as revelatory of the killer's identity. Submitted by BobH, 13 July 2017.
TCOT Self-evident Slayer One has to laugh at this bit from the summary: "... Perry almost gets shot confronting a killer no one would suspect." Don't we all know that the bad guy/killer is Sgt. Bradley the minute he appears on screen? He's so aggressively out of line that he might as well be wearing a sign around his neck saying, "I did it!". Submitted by JazzBaby, 6/25/2019.
Can someone tell me why series 9 has so many remakes of shows from earlier seasons? Were they just short of scriptwriters? Submitted by Hamilton Burger for Governor, 07/02/2020.
<< Golfer's Gambit | Episodes | Scarlet Scandal >>