Show183
<< Nebulous Nephew | Episodes | Drowsy Mosquito >>
#183: The Case of the
Shifty Shoe-Box
Original Airdate: 10/10/63 Revised
From The Perry Mason TV Show Book (Revised)
This episode features Billy Mumy, known to most fans as the know-it-all kid in Lost in Space. Mumy also starred in "Bang, You're Dead," one of the most memorable episodes of another classic TV show, Alfred Hitchcock Presents. His role in this Mason episode is remarkably similar to his Hitchcock appearance. As eight-year-old Miles Jefferson, Mumy finds a gun belonging to his uncle. He hides it, not knowing it is the key to a homicide case and is the only evidence that can get his Aunt Sylvia freed from a murder charge.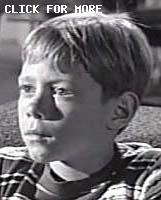 Opening
Starring Raymond Burr
in The Case of THE SHIFTY SHOE-BOX
Based upon characters created by Erle Stanley Gardner
Barbara Hale, William Hopper, William Talman, Ray Collins
Trailing
Directed by Arthur Marks
Written by Jackson Gillis
Art Seid | Producer
Gail Patrick Jackson | Executive Producer
Jackson Gillis | Associate Producer
Samuel Newman | Story Consultant
Raymond Burr as Perry Mason
Barbara Hale as Della Street
William Hopper as Paul Drake
Wiliam Talman as Hamilton Burger
Ray Collins as Lt. Tragg
Cast
Constance Ford as Sylvia Thompson
Benny Baker as John Flickinger
Billy Mumy as Miles
Denver Pyle as Frank Honer
Joseph Sirola as Bill Sheridan
Ray Teal as Joe Downing
Diane Ladd as Miss Frances
Russ Conway as Deputy Sheriff
Willis Bouchey as Judge
Jim Boles as Night Man
Pat Coghlan as Chuck
Henry Travis as TV Announcer
Lincoln Wilmerton as Deputy No. 2
Uncredited Actors
Chuck Hamilton as Pool Hall Proprietor (from IMDb)
Bill Raisch as Pool Hall Extra (from IMDb)
Robert Wegner Deputy No. 3 (spotted by gracenote, 2/12/2011)
Crew
Director of Photography … Robert G. Hager
Art Direction … Lewis Creber
Assistant Director … Robert G. Stone
Film Editor … Richard H. Cahoon, A.C.E.
Casting … Harvey Clermont
Makeup … Irving Pringle
Hair Stylist … Annabell
Wardrobe Supervision … Ed McDermott, Evelyn Carruth
Set Decoration … Carl Biddiscombe
Properties … Ray Thompson
Production Sound Mixer … Herman Lewis
Script Supervision … Marshall Schlom
Theme Composed by … Fred Steiner
Automobiles Supplied by … Ford Motor Company
Perry Mason
Produced by the CBS Television Network in association with Paisano Productions
Near the beginning, Miles (Billy Mumy) sits down to watch TV. The picture can't be seen, but we can hear the sound. Recognize the voices? Those are Doc and Matt Dillon. The show is Gunsmoke, another CBS hit series of the time. Submitted by D. A. Supernaw, 7/14/2005.
+ I am pretty sure Chester speaks as well. In the absolutely shortest number of sentences that could be used to name all three characters, Matt Dillon addresses Chester by name; then Chester replies, addressing Dillon by name; then Dillon addresses Doc by name; and finally, Doc replies. Sumbitted by catyron, May 18th, 2018
Billy Mumy makes his only Perry appearance here. In the above summary, Billy Mumy is credited with appearing in a classic Alfred Hitchcock program, "Bang, You're Dead." Billy Mumy also starred in one of the all-time classic Twilight Zone episodes "It's a Good Life." Submitted by PaulDrake 33, 6 August 2009.
+ Billy Mumy returned as an adult Anthony Fremont in the sequel episode "It's Still a Good Life" in the 2003 episode on the third version of The Twilight Zone. He also appeared regularly as Lennier, the aide to Minbari Ambassador Delenn on Babylon 5. Added by H. Mason 2/16/15
++ Billy's baseball pal "Chuck" is wearing a Chicago White Sox ball cap. Go Sox! Joe B. 01/14/2020
Diane Ladd makes her only Perry appearance here playing Miss Frances. Diane Ladd was one of the unique alumni of Perry (similar to Robert Redford) who appeared on the show before they became famous. Ms. Ladd was nominated for three Oscars, in 1974 (Alice Doesn't Live Here Anymore), 1990 (Wild At Heart), and 1991 (Rambling Rose). In all three of these movies she appeared with her daughter, Laura Dern. Sadly there would be no wins for her. Submitted by PaulDrake 33, 28 August 2009.
Location: About 45 minutes into the episode, Billy Mumy runs to Stanley Mosk Courthouse at 111 N. Hill Street, which still exists and is featured on many episodes. Posted by Eric Cooper, 10 August 2010. Some pictures here.
Location: The shopping street in Miles' neighborhood is the same street where Rayo's place was located in Ep#170 TCOT Libelous Locket. In fact, a bit Screen-Right of the bus-stop where Miles catches the bus to downtown & the courtthouse is the "PASSPORTS" sign for Sid's PHOTO Service (still painted on the shop window). The shop looks like it's still operating even though Sid Hawes (played by Harry Von Zell) has been otherwise occupied since Ep#170! Added by Gary Woloski, 12/31/13.
David Sadowski noted in the Perry_Mason Yahoo! group that this episode was originally aired a week after its scheduled date. Submitted by daveb, 1/16/2011. More information here.
Character Names: The full name of Mumy's character is Miles Jefferson. Submitted by gracenote, 2/12/2011.
So far, Lt. Tragg (Ray Collins) has not appeared this season, despite being credited for this episode and the previous. Submitted by gracenote, 2/12/2011. But Tragg Is HEARD in the previous episode, The Nebulous Nephew, as Perry is wondering the house trying to figure how he went wrong. Tragg is giving evidence in audio flashback. Submitted by Steven Blackwood 04/18/2022
Sightings: During the hearing, in a cutaway to Honer, we find a woman who looks like Little Old Lady #2 (if so, then she has stopped dying her hair as dark as before). Also in the courtroom gallery are Little Old Lady #1 and Pencil Mustache Man. Want to know who they are? Submitted by gracenote, 2/12/2011.
+ The African-American Woman and African-American Man are here again, seated next to a new Asian (probably Japanese) Woman with Pearls, and a row behind them is a new African-American Woman #2 with a Head-Band. The African-American Couple first appeared last season, but i only started tracking them this season. Submitted by catyron, May 18th, 2018
Uncredited Actors: Robert Wegner plays the silent police officer who helps break up a fight between Uncle Flick and shifty Sheridan. The IMDb also lists two other uncredited actors as appearing in the pool hall (see Credits, above). Submitted by gracenote, 2/12/2011.
CARS are listed in order of first appearance with appearance time(s). Cast Cars and other significant vehicles are numbered. Background Cars are lettered. Indistinct background cars are not mentioned.
Outside the HONER-DOWNING office as Joe Downing and Perry leave at 8:49:
(2) (8:49, 19:26) 1963 Ford Galaxie 4-Door Sedan B&W, LA County Deputy Sheriff. Single rotating flasher on roof, Licence No E 014.
(3) (8:49) front left corner of medium-color 1959 Buick Invicta seen at Screen Right. This "banker's hotrod" was probably Joe Downing's; it's exactly his type of car.
(4) (8:49, 25:26, 26:42) Perry's NEW 1963 Lincoln Continental Convertible, white, top down, almost hidden in background at 8:49. At 25:28 note the square grill grid which differs from 1962's rectangular elements. Perry's '62 Lincoln was last seen in Ep#175.
Flick takes Miles to the Pool Hall & Diner. When the Deputy Sheriff parks outside Flick retreats out the side door, sending Miles to the movies. An unidentified white station wagon drives by, then:
At 38:01 Miles catches the Bus to downtown LA:
(7) (38:01) A 1948 ACF-Brill 45-Passenger Suburban Coach, Lic No S85 652 ('56 Yellow-Plate), fleet serial #132. The "Suburban Coach" is a derivative of the ACF-Brill C-44. The Suburban Coach has no rear passenger exit door and has different side windows (38:08) than the C-44 (44 passenger). Apparently just a few were built only in 1948. See the Sales Brochure (headed "Top of the slate for '48") at the ACF page of coachbuilt.com, scroll ⅔ down. ACF-Brill badge is center-front between the turn signal lights (38:03).
At 39:18 the LAPD Traffic Division Officer (white cap & gloves, white cross on shoulder patch stood for "Have a safe crossing!") points Miles towards the courthouse. The nearest cars parked across street are (Right to Left):
As Miles runs up the courthouse front steps, the background cars are:
Added by Gary Woloski, 1/8/14.
The Sign in front of the Rialto movie theatre, seen through Car(5)'s windshield at 25:16, reads:
"
Granville Dixon
presents
Lorrie

DELACOURT
IN
MAINE MORNING
".
Granville Dixon and Lorrie Delacourt were characters in the 1956 movie 3 for Jamie Dawn, a courtroom drama in which the crooked defense lawyer in a murder trial bribes three jurors (including Lorrie) to favor his client Jamie Dawn (hence the movie's title). Granville Dixon was previously Producer of Lorrie's biggest stage success, but by the time of the movie she's pretty much washed-up. The sign outside the Rialto in this episode also shows Dixon and Lorrie as Producer and Actress.
The theatre sign (referencing fictional characters from a work in a crew-member's real past) is reminiscent of the "T.J. Triton" magazine ad of Ep#101 which was probably inserted by Art Director Lewis Creber. However, Creber wasn't involved with 3 for Jamie Dawn. If you expand the TCM Jamie Dawn cast & crew listing, you'll find that Richard Cahoon was Film Editor! You'll also find several actors from Jamie Dawn who would appear in Perry Mason in the following few years. Enjoy some lobby cards. Added by Gary Woloski, 1/12/14.
This is the first of three PM appearances for Benny Baker, who was Pete the Bartender in five episodes of F Troop...MikeM. 12/13/2016
This is the second of three "unnamed" PM appearances for Henry Travis, two of them as television announcers...MikeM. 3/21/2017
This is the only PM appearance for "Deputy #2" Lincoln Wilmerton and, according to IMDb, was his only Filmography of any kind...MikeM. 4/11/2018
Just after Miles hangs up the phone on Della he picks up a newspaper. Watch what happens when the camera changes to a closeup of Miles. The picture becomes grainy and slightly out of focus. It's as if maybe there was something in that scene that the editor didn't want to be seen so he just zoomed in so it would be out of frame. Kilo 11/23/2020.
+In the MeTV version I watched, right then there is about a half second when what might be a little girl holding a doll appears entering a doorway in the background. Was that scene longer in the uncut version? Submitted by Wick 2/52022
++ The little girl walked over and stood next to Miles grinning before Miles runs out of the room. Kilo 5/6/2022.
Comments

Edit
Those were the days. A small boy could wander into the L.A. County courthouse, break away from a guard, and run into a court room with a shoe box containing a gun. And the "Adult Role Model Award" is a tie between Uncle Flick and Bill Sheridan. Submitted by Mason Jar, 9/23/2011.
Very cool 1950's - early 1960's Chicago White Sox baseball cap worn by Chuck. Otto Gervaert, 1/27/21. Here is a link to White Sox caps and how they've changed over the years https://mlbcollectors.com/CWScaps.php
The trucking company uses Della's filing system - an individual drawer for each letter o& the alphabet. DOD 02/28/23
Good storytelling in this one -- I enjoy the tension created when Miles carries his shoebox amid the unknowing by-standers on the bus, innocently stops for directions from a cop, and then runs away from the courthouse guard. The 1960s Los Angelenos would have assumed he was at most packing a frog. JohnK, 27 October 2015
+ I find this to be one of the more disturbing Perry Mason episodes, primarily because of the way Miles is treated by "Uncle Flick." Submitted by 65tosspowertrap, 11/21/2013.
++ Agreed. Uncle Flick is a real creep. But that's good acting, right? JohnK, 27 October 2015.
+++ Right. In the few other roles that I've seen him play, Benny Baker has been more genial and smiley. lowercase masonite, 3/29/16.
++++ Not only is it one of the more disturbing ones, it's also one of the most Noirish ones, with it's frequent nighttime shots, dingy interiors, unsavory characters and sideplots of robbery and embezzlement. Submitted by Notcom, 030916.
Speaking of creepy from a child's point of view: Miles sees Perry for the first time (4:58 of the 2012 Paramount DVD) when Perry visits the house that Miles is living in. This is also the first meeting between Perry and Sylvia Thompson. The next time that Miles sees Perry is at 25:27 when Perry drives by on the street and stops his car to talk with Miles, who is on the sidewalk before stepping into the car and sitting down. During the conversation Perry says, "See, I found out quite a bit about you, Miles. (Miles: "You _what_?") You don't mind, do you? Come on, shut the door. We'll talk while we drive...." Miles exits the vehicle and runs away. lowercase masonite, 3/29/16.
+ This is a syndication cut that I don't mind that they made. It probably played perfectly innocently back in those more innocent times, but nowadays would definitely come across as decidedly creepy. On the meTV showing last night, the second time Perry meets with Miles is as the sheriff is taking Miles home to stay with him just after Aunt Syl has been arrested. OLEF641 6/11/21
At the end of the episode, Miles induces Paul to discover an interesting detail about PM's building. There are exactly 322 stairs to reach the floor where Perry's office is located. Submitted by MikeM, 9/14/2012
+ The number seems unrealistic: IIRC from other episodes, Perry's office is described as being around the tenth floor, which - assuming a step height of 6" and a floor-floor height of 12' - would equate to roughly 2/3 of that number...maybe they miscounted (or maybe it just seemed like that many !!) Submitted by Notcom, 030916.
++ Good catch. If the office is Suite 904 of the Brent Building, and the ground floor is floor 1, then there could be 8 flights of stairs to the 9th floor, with likely fewer than 40 steps between each floor. lowercase masonite, 3/29/16.
The New York Times Obituary page of June 21, 2001 stated: "Stanley Mosk, a California Supreme Court Justice who wrote Landmark decisions on Civil Rights & Criminal law died...at his home in San Francisco. He was 88...Justice Mosk, a lifelong Democrat & self-described liberal, was twice elected state attorney general...He was appointed to California's highest court...in 1964 & served until his death, a 37-Year Tenure that made him the state's Longest-Serving Justice. In that time, he wrote 1,500 opinions" [nytimes website; see Location Trivia comments above on the Courthouse named for SM]." Mike Bedard 2.24.15.
I also thought this had some of the most honest acted scenes in the series history. We had the tenderness of Sylvia's kiss when Miles was pretending to be asleep and her remorse later on raising Miles. Submitted by Perry Baby 8/19/16
I agree. Billy Mumy's reactions to each situation were spot on, ranging from anxiety and unease to what seemed like pure boredom when he had to deal with 'Uncle Flick'. MikeReese, 6/10/21
<< Nebulous Nephew | Episodes | Drowsy Mosquito >>