Show166
<< Polka Dot Pony | Episodes | Bluffing Blast >>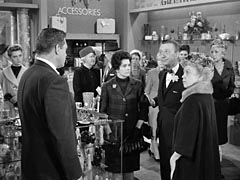 #166: The Case of the
Shoplifter's Shoe
Original Airdate: 01/03/63
From The Perry Mason TV Show Book (Revised)
Leonard Nimoy, the world-famous Mr. Spock from the Star Trek series and movies, makes an early TV appearance in this episode.
When Sarah Breel is accused of shoplifting, Perry learns that the woman's sticky fingers may have more to do with protecting her boozing, gambling brother, George, than with kleptomania.
Later, George's partner Austin Culles is murdered and the police naturally suspect Sarah. Why? First of all, Sarah was hit by a car while running from the murder scene. Second, she had both the jewels and the murder weapon in her purse. To make matters worse, George winds up shot to death too. As usual, it's up to Perry to straighten things out.
Opening
Starring Raymond Burr
in Erle Stanley Gardner's The Case of THE SHOPLIFTER'S SHOE
Barbara Hale, William Hopper, William Talman, Ray Collins
Trailing
Directed by Arthur Marks
Teleplay by Jackson Gillis
Art Seid | Producer
Gail Patrick Jackson | Executive Producer
Jackson Gillis | Associate Producer
Samuel Newman | Story Consultant
Raymond Burr as Perry Mason
Barbara Hale as Della Street
William Hopper as Paul Drake
William Talman as Hamilton Burger
Ray Collins as Lt. Tragg
Cast
Margaret O'Brien as Virginia Trent
Lurene Tuttle as Sarah Breel
Leonard Nimoy as Pete Chennery
Melora Conway as Ione Bedford
Richard Coogan as Sergeant Gifford
Arthur Batanides as Bill Golding
Blair Davies as Austin Cullens
Charles Irving as Judge
James Millhollin as Floorwalker
Shirley Mitchell as Saleswoman
Kenneth Patterson as Store Detective
Walter Kelley as Interne
Bernard Fein as Foreman
Vincent Troy as Andre (Maitre d')
Uncredited Actors
Bess Flowers as Department Store Patron
Lee Miller as Sgt. Brice
Sam Harris as Courtroom Spectator
Jeffrey Sayre as Department Store Patron (from IMDb)
Crew
"Perry Mason"
Director of Photography … Robert G. Hager
Art Direction … Lewis Creber
Assistant Director … Robert G. Stone
Film Editor … Richard H. Cahoon, A.C.E.
Casting … Harvey Clermont
Makeup … Irving Pringle
Hair Stylist … Annabell
Wardrobe Supervision … Ed McDermott, Evelyn Carruth
Set Decoration … Charles Q. Vassar
Properties … Ray Thompson
Production Sound Mixer … Herman Lewis
Script Supervision … Cosmo Genovese
Theme Composed by … Fred Steiner
Perry Mason
Produced by the CBS Television Network in association with Paisano Productions
Anomaly: There seems to be some confusion about the character named Austin Cullens. Through the episode he is sometimes called "Cullens" and sometimes called "Cullen." During a final scene, with Leonard Nimoy at the water fountain, Mason has some dialog where he refers to the character both as "Cullens" and "Cullen." Submitted by Charles Richmond, 9/21/2005 via email.
+ Perry reads from the directory in the phone booth outside the hospital emergency room (subtitles on): "Austin Cullens. 9461 Rupert Street.". This isn't the first time there's been inconsistency with names. Added by Gary Woloski, 7/8/13.
Although best known for his SCI FI "Mr. Spock" character, Leonard Nimoy also did some Police Dramas: a T.J. Hooker, Columbo, 87th Precinct & 2 1950s Dragnets & Highway Patrols [IMDb]. Mike Bedard Presidents' Day 2015.
+Leonard Nimoy (3.26.1931/Boston to 2.27.2015/Bel Air)
IMDb Filmography:
134 Actor, 12 Director, 3 Producer, 4 Writer, 5 Misc. Crew, 3 Soundtrack, 4 Thanks, 150 Self & 27 Archive Footage credits. Mike Bedard 2.28.15.
+I was an early Trekkie and still am, but I also loved Nimoy as "The Great Paris" on 49 episodes of Mission:Impossible, his first role after Star Trek in 1969. Also I'm sure I saw all the episodes of the syndicated In Search Of... which Nimoy hosted starting in 1976 (in the Filmography under Self). Submitted by DyNama, 2/28/2015
++ In a few episodes preceding this one, and other points too, there is a guy in the gallery who looks a lot like Leonard Nimoy -- long face, etc., enough to be his brother. The Internet tells us he had a brother Melvin, although he did not do much acting, if any. Perhaps it was a fun way to make a few bucks while visiting Los Angeles. JohnK, 10 January 2018.
Star Trek (non-Spock) Alert: Leonard Nimoy isn't the only member of the Starship Enterprise's crew who beamed into this Perry Mason episode. Arthur Batanides (playing Bill Golding) appeared as geologist Lt. D'Amato in Season 3, Episode 14, of the original series Star Trek ("That Which Survives"). The story involved a computer generated women with a lethal touch. And naturally, D'Amato, not being part of the regular cast, got the red-shirt treatment (although he was a blue shirt) and winds up dead in the first act. Fortunately, he wasn't the murder victim in this Perry episode, his only Perry Mason appearance. A Greek-American, Batanides was ubiquitous as a character actor in the 1960s and 70s. He died in January 2000. Submitted by MyFavoritePolarBear, 11/10/22.
Margaret O'Brien makes her only Perry appearance here playing Virginia Trent. Margaret O'Brien was a really big child star in the 1940s. She won a juvenile Academy Award for her role at Tootie Smith in 1944 for Meet Me In St. Louis. She continues to act in 2009. Submitted by PaulDrake 33, 9 September 2009.
Sightings: The Pencil Mustache Man (PMM) appears in the courtroom gallery on the defense side, all the way in the back nearest the door. He can be seen in a cutaway of Mrs. Chennery when Burger is questioning Sgt. Gifford on the stand. Also, it appears the Quiet Old Man #1 sits opposite the PMM on the prosecution side, back row nearest the door. Submitted by Kenmore, 9/21/10.
+ But wait, there's more! The PMM is also seen rather close-up in a cutaway to Golding (and later magically behind Virginia). And "Miss Carmody" is in the courtroom on the prosecution side, front row. During a recess, we see PMM standing around, chatting with fellow spectators while Mason, Drake, Tragg, and Burger confer—one of the few times we see him outside the courtroom. Then the PMM and "Miss Carmody" get off an elevator, while Quiet Old Man #1 gets on (apparently, that is—we only see his back). Finally, "Miss Carmody" strolls behind Burger and Mason as the D.A. admits he was wrong (again). Submitted by gracep, 1/18/2011.
+ "Miss Carmody," sporting black hat and gloves, also appears as a department store browser. And in a touch of dark humor, Distinguished Gentleman #1 makes a surpise cameo! Read more about all of these folks on the "Who Is That?" page. Submitted by gracenote, 7/24/2011.
This episode may cause viewers to experience a feeling of deja vu, and with good reason. Many of the elements of this case appear in episode #51, TCOT Shattered Dream. While the mystery plots are dissimilar (#166 is an up-to-a-point faithful rendering of Gardner's novel) the names and general setting are quite similar. Both stories have backgrounds in the diamond/rare gems business. And then there are the names! Characters in #166 include Virginia Trent, Sara Breel and Ione Bedford, while #51 has its own Virginia Trent, Irene Bedford and Hans Breel (who has a wife named Sarah Werner). There were different writers on the two shows, so maybe someone in story supervision (even ESG himself) might have been having some private fun here. Submitted by FredK, 18 Nov 2010.
Character Names: The Saleswoman in the credits is Miss Fairweather. Submitted by gracep, 1/18/2011.
Uncredited Actors: There are several unacknowledged players today, including the venerable Bess Flowers and Burr's stand-in, Lee Miller. See credits for more info. Submitted by gracep, 1/17/2011.
+ Lee Miller may have made more that one appearence in this episode. At the 15:00 mark on the DVD, both Paul and Perry approach Austin Cullins home. While it was shot "day for night", it's pretty clear that it's not Raymond Burr next to William Hopper as they approach the home. It certainly looks like Lee Miller. Submitted by Kenmore 1/11/2012
+ The Australian-born Sam Harris also appears. Both he and Bess Flowers are among only four actors to appear in five movies that won the Best Picture Oscar. (Harris is not on our Uncredited Actors page yet.) Submitted by gracenote, 7/24/2011.
Location: Although probably a set, the department store name is that of a real chain that still exists: Bon-Ton! The sign is over the front door. Submitted by gracenote, 7/24/2011.
The Ubiquitous Crates: When Perry enters the locked storeroom at the Trent Company (at time 27:33 on the dvd episode), what do we find??? Look at the lower left of the frame. There, upside down, we see a crate labeled "Nathan Claver Collection, Rio de Janeiro". There is some Japanese writing along the side, probably picked up when the crates appeared in #127, TCOT Malicious Mariner. These crates really get around!!! In the current episode, the Rio de Janeiro is visible, along with the first half of the word "collection", and we can see the "N" over that. It seems these crates originally appeared in #118, Torrid Tapestry. Submitted by Charles Richmond, 10/04/2011.
CARS. (1) 1962 Mercedes-Benz Type 190 4-Door Sedan Yellow Cab Co No 9043, Lic No REX 141 (remainder of MOTOR TREND article). The driver, Distinguished Gent #1, picks up Sarah Breel outside the BON-TON department store. This taxi's headliner is terribly stained! Does DG#1 smoke a lot of cigars?
(2) Paul drives Perry from the hospital emergency entrance to Austin Cullens' place on "Rupert Street" in his black 1962 Thunderbird Convertible, top down.
(3) Perry arrives at LA County Courthouse. His black 1962 Ford Galaxie 500 Sunliner (top down) is parked in front of Paul's TBird. Parking is such a breeze in LA!
Background Car. At the hospital emergency entrance, Paul was leaning on the hood of:
(a) a 1962 Cadillac Ambulance, white w/ medium-colored roof. Year ID'd by grill & headlights. The roof lights are an exact match to those in the linked image.
There is no "Automobiles Supplied by …" closing-credit. Added by Gary Woloski, 7/7/13.
Tragg is back! Submitted by 10yearoldfan, 26 October 2013.
Closing Credits: The closing credits have been changed: the title "Perry Mason" occurs late in the credits instead of at the beginning, the theme song has a quicker tempo and a drumbeat accompaniment, and the theme song is completed too early, so the classic opening notes are repeated close to the end, finishing with a newly-composed flourish. Submitted by 10yearoldfan, 26 Oct 2013.
This is the fourth of six PM appearances for Lurene Tuttle, who appeared in more than 30 episodes of the television series "Julia"...MikeM. 11/18/2016
She also made a memorable appearance on "The Andy Griffith Show" - as a shoplifter! DOD 01/01/21
Barbara Hale Alert...Turner Classic Movies showed one of Barbara's earliest screen appearances this morning, the musical comedy "Higher and Higher" from 1943. Barbara appears in scenes with Frank Sinatra. I think TCM shows its films online for free viewing for a week after the on air broadcast...MikeM. 11/18/2016
This is the fourth of five PM appearances for Melora Conway, who appeared in "Vengeance", a 1964 western movie directed by her husband, Dene Hilyard...MikeM. 2/24/2017
Twilight Zone link: James Millhollin, who played a floorwalker here, had a nearly identical role in the memorable TZ episode The After Hours ...must be those "pop eyes and flighty mannerisms." (As a side note, this episode well illustrates why PM was costly to produce: though both shows made use of a lavish department store set and an army of extra's, here it was for only a few minutes of airtime). Noted by Notcom, 050317.
This is the fifth of eleven PM "Judge" appearances for Charles Irving, whose wife, Hollis Irving, had a single PM appearance...MikeM. 3/16/2018
Pinky ring (Perry) in hospital bedside with client. Submitted by Hamburger, Jul 6, 2019
Comments

Edit
The killer in this episode is a different person than in the book. In the book, the killer, although privately identified, is not arrested, as it was clearly self defense. In addition, the book (1938) makes extensive use of police radio. Many characters in the book have radios tuned to the police band. Two way police radio was still a novelty back then. Submitted by Bill-W2XOY on 07/30/13.
+ Without explicitly identifying Austin Cullens's killer in the novel, one wonders whether the casting director's decisions had an effect on the change of the killer's identity. Submitted by BobH, 18 November 2016.
++ "A Second Thought." A second and, I think, better explanation for changing the identity of Cullens's killer: In the novel, Sarah Breel's flight from the "crime" scene and subsequent "medical condition" seem at the end to be part and parcel of her effort to conceal the identity of the person she knows to be the real killer. By changing the killer's identity in the episode, the scriptwriters absolve Sarah of any complicity in covering up the real killer's identity, thus making her an innocent Mason client--a hallmark of almost every episode. (See "TCOT Howling Dog," both novel and episode, for an even more obvious example of changing the killer's identity as a way of preserving the complete "innocence" of Perry's client.) Submitted by BobH, 20 January 2018.
+++ Technically speaking, we might say the killer wasn't (positively) identified here: at least - and this is the only episode where I can recall this happening - the suspect doesn't burst into an impromptu confession...OTC his/her final words are "I didn't do it..." Notcom, 031718.
++++ The killer is positively identified in the epilogue. jfh 19Dec2019
+++++You are correct: "It wasn't easy to get a confession out of him, but Tragg did it" Oh the perils of commenting based on an overedited showing !! (Whether/not Nimoy's onscreen adamancy is unique waits further inquiry.) Notcom, 1232119.

PM Producer Arthur Marks stated that 30,000 actors appeared in the 9 Perry seasons (Intro. with Barbara Hale to "Shoplifter's Shoe," 50th Anniversary DVD set). Mike Bedard Presidents' Day 2015.
Looks like both Perry and Paul got those magic parking spots right in front of the courthouse. And, again, the traditional courtroom interior has no relation to the modern exterior. DOD 02/02/23
BRAVO to METV for preempting TCOT Decadent Dean to run "The Shoplifter's Shoe" Honoring Leonard Nimoy on 2.27.15! See Trivia for the highlights of his Multi-Faceted career. Mike Bedard 2.28.15.
When Perry and Paul are outside Cullen's house, the door is flush with the wall. From inside, a wall appears at a right angle to the door. I can't believe that storeroom would not have been part of the police search. DODay 11,23,17
A body, dead for a couple of days, certainly would have been noticed by its odor. Right? --yelocab 20MAY19
<< Polka Dot Pony | Episodes | Bluffing Blast >>