Show264
<< Avenging Angel | Episodes | Fanciful Frail >>
#264: The Case of the
Tsarina's Tiara
Original Airdate: 03/20/66
From The Perry Mason TV Show Book
A long-lost tiara worth $754,000 turns up in the hands of one of Perry's clients, and the body of a notorious jewel thief turns up in the trunk of another.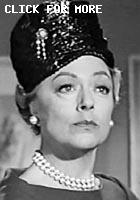 Opening
Starring Raymond Burr
in The Case of THE TSARINA'S TIARA
Based upon characters created by Erle Stanley Gardner
Barbara Hale, William Hopper, William Talman
Trailing
Directed by Harmon Jones
Written by Ernest Frankel & Orville Hampton
Arthur Marks \ Art Seid | Producers
Gail Patrick Jackson | Executive Producer
Ernest Frankel | Story Consultant
Orville H. Hampton | Associate Story Consultant
Raymond Burr as Perry Mason
Barbara Hale as Della Street
William Hopper as Paul Drake
William Talman as Hamilton Burger
Richard Anderson as Lt. Steve Drumm
Music | Richard Shores

Cast
Virginia Field as Madame Sonya Galinova
Kendall Clark as Gerard Van Ness
Vivienne Segal as Pauline Thorsen
Leonid Kinsky as Vyacheslav Gerznov
Wesley Addy as Joachim DeVry
Phillip Terry as Rolf Thorsen
Janet DeGore as Lisabeth Wells
Carlos Romero as Ricardo Arena
Barbara Perry as Girl Assistant
Lew Brown as Officer One
Lee Miller as Sgt. Brice
Rodolfo Hoyos as Rizal
Willis Robards as Alvin McCauley
Fayrene King as Attendant
Ray Hemphill as Officer Two
Kenneth MacDonald as Judge
Dante Orgolini as Dinaldo
Larry Barton as Spectator
Fred Krone as Nils Dorow
Crew
Director of Photography … John M. Nickolaus, Jr.
Art Direction … Lewis Creber
Assistant Director … Robert G. Stone
Film Editor … Richard W. Farrell
Casting … Harvey Clermont
Makeup … Irving Pringle
Hair Stylist … Annabell
Wardrobe Supervision … Bob Wolfe, Evelyn Carruth
Set Decoration … Carl Biddiscombe
Properties … Ray Thompson
Production Sound Mixer … Herman Lewis
Script Supervision … Hazel W. Hall
Theme Composed by … Fred Steiner
Automobiles supplied by … Ford Motor Company
Perry Mason
Produced by the CBS Television Network in association with Paisano Productions
Virginia Field's awful, over-the-top accent would make one think she had never played a Russian before. But she had-—many years before! In 1937's Think Fast, Mr. Moto, she plays White Russian Tanya Borov-—minus the terrible accent! Submitted by Ed Zoerner, 5/03/2009.
+ I call this the Case of the Worst Russian accents and associated acting. I guess the view was that Russians were a bit melodramatic. A reasonable story but somewhat marred by Virginia Field's and Leonid Kinsky's acting. I guess it was the director wanted. Submitted by Perry Baby 2/2/17
+ I agree, Perry Baby. This is season nine and we should all know by now the producers love over the top performances and outrageous accents. It is one of the many pleasures of watching Perry Mason. Personally, I wouldn't have it any other way. Submitted by Rickapolis 04/23/19

In my opinion, Virginia Field's second-worst performance is as Shakespearean (over) actress Ramona Carver in TCOT Simple Simon. Submitted by JazzBaby, 6/27/2019.
This would mark the final of five appearances on Perry for Phillip Terry playing Rolf Thorsen. Phillip Terry is best remembered as the 4th husband of Joan Crawford. While he was married to Ms. Crawford they adopted a boy that they named Phillip Terry, Jr. After Ms. Crawford divorced Mr. Terry, she changed the boy's name to Christopher, possibly to match her daughters name of Christine. Submitted by PaulDrake 33, 15 September 2009.
Leonid Kinsky (Vyacheslav Gerznov) was one of the original cast members of Hogan's Heroes where he played the Russian P.O.W. After appearing in the 1965 pilot (the only B&W episode) he decided not to continue with the series. Had he continued with Hogan he might not have been available to appear in this episode of Perry Mason. Submitted by Wiseguy70005, 6/20/12.
+ In 1942, he was also Sascha the bartender in Casablanca, whom Rick sends to see the lovely Yvonne (Madeleine LeBeau) home (... and come right back). Submitted by Vladimir Estragon, 8/25/2020.
+ Although Kinsky really was Russian, after 30 yrs in the U.S. his 'Russian' character with the screwed-up faces seems as ridiculous as Virginia Field's fake Russian émigré. But then, American TV had plenty of incentive to parody Russians during the Cold War. ckb 28 Oct 2020
Location: A location-packed episode. Six minutes in you get a nice scene of downtown Los Angeles with the Dorothy Chandler Pavilion in the center. About 16 minutes in there is a quick shot of Los Angeles International Airport with a glimpse of the Googie-styled "Theme Building" (Some pictures here). It looks like a space-aged bug or flying saucer on legs. I have read it was the inspiration for buildings in the cartoon the Jetson's. There is a cool eatery at the top called the Encounter Restaurant. A minute or two later there is a scene where 2 officers are cruising down La Brea checking out a stolen car. Just before they pull the guy over you can see the "Carolina Pines Jr." sign in the background. That was yet another Googie-styled eatery, a 24-hour coffee shop. Sadly, unlike the Theme Building which still exists, Carolina Pines Jr. was torn down and replaced by a creativity-free, totally forgettable, L-shaped mini-mall. Posted by Eric Cooper, 25 September 2009.
Sightings: While Perry is conferring with his client in jail, one of the convicts being visited in the background appears to be Distinguished Gentleman #1. Later, Pencil Mustache Man and Quiet Old Man #1 turn up among the spectators at the evidentiary hearing. They are especially visible as they file out when court adjourns. Submitted by gracenote, 7 June 2011.
Lee Miller had 3 Sgt. Brice Dialogue Sequences in TT: is that an episode Record? Mike Bedard 3.11.15. + I think at least 3 appear in episode 258, Vanishing Victim submitted by Wjones 4/21/16
One of the rare episodes where the defendant takes the witness stand. Submitted by Bill-W2XOY on 08/19/13.
+ True, & he testified as an EXPERT WITNESS! Mike Bedard 3.11.15.
This is the only PM appearance for Vivienne Segal, who retired from acting after this performance ... MikeM. 4/4/2017
This is the only PM appearance for Janet DeGore, who was the legal secretary for James Whitmore in 45 episodes of "The Law and Mr. Jones"...MikeM. 4/10/2018
Comments

Edit
The nifty telescoping, solvent-dispensing syringe used by Nils Dorow to loosen the jewels from the statue is really a car radio antenna with a rubber ear syringe bulb attached to the end. Props department saved some money on that one. Submitted by Mason Jar, 9/16/2011.
+ Many aspects of the jewel theft seem inspired by the 1964 classic heist movie Topkapi.
Submitted by Masonite, 1/18/2012.

Semi-comic heist films were a bit of a trend in the 60s. Not just "Topkapi", but also "Gambit", "Italian Job", "How to Steal a Million", "Ocean's 11", "Who's Minding the Mint?" - I'm sure there are several more. DOD 06/20/23
 +* subcomment: this episode reminds me of Ninotchka (1939) starring Greta Garbo, Melvin Douglas, and Ina Claire.  jfh 21Jun2022


+ + Such an elaborate jewel heist - and the thief didn't wear gloves.DOD 04/10/18
+ + + A digressive effort went into showing that he had no thumb on one hand and wore no gloves. Submitted by catyron, August 12th, 2018
++++ Actually the photo of the thief in the trunk shows a missing index finger. It may include a missing thumb but the picture of him in the trunk doesn't clearly show that. Submitted by HamBurger, 8/22/2020
Bad Accent Dept. Plenty of bad accents to go around in this episode! Wesley Addy, who plays Joachim DeVry, drifts in and out of a slight but indefinable accent. Though DeVry is the anglicized version of a French surname, judging from this episode, our Mr. DeVry spent some time in Transylvania. Submitted by francis, 4/30/14.
+ Wesley played a US Navy codebreaker in "Tora! Tora! Tora! (1970). Mike Bedard 3.5.15.

GOOF: At the airline desk, Gerard Van Ness reads the note left for him by Lisabeth, folds it and puts it in his pocket. In the next shot, Van Ness has the note in his hand, and then drops it, apparently intetionally, on the floor as he leaves the airport. jfh 21Jun2022.
+ It's the empty envelope he drops. He put the message in his coat pocket. The envelope was apparently left on the counter which he picked up as he turned to leave. Kilo 4/29/2023.
"INTERPOL...facilitates cooperation between the criminal police forces of more than 180 countries...Headquartered in...France, it is the only police org. that spans the entire globe... INTER[national]POL[ice] traces its history to 1914, when a congress of...police...from 14 countries, was held in Monaco," britannica.com notes; Article 1 of the Constitution mentions "THE LAW OF NATIONS": 1 of 3 Roman law branches (+ Civil & Natural). Mike Bedard 3.10.15.
Paul Drake goes to a carnival and pays 50 cents to enter an establishment with the name "Girly Show". Not much subtlety there. Submitted by PaulDrake 33. 11 March 2015.
+ Paul got his 50 cents worth pausing to view while talking to Vyacheslav as 2 "girlys" walk between them as Paul ogles at them ;-) Submitted by HamBurger, 07/03/2017
While a number of prior episodes - e.g. TCOT Lazy Lover, Sad Sicilian, etc. - have substantial humorous elements, this episode, with its over-the-top characters and international jewel smuggling elements is perhaps the show's only attempt at camp (Batman, it should be noted, had debuted two months before this episode aired, though likely after it had been filmed). As might be expected, for a show that was at its heart a combination of murder mystery and morality play, the experiment didn't merit repeating. Submitted by Notcom, 062816.

Much has been written regarding "over-the-top accents", but, I believe that Lt. Drumm's over-the-top performance on the witness stand ouutdoes all the other performances in this episode. jfh 21Jun2022



I loved it at the end when Della was presented with a gift of a diamond ring from the exonerated defendant. She slips it on the third finger of her left hand with a wistful look. [unsigned, undated]
+ I noticed that too. It was sweet and sort of sad. Submitted by catyron, August 12th, 2018
Why do the fabricators of the fake tiara use jewels from an ancient Aztec statue? How could these possibly resemble the finely faceted jewels that would go into late 19th century jewelry created for the Russian Czar? Certainly the dozen 'experts' who checked out the faked tiara would have caught this. ckb 28 Oct 2020
<< Avenging Angel | Episodes | Fanciful Frail >>