Show76
<< Paul Drake's Dilemma | Episodes | Bartered Bikini >>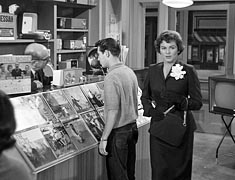 #76: The Case of the
Golden Fraud
Original Airdate: 11/21/59
From The Perry Mason TV Show Book
Richard Vanaman is in big trouble but nothing so big that Perry can't handle it. Vanaman is up for a promotion in his investment firm, but is sabotaged and framed for murder. No problem. When Perry is done with the case, Vanaman gets another crack at his promotion.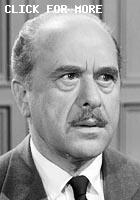 Opening
Starring Raymond Burr
in The Case of THE GOLDEN FRAUD
Based upon characters created by Erle Stanley Gardner
Barbara Hale as Della Street
William Hopper as Paul Drake
William Talman as Hamilton Burger
Ray Collins as Lt. Tragg
Trailing
Produced and Directed by Herbert Hirschman
Teleplay by Robert C. Dennis and Maurice Zimm
Story by Robert C. Dennis
Gail Patrick Jackson | Executive Producer
Seeleg Lester | Associate Producer, Story Consultant
Produced by The CBS Television Network in association with Paisano Productions
Arthur Marks | Associate Producer
Raymond Burr as Perry Mason
Barbara Hale as Della Street
William Hopper as Paul Drake
William Talman as Hamilton Burger
Ray Collins as Lt. Tragg
Cast
Arthur Franz as Richard Vanaman
Alan Hewitt as Fred Petrie
June Dayton as Frances Vanaman
Neil Hamilton as Henry Noble
Alex Gerry as Hale
Patricia Huston as Doris Petrie
Joyce Meadows as Sylvia Welles
Asa Maynor as Bunny Lee
David Sheiner as Rip Conners
S. John Launer as Judge
Thom Carney as Officer
Pitt Herbert as Autopsy Surgeon
Frank Sully as Delivery Man
George E. Stone as Court Clerk
Uncredited Actors
Lee Miller as Sgt. Brice
Crew
Art Seid, A.C.E. | Assistant to the Producer
Production Supervisor … Dewey Starkey
Director of Photography … Frank Redman, A.S.C.
Art Direction … Lewis Creber
Film Editor … Richard H. Cahoon, A.C.E
Assistant Director … Robert G. Stone
Casting … Harvey Clermont
Makeup … Irving Pringle
Hair Stylist … Annabell, S.C.H.
Wardrobe Supervision … William Zacha, Evelyn Carruth
Set Decoration … Charles Q. Vassar
Sound Effects Editor … Gene Eliot, M.P.S.E.
Music Editor … Gene Feldman
Properties … Ray Thompson
Production Sound Mixer … Herman Lewis
Script Supervision … M.E.M. Gibsone
PERRY MASON
A CBS Television Network Production
Character Names: Alex Gerry, listed as Hale, is called Elliot Hale. Submitted by David Virrill, 10/17/2003.
+ On the other hand, Conners' first name appears as "Rip" in the credits, although no one ever calls him anything but "Conners" in the episode. Ed Zoerner, 3/28/2011.
++ Presuming that the nameplate on the door is accurate, the judge's name is "Thomas J. Hood" (Superior Court Dept. 102). One might presume further that this is the judge's name every time S. John Launer portrays him. Was his name mentioned or indicated on any other episode? Submitted by Wiseguy70005, 6/16/13.
+++ Yes. In episode 53 TCOT Glittering Goldfish the same name was on the courtroom door and S. John Launer was the judge. There was very little continuity in the series so the judges as well as other actors usually played different roles each time they appeared in a story. Submitted by H. Mason 10/25/14
++++ Actually, IMHO, the judges are more likely to be playing the same judge; it would certainly be more realistic. Judges are a fixed quantity in the court system and hear multiple cases over the course of time, with attorneys showing up in front of them more than once. OLEF641. 1/11/21
Assuming shows were aired in order they were filmed, actress June Dayton's husband Dean Harens was at the studio the week before filming the Paul Drake's Dilemma episode. DLH 8/21/20
Goof: When Bunny Lee identifies the Quarter Noble coin at the police station, she mentions that it has a hole bored through it. However, when Burger shows the coin to the witness Hale during the trial, we see no hole in the coin at all! Submitted by Ed Zoerner, 2/26/2010.
+ The first time we see the Quarter Noble at Vanaman's house, there is no hole visible either. Vanaman also mentions to Perry that he had a jeweler drill a hole through it. Submitted by gracenote, 9/5/2011.
That's right kids! Mr. Noble is Neil Hamilton, better known as Commissioner Gordon in the campy 1960s Batman series! Holy Grecian Formula, his hair sure is dark here! Submitted by gracep, 9/14/2010.
Sightings: Several regulars make an appearance. The Little Old Lady in a Hat and the Quiet Old Man (#1) both sit quietly in the backgrounds of close-ups of the characters in today's play. The Lady changes seats (and maybe some of her costume, too) after the recess. Read more about the recurring courtroom spectators here. Submitted by gracep, 9/14/2010.
+ "Miss Carmody" can be seen walking past the outside of the record store just as Della is coming in. She can also be seen in the back row of the courtroom gallery, prosecution side. Submitted by alan_sings, 3 Oct 2010.
++ The Thin Man appears as the reporter with Bunny Lee in the Police Property Room when she claims the quarter noble. Submitted by alan_sings, 9 Oct 2010.
Continuity Error: An old man seated on the far side of the gallery (prosecutor's side) appears throughout most of the hearing. Then his seat is suddenly empty in a long shot of Burger objecting to Mason's request to play part of the audiotape in question. Then in another shot he reappears! Submitted by gracep, 9/14/2010.
+ That may have been the "technician" who played the tape for Mason. Although he disappears too quickly after Mason asks for the tape to be played again, this would explain why he was no longer in his seat and returned later. Submitted by Wiseguy70005, 6/16/13.
Location: About 12 minutes in, above the door on the exterior of the police station, I can read what looks like "Div. 5." That would be the Airport Police near LAX. I don't know where the building was. There is a bit of a street sign visible, but I can't make it out on my ancient TV. Submitted by Eric Cooper, 3 February 2011.
+ Off the DVD on a computer display, the number looks like 6 to me and the street sign is still illegible. Additional research shows this to be the old Hollywood Police Station which was demolished long ago I think. I found a press photo of the place on eBay from 1934. In the picture, the "Div." number over the door is mostly hidden, but it's the same building. An article in the 10/13/1949 issue of the San Rafael Daily Independent Journal says that the station is just a few blocks from the Mandel shoe store, the scene of a robbery and gun battle, on Hollywood Boulevard. Submitted by daveb, 2/4/2011.
++ As also noted below under "Cars", the street sign reads "DeLongpre". That building is indeed long gone, but the police are still there in a newer building. OLEF641 2/25/22
More Mysterious Record Stores: The Vine Record Shop set from episode 15 makes another appearance, this time as the HiFi Roundelay Shop. Just like the Vine, this mysterious store sells nothing by Columbia Records product. Sightings: Still More Sing Along with Mitch, CL 1283, Roy Hamilton -- With All My Love, BN 518. CBS is promoting its record company subsidiaries' wares.
CARS. (1) Paul drives his black 1958 Thunderbird Convertible, Lic No PXY 260 to POLICE STATION DIV 6, the "Hollywood Police Station", De Longpre at Wilcox. The linked page indicates that the station was not demolished before Feb 75 (see Location entry above).
Background Cars. Approaching the DIV 6 station, Paul passes several parked 55-58 Chevys, in-amongst which is parked
Added by Gary Woloski, 8/7/12.
The Case of the Changing Headlines Part 2: Just as in the previous episode (Paul Drake's Dilemma) we had an apartment desk attendant take a newspaper to a tenant and the paper changed. On the ground floor Mr. Hale had a copy of the Los Angeles Star-News with the headline HUNG JURY IN BALFOUR CASE from episode 41 TCOT Lucky Loser. When he got upstairs the paper had a headline with the words CITY COUNCIL VOTES. When he entered the apartment the Paper seemed to be the future paper from this story about the murder of Sylvia Welles. Submitted by H. Mason 9/29/14 - Revised 10/25/14
Della's impersonation: Miss Street went to the Hi-Fi Roundelay Shop and let Mr. Conners think she was Mrs. Petrie. Submitted by H. Mason 10/25/14
Phone numbers: The number at the Petrie house (HOllywood 2-0799) had one number different from Della's (HOllywood 2-1799). Submitted by H. Mason 10/25/14
As in the previous episode, Perry interviews his client at Lt. Arthur Tragg's Homicide office...MikeM. 7/15/2016
This is the only PM appearance for Asa Maynor, who was married to Edd "Kookie" Byrnes...MikeM. 10/21/2016
This is Herbert Hirschman's only PM directing credit. He had 28 PM producing credits, including this episode...MikeM. 7/21/2017
Close parking! When Paul pulls up in front of the police station to go to the lost & found desk to claim the coin, he sure seems to park close to the VW Bug in front of him! Hope if anyone parked behind him they left extra room. Submitted by SheilaF 1/27/2022
Comments

Edit
Observation: Bunny Lee does the Marilyn Monroe type act in this episode (Nov.1959) in the police station. It's interesting that the movie "Some Like It Hot" was released earlier that year. Submitted by HamBurger, 07/19/2014
+IMHO, Bunny Lee does more of a Jayne Mansfield "The Girl Can't Help It" (1956) and "Will Success Spoil Rock Hunter?" (1957) -type act. jfh 21Oct2016
++ I see Bunny Lee as more of a Mamie Van Doren type -- more animated than the cerebral Jayne Mansfield. JohnK, 15 November 2021
Parking meters must have been far more forgiving then. Can't imagine a modern meter would accept such a coin.
An odd courtroom - the main entrance, in a side wall instead of the usual center wall, appears to open onto thin air over the street. DOD 08/02/18
Bad decision: Richard Vanaman, an investment broker, seemed to know nothing about numismatics. He took a rare coin and had a hole drilled in it. Submitted by H. Mason 10/25/14
+ And he carried it around in his pocket as so much loose change! Kilo 11/9/2019.
++ A Henry VI quarter noble currently auctions for around $3000. However a Henry VIII quarter noble auctions for up to $90k - the premium for a Henry that is much more popular (and infamous). Rick P 9/16/21
Bunny says Henry VI was on the coin: He was King of England from 1422-61 & 1470-71; Shakespeare wrote a 3-part play about him [britannica.com]. Mike Bedard 7.15.16 MeTV viewing.
+ Henry The Sixth, Part 2 includes the line "The first thing we do, let's kill all the lawyers."! Somewhere I've heard this called "the most memorable line from Shakespeare's least memorable play". Is the Henry VI coin (a gold "quarter noble") a sophisticated attempt at a Lawyer Joke? Perhaps . . . but Bunny Lee also alludes to a different Henry in her description of the coin: "there's a picture of the shield of Henry The Sixth on one side - the man with the chicken leg" (DVD 12:39). I think it's likely, however, that this chicken leg bit was just intended to add to the comedy of Bunny's scene at the Hollywood Police Station. Added by Gary Woloski, 7/15/16.
DA Burger knew about using DE-magnetized shears to Splice tapes, but the Electronics "Expert" did Not! Mike B.
Good point.Perhaps, because he was told it was to be a joke,he didn't think he needed to be too cautious...having your mind on fast money will do that! Submitted by MikeReese, 11/13/2021.
Good Citizen or Prescient ?? Paul asks Vanaman to wait in the car, but then proceeds to put money in the meter: most of us, I think, wouldn't bother to do that w/ a passenger present (hence prescience that he thinks the latter will disregard his instructions and go inside.) Pondered by Notcom, 102216.
+ I believe that the parking meter's presence is a play on Vanaman's gold coin being used in one. And from Paul's facial expression, I suspect that they may have thought about having him ask Vanaman for a coin for the meter! TerryS, 12/11/2018.

There's a meme floating around the web contrasting dogs and cats, and pointedly says that "Dogs may be loyal, but a cat won't tell the cops where your drugs are', but in this case, the cat informed on the conspiratorial victim... Submitted by MikeReese, 3/14/2021.
Why does the murderer look so surprised to "discover" the body? He doesn't know he has a witness, Vanaman, in the room. Or does he? He may have actually seen him return before the newspapers are delivered. On the other hand, after Vanaman runs out, he still looks like he wasn't aware that the body was there. Submitted by Wiseguy70005, 6/16/13.
+ That is the? key failing of this episode. The only possible explanation, and I don't give it much credence, is that Hale had such remorse that when he saw his victim he freaked out. Submitted by Wick 1/26/2022.
When did the murderer kill the victim? If he had heard the edited tape and thought it was real, then he would have thought Vanaman was still in the room, and would have waited for him to leave. Since the edited tape was being played, Vanaman couldn't have still been there. On the other hand, Connors must have been there. Did the murderer miss seeing him enter the building and leave? Since Vanaman wasn't still there, the murderer would have thought he WAS still there and wouldn't have entered to commit the murder. Submitted by Wiseguy70005, 6/16/13.
Yeah, doesn't make much sense. Supposedly Vanaman runs out after discovering the mike (but, oddly, makes no effort to find the recording), Sylvia calls Conners who edits the tape, he leaves, Sylvia plays the edited tape which is overheard by our killer, then Vanaman returns - all in under an hour? Hmmmm. DOD 09/28/22
Wondered why Vanaman didn't take his wife with him? I'm not being facetious .. seems that after the 9/11 terror attacks, some firefighters went, alone, to visit the widows of their comrades. And some romances sprung up. Of course, there'd be no story, now would there? And the wife of his rival in the firm? Hubby'd better sleep with one eye open, living with that Jezebel! Submitted by MikeReese, 9/20/2013.
Questions: Did anything happen to Doris Petrie for the lies she told on the witness stand? Mr. Nobel was at the hearing and would he want the husband of that woman to get the promotion? Submitted by H. Mason 10/25/14
Plot Points Repeated: For the second episode in a row (versus TCO Paul Drake's Dilemma), the apartment building desk clerk plays an important part (as well as being off the desk to get magazines etc.). Also, for the second time, the murderer is the admirer-from-afar. JohnK, 18 December 2015
A surprising solution,
Though we thought we knew it.
Alan Hewitt
Didn't do it.
Submitted by BobH, 15 September 2016
My husband and i noticed long ago that people who come to Perry's office for any reason, and who then courteously say, "Goodbye, Miss Street," or "Good day, Miss Street," as they exit are never the murderer. They may NOT acknowledge her upon departing and still not be the murderer, but courtesy to Della implies a non-murderous personality. This episode is the one exception we have found to the "Miss Street Rule," but it fits the temperament of the murderer perfectly. Submitted by catyron, January 23rd, 2021.
Syndication Chop: I watched this yesterday on MeTV. They completely took out the usual final scene in PM's office! I assume Dick V. got his job back, since that is suggested in the plot summary. Also I don't know how Della knew to wear a gardenia to get the tape. Was the explanation cut out too? Good grief. Rick P. 9/15/21
+ When Conners talks to Mrs. Petrie, they arrange to meet at the record shop. She tells him she'll be wearing a gardenia. In the next scene Paul tells Perry he saw Mrs. Petrie buying gardenias. Petrie later stops his wife from keeping that appointment, and the scene ends with him calling someone, presumably Perry -- who his wife was on the phone with when he walked in. The assumption is that Petrie told Perry about the appointment and that his wife was wearing a gardenia.
As for the final scene, it was back on the MeTV broadcast of 1/25/22. As I have stated elsewhere on this wiki, some time late in 2021 MeTV extended PM's timeslot by a few minutes, allowing most, if not all, of the syndication cuts to be restored. Oh, and, by the way, Noble states in that last scene that Vanaman did indeed get his job back, but he's making Vanaman and Petrie compete all over again for the vice-presidency. OLEF641 2/25/22
<< Paul Drake's Dilemma | Episodes | Bartered Bikini >>