Show75
<< Startled Stallion | Episodes | Golden Fraud >>
#75: The Case of
Paul Drake's Dilemma
Original Airdate: 11/14/59
From The Perry Mason TV Show Book
Paul's life is at stake in this one, so Perry puts up quite a fight to clear his friend from a murder charge. The situation: After putting the pressure on Frank Thatcher to confess to a hit and run accident, Paul dukes it out with him, is popped, goes down for the count, and wakes up to find Thatcher dead. Ham Burger is reluctant to prosecute, Tragg is suspicious, but a confident Perry Mason jokes with Paul that the only doubts he has concern Paul's ability to pay his bill.
+Suggested Correction Perry's only doubt is what Paul will say when Paul sees Perry's bill.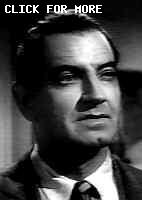 Opening
Starring Raymond Burr
in The Case of PAUL DRAKE'S DILEMMA
Based upon characters created by Erle Stanley Gardner
Barbara Hale as Della Street
William Hopper as Paul Drake
William Talman as Hamilton Burger
Ray Collins as Lt. Tragg
Trailing
Directed by William D. Russell
Teleplay by Jackson Gillis
Story by Al C. Ward
Herbert Hirschman | Producer
Gail Patrick Jackson | Executive Producer
Produced by The CBS Television Network in association with Paisano Productions
Seeleg Lester | Associate Producer, Story Consultant
Arthur Marks | Associate Producer
Music Composed and Conducted by Jerry Goldsmith
Raymond Burr as Perry Mason
Barbara Hale as Della Street
William Hopper as Paul Drake
William Talman as Hamilton Burger
Ray Collins as Lt. Tragg
Cast
Vanessa Brown as Donna Kress
Basil Ruysdael as Henry W. Dameron
Bruce Gordon as Frank Thatcher
Dean Harens as Tad Dameron
Simon Scott as Charles Dameron
Jennifer Howard as Judith
Sheila Bromley as Mrs. Colin
Robert Lieb as Joe Marsden
Robert Cornthwaite as Anders
Kenneth MacDonald as Judge
Norman Leavitt as Ballistics Expert
Ralph Moody as Jacob Wiltzy
Robert Bice as Private Detective
James Callahan as 1st Policeman
William Hughes as 2nd Policeman
George E. Stone as Court Clerk
Ann Bellamy as Margo
Steve Stevens as Paper Boy
Art Seid, A.C.E. | Assistant to the Producer
Production Supervisor … Dewey Starkey
Director of Photography … Frank Redman, A.S.C.
Art Direction … Lewis Creber
Film Editor … John D. Faure
Assistant Director … Morris Harmell
Casting … Harvey Clermont
Makeup … Irving Pringle
Hair Stylist … Annabell, S.C.H.
Wardrobe Supervision … William Zacha, Evelyn Carruth
Set Decoration … Charles Q. Vassar
Sound Effects Editor … Gene Eliot, M.P.S.E.
Music Editor … Gene Feldman
Properties … Ray Thompson
Production Sound Mixer … Herman Lewis
Script Supervision … Robert Gary
Perry Mason \ A CBS Television Network Production
The famous and award-winning Jerry Goldsmith "composed and conducted" music for this episode. Submitted by Wilson Maffetano, 7/22/2003.
An instrumental version of the song playing in the murder room and heard elsewhere in this episode is used as background music for the pool scene in #18, TCOT Cautious Coquette. Submitted by Charles Richmond, 3/4/2005.
+ It can't be a coincidence that in an episode very much dependent on jazz music one of the characters is Tad Dameron, undoubtedly named after jazz pianist and composer Tadd Dameron. Submitted by BobH, 14 July 2016.
Basil Ruysdael makes his only appearance on Perry Mason as the patriarch of the Dameron clan. Old-time radio fans better remember Basil Ruysdael as the announcer who was forever singing out "L/S/M/F/T" on The Jack Benny Program. Submitted by PaulDrake33, 23 June 2008.
Vanessa Brown makes her only appearance on Perry Mason in this episode. Vanessa Brown used her birth name of Smylia Brind when she frequently appeared on the radio show The Quiz Kids in the 1940s. Smylia reportedly had an IQ of 165. Submitted by PaulDrake 33, 15 August 2008.
I know everyone will say the unnamed policeman who testifies during Paul's trial has a really familiar face. That is James Callahan, who for 73 episodes in the late 80s played Walter Powell, the father on Charles In Charge. Submitted by PaulDrake 33, 19 August 2009
+ Actually, he is named. The "2nd Policeman" walks past Drake and the "1st Policeman" to the dead body and remarks to the 1st Policeman, "Better watch him, Harry." Later, on the stand, Mason refers to him as Officer Wilson. So his name was "Officer Harry Wilson." Much earlier than Charles in Charge, James Callahan appeared for two seasons on the sitcom The Governor & J.J., which premiered in 1969 and co-starred Julie Sommars ("The Case of the Careless Kitten" and the Perry Mason-inspired Matlock) and Nora Marlowe ("The Case of the Fatal Fortune"). Submitted by Wiseguy70005, 6/02/13.
Location: The house that Paul visits to see Mrs. Colin appears to be the same one that Tragg visits in #97. It's located at 812 N. Las Palmas Avenue. Picture here. Submitted by daveb, 4/2/10.
Perry cites a case "…decision of the Supreme Court of the state of Colorado reported in 339 Pacific Second page 993…" regarding the dermal nitrate test not being reliable. This appears to be legitimate, but I was not able track down that exact source. This legal talk is a bit obscure. Submitted by daveb, 5/23/2010.
+ Actually, this case is still being cited. An example here is from PEOPLE OF THE STATE OF COLORADO, Plaintiff-Appellee, v. WIDHALM, Defendant-Appellant. No.97CA1077, decided February 18, 1999 which quotes: "As a general rule, when an appeal has been perfected, the trial court is divested of jurisdiction to issue any further orders in the case. BROOKE V. PEOPLE, 139 Colo. 388, 339 P.2d 993 (1959)." Submitted by Crimson Lips, 16 August 2011.
Sightings: The first three subjects on the Who Is That? page can be seen lurking about in the courtroom gallery. [At the time of posting this referred to Little Old Lady #1, Distinguished Gentleman #1, and Quiet Old Man (#1).] Submitted by daveb, 9/10/10. Updated by gracenote, 9/4/2011.
+ Yes indeed, and the Little Old Lady, in particular, at one point sits between Charles Dameron and Donna Kress. Submitted by gracep, 9/12/2010.
++ Blue Collar Guy appears as Mr. Colin, the hit-and-run victim. Submitted by alan_sings 26 Sep 10.
+++ "Miss Carmody" is seated behind the Dameron family during courtroom closeups. Late in the episode, she can also be seen immediately behind Burger when he stands to raise an objection. Submitted by alan_sings, 3 Oct 2010.
++++ Also in the courtroom gallery are Distinguished Lady #2 and Little Old Lady #2, and later Distinguished Gentleman #2. Submitted by gracenote, 9/4/2011.
This episode features a rare glimpse into Paul Drake's office. Submitted by gracep, 9/12/2010.
+ Yes, it also appeared in "Nervous Accomplice," "Barefaced Witness" & "Lonely Heiress" (see Summary). Mike Bedard 7.13.18.
CARS. (1) Thatcher's black 1959 Lincoln Continental Mark IV 4-Door HardTop Lic RJY 937.
Background Cars. Across the street from Mrs Cullen's house when Paul parks there, there are:
(a) a light-color 1948 Buick Special Sedanette (2-door) and
(b) a black '59 Ford that looks identical to Perry's Skyliner (top up): not Perry's; he's not there.
Added by Gary Woloski, 8/7/12.
When Mason asks Anders how many times he's been married and he replies "Four times" we see William Talman smiling, almost laughing in the background. Whether this was meant to be seen on screen is unknown. Submitted by Wiseguy70005, 6/02/13.
+ Burger was laughing, along with everyone else in the courtroom, because prior to admitting to four marriages, Anders had stated he prided himself on "getting along with everybody." Submitted by francis, 7/31/14.
++ IMHO Burger would not have found it amusing that his own witness was being discredited. jfh 20Jul2017.
Why does Della sneak down the stairs of the apartment building? At this point she wants to be seen as having been upstairs without Anders' knowledge. By the time Anders sees her she almost could have just entered the building and was making her way up the stairs and turned around. Submitted by Wiseguy70005, 6/02/13.
If you watch carefully, he looks at the stairs while he's showing Perry his 'rear-vision mirror'. So he knows Della wasn't already there. She was waiting for a vocal cue from Perry before coming all the way down. He knew she had just called him; HE recognized her name, and knew she didn't just come walking in. So, she obviously hadn't just turned around, & HAD to have called him from upstairs - maybe there's not even another phone nearby for her to have been able to come back that quickly from. Besides, Perry wasn't gonna use this as evidence, it was just to extract a confession from Marsden. So it only mattered that HE knew the truth. Submitted by Arisia, 2/22/18.
The Case of the Changing Headlines: Outside the apartment building the paper boy proclaims "Private Eye on Trial!" which we would assume is the headline, but the two-line headline reads "Wife Indicted for Husband's Murder." The copy he sells Anders has a one-line headline reading "Brewster...Bail." After Anders returns to the inside of the building, the one-line headline now reads "...Murdered." Submitted by Wiseguy70005, 6/02/13.
+ The same thing happens in the next episode #76 TCOT Golden Fraud. In several episodes old papers were reused. The first one in this story (Wife) came from episode 23 TCOT One-eyed Witness. The second (Brewster) originally appeared in episode 49 TCOT Fancy Figures. The third (Murdered) was in episode 24 TCOT Deadly Double. Added by H. Mason 9/28/14
Record Player Anomaly:
During the discovery of the body, there is a scene which shows a record player where the record on the turntable is playing in a continuous mode (the record keeps playing over and over again). It is shown with the record balancing arm down and near the spindle. This is not what I ever remember. In my youth, for a record player/changer to be in continuous mode the balancing arm needed to be lifted and to the far right. Submitted by HamBurger, 07/19/2014
Ballistics: Actor Norman Leavitt returned as the ballistics expert. He appeared in episodes 1 and 3. In episode 3 TCOT Nervous Accomplice he was given the name Alexander Redfield and was embarrassed by Perry. Perhaps during his 72 episode absence he was sent away for more training or just kept away from Perry Mason cases. (Note: he was mentioned in episode 27 TCOT Desperate Daughter). Submitted by H. Mason 10/24/14
Paul's Suite: The establishing shot PAUL DRAKE DETECTIVE AGENCY was used for the first time. It was different and more accurate than the one used in episode 20 TCOT Lonely Heiress. Submitted by H. Mason 10/24/14
Perry interviews Paul at Tragg's office. The sign on the door window, seen in reverse in the background, reads "Lt. Arthur Tragg, Homicide."...MikeM. 7/14/2016
Another appearance of Hamilton Burger's hideous spotted bow tie. jfh 01Aug2018.
This is the first of three PM appearances for Bruce Gordon, who played gangster Frank Nitti on The Untouchables...MikeM. 10/20/2016
This is the fifth of five PM writing credits for Al C. Ward. The first four were for teleplays. This episode was for story...MikeM. 7/20/2017
Weregild - $25,000 in 2022 money equals just under $250k. BTW, 'weregild' is Old English for "man payment", the amount of compensation paid under law to the family of the deceased by the person committing the offense which caused the death. The purpose was to forestall revenge killings, which could evolve into long running feuds like the infamous "Hatfields and McCoys". OLEF641 2/25/22
Syndication Notes: This episode is missing from Paramount + Plus along with all of Season 9. Submitted by HamBurger, 1/22/2023
Comments

Edit
In stark contrast to today's gimme, gimme, greedy, everybody with a hand out world, several people in this episode refuse money. First the hit and run victim's wife refuses $25,000.00 from Paul Drake, then Paul Drake refuses $10,000.00 from Frank Thatcher, and finally Perry tears up a check from Henry Dameron for an undisclosed amount. Submitted by PaulDrake 33, 8/30/2008.
BTW
$10k (1959) = $84k (2017)
$25k (1959) = $210k (2017)
OLEF641 5/19/2017
Menbers of the Dameron clan should have realized that Mr. Colin was only "overweight ... on his driver's license" as Mr. Thatcher checked his pulse after the accident and Tad buried the body. jfh 20Jul2017.
May have missed it, but I don't believe we find out who owned the gun or where it came from. DOD 08/27/20
+It was Paul's gun and of course his fingerprints were on it. Submitted by Wick 2/2/2022.
Yup
I was looking at DVD vidcaps of the closing credits that Big Dave sent me. Such a contrast from the closing credits on the syndication print! Instead of the Halo shampoo, Colgate tooothpaste, and Wildroot Cream-Oil hair tonic, in the corner is a small version of the lawbooks that were in the credits of the earlier season. Submitted by gracenote, 2/5/2011.
An oft-displayed syndrome in PM shows is the strong patriarch / matriarch (often a widow / widower) who raises weak, snivelling, or scheming - but always prone to dishonesty - progeny. The moral appears to be not only that a parent must be aware of how he/she is raising a child, but also that it takes courage to be honest in challenging situations. cgraul 5.14.12
+ This episode also shows that greed and dishonesty are not reserved for the rich and powerful: sniveling Donna Kress not only had continued a nine-year relationship with a married man, but she also refused to give Perry any information after papa Dameron bought the record label to which she was submitting her demo. jfh 01Aug2018.
++ Not only that, but her character could hardly have been unconscious of 'Joe Marsden's' feeling's for her, but she still carried on with 'Frank Thatcher'. Feelings are funny things...she tortured herself with love for a man who not only married another woman for money, and was keeping her as a side piece, and Joe tortured himself loving her, a woman who obviously would never love him back. His statement in court is from a heart broken... MikeReese 1/4/2021.
What is that on the floor of the apartment building? A shadow from the plant, a design or dirt? Looks like dirt to me. Submitted by Wiseguy70005, 6/02/13.
It's always interesting to me how the characters in a Perry Mason story are delineated. As PaulDrake 33 and cgraul observed, what a difference from today (with some exceptions) and the powerful, but morally corrupt patriarch character .. I noted that Papa Dameron knew that his son-in-law was also, in addition to killing a man, cheating on his own daughter - but kept him in the family business (shades of Michael Corleone) because he knew how to make money. Slimy. Submitted by MikeReese, 9/20/2013.
+ Cheating on one's wife was not only tolerated in those days, it was almost expected, at least among the rich and powerful, and certainly in the sort of arranged marriage Thatcher was in. He married her at her papa's request in exchange for being given the reins of the business in preference to Dameron's weak biological sons. I wouldn't be surprised to find that Dameron had had his own "bit of stuff" on the side when he was younger, nor to find that at the time of the episode he still had one. OLEF641 2/25/22
Where's the Dilemma? It's a nifty title, but I can't see that it's particularly motivated by the story line. There are a couple of crisis points but, given the known ethical and moral standards of Paul & Perry, the "choices" they make are no-surprise/no-brainers:
As soon as Mrs Colin makes the tiniest hint that something crooked might be going on, Paul instantly recoils and leaves to investigate Thatcher's motive before proceeding with any transaction with Mrs Colin. The portrayal indicates that there's no "choice" for Paul; it's automatic for him to follow the ethical & lawful path.
Later, the Damerons, wanting to keep a lid on things, try to bribe and threaten Perry to have Paul plead guilty to manslaughter rather than risk a Murder Rap. Maybe this is the eponymous "Dilemma" but Perry knows that Paul is innocent and that there's only one "choice": defend him.
Therefore, I think that the title is a bit of a stretch. Might it have been inspired by something previous? Apparently, YES: the 1947 pulp-detective movie Dick Tracy's Dilemma! You might already have noticed that Paul Drake is buddies with fellow detective Dick Tracy: a framed, signed portrait of Tracy is seen on Paul's office desk in Episodes 5, 20, 33 & 62. Also note that one of the products displayed in the lower-left corner of this episode's closing credits is Wildroot Cream Oil, the front-man for which is Fearless Fosdick, who is purported to be an alternate-universe doppelgänger of Dick Tracy.
Ironically, even more so than in this PM episode, I can't find any semblance of a "Dilemma" in the Tracy movie (youtube 59:40), nor any other rationale for "Tracy's Dilemma" within the movie itself. The movie's working title (ie, the title typed on the script & used throughout filming) was "Dick Tracy vs. The Claw". I have searched for possible motivations in contemporary culture for the movie's final "Dilemma" title and have found only a 16 June 1947 LIFE magazine article American Woman's Dilemma. The article's appearance preceded the TRACY movie's NYC première (12 Jul 47) by less than a month so maybe the article created a stir that the movie's promoters wanted to cash in on. Added by Gary Woloski, 8/10/16.
+ 1.1 A difficult situation or problem: so the "dilemma" is simply that Paul is charged with murder. Webster also defines the term as an "awkward" or "embarrassing" situation...though it shouldn't be the latter, since in this perryllel universe being charged with murder means you didn't do it !! Rebutted by Notcom, 081116.
Final scene: I may be wrong, but it seems to me that this is the first episode in which the short wrap-up scene does not include either a "Gee, Perry, how did you figure that out?" moment or a shared laugh among the regular characters (with or without Perry's client-of-the-week). It does, however, contain mention of the fact that Perry will be going to dinner shortly, which is a frequent feature in the wrap-up scenes. Submitted by catyron, 11/16/2017.
Well REcuse me Given his personal relationship with Paul, it seems likely Hamilton would have had someone else in the office prosecute this case. Indeed, had the producers looked into their crystal ball ( and seen William Talman on hiatus ) they might have just waited a few months...this would have been an ideal case for a fill-in Assistant DA. Notcom, 122719.
"Skid marks 200 feet long." So Frank saw Alexander Colin from over 200 feet away and still hit him? Yikes! That's some mighty skillful driving. Kilo 4/26/2021.
Fussy Factotum: Once again our teleplay writers have provided us with an apartment or hotel desk clerk I will describe as "fussy." (Was there a spot for them on the original ESG plot wheels?) Now, I have stayed in plenty of hotels, and indeed have encountered a few desk staff like these. But I wonder if at the time of original airing, these portrayals raised any objection from a hospitality trade association, or international brotherhood of apartment and hotel desk clerks. Ha. JohnK, 10 September 2021
One-Way Soundproofing - If the murder apartment was soundproofed, as Thatcher told Donna Kress and as testified to by the policeman saying he didn't hear the record playing (rather loudly) until the door opened, how could the desk clerk's voice be heard from outside the apartment just before he opened the door and found, with the two policemen, the murder scene. And, why were those policemen with him in the first place? Just because of an unanswered phone?? OLEF641 2/25/22
Vocals ? how does such a nasally speaking voice get a record contract ? Sorry, not eating that cool-aid. HW 1-10-23
<< Startled Stallion | Episodes | Golden Fraud >>