Show93
<< Slandered Submarine | Episodes | Irate Inventor >>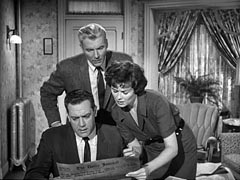 #93: The Case of the
Ominous Outcast
Original Airdate: 05/21/60
From The Perry Mason TV Show Book
Perry must solve a bank robbery that happened in 1939 to free client Bob Lansing, a man who unfortunately is the spitting image of his outlaw father.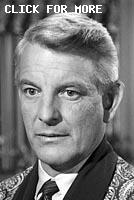 Opening
Starring Raymond Burr
in The Case of THE OMINOUS OUTCAST
Based upon characters created by Erle Stanley Gardner
Barbara Hale as Della Street
William Hopper as Paul Drake
Ray Collins as Lt. Tragg
Trailing
Directed by Arthur Miller
Written by Jackson Gillis
Herbert Hirschman || Producer
Gail Patrick Jackson || Executive Producer
Seeleg Lester || Associate Producer, Story Consultant
Produced by The CBS Television Network in association with Paisano Productions
Arthur Marks || Associate Producer
Raymond Burr as Perry Mason
Barbara Hale as Della Street
William Hopper as Paul Drake
Ray Collins as Lt. Tragg
Cast
Robert Emhardt as J. J. Flaherty
Jeremy Slate as Bob Lansing
Maggie Hayes as Vivian Bell
Denver Pyle as Tom Quincy
Walter Burke as James Blackburn
Irene Tedrow as Amy Douglas
Claude Stroud as Jeff Douglas
Henry Norell as Frederick Bell
Willis B. Bouchey as Judge
Jack Holland (aka John Holland) as Autopsy Surgeon
David McMahon as Bartender
Mary Eastman as Secretary
Uncredited Actors
Robert Wegner as Deliveryman
Crew
Art Seid, A.C.E. || Assistant to the Producer
Production Supervisor … Dewey Starkey
Director of Photography … Frank Redman, A.S.C.
Art Direction … Lewis Creber
Assistant Director … Morris Harmell
Film Editor … John D. Faure
Casting … Harvey Clermont
Makeup … Irving Pringle
Hair Stylist … Annabell, S.C.H.
Wardrobe Supervision … William Zacha, Evelyn Carruth
Set Decoration … Charles Q. Vassar
Sound Effects Editor … Gene Eliot, M.P.S.E.
Music Editor … Gene Feldman
Properties … Ray Thompson
Production Sound Mixer … Herman Lewis
Script Supervision … M.E.M. Gibsone
Sound … Glen Glenn Sound Co.
Perry Mason \ A Film Presentation
A CBS Television Network Production
Oddly when Bob Lansing is walking from the barber shop to the hotel the back of his pants are wet. How did the actor's pants get wet during filming? They only had one pair of pants he could wear? Submitted by Craig, 5/1/10. [Picture that was included here no longer working 7/18/10.]
+ We see a brief flash of Lansing's backside when he first exits the car in front of the barber shop and the "wet spot" is there. He's been traveling/fishing/etc. and given the general filthiness of his clothes that may be a reasonable explanation. I'd rather not delve into any other reason as to why a "wet spot" is there...Submitted by Kenmore 7/18/10
Uncredited Actors: Frequent appearer Robert Wegner plays a deliveryman, wearing a leather jacket. (Perhaps he is delivering lunch, as there is a brown paper bag in his hands.) We see him hand the secretary a clipboard to sign as Perry Mason leaves Tom Quincy with food for thought. Read more about uncredited actors here. Submitted by gracep, 10/7/2010.
Sightings: Looks like some favorite faces took a field trip from Los Angeles to Outcast, CA, to watch the hearing today. In the gallery we see Distinguished Gentleman #1, Cute Young Lady. Read more about our faithful courtroom spectators here. Submitted by gracep, 10/7/2010.
+ Our Cute Young Lady gets rather a lot of face time in this episode. Director's favorite perhaps. JohnK, 6 October 2021
Location: Perry Mason and Della Street enter the County Courthouse in Outcast, CA, one of the courthouses of lesser repute here. Submitted by gracep 10/7/2010.
Did you spot this, Gen-Xers? The man playing Quincy is none other than Denver Pyle, better known to you as Bo & Luke Duke's Uncle Jesse in the original Dukes of Hazard. Hard to see without his beard! Submitted by gracep 10/8/2010.
+ And Boomers will remember him as Briscoe Darling, the jug-playing head of the hillbilly musical family on the "Andy Griffith Show." Submitted by francis, 3/19/12.

Claude Stroud, from Kaufman, Texas, played many roles on TV and in the movies, including the piano player who tired of playing Liebesträume at the dinner party thrown by Margo Channing in "All About Eve", and Holly Golightly's first date, Sid Arbuck, in "Breakfast At Tiffany's". [additional trivia Claude and his identical twin, Clarence, had a vaudeville acrobatic act when they were 19, and toured the middle west and southern regions before finally travelling to New York and the Big Time, by which time the act had evolved from knockabout gymnastics to comedy crosstalk and patter.] jfh 25Sep2017.

CARS. (1) 1955 Ford Fairlane Sunliner V8 convertible, Bob Lansing, med color, top down, Nevada Lic No 5J8 752.
The Ranchero, Car(3) has absolutely nothing to do with the story or any character, yet it is so conspicuous that it's a distraction (Hey, Look at that nifty half-car half-truck!): an intrusive but entertaining Product Placement! Added by Gary Woloski, 7/11/12.
Cemetery : When Bob Lansing goes to the cemetery does anyone notice the poorly painted background night sky that seems only a foot away from cemetery. Also, I find it amazing that all the grave stones are made out of wood and are in perfect condition after all that time. Submitted by BeadsOBleach 08/17/22
Perry's property: In the first scene when Bob drove into town and later when Perry and Della arrived in Outcast look in the background and you can see the apartment house Perry bought in episode 44 TCOT Curious Bride. Submitted by H. Mason 10/30/14
Circuit Court ?? Willis Bouchey, who appears here as the judge, was also the judge in Fawnskin, (just) 13 episodes back; Fawnskin, Outcast...a dilligent viewer should be able to construct a map of this Judicial District's boundaries (a task that will be either very easy or very difficult, considering the many fictitious locations !!) Submitted by Notcom, 110415.
According to Wikipedia, Jeremy Slate had a very interesting life before becoming an actor. He may have started his professional acting in Lima, Peru...MikeM. 8/8/2016
This is the only PM appearance for Marilyn Eastman, who was in George Romero's Night Of The Living Dead...MikeM. 11/15/2016
Comments

Edit
The defendant, "Bob Lansing," seems friendly enough, but agreeing to share a motel room with a creepy stranger seems a bit of a stretch. (And one hopes there was a cot somewhere, because there appeared to be only one bed.) Submitted by francis, 3/19/12.
Walter Burke, whom we last spotted as Frankie Laine's diminutive flunky in TCOT Jaded Joker, has gone up in the world -- here as rural DA James Blackburn. Submitted by francis, 3/19/12
Murder weapons: You usually wouldn't think of a bookend as a murder weapon, but through 93 stories it was used three times (also in 46 & 55). That's the same number of times a fireplace poker was used (episodes 12, 44 and the second murder in 72...in #82 the victim was only stunned with the poker then killed with a decanter). Submitted by H. Mason 10/30/14
The view out the courtroom window is of a tree lined suburban street that has no relation to the exterior set. A surprisingly cigarette-free episode. It isn't until the closing scene that Bob Lansing lights up the only cigarette in the show. DOD 09/09/19
Actually, Paul is smoking as he enters the room where Perry and Della are examining old newspapers. MsLinda 02/06/21
The Case of the Missing Mom: Why did no one try to find out who Bob's mother was? There is a between-the-lines presumption during Mason's questioning that Vivian dropped out of high school in 1936 because she was pregnant, and thus implying that little Bob would have been three in 1939 -- but did no one in the entire snoopy town realize that she had a child? Did Bob not care at all who his mother was? And who was "the Mexican woman" who took Bob to Salt Lake City? Submitted by catyron 11/30/2017.
In 1960 TV shows would not openly refer to middle class white women bearing illegitimate children, so this subject is treated obliquely here. After first establishing that Vivian knew Lin Aberdeen and that she had dropped out of high school three years before he robbed the bank and died, Perry abruptly drops this line of inquiry--with the Judge's blessing. Then, when Perry next asks about her husband's last words to her about Bob Lansing, she flies into an emotional rant which clearly expresses her own feelings: "He's just like his father. He's a lying, stealing, murdering, thieving…" Vivian has not been terribly upset by her husband's death, which now makes it possible for her to finally marry Tom Quincy, so she must have some other reason for such strong feelings towards Lin Aberdeen and the young man who appears to be his son. Viewers are left to connect the dots. Submitted by ckbtao 4/30/2020
For the answer to these and other questions, tune in next week, same time, same channel. DOD 09/09/19
<< Slandered Submarine | Episodes | Irate Inventor >>