Show92
<< Madcap Modiste | Episodes | Ominous Outcast >>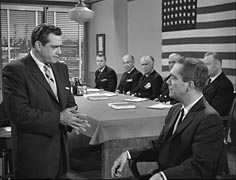 #92: The Case of the
Slandered Submarine
Original Airdate: 05/14/60
From The Perry Mason TV Show Book
Two murders, each involving the navy submarine USS Moray, lead Perry to defend a seaman from sinking in a sea of accusations and blackmail.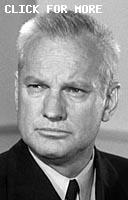 Opening
Starring Raymond Burr
in The Case of THE SLANDERED SUBMARINE
Based upon characters created by Erle Stanley Gardner
Barbara Hale as Della Street
William Hopper as Paul Drake
Ray Collins as Lt. Tragg
Trailing
Directed by Arthur Marks
Written by Sam Neuman
Herbert Hirschman || Producer
Gail Patrick Jackson || Executive Producer
Seeleg Lester || Associate Producer, Story Consultant
Produced by The CBS Television Network in association with Paisano Productions
Arthur Marks || Associate Producer
Raymond Burr as Perry Mason
Barbara Hale as Della Street
William Hopper as Paul Drake
Ray Collins as Lt. Tragg
Cast
Hugh Marlowe as Cmdr. James Page
Robert F. Simon as Anthony Beldon
Jack Ging as Robert Chapman
Mort Mills as Barry Scott
Robert H. Harris as Gordon Russell
Edward Platt as Cmdr. Driscoll
Russ Conway as Cmdr. Jerome Burke
Robert Brubaker as Lou Hansford
Ann Robinson as Vivian Page
Stephen Chase as Cmdr. Foyle
William Tannen as Lt. Cmdr. Matt Stewart
Joseph Corey as Johnny Larkin
Tom Palmer as Cmdr. Reynolds
Herb Vigran as Ernest Pritchard
Raoul DeLeon as Julio Remarto
Freeman Lusk as Capt. Horton
Richard Geary as O.N.I. Officer
Dean Casey as Shore Patrolman
Uncredited Actors
Don Anderson as 2nd Shore Patrolman
added by gracep 10/7/2010
Crew
Art Seid, A.C.E. || Assistant to the Producer
Production Supervisor … Dewey Starkey
Director of Photography … Frank Redman, A.S.C.
Art Direction … Lewis Creber
Assistant Director … Robert G. Stone
Film Editor … Richard H. Cahoon, A.C.E.
Casting … Harvey Clermont
Makeup … Irving Pringle
Hair Stylist … Annabell, S.C.H.
Wardrobe Supervision … William Zacha, Evelyn Carruth
Set Decoration … Charles Q. Vassar
Sound Effects Editor … Gene Eliot, M.P.S.E.
Music Editor … Gene Feldman
Properties … Ray Thompson
Production Sound Mixer … Herman Lewis
Script Supervision … M.E.M. Gibsone
Sound … Glen Glenn Sound Co.
Perry Mason \ A Film Presentation
A CBS Television Network Production
Take a close look at the flag behind the court-martial panel. It's a little bit out of date. Submitted by Earl Poulsen, 10/6/04.
+ The official flag of the United States, prior to July 4th, 1959 had 48 stars. Between July 4th, 1959 and July 3rd, 1960, the flag had 49 stars. The flag did not have 50 stars until July 4th, 1960. This was because of an executive order by President Eisenhower. In addition, all existing supplies of 48- or 49-star flags were to be used until unserviceable. So, it is entirely plausible that a 48-star flag could be displayed. It could not have been a 50-star flag because the episode was filmed before this flag was available. Read more here. Submitted by Christopher Stout, 2/21/2006.
In the scene at the dock after the murder, small signs identify two submarines as the USS Swordfish and the USS Moray. In reality SS-276 was the USS Sawfish. The hull number for the Moray is hard to spot but it looks like 301, 801 being too large. The SS-301 was actually the USS Roncador. The real USS Moray had hull number SS-300. The Sawfish and Roncador were based at San Pedro and used for training at the time the episode was probably filmed. Submitted by Steve Fox, 10/8/2004.

In the initial scene between Jim and Jerry, one can see behind them a destroyer. This was the USS Walke (DD-723), in commission from 1944-1970. cgraul 6.6.12
+ Another ship visible in the background is the destroyer tender, USS Frontier (AD-25) which saw duty from 1946-1968. Submitted by Steve Fox, 4/11/2020.
+ Another ship is visible behind Chief Scott, it's the USS Eversole (DD-789) which saw duty from 1946-1973. Submitted by Steve Fox, 2/5/2023.
Perry practices before a Naval court martial board in this episode. Earlier, in episode #43, TCOT Sardonic Sergeant, Perry had practiced before an Army court martial. Submitted by PaulDrake 33, 20 May 2009.
+And in "Misguided Missile"/E120, Perry practices before an AIR FORCE court martial. Mike Bedard 8.4.16
The prosecutor in this episode (Commander Driscoll) is played by Edward Platt, best known for playing the boss of Maxwell Smart in the 60s sitcom, Get Smart. Submitted by PaulDrake 33, 20 May 2009.
This episode marks the first appearance of Mort Mills as (Chief) Barry Scott in the Perry Mason series. Mort will go on to appear in 7 more episodes portraying police Sergeant Landro (sometimes credited with a first name of Ben). Submitted by DaveT, 29 May 2012.
Uncredited Actors: Don Anderson appears here as one of the two shore patrolmen who have seaman Chapman in custody on the sub's deck and escort him down the gangway to shore. Read more about Anderson and other uncredited actors. Submitted by FredK 7, October 2010; updated by gracep, 10/7/2010.
Sightings: Distinguished Gentleman #1 appears as a bartender sporting a tropical print. Read about him and other favorite frequent faces on the Who Is That? page. Submitted by gracep, 10/10/10.
Star Trek Alert: Richard Geary, who appeared in 13 Perry episodes, went on to join the Star Trek universe, appearing in six original series episodes, as a stunt double, an alien, and as a red shirt who inevitably got killed. Submitted by MyFavoritePolarBear, 1/18/23.
CARS. (1) 1957 Chevrolet 150 4-Door Sedan, Cmdr Page, US Navy vehicle# 92-05992.
Background Cars at ALPHA ELECTRONICS as Cmdr Page arrives in Car(1) early in episode:
The Navy Ambulance, Car (2), was built by Superior Coach Co on a stretched Pontiac chassis using Bonneville body & trim parts. The hulk of one of these '58 Superior-Pontiac Navy Ambs is reported to be sitting in the Nevada desert (here, second photo below highlighted text). See Ep#127 for more of these "Professional Cars". Added by Gary Woloski 6/10/12.
Costumes: In this episode, Perry wears his usual button-down collar near the submarine dock, in the Alpha office, in the jail, and in court. But when Perry is in his office at 7:50 and later at 26:50, he wears his rounded club collar with collar bar (not quite so tight as in TCOT Nimble Nephew). Perhaps the two office scenes, which occur on different days, were filmed in close succession. Submitted by 10yearoldfan, 22 Sept 2012.
+ Scenes filmed in one set were generally filmed together to avoid setting the lighting, etc. more than once for the same set. Submitted by Wiseguy70005, 2/19/14.
Anomaly: Perry refers to the optometrist's office address as being on "Michigan Boulevard," Chicago; but this grand thoroughfare has been called "Michigan Avenue" ever since the Chicago fire of 1871. Submitted by 10yearoldfan, 22 Sept 2012.
Cold case / old case: Perry also solved the murder of Dolores Chapman killed three weeks earlier. Submitted by H. Mason 9/27/14
According to Wikipedia, director/associate producer Arthur Marks served in the US Navy during the Korean War...MikeM. 8/8/2016
This is the only PM appearance for Ann Robinson, who was born and raised in Hollywood CA...MikeM. 11/14/2016
Comments

Edit
USS Walke (DD-723), an Allen M. Sumner-class destroyer, appeared in the background of several scenes. For more info on this ship, see here. Submitted by billp, 1/17/2009.
I may be wrong, but the Aloha bar looks a lot like the beatnik bar that appeared in episode #57, "TCOT Jaded Joker." The booth where Perry and Paul sit by the stairs seems to be the same place they sat in that episode. Submitted by PaulDrake 33, 5/20/2009.
Maguffin alert - we never do learn the purpose of the mysterious device. DOD 09/06/19
It's interesting how both Paul Drake and Robert Chapman both pronounce Delores' name as duh-LOR-ees (rhymes with "geese"), when usually it's duh-LOR-ess (rhymes with "chess")—or at least it is on the East Coast! Submitted by gracep, 10/6/2010.
+ And Della pronounces San Pedro "San Pee-dro" rather than the correct "Pay-dro" ("dinero" is "din-ay-roh" not "Din-eee-roh.") Submitted by CGraul, 8 Sept 2011.
+ However, most current residents of San Pedro do in fact pronounce it "Pee-dro." Just why, I don't know, but it's true. Submitted by Ed Zoerner, 3/13/12.
+At 28:15, I hear Della say "San Pay-dro". Submitted by 10yearoldfan, 22 Sept 2012.
+ My guess is that it all depends on whether the actor saying it has to "go" or not at the time of the comment. ;-) Submitted by HamBurger 8/9/2014
I wonder why the titles of other naval men were included in the credits, but Chief Scott was just "Barry Scott." Submitted by gracep, 10/7/2010.
Here are several more comments on the Naval setting. We see in the background a small nest of destroyers alongside USS Frontier (AD-25), a destroyer tender of the Klondike class. While two officers chat topside aboard "Moray", one of them leans against a lifeline. That's an absolute no-no. Every Navy member learns that precaution early in initial training. That's one of the basic principles deeply ingrained and steadfastly followed and enforced. The CO, the skipper, wears not only his gold dolphins, the coveted insignia of a qualified submariner, above his ribbons, but also his war-patrol insignia, below his ribbons, indicating that he had taken part in one or more submarine patrols during WW2.* All the belowdecks scenes were shot on a set, not aboard a submarine. One humorous touch is that the frames (the "ribs") of the set use riveted construction rather than welding. The set is not as crowded or constricted as a submarine. Each of the submarines seen in this episode is still in the WW2 configuration, called a fleet submarine -- that is, none of them had become converted into the streamlined Guppy configuration. The view of a submerged boat shows a model, not a real boat. [A submarine is the only type of Naval ship correctly called a boat rather than a ship.] Chief Scott was a chief petty officer; more particularly, he was a master chief torpedoman's mate, abbreviated as TMCM. Since he was a qualified submariner, entitled to wear silver dolphins (gold for officers, silver for enlisted men), his rate and rating are written as TMCM(SS), where the letters SS indicate his qualification for submarines. The torpedo in his insignia on the left sleeve of his dress blues identifies him as a torpedoman's mate. The two stars above the eagle (commonly called the "crow") on his left sleeve indicate that he was a master chief petty officer (in the pay grade of E-9). [One star indicates a senior chief petty officer (E-8), and no star indicates a chief petty officer (E-7).] However, it was impossible for Chief Scott or anyone else to be a master chief at the time of shooting. The two grades of SCPO and MCPO came into existence on 01 June 1958. Any candidate seeking advancement to E-9 must have served at least three years as an E-8, and any candidate seeking advancement to E-8 must have served at least three years as an E-7. Even if Chief Scott (or any other E-7) had been immediately advanced to E-8, he could not have satisfied the three-year requirement (and could not have been advanced to E-9) until at least 01 June 1961. Please note that this episode first aired on 14 May 1960. I contribute these comments as a former Naval officer, as one who has served aboard submarines, as one who has taught at the Naval Submarine School, and as one who wore gold dolphins (and sometimes still wears them). Submitted by Doc Rushing on 27 August 2012.
*Only 3,505 men served aboard US WWII subs, but that 2% of the US Navy sank 70% of the Japanese Merchant Marine fleet & 55% of All Japanese Navy vessels [Source: Time/Life book War Under The Pacific). Mike Bedard 8.8.16 MeTV viewing. //
Company name: Was the rival of Alpha Electronics, Devco, supposed to be an Acronym (DEVCO)? Submitted by H. Mason 10/30/14
TCOT Curious Casting This episode presents, from the beginning, two prominent multiple-episode alumni (Hugh Marlowe and Robert F Simon). Certainly, methinks, one will be the victim and one the defendant (my money was on Marlowe as the latter, since he was the bigger name, and this would maximize his screen time.) But what happens ?? He's murdered...and just a few minutes into the show !!! Can anyone think of another episode where a prominent actor was hired to be nothing more than a cadaver-in-waiting ?? Submitted by Notcom, 110315.
+A few possible competitors: George Macready in Episode #48 (TCOT Purple Woman), Richard Carlson in Episodes 220 and 263 (TCOT Tragic Trophy and TCOT Avenging Angel), and Wendell Corey in Episode #266 (TCOT Unwelcome Well). The major difference is that each of them had ample opportunity to be completely detestable before he got bumped off. In this episode, Hugh Marlowe didn't do much of anything before his early exit. Submitted by BobH, 14 January 2016.
The phantom hand can be seen closing the door when Paul enters Perry's office. (Look quickly.) Submitted by Kilo 5/23/2018.

'''Follow the money: The $5,000 was given to Dolores as a bribe from Gordon Russell of Alpha Electronics. She gave the money to Chief Scott to hold for their purchase of the Aloha Cafe. Mr. Scott left the money in Perry's car for the defense of Robert Chapman. Doesn't that mean Mr. Russell indirectly paid the lawyer who found him guilty of murder? Submitted by H. Mason 10/30/14
Why were no pieces of that unusual lens found in the house? DOD 09/06/19
Sub to go...hold the ham Robert Harris is - by his standards at least - remarkably restrained in his performance...even the witness stand confessional showed little overwrought passion. And on a side note to that: would this remain a navy case once it was revealed that the killer wasn't in the service ?? In other words, do civil authorities get to claim the same type of jurisdiction over civilians - regardless of where a crime takes place - that the military does over its members ?? Notcom, 012220.
<< Madcap Modiste | Episodes | Ominous Outcast >>