Show43
<< Pint-Sized Client | Episodes | Curious Bride >>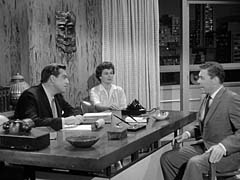 #43: The Case of the
Sardonic Sergeant
Original Airdate: 10/11/58
From The Perry Mason TV Show Book
If Major Frank Lessing was murdered, then why did his wife, Helen, find a suicide note near his body? Helen hires Perry to defend Sergeant Joseph Dexter (Paul Picerni--best known for fifties war movies) against false charges, of killing her husband.

On Corregidor in 1942, Finance officer Lessing was in charge of a "$10 Million bonfire" to prevent its capture by the Japanese. Mike Bedard 5.31.16 MeTV airing.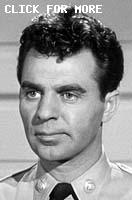 Trailing
Directed by William D. Russell
Written by Sam Neuman
Ben Brady | Producer
Produced by CBS Television in association with Paisano Productions
Gail Patrick Jackson | Executive Producer
Sam White | Associate Producer
Raymond Burr as Perry Mason
Barbara Hale as Della Street
William Hopper as Paul Drake
William Talman as Hamilton Burger
Ray Collins as Lt. Tragg
Cast
John Dehner as Major Lewis
Robert Armstrong as Walter Haskell
Lori March as Helen Lessing
John Archer as Major Frank Lessing
Larry Jackson as M Sgt. William Smith
Grant Richards as Capt. Kennedy
Paul Picerni as Sgt. Joseph Dexter
Wendell Holmes as Howard Evans
Barbara Luna as Rikki Stevens
suggested correction: "BarBara" Luna jfh 25Nov2020
Kevin Hagen as Sgt. Burke
Russell Thorson as Lt. Col. Brice
George E. Stone as Bartender
Lee Torrance as Sgt. 1st Class McKnight
Rand Harper as Lt. Walker
Hal Torey as Mr. Blake
Helene Heigh as Mrs. Agnes Haskell
Vance Howard as Court Clerk
Crew
Technical Advisor | Allison A. Conrad, Lt. Col. U.S. Army
Gene Wang | Story Consultant
Story Editor … Alice Young
Assistant Producer … Robert Wechsler
Production Supervisor … J. Paul Popkin
Director of Photography … Frank Redman, A.S.C.
Art Direction … Lyle Wheeler, Lewis Creber
Assistant Director … Morris Harmell
Editorial Supervision … Art Seid, A.C.E.
Film Editor … Otto W. Meyer, A.C.E.
Casting … Marvin Schnall, Harvey Clermont
Makeup … Mel Berns
Hair Stylist … Annabell, S.C.H.
Wardrobe Supervision … Dick James
Set Decoration … Walter M. Scott, Charles Q. Vassar
Properties … Ray Thompson
Sound Editor … Gene Eliot, M.P.S.E.
Production Sound Mixer … Robert O'Brien
Script Supervision … William E. Orr
This has been a CBS Television Network Production
Filmed in Hollywood by TCF Television Productions, Inc.
Special Message...On Father's Day, 6/17/2018, TCM's Noir Alley series showed "Pitfall" (1948), which featured Raymond Burr in one of his pre-PM roles as a "heavy". I think TCM makes its films available online for a week after airing. You may also find the film available elsewhere. I think most PM fans will enjoy this film. There are a number of LA locations shown...MikeM. 6/17/2018
I think something like this needs to be added to the "credits" above: "Starring Raymond Burr in The Case of THE SARDONIC SERGEANT Based upon characters created by Erle Stanley Gardner" Suggested by Fred Flintstone 12/26/2020
CARS: 1958 Cadillac convertible, black, top down (Mason), 1956 Chevrolet 150 4dr sedan, dark color. From The Cars by Greg Cockerill.
Anomaly: Actor Larry Jackson in the credits is really Harry Jackson.
Multi-ethnic BarBara Luna makes her only Perry appearance as Rikki Stevens. BarBara Luna was married to Doug McClure for two years in the early 60s. Submitted by PaulDrake33.
For the second time, George E. Stone plays a bartender in this Perry episode. He also played the bartender in episode #24, "TCOT Deadly Double." George E. Stone would appear in Perry 42 more times, all as the Court Clerk, the final time being in November 1962. Submitted by PaulDrake 33, 21 October 2009.
Chameleon Cravat: In successive shots during the last courtroom scene, Mason's necktie is tied with a fold at the knot, then it's not. JohnK, 20 October 2016
Rand Harper (Lt. Walker) appeared with Raymond Burr in Rear Window, one of my all-time favorite movies. He was one of the newlyweds. Submitted by billp. 15 November 2009.
Syndication cuts: Dexter looks for his signed release but it is no longer in the out box and leaves; Helen wakes up, tries to call her husband at the office, no one answers and she gets up to get dressed; entire bar scene with Smith, Burke, Rikki and Drake [Barbara <correction: "BarBara"> Luna has only one scene and no lines in the syndicated version]; Della brings Perry a court martial manual. Submitted by Wiseguy70005, 7/30/12.
+ Happy to report that these syndication cuts were all fully restored in the MeTV airing 12Nov2019. jfh 12Nov2019

Military court: Perry worked with other branches of the service in episodes 92 (Navy), 120 (Air Force), and 127 (Coast Guard). Submitted by H. Mason 10/13/14
+ Perry defended a MARINE Captain in Paris after the murder of a former SS officer who had served at the Majdanek Concentration Camp (TCOT Desperate Deception 1990 movie). Mike Bedard 5.7.15
++ Will a Perry Mason of the future defend someone from Starfleet?? Alas, none of us here will ever know. Submitted by Notcom, 121115.
Cold case / old case: Perry also solved a murder only the killer was aware of that happened in the Philippines months earlier. Submitted by H. Mason 10/18/14
Lost track - is this Perry's first "twofer"? DOD 07/14/20
>No, that came as early as Episode 4 (a murder that happened decades earlier). Notcom, 071420.
Kevin Hagen: The actor who played Sgt. Burke in this story is probably best remembered from the ABC show Land of the Giants as Inspector Kobick of the S.I.D., who seemed to be obsessed with the capture of The Little People. Submitted by H. Mason 4/30/15
YouTube presentation of the stock music edited in for this episode. Music by Bernard Herrmann. Link immediately below:
Traveling Tune: The song heard in the bar scene makes a reprise from the beginning of TCOT Hesitant Hostess. JohnK, 20 October 2015
This is the first of five PM appearances for Lori March...MikeM. 9/6/2016
This is the second of three PM appearances for Paul Picerni, who appeared in 91 episodes of The Untouchables as Agent Lee Hobson...MikeM. 9/27/2017
'Court witnesses' I had the opportunity to attend a military trial and one key aspect was that the witnesses were not allowed in the courtroom except when questioned. They did not get to see or hear other testimony. In the case I attended, the soldier was defending himself, Submitted by Perry Baby 12/2/17
This is the second of seven PM appearances for Henry "Harry" Conrad Jackson, whose first name was misspelled as "Larry" in the final credits. Jackson's real life reads like an episode of PM. Jackson reportedly met a model/actress in Los Angeles. In 1959, he married the lady in New York, where Harry had been born. The couple then returned to Los Angeles to live. But Harry's wife soon met another man. She went to court in 1961 to begin divorce proceedings. She complained that Harry had physically abused her. Harry admitted the assaults, saying that he thought she was having an affair. Harry was ordered to leave the family home and to stay away from his wife. The divorce was granted in 1962, and the lady married the other man. Harry Jackson died in New York City in 1973, at the age of 50...MikeM. 6/18/2018
This episode has a long look at the 48-star American flag, for which there actually may be a subtle reference. The Alaska Statehood Act was signed by Pres. Eisenhower on 7 July 1958 after years of debate, and Alaska became the 49th state on 3 January 1959, and this episode aired between those 2 dates on 11 October 1958. The star for Alaska was officially added 9 months later on 4 July 1959, and the 50th star for Hawaii another year later on 4 July 1960. Submitted by DyNama, 11/3/2018
Comments

Edit
It's odd that in a military courtroom they don't use military time. There's a reference to "9 p.m." but surely people in the Army would have said "2100 hours" instead. Submitted by Scarter, 2-24-14
+ Inconsistent would seem to be the term for it, as the first day is concluded with the remark: "Court will reconvene at 0900 tomorrow morning", the last word being, of course, redundant. Altho the writers did their best - we assume - thru minor faux pas such as these, we can see they were at times in areas they weren't familiar with. Notcom 121021.
And I think touch typing would result in uneven pressure on keys, and the hunt-and-peck system would result in even pressure, the opposite of what they said in the episode. Submitted by Scarter, 2-28-14
A skilled touch typist does indeed produce more even results than a hunt-and-peck typist. My mother could do well over 100 WPM on a manual machine with wonderfully even results. Of course, typing like this is just about a lost art altogether. DOD 07/01/19
The first episode I believe in which we see the office in its final form - a full row of books across the credenza, fish painting above, and mask on the side wall. DOD 07/20/20
+ Yes, the books have finally arrived! Submitted by catyron, December 16, 2020
If you use the year the episode aired as a reference date, then the testimony would indicate that Rikki Stevens was about 15 or 16 years old in the Philippines when she "worked" at her job. Submitted by Kenmore, 4-15-14
I love that flowchart in Major Lessing's office. It's even titled "FLOW CHART" so that we know what it's supposed to be. However, it doesn't look like any flowchart I've ever seen; there are no yes/no branches. I suspect the prop guys weren't too sure what a flowchart was. Submitted by Alan Smithee, 5 May 2014.
+ I noticed that too. Weird. Submitted by catyron, December 16, 2020

There was no shortage of great talent on the Mason show. In this episode, two top-flight actors put on a clinic: the doe-eyed Lori March, always understated and believable, and the veteran Robert Armstrong, who crafts a powerful performance on the witness stand. Submitted by francis, 30 June 2014.
+ So true. One of the consistent pleasures of Perry Mason is enjoying fine performances by a variety of lesser known, but very talented actors. Robert Armstrong is of course best remembered as the man who brought King Kong to New York. DOD 07/01/19
++ Not only are the tremendous Robert Armstrong and the lovely Lori March in this episode, but we also get to see George E. Stone as a bartender and John Dehner as a prosecutor! Dehner was a long running voice actor on radio's Gunsmoke, where he was was just brilliant when paired with William Conrad, who starred as "Mershill Dillin" (which is the way Dehner pronounced Conrad's character-name when he played cowboys). Dehner's vocal range was amazing, and in this episode's role, where he portrayed a neutral and rather bland prosecutor, he only let loose with a couple of instances of his Famous head-down vocal fry. I could listen to his voice all day. Submitted by catyron, December 16th, 2020.

When Dexter looks at his watch, they cut to a closeup of the dial and we see that they've tried to obscure the brand by opening the watch and scraping the text... but you can still see the "X" pretty clearly at the end. Submitted by bobhoveyga, 7/3/2014.

When Perry questions Captain Kennedy and as he faces the camera, at least one of the books seen over his left shoulder appears to have black tape over the volume/title on its spine. jfh 25Nov2020

It's amusing to me how suspects in PM episodes forget that there is likely a paper trail somewhere that will tell on them .. ironically, nowadays, public and private figures alike seem to forget that there is likely a camera watching them, to record both visible and sonic evidence of their conduct. And they still don't know enough to shut up and case their environment! Submitted by MikeReese, 8/16/2014.
It was convenient that Perry could get some finger prints from the FBI especially with quick turnaround. Submitted by Perry Baby 1/10/2015
Art. 1, Sec. 8 of the Constitution states "Congress shall have power to make rules for the government and regulation of the land and naval forces": the Uniform Code of Military Justice standardized court-martial rules among all 5 services in 1951. Submitted by History teacher Mike Bedard, 2.2.15. //
The movie "MacArthur" has a Corregidor scene where US money is burned & a soldier says, "That's 140 Million Bucks the Japs won't get." Mike Bedard 5.25.16.
In the first half, after Perry meets with his client in the lock-up, he finds Paul Drake waiting for him. The following conversation occurs on a soundstage with a base back-projected. Poorly done, actually. cgraul 96.2016//
It's the same backdrop, with the same soldiers looking over their shoulders, as was used when Perry first arrived at the base. Clothears 23-Jan-2021.
The court clerk uses what appears to be a type of dictaphone instead of the usual keypad device. Anyone know if this was usual for military proceedings at this time? DOD 07/01/19
+ That is a stenomask, which was adopted by the Navy in 1945. Voice recognition software has made it increasingly useful today, since it is faster and more accurate than a stenotype machine. https://en.wikipedia.org/wiki/Stenomask Submitted by vgy7ujm 4 May 2020
Possible Spoiler I'll try to keep this as vague as possible so as to not give anything specific away.
+ The gist of the crime revolves around the "Corregidor Money". Yet the money-laundering plot that is uncovered to me at least makes no sense. Given how easily the money can be identified, I would think that the culprits would come up with a far better plan that would totally avoid getting the military involved as we see in the opening scene.
+ Another issue is one of coincidence and identity. Given what we learn in the climatic scene, it seems like an unbelievable coincidence of how two characters who are linked by the events on Corregidor would not only wind up stationed on the same base, but apparently not recognize each other. Yes, it has been nearly two decades, but still, it is rather hard to believe. Submitted by Kenmore 10/13/2020.
<< Pint-Sized Client | Episodes | Curious Bride >>