Show103
<< Clumsy Clown | Episodes | Nine Dolls >>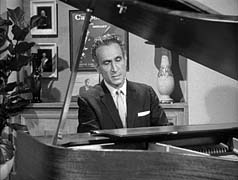 #103: The Case of the
Provocative Protege
Original Airdate: 11/12/60
From The Perry Mason TV Show Book (Revised)
A washed-up, lovesick concert pianist takes a dive in his car over a cliff. Insurance and financial woes complicate the matter. Perry must clear the pianist's protégé of any suspicion.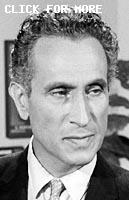 Opening
Starring Raymond Burr
in The Case of THE PROVOCATIVE PROTEGE
Based upon characters created by Erle Stanley Gardner
Barbara Hale as Della Street
William Hopper as Paul Drake
Ray Collins as Lt. Tragg
Trailing
Directed by Laslo Benedek
Teleplay by Herman Epstein and Seeleg Lester
Story by Herman Epstein
Seeleg Lester || Producer
Gail Patrick Jackson || Executive Producer
Arthur Marks || Associate Producer
Produced by The CBS Television Network in association with Paisano Productions
Jackson Gillis || Story Consultant
Raymond Burr as Perry Mason
Barbara Hale as Della Street
William Hopper as Paul Drake
Ray Collins as Lt. Tragg
Cast
Virginia Field as Anita Carpenter
Robert Lowery as Andrew Collis
Kathie Browne as Donna Loring (called Ross throughout episode)
Robert Karnes as Deputy D.A. Chamberlin
Charles D. Cooper as Eric Sturgis
Gregory Morton as David Carpenter
Harry Jackson as George Worthington
Donald Foster as James Gracie
Barry Cahill as Sgt. Binns
Morris Ankrum as Judge
Jon Lormer as Autopsy Surgeon
George E. Stone as Court Clerk
Cindy Courtland as Alice
Uncredited Actors
Don Anderson as Courtroom Spectator
Robert Wegner as:
Police Officer
Courtroom Spectator

(spotted by gracep 10/21/2010)
Crew
Art Seid, A.C.E. || Assistant to the Producer
Production Supervisor … Dewey Starkey
Director of Photography … Frank Redman, A.S.C.
Art Direction … Lewis Creber
Assistant Director … Robert G. Stone
Film Editor … Richard H. Cahoon, A.C.E.
Casting … Harvey Clermont
Makeup … Irving Pringle
Hair Stylist … Annabell, S.C.H.
Wardrobe Supervision … William Zacha, Evelyn Carruth
Set Decoration … Charles Q. Vassar
Sound Effects Editor … Gene Eliot, M.P.S.E.
Music Editor … Gene Feldman
Properties … Ray Thompson
Production Sound Mixer … Herman Lewis
Script Supervision … M.E.M. Gibsone
Sound … Glen Glenn Sound Co.
Titles and Opticals … Pacific Title
Perry Mason \ A Film Presentation
A CBS Television Network Production
Anomaly: Kathie Browne is listed as Donna Loring but is called Donna Ross. [Tom Rankin].
In the office scene where Perry is dictating to Della from a book, when he says "California State Penal Code, section 1362, dealing in competency as evidence when witness uh...," he is speaking of an actual and appropriate section of the CSPC. Submitted by Steve Fox, 10/20/2004.
+ Goof: Right after the above scene Perry closes the book with an audible thud, picks up the newspaper while putting the book down with his left hand and holds the newspaper with both hands. When the camera switches to a front view we hear what sounds like the thud of the book closing again and Perry has his right hand below the screen apparently putting the book down again. Submitted by Wiseguy70005, 5/13/14.
Music:The piece playing at the episode's opening (with Carpenter at the piano) is Beethoven's Sonata in C minor, Op. 13, No. 8, also called the Sonata Pathétique. The closed captions coupled with the syndication print incorrectly list this as the overture from Beethoven's Fidelio. Submitted by gracep 10/21/2010.
+ The closed-captions on the DVD simply state "(piano music playing)" and later, "(classical piano music playing)." Submitted by Wiseguy70005, 5/13/14.
+ See also comments below regarding Donna's piece.
Sightings: Appearing in the courtroom gallery are Distinguished Gentleman #1 and the Little Old Lady in a Hat on the defendant's side, along with Quiet Old Man #1 and "Miss Carmody" on the prosecutor's side. A pencil-mustached man peers through the crowd as well (prosecutor's side). Can you see them? Read more about these favorite frequent faces and why we are trying to spot them. Submitted by gracep, 10/21/2010.
+ Sitting next to DG #1 we find Distinguished Lady #4. Bill767, 1/3/16.
Uncredited Actors: Robert Wegner gets two appearances in this episode. He's a frowning spectator on the prosecution side, and he seems to be a uniformed policeman at the desk outside Tragg's office when Tragg, Mason, and Worthington meet. Submitted by FredK, 20 Nov 2010.
+ Don Anderson is among the second-row spectators on A.D.A. Chamberlin's side of the court. Submitted by FredK, 20 Nov 2010.
Star Trek Alert: Three actors in this episode will appear in Star Trek roles. The lovely Kathie Browne portrayed the hyper-accelerated space babe Deela in the original Star Trek "Wink of an Eye." She fell for Kirk, of course, who didn't fall for her: the opposite of her role as Donna Loring. Browne made four appearance in the Perry series. Charles Cooper had roles as a rather portly Klingon general in the movie, Star Trek V: The Final Frontier and in several episodes of Star Trek: The Next Generation. He also appeared in four Perry episodes. Finally, Jon Lormer, a virtual regular on Perry, appeared in three episode of the original series Star Trek, including the pilot, though he is probably best known to Trekkies as a follower of Landru, the computer godling. Lormer appeared in 12 episodes of Perry, as a coroner, medical examiner, surgeon, etc. He was clearly type cast. Submitted by MyFavoritePolarBear, 1/19/23.
Lormer's third appearance on Star Trek was in "For the World is Hollow and I Have Touched the Sky". He is less recognizable because was wearing heavy makeup, but it's arguably his most memorable performance since his character speaks the title of the episode. It can be argued that Lormer technically appeared in four episodes of Star Trek since the footage of his appearance in "The Cage" was used in "The Menagerie Part One". In fact, "The Cage" did not air during the original run and was not broadcast until October 14th, 1986. Submitted by Kenmore 08/31/2023
Just TWO CARS: Perry's 1960 Ford Galaxie Special Sunliner, Lic No TVC 236, black, top down. On his drive to see Donna Loring, Perry passes a parked all-white 1949 Dodge Wayfarer Sports Roadster convertible, top up (19:55-20:04). Don't fret if you missed it; the same footage is reused in Ep#107! Added by Gary Woloski, 10/1/12.
+Chronological Car Anomaly: The old-car-over-the-cliff footage in TCOT Provocative Protege at 04:50 first appeared in Ep#85, TCOT Wary Wildcatter and can be seen in fuller form there at 02:14 - 02:17. This was a 20 year old car at best, and would not have been appropriate for a man of the victim's economic means. Submitted by catyron 12/10/17.
Lt. Tragg's office door identifies him by his full name Arthur Tragg. Although this may not be the first time for the full name to be seen, the office door in early episodes and in the series credits identifies him only as Lt. Tragg. Submitted by Wiseguy70005, 5/13/14.
Where's Paul?: After Perry took Donna as a client he never used the services of the Paul Drake Detective Agency. Submitted by H. Mason 11/3/14
Della's wardrobe: Della wore a monogram dress in the story. Submitted by H. Mason 11/3/14
This is the first of four PM appearances for Kathie Browne. She was married to Darren McGavin from 1969 until her passing in 2003...MikeM. 8/23/2016
This is the only PM appearance for Cindy Courtland, who appeared in the Swiss nudist travelogue Lust For The Sun...MikeM. 11/29/2016
The first of two appearances by Robert Lowery. His most famous role was as the Caped Crusader in the 1949 Batman and Robin serial. Submitted by Kenmore 10/08/2020
NO CREDIT, NO CHECKS CASHED: The sign in the coffee shop at 26:00 on the DVD also appeared in episodes 80 and 85. Submitted by Kilo 6/4/2018.
Comments

Edit
When Perry visits Donna just ahead of Tragg, she is playing a classical piece on the piano. Perry can't "quite place it." Later, Perry writes a note to Donna in jail and comments to Della that "I just remembered the title to a beautiful Beethoven overture." The title in the note looks like "Fidelis" but it's "Fidelio" (compare the "o" to the "s" above) as is confirmed in the closing scene. Now, Fidelio is an opera and does have an overture, but isn't this an odd piece for piano solo? So what was Donna playing? Submitted by Steve Fox, 10/20/04.
+ The music misidentified as Fidelio in the first scene, with Carpenter at the piano, is definitely the first movement of the Sonata Pathétique. In the scene Steve mentions, the closed captions claim Donna is playing an arrangement of Fidelio, but it sounds like no part of an orchestral recording I have reviewed. Lastly, as Perry Mason writes his note and Donna reads it, I cannot recognize the music playing as from the Fidelio overture, either. Submitted by gracep, 10/21/2010.
Why were Donna's fingerprints on the flashlight, not Anita's? And will the insurance company pay off? DOD 10/06/20
+ I'm guessing that Anita was wearing gloves, as all well-bred older women did then. Originally all well-bred women wore them, but the practice was beginning to "age-out" by then. OLEF641 3/30/22
When Mason visits Donna in the cottage and remarks on her gifts, though he cannot name the piece, the music heard is a piano version of one of Beethoven's Leonora Overtures. Since Beethoven was not especially comfortable writing for voices, he composed only one opera, Fidelio, and labored on it for some time. He wrote three different versions of the original overture which are now known as Leonora Overtures Numbers 1, 2 and 3 (Leonora was the heroine of the opera who disguises herself as a boy, Fidelio, to help her imprisoned husband). After all this effort, Beethoven eventually composed a completely different overture for opera performances. The Leonora Overture #3 is a well-known concert piece and is also sometimes played between acts of the opera; #2 is rarely played, #1 very rarely. The section Donna plays could be from either #2 or #3. Technically, therefore, Mason is incorrect identifying it as Fidelio. Submitted by FredK, 20 Nov 2010.
+ It is actually the Leonore Overture #3, which was one of the overtures Beethoven wrote for "Leonore", before he revised that opera into "Fidelio"; Leonore #3 was often used as an entr'acte between the last two scenes of "Fidelio", probably because it is an absolutely sensational piece of music.
"Leonore", The original form of the opera Fidelio
Curious that when the big, hulking stranger walked uninvited into Donna's cottage, and sat right next to her, that she didn't scream or run away. Submitted by (lowercase, with a comma and period) masonite, 02/20/19.
Several times, while Perry wrote the name "Fidelio", I closely watched the movements of his right hand (using one of those wonderful Parker 61 desk pens).
I also looked closely at the name on the paper.
I feel persuaded that the final letter, as Perry wrote it, is truly an "o" rather than an "s".
Submitted by DocRushing on 15 September 2012.
On the note itself, What everyone is thinking is an 's' at the end COULD BE an 'o' with no tail. Some forms of cursive writing taught students to eliminate the 'hanging tails' at the end of a word. If you look closely, it doesn't have a sufficient enough bulge to be an 's', but it IS round enough to be an 'o'. Submitted by Arisia, 03/09/18
The correct way of spelling protégé is with an acute accent above each e. The title on the episode features none (although the DVD and DVD jacket does). Also the feminine form of the word (the protégé of the title is a female) is protégée. Submitted by Wiseguy70005, 5/13/14.
Wink, Wink: David Carpenter didn't die! Because he could no longer perform he became a conductor and changed his name to Borov (see "Bye Bye Birdie" (1963)). Submitted by Wiseguy70005, 5/13/14.
A rare episode with a jury, but so little is seen of them, why bother? Odd that Worthington wasn't put on the stand - he could have cleared up the case in no time. DOD 09/10/18
About halfway through the episode, Perry is at a lunch counter (waited on by demurely dressed Alice) and reading a Los Angeles Chronicle article. Its headline is "Hearing Set in Carpenter Murder". Per the caption below Carpenter's photo, "Donna Ross, beautiful protege of the late David Carpenter, to have her preliminary hearing on the charge of murdering her famous teacher." Yes, Deputy D.A. Chamberlin, or whoever prosecuted at the preliminary hearing, surely still had to prove that it was murder. And the defendant's name is "Donna Lenore Ross", per Chamberlin, to distinguish her from all of the uncharged Donna Rosses, however beautiful and protected. Hopefully the Chronicle follows better standards of journalism nowadays. Submitted by (lowercase, with a comma and period) masonite, 02/20/19.
Maid?: Did Mrs. Carpenter have servants? While talking to Eric at her house the doorbell was ringing then Mr. Collis entered the room. Did he just walk into the house because nobody answered the door? Submitted by H. Mason 11/3/14
+ I think Collis just let himself in. When Worthington rang the doorbell it was Mrs. Carpenter herself who answered the door, i.e. no maid. Submitted by Kilo 6/4/2018.
What he saw: Mr. Gracie did see a car he recognized, but mistook it for Mr. Carpenter's instead of his wife's. That's the only way the facts fit if he saw Donna leave after that car...Why didn't Mr. Carpenter notice the car at the cottage? Submitted by H. Mason 11/3/14
Hard to believe? It seems a bit hard to believe that on the stand Donna said that she was not aware David Carpenter was in love with her or at least has some interest after providing her a house, a car, and lavish gifts especially at 1960 prices. She is quite the naive one. Submitted by Perry Baby 9/29/15.
<< Clumsy Clown | Episodes | Nine Dolls >>