Show85
<< Gallant Grafter | Episodes | Mythical Monkeys >>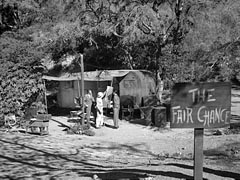 #85: The Case of the
Wary Wildcatter
Original Airdate: 02/20/60
From The Perry Mason TV Show Book
Charles Houston thinks he's clever; he kills his wife and makes it look like a car accident. He wants to keep her share of potential profits from an oil well. Freedom and fortune are his; that is, until a wildlife photographer shows up with the murder on film. Also, his wife's sister, Paula, keeps demanding her share of the oil profits. The situation goes from bad to worse for Charles, especially when Paula is found locked in a room with his corpse.
Watch for Barbara Bain, star of Mission: Impossible, in this episode.


SUGGESTED CORRECTION to the Summary: Paula Wallace was not found in a locked room with Charles Houston's corpse; she escaped the locked room and brought the police back with her. jfh 05Apr2023
Opening
Starring Raymond Burr
in The Case of THE WARY WILDCATTER
Based upon characters created by Erle Stanley Gardner
Barbara Hale as Della Street
William Hopper as Paul Drake
William Talman as Hamilton Burger
Ray Collins as Lt. Tragg
Trailing
Directed by William D. Russell
Written by Robert Bloomfield
Herbert Hirschman | Producer
Gail Patrick Jackson | Executive Producer
Seeleg Lester | Associate Producer, Story Consultant
Produced by The CBS Television Network in association with Paisano Productions
Arthur Marks | Associate Producer
Raymond Burr as Perry Mason
Barbara Hale as Della Street
William Hopper as Paul Drake
William Talman as Hamilton Burger
Ray Collins as Lt. Tragg
Cast
Douglas Kennedy as Lucky Sterling
Barbara Bain as Madelyn Terry
Byron Palmer as Charles Houston
Lori March as Paula Wallace
King Calder as Floyd Gordon
Harry Jackson as Roger Byrd
Richard Gaines as Judge
Larry Blake as Officer
Anthony De Mario as Dealer
George E. Stone as Court Clerk
Lee Miller as Sgt. Brice
Uncredited Actors
Robert Wegner as 2nd Officer added by gracep 9/29/2010
Crew
Art Seid, A.C.E. | Assistant to the Producer
Production Supervisor … Dewey Starkey
Director of Photography … Frank Redman, A.S.C.
Art Direction … Lewis Creber
Assistant Director … Morris Harmell
Film Editor … John D. Faure
Casting … Harvey Clermont
Makeup … Irving Pringle
Hair Stylist … Annabell, S.C.H.
Wardrobe Supervision … William Zacha, Evelyn Carruth
Set Decoration … Charles Q. Vassar
Sound Effects Editor … Gene Eliot, M.P.S.E.
Music Editor … Gene Feldman
Properties … Ray Thompson
Production Sound Mixer … Herman Lewis
Script Supervision … M. E. M. Gibsone
Sound … Glen Glenn Sound Co.
Perry Mason \ A Film Presentation
A CBS Television Network Production
Location: The Monterey building - The Monterey building about 3 or 4 minutes into this episode as well as 20 to 25 minutes in, is located at 804 N. Las Palmas, Los Angeles 90038. At the time it was 800 N. Las Palmas and you can see 800 on the front door. If you compare the Google Map photo to the video 20 minutes in you can see the original front door is still in use as are the black lanterns on each side. The entire entrance with all the molding is still there as well the 4 designs on the balcony above. Brown accents have been recently added. This building can also be seen briefly 15 minutes into episode #97. This building is just 2 blocks down Las Palmas from the studio where Perry was being filmed making this location an easy one to shoot. See episode #78 for more info about the studio. Posted by Eric Cooper 1 February 2010. Some pictures here.
Location: Santa Rosa - Santa Rosa - the seat of Sonoma County where "wine country & farm country, redwood forests & rivers, lakes & ocean meet" - is 55 miles North of San Francisco (City of Santa Rosa website). Mike Bedard 2.17.15.
+ The town of Santa Rosa was mentioned in this episode, but the locations are all in Southern California. For a look at the real Santa Rosa, see the 1942 film "Shadow of a Doubt" directed by Alfred Hitchcock. Submitted by catyron 11/23/17.
Sightings: Another good day for courtroom regulars! Behind Barbara Bain sits the Little Old Lady in a Hat, and behind her is Quiet Old Man #1. Distinguished Lady #2 is somewhat to his right. When court reconvenes, a Cute Young Lady appears near the center aisle. Read more about these recurring background actors here. Submitted by gracep, 9/29/2010.
+ Omitted one! Distinguished Gentleman #1 is a waiter. See these pix, which are omitted from the syndication print, which begins the scene just as DG #1 goes offscreen behind the counter (blink and you miss it). Added by gracep 10/3/2010.
+ DG#1 does not make a convincing waiter -- it looks as though he's afraid of that cup of coffee. JohnK, 21 December 2015
+ And given the fact that DG#1 plays the role of morgue attendant in several episodes, including Episode #119 TCOT Violent Vest, I think I'll pass on that coffee. Added by Dan K, 11/3/16.
+ Distinguished Lady #4 occupies an aisle seat in the gallery for a time, and then reappears elsewhere. Little Old Lady #2 appears when court reconvenes. Submitted by gracenote, 11/30/2011.
+ Miss Carmody plays the matron both in court and the jail. Submitted by Bill767, 10/31/15.
+ For those who came in late, Distinguished Gentleman #1 is the actor Rudolph Salinger, who played a waiter named "Rudy" in a previous episode, among his many other duties. Submitted by catyron, February 3rd, 2021.
Uncredited Actors: Oft-uncredited Robert Wegner appears as the scowling second arresting officer. Read more about him here. Submitted by gracep, 9/29/2010.
Continuity Error: In the second part of the hearing, the Little Old Lady in a Hat (see Sightings above) is repositioned behind Roger Byrd, but then she magically reappears in another shot behind Lucky Sterling. Then she is back again behind Byrd. The Quiet Old Man (see above) is behind her, too. Submitted by gracep, 9/29/2010.
Continuity Error: When Paula uses the door buzzer at Roger Byrd's apartment it is mounted on the door trim. Later when Lt. Tragg is inspecting the door knob, the button has moved to the wall next to the trim. Submitted by Bill H, 7/29/2011.
TCOT Curious Coffee Set: As Perry interviews Madelyn Terry (Barbara Bain), she sips placidly from a cup from the Curious Coffee Set. Submitted by gracenote, 11/30/2011.
+ I believe this is the first PM appearance of this peripatetic porcelain. In Mason's office at this point Della is still pouring the Chase & Sanborn into little glass cups, and the CCS does not appear at the Brent Building for a few more episodes. Perhaps Perry later received them in a settlement from "Lucky" Sterling. JohnK. 1 October 2015.
+ After watching all the shows once and then re-watching from show #1 up to this point on a second run, looking for coffee cups, i can confirm JohnK's observation -- this is, officially the first appearance of the Curious Coffee Set. Submitted by catyron, February 3rd, 2021.
CARS. (1) opening scene, murder car is Charles Huston's black 1955 Buick Special Riviera Coupe (early-50s Buick terminology: "Special"=Buick base model line, "Riviera"=Hardtop, "Coupe"=2-door).
Car(3) was Hamilton Burger's car in Ep#83, TCOT Prudent Prosecutor. Did the DA imprudently trade his car for a share of the Fair Chance Oil Well? Submitted by Gary Woloski, 6/26/12.
+Chronological Car Anomaly: The car that goes over the cliff at 02:14 - 02:17 is an older car than the 1955 Buick Special Coupe murder car at 0:49. It has the pointy hood and grille of the 1930s-1940s streamline era. I wonder if someone has seen that car take that same dive in a another movie. Submitted by catyron 11/23/17.
+Chronological Car Anomaly, Take 2: The same old-car-over-the-cliff footage appears in Ep#103, TCOT Provocative Protege at 04:50. Submitted by catyron 12/10/17.
The ubiquitous music composed by Bernard Herrmann for the pilot of The Twilight Zone, "Where Is Everybody?" can be heard for at least the third time in the third season in this episode. Here it can be heard from 20:06 to 22:01 during Paula's discovery of the body and her attempted escape. Submitted by Wiseguy70005, 11/4/13.
+ Speaking of The TZ, when Charles Houston meets Roger Byrd in the coffee shop with the blackmail money the scene opens with the waiter bringing Byrd a cup of coffee. He's wearing one of those caps that soda jerks wore back in the day. When I saw him the first thing I thought of was The TZ episode where the soda jerk lifted his cap to expose a third eye in the middle of his forehead. Also in that coffee shop scene, on the wall, you can see the NO CREDIT, NO CHECKS CASHED sign that was seen previously in Tepper's general store in episode 80, TCOT Violent Village. Submitted by Kilo 5/16/2018.
+ Update: The Twilight Zone episode is "Will the Real Martian Please Stand Up?", (1961). See additional discussion in the Trivia section of episode #112, TCOT Wintry Wife. Submitted by Kilo 6/13/2018.
Actor Douglas Kennedy's final acting appearances are an oddity. He appeared in three episodes of Hawaii Five-0 in three consecutive months in the same season: January 1973, February 1973 and March 1973 - playing three different characters. Submitted by Wiseguy70005, 11/4/13.
+ Douglas Kennedy, especially when seen in silhouette, always reminds me of a larger, more handsome Richard Nixon, which is odd, given his surname. Submitted by catyron, February 3rd, 2021.
++ Sinister Suit: In his several PM appearances, I find Douglas Kennedy a highly convincing bad guy businessman. And he could work multiple modes: The other day I saw him in a great (though uncomplex) black-hat role in a 1950 episode of The Long Ranger. JohnK, September 24 2021
Richard Gaines presided in 14 Perrys (5%) from 1958-61; he played Cochise & Abraham Lincoln in "TV Reader's Digest" in the mid-50s [IMDb]. Mike Bedard 2.17.15.
Killer closing ad...In the lower left corner of the closing credits, there was a product shown. The wording on it was: "Colgate's Florient Flora Air Deodorant, Kills Offensive Odors"...MikeM. 7/28/2016
This is the second of five PM appearances for Lori March, who was married to actor/narrator Alexander Scourby...MikeM. 11/3/2016
This is third of four PM appearances for King Calder, who was born Albert King Calder in Baltimore in 1897...MikeM.8/3/2017

Quotation: The "old nursery rhyme" Roger Byrd quotes in the coffee shop is actually from Victorian poet Matthew Arnold's poem "Resignation": "Yet they, believe me, who await / No gifts from Chance, have conquer'd Fate." Old Dave, 9/10/2020
False Flag the glimpse was brief, so I'm not 100% sure, but the deer that Byrd is viewing thru his lens appears to be a white-tail rather than the black-tail(Mule ear) that one would find in California. Notcom 101122.
Comments

Edit
Roger Byrd's agile camerawork in the opening scene is little short of miraculous, as he seems to be able to shoot from multiple vantage points in consecutive, uninterrupted shots. He first shoots an extreme close-up of murderer Charles Houston about to push his wife and car over a cliff. Having clearly established Houston's close-up culpability, his rolling footage then jumps immediately to a long-shot of the car plummeting over the cliff. Submitted by BobH, 30 May 2016.
+ It's more than miraculous; it's simply impossible. In the beginning, he's about 500' directly to the left of the car in the bushes. This is how he gets the close-up of Houston. However, it's physically impossible for Byrd to suddenly be on the other side of the ravine Houston pushed the car into so he could take those last videos of the car plunging. Then return to the original vantage point to video Houston straightening his tie and suit coat.
However, after seeing this episode for almost 60 years, I finally realized something. Byrd only took videos of Houston pushing the car. The scenes of the car going over the cliff were NOT filmed by Byrd; instead, they are the action of the episode itself, and only there for our benefit. Proof of this is that the same footage was used in Ep#103, TCOT Provocatove Protege at 04:50. Submitted by Arisia, 02/27/18
+Rebuttal "In Camera" Testimony. If viewers check the episode again, they will see that virtually the entirety of the footage--from the close-up of Houston, through the distance shot of the car going over the cliff, and back to another Houston close-up--is shown through Byrd's camera's crosshairs, clearly indicating that the director wants us to assume that Byrd's camera caught the entirety of the dastardly deed, including the car going over the cliff. (The only break in the "continuous" shot through the camera's crosshairs is when Byrd is shown repositioning himself to take the last close-up of Houston.) The fact that the same long shot of a car plunging over a cliff is used in Episode 103 proves nothing more than that the director of that episode reused the same stock footage, minus the crosshairs. Submitted by BobH, 27 February 2018.
Roger Byrd's ability to be in several places at the same time notwithstanding, it was a clever way to gradually reveal that Byrd was carrying a camera and not a rifle. The "No Hunting" sign added to the red herring and overall the sequence is executed quite well. Of course, until we see Houston and his dead wife that is. Submitted by Kenmore 06/08/2022
'Roger Byrd', blackmailer, reminded me of mystery writer Keating's (Inspector Ghote series) story, 'The Iciest Sin (or Crime), where he puts forth that a blackmailer has to be cold-blooded, conscienceless, to commit HIS crime. Byrd certainly fit the description - blackmailing the sister of the murdered woman? Evil!! Submitted 9/20/2013 by MikeReese.
Interesting Character Names: A WILDCATTER named HOUSTON, a WILDLIFE photographer named BYRD. Mike Bedard 2.17.15.
The premise of selling multiple 50% shares in a business enterprise, and then panicking when that enterprise is an unexpected success, is reminiscent of "The Producers". We even have someone planning to escape to Rio. DOD 09/10/20
In a nice switch, this time we have "The fury of a man scorned". DOD 09/10/20
Dialog: One of the best lines in this episode occurs at about 41:00, when Perry asks Madelyn Terry where she was at 9:30 on the night of the murder. After she tells him she was taking a bath at that time, he looks pointedly at her and she adds, "No, no one can corroborate it." Submitted by Dan K, 24 January 2021.
Crossed Colonials: I chuckle at Lucky Sterling's "Colonial Inn" each time I watch this. You would think that in Southern California, colonial would have a Spanish flavor, rather than the Paul Revere look we get here. I grew up near Philadelphia and worked at one such place during high school. JohnK, postdated 24 September 2021
Liars: This episode is unusual in that all cast members except the police, court officials, and our heroes tell at least one lie -- victim, defendant, murderer, bystanders, murder suspects, and all witnesses in court tell lies, for a variety of reasons. Submitted by catyron February 3rd, 2021.

On the witness stand, Byrd states that he made his phone call reporting the gunshot to the police by anonymous phone call, because he didn't want to be involved. "Not involved" in a murder committed in his apartment. hmmm. jfh 05Apr2023.

On the fire escape, Paula Wallace climbed down one flight, yet Roger Byrd's apartment was on the third floor. Submitted by Otto Gervaert, September 24, 2021.
+ Paula walked down one flight, then released the fire ladder and climbed down to the ground. jfh 05Apr2023



Roger Byrd is a particularly lucky blackmailer, catching not one but two murderers in the act: Charles Houston killing his wife, and Houston's killer leaving Byrd's hotel room after bumping off Houston. Submitted by BobH, 21 October 2016.
<< Gallant Grafter | Episodes | Mythical Monkeys >>