Show84
<< Prudent Prosecutor | Episodes | Wary Wildcatter >>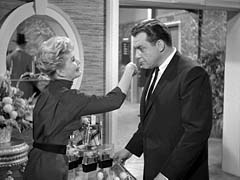 #84: The Case of the
Gallant Grafter
Original Airdate: 02/06/60
From The Perry Mason TV Show Book
An embezzling accountant is a battle fatality in a war for the control of a company and a woman.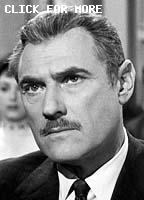 Opening
Starring Raymond Burr
in The Case of THE GALLANT GRAFTER
Based upon characters created by Erle Stanley Gardner
Barbara Hale as Della Street
William Hopper as Paul Drake
William Talman as Hamilton Burger
Ray Collins as Lt. Tragg
Trailing
Directed by Arthur Marks
Written by Sy Salkowitz
Herbert Hirschman | Producer
Gail Patrick Jackson | Executive Producer
Seeleg Lester | Associate Producer, Story Consultant
Produced by The CBS Television Network in association with Paisano Productions
Arthur Marks | Associate Producer
Raymond Burr as Perry Mason
Barbara Hale as Della Street
William Hopper as Paul Drake
William Talman as Hamilton Burger
Ray Collins as Lt. Tragg
Cast
Charles Aidman as Arthur Siddons
Fintan Meyler as Patricia Martin
Herbert Rudley as Edward Nelson
Virginia Arness as Sylvia Nelson
John Stephenson as Frank Avery
Phillip Terry as Robert Doniger
Charlotte Austin as Norma Williams
Nelson Leigh as Judge
Henry Hunter as Banker
Eve McVeagh as Saleswoman
John Alvin as Bank Teller
Joan Staley as Judith
George E. Stone as Court Clerk
Uncredited Actors
Don Anderson as Courtroom Spectator (added by gracep 9/26/2010)
Robert Wegner as Man Boarding Elevator (spotted by gracenote 12/23/2011)
Crew
Art Seid, A.C.E. | Assistant to the Producer
Production Supervisor … Dewey Starkey
Director of Photography … Frank Redman, A.S.C.
Art Direction … Lewis Creber
Assistant Director … Morris Harmell
Film Editor … John D. Faure
Casting … Harvey Clermont
Makeup … Irving Pringle
Hair Stylist … Annabell, S.C.H.
Wardrobe Supervision … William Zacha, Evelyn Carruth
Set Decoration … Charles Q. Vassar
Sound Effects Editor … Gene Eliot, M.P.S.E.
Music Editor … Gene Feldman
Properties … Ray Thompson
Production Sound Mixer … Herman Lewis
Script Supervision … M.E.M. Gibsone
Sound … Glen Glenn Sound Co.
Perfume counter display by … Carven
Perry Mason \ A Film Presentation
A CBS Television Network Production
John Stephenson seems to have done voice work in every cartoon up until 2014, most notably as Mr Slate in The Flintstones. vgy7ujm, 01/07/2020
Virginia Arness was the ex-wife of James Arness. This episode was her final acting role. Submitted by Craig, 4/23/2010.
+ She has 10 IMDb credits from 1949-60, including 2 "Gunsmokes." Mike Bedard 7.28.16
Joan Staley was the November 1958 Playmate of the Month. Then just 18 now 19 in this episode. Bill767 1/3/16.
Location: The exterior of Pacific Palms appears at 10:44 and again at 14:36 on the DVD. A friend of mine owned this building in the 80s. It's located at 757 Ocean Ave. in Santa Monica. If you look closely you can see the address and "Pacific Palms" on the window. Submitted by Eric Cooper, 14 September 2010. Some pictures here.
+ The second shot appears to have been "darkened" perhaps to indicate a later time of day. However, the sun's shadows are in exactly the same place in both shots. Submitted by Wiseguy70005, 11/24/13.
The very traditional interiors have no relation to the mid-century modern exterior. DOD 08/27/19
Sightings: A great many regulars watch the proceedings in court today, including Distinguished Gentleman #1, the Cute Young Lady, the Quiet Old Man (#1), and the Little Old Lady in a Hat (a/k/a Little Old Lady #1). And just who are they? Submitted by gracep, 9/26/2010; updated by gracenote, 2/4/2011.
+ Miss Carmody joins the court scene on Burger's side. Cute Young Lady plays a secretary around the 20 min mark. In addition there are three scenes (2, 18, 21 min) involving the cosmetics department and elevator with the Cute Young Lady, DG #1 and the below mentioned Robert Wegner. Bill767 1/3/16.
Uncredited Actors: The often uncredited Don Anderson also turns up, and can be seen in the same shot with DG #1 and LOL #1 (see Sightings above), whispering and conferring as Patricia makes emotional accusations on the stand. Submitted by gracep, 9/26/2010.
+ At the opening of the scene in the Nelson building, Robert Wegner walks briskly into an elevator. Additionally, Veteran extra Sam Harris also sits in the courtroom gallery. He is not on our Uncredited Actors page yet (see link in sidebar). Submitted by gracenote, 12/23/2011.
Phillip Terry's most famous role was one he performed offscreen. Terry was Joan Crawford's fourth husband. Submitted by Fifty-Niner, 4/6/2011.
There are no Cast Cars or significant Background Cars in this episode. Gary Woloski 6/26/12.
Coincidentally, this episode originally aired just 2 weeks before a "Bonanza" episode with Fintan Meyler and Wesley Lau (later PM's Lt Anderson). cgraul 11.4.12
Robert Doniger's phone appears to have no dial sticker indicating the phone number although a rectangular sticker which looks to have been blackened out can be seen. Submitted by Wiseguy70005, 11/24/13.
Writer Sy Salkowitz became president of 20th Century Fox Television...MikeM. 7/27/2016
This in the second of two PM appearances for Fintan Meyler, who won a beauty contest in her native Ireland before moving to the USA...MikeM. 11/2/2016
This is the only PM appearance for Charlotte Austin, was named after the city of her birth, Charlotte, North Carolina...MikeM. 8/2/2017
Perfume counter display by … Carven: Samadhi by Carven is a fictional perfume, but the company is interesting nonetheless. Carmen de Tommasso, also known as Marie-Louise Carven (1909-2015), founded Carven in 1945 in France, producing fragrances, accessories, and fashion clothing for petite women. All of the women in this episode are petite and the small size of the dropped glove was specifically mentioned by Della. The first Carven perfume was released in 1946 with a publicity campaign that included the parachuting of hundreds of sample bottles across Paris. In addition to producing fashion designs for her own company, Carven worked in film set design. The firm continued after her death at the age of 105; its most recent perfume was introduced in 2020. Submitted by catyron, Febrary 2nd, 2021.
Comments

Edit
The original airdate of this episode was 02/06/1960. Note the timeframe of the action. They're contemporaneous! George Livingston (a.k.a. Robert Doniger) apparently opens the bank account on 01/04/1960 because he tells the bank teller when he does so that by the beginning of February he'll have over $100,000 in the account. Next, we plainly see his withdrawal slip/check for $112,000 is dated 02/02/1960. (One of the few times [the only time?] we see a completely articulated date in the series.) January 1 was a Friday; February 2 was a Tuesday. As an aside, the $112,000 in 1960 would be about $803,770.27 today. Submitted by billp, 1/11/2009.
+ A dating of the action does occur in another episode. The murder date is almost explicit in Episode #216, although by an unusual means: Solar Observation! Added by Gary Woloski, 1/17/12.
+ Articulated Dates. After watching for it, I've noticed six episodes in which the action portrayed in the episode is exactly or approximately articulated, sometimes even specifying the Murder Date:
Ep#9 TCOT Vagabond Vixen, by means of a fully dated cheque and dialogue; date of the murder is explicit.
Ep#40 TCOT Corresponding Corpse, by means of dialogue, the cars and the 3-cent postage rate; date of the murder is explicit.
This Ep#84, by means of the dated bank withdrawal slip.
Ep#133 TCOT Injured Innocent by means of a dated cheque, although the year has not been written on the cheque.
Ep#134 TCOT Left-Handed Liar by means of dated cheques (no year entered) and cheque-cancellation perforations with the year "61" (ep airdate also 61).
Ep#216 TCOT Betrayed Bride by means of Solar Observation (time of sunset in LA), giving three possible days of the year for the murder, assuming year is '64 (year of airdate).
Added by Gary Woloski, 4/27/12.

The days at the bank look inconsistent during the very beginning of the episode, starting with "To-day is Jan. 4". In 1959 it was a Sunday, in 1960 a Monday. But then, 1 second later, we see the calendar page "Jan. 31 Saturday | Feb. 1 Sunday", which are in 1959 as is the immediate next calendar page, "February 2 Monday". I assume that the bank was closed on Sunday and that the producers didn't bother to re-film the first scene to make it "Jan. 5". But, on Feb. 2, one bank teller saying to another, "It's all right Phil. It's okay for cash."? Why did the bank have that much cash on hand to give to only one customer, especially without prior notice of the withdrawal? And why is George Livingston's check #341? Submitted by masonite, 7/11/12.
+ The Jan 31/Feb 1 calendar is different than the Jan 1 calendar. It must have been in someone's office. Kilo 11/16/2019.
For some reason Mason returns to his office through the Law Library door, carrying his coat and briefcase. As this room has no connecting door to the hallway, one wonders about this. Submitted by francis, 3/9/12.
The law library has a connecting door to Gertie's receptionist room. Clients are often taken from the main office entrance, through receptionist, to the law library to wait until someone else in Perry's office (often Tragg) has left, and then directly in to see Perry. In this episode, in fact, client Nelson is brought through that way after his wife leaves. cgraul 4.27.12
In some episodes that room is a bathroom and the library is to the right of the main entrance. There is no testimony on the murder weapon; who it was registered to, or whether fingerprints were found. DOD 08/27/19
There is a strange ending to this episode. Perry receives a call from a woman who may need his help. Like many of the novels, it seems to foretell his next client. Could this have been Paula Wallace setting up the appointment seen in the next broadcast episode The Case of the Wary Wildcatter? Or maybe Gladys Doyle from the next episode produced The Case of the Mythical Monkeys? Submitted by Wiseguy70005, 11/24/13.
Help Wanted: Several job openings at the Nelson Company after this story. The same thing happened in episode 81 TCOT Frantic Flyer. Submitted by H. Mason 10/28/14
"The Case of the Overly-Agitated Actress." Fintan Meyler's line reading of "I WAS RIGHT THERE IN THE KITCHEN" during her courtroom testimony has to be one of the most unintentionally funny moments in series history. Try watching it and not laughing. Submitted by BobH, 30 January 2017.
<< Prudent Prosecutor | Episodes | Wary Wildcatter >>