Show41
<< Corresponding Corpse | Episodes | Pint-Sized Client >>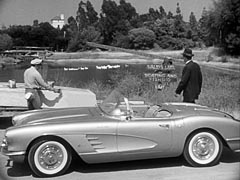 #41: The Case of the
Lucky Loser
Original Airdate: 09/27/58
From The Perry Mason TV Show Book
A twisted plot ensues when Perry is hired to reopen a murder case after the defendant has already been declared guilty.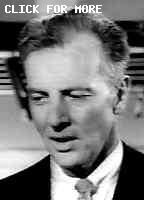 Opening
Starring Raymond Burr
in Erle Stanley Gardner's The Case of THE LUCKY LOSER
Barbara Hale as Della Street
William Hopper as Paul Drake
William Talman as Hamilton Burger
Ray Collins as Lt. Tragg

Trailing
Directed by William D. Russell
Teleplay by Seeleg Lester
Ben Brady || Producer
Produced by CBS Television in association with Paisano Productions
Gail Patrick Jackson || Executive Producer
Sam White || Associate Producer
Raymond Burr as Perry Mason
Barbara Hale as Della Street
William Hopper as Paul Drake
William Talman as Hamilton Burger
Ray Collins as Lt. Tragg
Cast
Patricia Medina as Harriet Balfour
Bruce Bennett as Lawrence Balfour
Heather Angel as Florence Ingle
Douglas Kennedy as Steven Boles
Tyler MacDuff as Ted Balfour
Richard Hale as Addison Balfour
Woodrow Chambliss as Fred Haley
John Eldrege as Thurston
Morris Ankrum as Judge Cadwell
Guy Rennie as Roger Faris
Paul Genge as Sergeant
John Bleifer as Schmidt
Jack Holland (aka John Holland) as Ballistics Expert
Len Hendry as Policeman
Crew
Gene Wang || Story Consultant
Story Editor … Alice Young
Assistant Producer … Robert Wechsler
Production Supervisor … J. Paul Popkin
Director of Photography … Frank Redman, A.S.C.
Art Direction … Lyle Wheeler, Lewis Creber
Assistant Director … Robert G. Stone
Editorial Supervision … Art Seid, A.C.E.
Film Editor … Richard Cahoon, A.C.E.
Casting … Marvin Schnall, Harvey Clermont
Makeup … Mel Berns
Hair Stylist … Annabell, S.C.H.
Wardrobe Supervision … Dick James
Set Decoration … Walter M. Scott, Bertram Granger
Properties … Ray Thompson
Sound Editor … Gene Eliot, M.P.S.E.
Production Sound Mixer … Alfred Bruzlin
Script Supervision … William E. Orr
This has been a CBS Television Network Production
Filmed in Hollywood by TCF Television Productions, Inc.
CARS: 1956 Chevrolet 150 4dr sedan, light color (Taxi); 1958 Buick Roadmaster 4Dr Hardtop, white & light color; 1958 Chevrolet 4dr (?), black; 1958 Pontiac Bonneville Convertible, white, top down, Lic No KYL 907 ; 1958 Chevrolet Delray 4dr sedan, black & white (Police); 1958 Corvette, medium metallic, top down; 1958 Cadillac convertible, black, white top up (Mason). From The Cars by Greg Cockerill.
More cars: The Yellow Cab #8125 that Harriet took from Colegrove Station to Sleepy Hollow Cabins also drove Diana Reynolds to the Bartlett home in episode 37 TCOT Black-Eyed Blonde. The license plate (JPE 098) on the rental car parked at the Sleepy Hollow Cabins was on Stephen Argyle's Cadillac in episode 18 TCOT Cautious Coquette. Submitted by H. Mason 10/10/14
Theodore (Ted) Balfour's license plate number is KYL 907. Haven't we observed this creepy plate before, in at least two earlier episodes? Submitted by 10yearoldfan, 24 March 2012.
+ Yes. That license plate appeared on Edgar Ferrell's Lincoln in episode 9 TCOT Vagabond Vixen and on Tony Davis' car in episode 37. It will also appear on vehicles in episodes 97 and 107. Submitted by H. Mason 9/26/14
Goof: In the scene where Bruce Bennett is hiding outside a cabin and his wife leaves through the front door and then goes down some steps and gets into her car, closely watch the rear window of the car as she backs out. If you're quick enough, you will see the reflection of a cameraman in the window. Submitted by Allan Barnie, 10/10/01.
+ He appears to be a middle-aged man with glasses, wearing a suit and tie. Submitted by catyron, December 14, 2020.
Goof: Bruce Bennett's wife leaves the cabin she has entered only a short time before. There is now a strange car parked in the yard of the cabin. She drives right past the car and does not seem to notice. Submitted by PaulDrake33, 15 June 2008.
+ Not only that, but no one in the cabin heard the car when it drove right past the cabin. Submitted by 65tosspowertrap, 5-2-2014.
++ Actually the car is parked around the corner, partly obscured by bushes; and regardless, as it seems to be a motor court rather than some isolated cabin, another car nearby might not be remarkable...but that raises the question of why nobody heard the shot (and there are other problems with Harriet's departure [see below]). Response by Notcom, 090316.
Goof: At 35:24, when Mason objects to a question asked by Burger, the judge is sitting well back in his chair. While the camera is on Mason, apparently the judge leans forward, for at 35:29, when the judge rules on Mason's objection, his arms are on his desk. After the judge concludes by saying, "But the question would seem to be leading" at 35:38, the camera angle shifts to include Burger, and the judge is suddenly sitting well back in his chair again. Submitted by 10yearoldfan, 24 March 2012.
+ Not a goof. Judges move around A LOT on the bench during trials and hearings. Trust me in this one — Submitted by judgebob1, 11/30/20
Goof: At 46:07, when Mason is examining Harriet Balfour, someone (Burger?) appears to shout something while Mason is saying "I want to ask you if you left the train..." Apparently a bit of someone's dialogue got spliced over the scene accidentally. Submitted by Wiseguy70005, 4/16/14.
+ What I hear and see on my recording of the syndicated version is Harriet Balfour herself starting to say something when Perry asks his question, as if the actress flubbed her lines. Submitted by Alan Smithee, 5-4-14.
++ You're right. It just seems strange that they would have done that on purpose or not refilmed it if it were a flub. Submitted by Wiseguy70005, 5/07/14.
+++ To me it sounds like she is starting to say RB's line "I want". Submitted by Kilo 3/30/2018.
Not a Goof: The judge is listed in the credits as "Judge Cadwell." I believe the only place his name is given is in the novel and in tiny newspaper print @ 16:48 (under "Jury Fails to Agree"). Nice bit of consistency. Unfortunatly, Morris Ankrum has also been identified in the series as Judges Morrisey (a play on his real name), Cameron, Bates and Hoyt. Some more inconsistency. Submitted by Wiseguy70005, 4/16/14.
In the initial scene, actor Bruce Bennett notes how dangerous are the Sierra Madres. Coincidentally, he had appeared with Humphrey Bogart in the wonderful "Treasure of Sierra Madres" 10 years prior. cgraul 3.27.12
Second consective episode in which Della wears her D S pendant in script. Submitted by PaulDrake33, 15 June 2008.
Bruce Bennett makes the first of five appearances in Perry. Bruce Bennett was born Herman Brix and used that name until the mid thirties. In 1926 Herman Brix played running back for Washington in the Rose Bowl and in 1928 he won the silver medal in the shot put in the Olympics. Herman Brix was also a screen Tarzan in 1936. Submitted by PaulDrake33, 11 Feburary 2009.
John Eldrege makes his only Perry appearance here playing Thurston. John Eldrege was an actor that everyone knew by sight, but no one knew his name. There seemed to be no 50s television show in which he did not appear. He passed away in 1961 much too early. He appeared in almost 200 different movies and shows, almost always playing the villain. Every time he walked into the scene, I always said, "There is the guilty party." Submitted by PaulDrake 33, 21 May 2010.
On the wall near Mason's desk hangs a round plate instead of the mask seen in Episodes 40 and 42. Also, Della's hair is shorter in this episode than in the next, TCOT Pint-Sized Client. I suggest that Episode 41 was filmed prior to Episodes 40 and 42. Submitted by 10yearoldfan, 24 & 25 March 2012.
On the credenza in Steven Boles' office is the light-colored tripod bowl and a pottery figure of a dog. These objects turn up in various places in the series, Perry's office for one. jfh 02Jun2017
Sightings: In the courtroom gallery, we find even more familiar faces, including Distinguished Gentleman #1 and a Pencil-Mustached Man on the defendant's side (during the initial trial, sans Mason). The Pencil-Mustached Man reappears on the prosecutor's side during the habeas corpus hearing, and both he and the Little Old Lady in a Hat are startled at Mason's audacity. During the second trial, the mustachioed spectator reappears on the defendant's side, along with Distinguished Lady #1, and after lunch he is seated near the re-emergent Distinguished Gentleman #1 on the defendant's side, along with the Little Old Lady. (Did you follow all that?) Submitted by gracep, 10/10/10.
+ A man who appears in the opening credits is seated behind Mason during the second trial. We now know him as Distinguished Gentleman #2. Read more about all these favorite frequent faces. Submitted by gracep, 10/11/2010.
++ Also attending the initial hearing is the Little Old Lady #2 and Distinguished Lady #4. Submitted by BigBill767, 12/9/16.
Character Names: For some reason, the Deputy D.A. title is left out of Mr. Faris' billing. Submitted by gracep, 10/11/2010.
+ The reason may be lack of space (six other actors are listed on the same credits page) or it was deemed not necessary for viewers to identify the character. Submitted by Wiseguy70005, 4/16/14.
Chivalry is not dead: (or at least in 1958): When Harriet Balfour testifies the first time the swinging courtroom gate is held open for her on both her entrance (by Mason) and exit (by Boles). Submitted by Wiseguy70005, 4/16/14.
This is the final episode to feature the original opening and closing themes used in the first season. It seems odd to see the second season video with the first season music. I believe the second season music was dubbed over the credits for these two second season episodes as well as about half the first season episodes in the original syndication package (1960s-1980s). I actually preferred this recording to the "standard" one used during seasons 2-8. The recording used for the ninth season, which I also liked better, seemed to echo the first season theme. Submitted by Wiseguy70005, 5/07/14.
The Los Angeles Star-News makes a second and final appearance in the series. It first appeared in episode 29 TCOT Hesitant Hostess. In episodes 139 and 181 we learn about two more L.A. newspapers. Submitted by H. Mason 9/26/14 + A reporter for a fifth L.A. newspaper is a character in episode 156 TCOT Playboy Pugilist. Added by H. Mason 9/29/14
A Double Pitkin: The Pitkin Principle at work twice in the same episode. (See my comments on Episode #18, "TCOT Cautious Coquette.") Here ESG's Guthrie Balfour becomes Lawrence Balfour, and Banner Boles--yes, Banner Boles--becomes Steven Boles. Submitted by BobH, 10 January 2016.
+ The "Balfour" Family name reappeared in Episode 191/"Devious Delinquent" [1963]. Mike Bedard 5.24.16.
This is the only PM appearance for Patricia Medina. She was born in Liverpool, England, on 19 July 1919. Her father was Spanish from the Canary Islands, and her mother was English. Patricia Medina passed in Los Angeles in 2012 at the age of 92...MikeM. 9/2/2016
+ Patricia Medina gave a memorable performance as the anti-hero's girlfriend in Orson Welles' Mr. Arkadin. She married Welles' pal and Mercury Theater colleague Joseph Cotten in 1960. Old Dave, 7/10/20.
This is the only PM appearance for English actress Heather Angel, whose father was killed in a munitions factory explosion in 1917...MikeM. 9/22/2017.
Boles' salary of $100,000 would be in the neighborhood of $800,000 in 2017 money. OLEF641; 9/23/2017.
This is the second of four PM appearances for Douglas Kennedy (Steven Boles). Kennedy, a tall, rugged Amherst graduate, had already started a film career when World War II came along. Douglas Kennedy served as an officer in military intelligence attached to the Office of Strategic Services. In 1947, Douglas Kennedy resumed his film career. In the 1950s, he transitioned to television. He was in Hawaii to do an episode of "Hawaii Five-0" when he passed at the age of 57. Douglas Kennedy is buried at the National Memorial Cemetery of the Pacific in Honolulu...MikeM. 6/14/2018
+ Douglas Kennedy also appeared as Sheriff Fred Madden in the TV series "The Big Valley" from 1965 to 1969. Submitted by MEG 6/14/18
++ Douglas Kennedy appeared frequently in The Lone Ranger, working on both sides of the law. JohnK, 10 August 2022.
Stock Footage The steam locomotive seen at the very beginning of the episode has been used in numerous TV shows and movies. One example is The Night of the Hunter in which the train signals the coming of Harry Powell (Robert Mitchum) to meet his next wife and make him a future widow. Submitted by Kenmore 10/11/2020
Boles' offer of a bribe of $25,000 would be just shy of a quarter million in 2020 money! No wonder Haley caves. OLEF641 11/23/2020
Gavel Tally- During Boles' testimony, Balfour bursts out with "That's not true!" and the judge raps his gavel and admonishes Balfour against further outbursts. OLEF641 1/10/22
Comments

Edit
Lt. Arthur Tragg, played by Ray Collins, does not appear in this episode even though he is listed in the credits. His absence is not explained, nor do I believe he is even mentioned. Submitted by gracep 10/10/10.
+ Ray Collins' contract stated that he would be credited regardless of whether he appeared (and indeed he was until his death). Since the character wasn't needed for this episode (such as when the action took place out of town) he didn't appear rather than create some artificial token appearance scene and make the actor come to work for just one day. There was no need to mention his name and bring more attention to his absence. Submitted by Wiseguy70005, 4/16/14.
Between her two appearances on the stand, Mrs. Balfour seems to have lost her gloves. Another clue the shows were not aired in the order they were filmed - that fancy staircase appears in its last season configuration, with that curve at the bottom. The same structural elements, balusters and newel, were apparently reconfigured at some time into a staircase with a landing that would be one of the most used sets in the series. DOD 06/14/18
I'm confused about some of the distances in this story. Where was Colegrove Station supposed to be located? It must have been in L.A. or just outside the city since Lawrence and Harriet were within driving range of their house. Submitted by H. Mason 10/10/14.
This case should've been titled "The Case Of The Corresponding Corpse" as Perry even asked the question, "How can you correspond with a corpse?" jfh 02Jun2017.
Don't hit-and-runs normally involve body damage to the car? The police found the car based on the license plate number given by Fred Haley. It seems the first thing they would have done is check for damage. Finding none they should have assumed the license number they were given was wrong. No? Submitted by Kilo 3/30/2018.
+ I seem to remember the bumpers and body panels of cars were a lot stronger in the '50s. JohnK, 31 March 2018
++ I think that when the police initially come to question Ted they mention that there is damage to his car. Submitted by Wick 12/8/2021



At one point during this episode there is a question about who actually was killed. Given the obvious and basic means of identification available even in 1958, I wonder if this plot point was meant to suggest activity that was less than ethical for all those involved. Submitted by masonite, 12/03/11.
+ I agree with masonite. How could the police not record a bullet wound to the head, and how could they mis-identify the body, unless they were paid off by Steven Boles? Further, I think even deputy D.A. Roger Faris was bribed. At 17:25, Burger is clearly displeased that Faris cut a deal without consulting Burger himself. Faris's meager excuse, "But you were out of town, Mr. Burger," is met with the quick rejoinder, "That doesn't rule out the telephone, Faris." Faris says later, "The Balfors don't like being stepped on, and they own half the state," and Burger replies, "Well, maybe they don't own this half." I surmise from this exchange that Faris was yet another recipient of the largesse of Steven Boles. Submitted by 10yearoldfan, 24 March 2012.
++ This plot point of re-examining the body to find the bullet came directly from Erle Stanley Gardner's novel. Gardner knew a thing or two about police work and forensic evidence so I would have to assume it was a fairly realistic turn of events at least for the time (the novel was published just a year before the episode). Submitted by Wiseguy70005, 4/16/14.
+++Six years after this episode, during an investigation of a NYC homicide later found to be tied to the notorious Kitty Genovese murder - a case which vaguely inspired the PM episode TCOT Silent Six (which, coincidentally, also featured Tyler MacDuff) - a startling discovery was made about the quality - or lack of it - of autopsies of the period...multiple gunshot wounds labeled as a stabbing: the premise here was apparently all too plausible. Notcom, 110919.
++++A goof on an autopsy is all too plausible. Here's a question, following up on the odd bit of Burger/Faris dialogue cited above: What deal did Faris make? There was a second trial with a conviction, per the Chronicle headline, not a plea bargain. Was the suspended sentence part of the "deal"? Why would Faris agree to recommend a suspended sentence after getting a conviction? Also, Faris' explanation for the deal -- that he had no case after Haley recanted his testimony -- makes no sense. Why did Faris retry the case, and how did he get the conviction? This would be an explanation of why you made a plea bargain in the middle of the first trial. I'm wondering if at some point the script had Ted pleading guilty in a deal, and this plot point was changed mid-production, with this as a residual bit never cleaned up. OldDave, 7/10/2020.
> I concur; but I would point out the problem could largely be corrected simply by deleting the Chronicle headline (a viewer might feel s/he had missed something but could figure out what by the dialogue) If ever there was a time when a syndication cut could actually IMPROVE things! Notcom, 112420.
Goof Harriet Balfour is seen leaving the cabin with the keys to her lover's car. Then Lawrence Balfour confronts the stranger and fires a shot. That person turns out to be Steve Boles. But when Lawrence returns home he rings Steve Boles who is in his apartment. So how did Steve Boles get from the cabin to the apartment without a car? Was he teleported? Submitted by pauloh1 16/11/14
+ Good point. Also, Balfour left all his baggage on the train. Wouldn't railroad authorities wonder what happened to the owner? DOD 06/14/18
++ Presumably she later returned - after all, she had driven away knowing he had no way of leaving - and picked him up; but would they have had time to get to his apartment before Lawrence reached his house (and would Boles really seem so unflustered after having just been shot at )?? Added by Notcom, 090316.
Paul Genge who appears as the tough "Sergeant" is best known as one of the two hit men pursuing Steve McQueen in the famous "Bullitt" car chase. Added by Teleg 122222.
+++The actor who played Boles did play a policemen taken over by Martians in the sci-fi classic, "Invaders from Mars" so maybe he WAS able to transport himself! Thoughts by DellaFan2 6/4/2021

Best Episode Ever? In 2018 ABA Journal published an article saying this is the bet PM episode for many reasons including the complex legal arguments regarding habeas corpus and double jeopardy woven into the story. Rick P 10/4/21 https://www.abajournal.com/news/article/a_look_back_whats_the_best_perry_mason_episode
<< Corresponding Corpse | Episodes | Pint-Sized Client >>