Show161
<< Unsuitable Uncle | Episodes | Weary Watchdog >>
#161: The Case of the
Stand-In Sister
Original Airdate: 11/15/62
From The Perry Mason TV Show Book (Revised)
Perry finds his talents taxed on this case, which involves two men who at separate times have claimed the same young girl as their daughter. One owns a fleet of successful tuna boats; the other is a mobster. When a banker named Moray reveals that $100,000—due to the girl via a trust fund—is being mishandled, an old secret begins to emerge.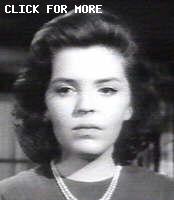 Opening
Starring Raymond Burr
in The Case of THE STAND-IN SISTER
Based upon characters created by Erle Stanley Gardner
Barbara Hale, William Hopper, William Talman, Ray Collins
Trailing
Directed by Allen H. Miner
Written by Robert Leslie Bellem
Arthur Marks | Producer
Gail Patrick Jackson | Executive Producer
Jackson Gillis | Associate Producer
Samuel Newman | Story Consultant
Raymond Burr as Perry Mason
Barbara Hale as Della Street
William Hopper as Paul Drake
Wiliam Talman as Hamilton Burger
Ray Collins as Lt. Tragg
Wesley Lau as Lt. Anderson
Cast
R. G. Armstrong as John Gregory
Peter Whitney as Stefan "Big Steve" Jahnchek
Peter Mamakos as Nick Paolo
Parley Baer as David Bickel
Susan Seaforth as Helen Gregory
Steven Geray as Franz Moray
Meg Wyllie as Mrs. Margaret Stone
Walter Stocker as Van Bennett
Ralph Clanton as Karl Corby
S. John Launer as Judge
Allen Joseph as Senator Cord
Douglas Evans as William Rice
Michael Fox as Autopsy Surgeon
Jay Della as Davino (Marshal)
George Selk as Attendant
Charles Stroud as Court Clerk
Kaye Farrington as Admitting Nurse
Uncredited Actors
Bert Stevens as Senator Leaving Sub-Committee Hearing
(spotted by gracep, 1/14/2011)
Crew
"Perry Mason"
Director of Photography … Robert G. Hager
Art Direction … Lewis Creber
Assistant Director … Robert G. Stone
Film Editor … Richard H. Cahoon, A.C.E.
Casting … Harvey Clermont
Makeup … Irving Pringle
Hair Stylist … Annabell
Wardrobe Supervision … Ed McDermott, Evelyn Carruth
Set Decoration … Charles Q. Vassar
Properties … Ray Thompson
Production Sound Mixer … Herman Lewis
Script Supervision … Cosmo Genovese
Theme Composed by … Fred Steiner
Automobiles Supplied by … Ford Motor Company
Perry Mason
Produced by the CBS Television Network in association with Paisano Productions
Susan Seaforth makes her only Perry appearance here playing Helen Gregory. Susan Seaforth would go on to greater prominence in the 70s on the soap opera Days Of Our Lives after marrying her co-star Bill Hayes and changing her name to Susan Seaforth Hayes. Submitted by PaulDrake 33, 2 September 2009.
Location: As a running inside joke of the show the writers used the address of the studio where Perry Mason was being shot as addresses in the story lines. About 3 minutes into this episode Big Steve is on the phone dictating a note to be sent to 1416 N. La Brea. Then 5 minutes in John Gregory reads the telegram with 1416 N. La Brea. That address was the original home of Charlie Chaplin's studio and is currently the Jim Henson Studios. On the Henson website if you click on Sound stage and then History it states: "In 1961, CBS purchased the studio to shoot the Paisano Production's Perry Mason series. During this time, Raymond Burr lived on the lot. CBS then sold the studio in 1966 to the A&M Record Company; Herb Alpert and Jerry Moss moved in on November 6, converting the swimming pool and two of the sound stages to recording studios." See 1040 N. Las Palmas for an earlier studio address used in the series. Submitted by Eric Cooper, 18 May 2010.
Sightings / Uncredited Actors: As the Sub-Committee hearing breaks up, we catch a glimpse of Distinguished Gentleman #1 as he departs from the spectators' seats. But out the door ahead of him is uncredited actor Bert Stevens, who is presumably a Senator (as he was seated at the Senators' table). Submitted by gracep, 1/14/2011.
+ In the courtroom gallery, Quiet Old Man #1 sits, er, quietly, behind Big Steve. "Miss Carmody" is in the front row, and Distinguished Gentleman #1 peeps out from the back row. Submitted by gracep, 1/14/2011.
Character Names: Once again, we may presume the autopsy surgeon is Dr. Hoxie since Michael Fox is portraying him, as he has so many times before. Paolo should be Capt. Nick Paolo. Submitted by gracep, 1/14/2011.
+ Peter Mamakos appeared in 2 other Perrys: TCO A Place Called Midnight & TCOT Sausalito Sunrise as Paul Drake's client/Victim #2 [IMDb also lists an Ironside appearance]. Mike Bedard 3.5.15.
In this episode we learn that Paul's office assistant /secretary is named "Seale" (spelling from subtitles). HiTechHiTouch 17Mar2018.
Alas, Lt. Tragg (Ray Collins) is once again absent despite credit. Submitted by gracep, 1/14/2011.
Continuity Error: When court reconvenes, two chairs are empty where Big Steve and his guard sit. A moment later, they fill those seats again. Submitted by gracep, 1/14/2011.
TCOT Curious Coffee Set: Della and Perry eat breakfast at their hotel from plates that match the Curious Coffee Set also on the table. Submitted by gracenote, 7/24/2011.
+ This is at 22:17, for all you Coffee Cup lovers -- and the action is set in BOSTON, of all places. This scene also begins with a fascinating editor's cut, a fade: Perry's hands, showing his left-hand pinkie ring as he holds the newspaper clipping ... fade to ... to Della's hands, showing her right-hand pinkie ring as she holds the newspaper clipping. Nice work! Submitted by catyron, 04/25/18
CARS. Car(1) is seen behind "Big Steve" as he uses a phone booth near Washington D.C. (newsbox carries the Washington Tribune). The other cars are seen back in California.
I like to think that Car(1) belonged to Big Steve's shyster lawyer (who had driven it out to D.C.) but that Steve pinched it for his getaway. Added by Gary Woloski, 6/24/13.
1956-1962 California passenger-car front plates: color, B&W. Other '62 plates: DC (five characters), MD, VA . California Plate Primer here. Gary W.
According to Wikipedia, Susan Seaforth is the only actor to appear in all six decades of Days of Our Lives...MikeM. 11/11/2016
This is the only PM appearance for Kaye Farrington, who played Amazon #5 in the movie "In Like Flint"...MikeM. 2/17/2017
This is the first of four PM appearances for Meg Wyllie, who was born in Honolulu and raised in the Philippines where her father worked as an engineer...MikeM. 3/9/2018
From Hungary to Hollywood: The PM audience is treated to an appearance by prolific Hungarian character actor Steven Geray, as the ill-fated retired Swiss banker and extortionist. Wikipedia relates that Geray worked from 1929 to 1966, moving from Hungary to Hollywood when things started to heat up in the mid 1930s (and his characterizations of fascist political leaders of the day were not well received). Geray contributed to many Hollywood movies great and small, including All About Eve, Gilda, Gentlemen Prefer Blondes, and In A Lonely Place, as well as Tarzan and the Amazons and Blondie Knows Best. He often played a waiter, clerk, or ship steward, but also a doctor, spy or shakedown artist (here and in The Unfaithful). Submitted by JohnK, 11 January 2022.
Syndicated Cuts from FETV:
09:50 -10:24 .. 0:34 John Gregory meets Margaret Stone at her apartment, and asks her to leave town
10:24 - 11:30 .. 1:06 At his home, John Gregory meets his daughter Helen and fiancé. They discuss a call from Moray
16:51 - 17:26 .. 0:35 On the boat, Perry questions John Gregory about the truth of the murder
22:00 - 22:17 .. 0:17 Perry gets information on the auto accident at the newspaper office
28:29 - 29:09 .. 0:40 In court, Burger questions the autopsy surgeon
31:06 - 31:52 .. 0:46 In court, Burger questions the fiancé, Van Bennett
Total ............... 3:58
Submitted by DexterLakeClub, 02/26/22.
+ Fortunately, as of today's FETV airing, all these cuts have been restored. jfh 30Apr2023

There's no glass in the sides of the phone booth -- notice that both the cord from the telephone handset and the pages of the phone book stick out past where the glass would be. OLEF641 8/3/22
(Sort of) Hostile Witness Is sarcasm "hostile"? Maybe, but it certainly can be amusing: in an attempt to impress upon him the power of the Law, Burger askes Jahncheck if he's aware of the penalty for perjury; "Yeah...they send you to jail don't they?" retorts the convict. Notcom 060823.
Comments

Edit
That's right kids! The sweet, soft-spoken elderly nurse and the nasty head Talosian Keeper from the original Star Trek pilot are played by the same actress, Meg Wyllie. See for yourself at Memory Alpha. Submitted by gracep, 1/14/2011.
While neither as clever as "TCOT Crooked Candle," nor as complicated as "TCOT Half-Wakened Wife," (both, not coincidentally, E.S. Gardner originals), this is a very satisfying story, with an excellent prologue and interesting characters we can actually care about. Submitted by cgraul 12/12/2011.
Two things struck me about this episode—written by Robert Leslie Bellem—one of the strangest pulp writers ever. But an effective one, nonetheless. Then there is the actor, Peter Whitney, who reminds me so much of a Jack Kirby drawing/character, not just in his performance, but in his very appearance. If you know who "King" Kirby was, I don't think I need to say more! Submitted by MikeReese, 12/15/2011.
+ As a long-time Jack Kirby fan, i know EXACTLY what you mean. catyron, 04/25/18

When Perry questions Helen/Susan/Helen about the automobile accident which killed her mother and "baby" sister (who was actually a month older/younger), her finacée, Van, presumptively jumps in to tell the story. jfh 30Apr2023

It sounds to me as though Paul, in telling Perry and Della what he discovered about the automobile accident, uses the word "premopera" I feel certain he intended "primapara". Maybe I have cloth ears.
While I enjoy this episode, in the end there are too many unanswered questions and I end up feeling unsatisfied. What happened to the merger? What happens to the boats that John Gregory was leasing, who owns those? How does John Gregory know for sure whose daughter lived in the accident? And the final scene almost makes it feel like this should have been a two-part episode. I really expect there to be a "To Be Continued" screen after that scene. Submitted by Neil Van Zile 4/10/2014.
+I agree. I have commented on other episode pages about the way many stories were not finished after the murder was solved. Added by H. Mason 12/26/14
+ True. It seems to be a continuing soap opera theme as mentioned in the previous episode by 10yearoldfan. HamBurger 7/9/2016
Nervous Man: Why was Hamilton Burger pacing and why did he stand slightly behind some of the witnesses during questioning? Submitted by H. Mason 12/26/14
Conflicting Testimony: The Autopsy Surgeon (Dr. Hoxie) said the victim died from "several blows with a blunt instrument". The killer seemed to imply he only struck once. He said: "I only meant to knock Moray out....I hit him too hard!" Submitted by H. Mason 12/26/14
"The oldest federal law enforcement agency...is...the Marshals Service," the US MS website observes, "formed by the Judiciary Act of...1789...Section 27 reads: 'That a marshal shall be appointed...for such district...to execute all lawful precepts directed...under the authority of the US...he shall have power...to appoint...one or more deputies": Jay Della is credited as "Davino (Marshal)," but DEPUTY Marshal would be more accurate. Mike Bedard 3.5.15.
Sounds like Perry has a head cold during a bunch of scenes when/after Perry and Della go to Boston to see Paul. Submitted by mesave31, 03/11/15.
A very rare instance of Paul Drake brandishing a firearm. DODay 11/17/17
Think the Judge - S John Launer must have been sick while filming this episode. They place the camera to the rear and right of the witness stand so the judge cannot be seen. Even when Mason and Burger argue a point, they use this angle even though it begs for the judge to be seen. There are also no shots of the courtroom showing the judge with the other actors present. The one shot of the judge in his seat is a single shot with no one else in it. Finally, the judge in his chambers does have a line and Mr Launer looks white as a ghost. Hhawk 12/12/19
In the opening scene the congressman calls for the Marshal to take Jahnchek back to prison. When Jahnchek pushes him away the Marshal goes for a gun under his coat but doesn't produce it. But he does keep his hand on it just in case. Kilo 2/1/2020.

Continuity not so much a "continuity error" as a "too much continuity error": the scene(s) between the brothers fighting and the finding of the body is essentially one lone take (interrupted only by the passage of the characters thru the entry) and there's simply no way the events could have taken place as described...there just just wasn't time for them. To be sure, it might seem like a small thing, given that the show is driven more by character interaction and general storylines, but in this case it was a crucial element of the plot; and always annoying in that the solution often hinges on deciphering minute details. Grumbling by Notcom, 051121.
The timing of the fight followed by the discovery of the body is tight, it is still possible that the events took place as stated. With the murderer and his victim hiding in another compartment a few feet away, it is plausible that once Gregory exited the interior and appeared on deck that his brother would go straight to the motor launch and seconds later the murderer pulls and dumps the body in the cabin before heading to the back of the boat to slip over the stern. To me, the issue is not the timing, but the noise that would've been made by the motor launch and all that moving around by two men, one of whom was dragging a dead body. Submitted by Kenmore 01/25/2022
> Viewing the episode again last night, it seems like Gregory's post-exit time on deck was longer (than when I had viewed it last year); so it's not impossible that in some versions several second have been edited out, which - obviously - would affect how plausible the scene is. That having been said, however, even (in what is presumably) unedited, the scenario would require split second timing...all unrehearsed and from people not actually working together: as is true many timse on the show, and as an exasperated Steve Drumm would later blurt out "It's possible Perry...but it's not likely!" Notcom (on redirect) 052522.
<< Unsuitable Uncle | Episodes | Weary Watchdog >>