Show160
<< Dodging Domino | Episodes | Stand-In Sister >>
#160: The Case of the
Unsuitable Uncle
Original Airdate: 11/08/62
From The Perry Mason TV Show Book (Revised)
The rowdy Southern California docksides provide the backdrop for this episode. When Dickie Durham shows up in L.A. after having spent the last nineteen years roaming the high seas, he turns the town upside down—until someone kills him. Perry is called in to defend Dickie's longtime shipmate "Lord Harry" Fothergill for the murder. But Harry not only wouldn't kill for money, when he is cleared of the murder charge, he pleads that he doesn't want the problems and burdens his $250,000 inheritance would bring.
Does he seem like one of a kind? Paula Durham (Barbara Parkins of Peyton Place) is also in Dickie's will. She and Harry argue over who should get the money—they each want the other one to take it all. Funnyman Harvey Korman (of The Carol Burnett Show) appears as a dockside bar owner.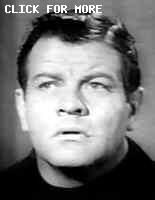 Starring Raymond Burr
in The Case of THE UNSUITABLE UNCLE
Based upon Characters Created by Erle Stanley Gardner
Barbara Hale, William Hopper, William Talman, Ray Collins
Trailing
Directed by Francis D. Lyon
Written by Robert C. Dennis
Arthur Marks | Producer
Gail Patrick Jackson | Executive Producer
Jackson Gillis | Associate Producer
Samuel Newman | Story Consultant
Raymond Burr as Perry Mason
Barbara Hale as Della Street
William Hopper as Paul Drake
Wiliam Talman as Hamilton Burger
Ray Collins as Lt. Tragg
Wesley Lau as Lt. Anderson
Cast
Sean McClory as Harry Fothergill
Liam Sullivan as Dickie Durham
Ford Rainey as Russell Durham
Howard Smith as Frank Warden
George Kane as Gil Simpson
Barbara Parkins as Paula Durham
Anna Lee as Crystal Durham
Charles Irving as Judge
Harvey Korman as Coleman (Bartender)
Paula Winslowe as Night Court Judge
Harp McGuire as Officer
Harry Bartell as Handwriting Expert
Fern Barry as Helen (Maid)
George E. Stone as Court Clerk
Uncredited Actors
James Dime as Seaman at Murder Scene
Sol Gorss as Barfly in Saloon
Harold Miller as Restaurant Patron
(three from IMDb, posted by gracep, 1/12/2010)
Crew
"Perry Mason"
Director of Photography … Robert G. Hager
Art Direction … Lewis Creber
Assistant Director … Robert G. Stone
Film Editor … Richard H. Cahoon, A.C.E.
Casting … Harvey Clermont
Makeup … Irving Pringle
Hair Stylist … Annabell
Wardrobe Supervision … Ed McDermott, Evelyn Carruth
Set Decoration … Charles Q. Vassar
Properties … Ray Thompson
Production Sound Mixer … Herman Lewis
Script Supervision … Cosmo Genovese
Theme Composed by … Fred Steiner
Automobiles Supplied by … Ford Motor Company
Perry Mason
Produced by the CBS Television Network in association with Paisano Productions
Two icons of 60s television make their only Perry Mason appearances in this episode. Barbara Parkins (Paula Durham) played Betty Anderson in all 123 episodes of Peyton Place on ABC from 1964 until 1969. She also starred in Valley of the Dolls in 1967. Harvey Korman (Coleman, the bartender) was a regular on The Carol Burnett Show for 138 episodes from 1967 until 1978. Submitted by PaulDrake33, 28 January 2009.
George E. Stone makes his final appearance on Perry here as the Court Clerk. Not only was it his final appearance on Perry, but it was his final acting assignment. Failing health led to his retirement, and he finally passed from a stroke in 1967. Submitted by PaulDrake33, 21 October 2009.
Paula Winslowe makes her final Perry appearance here as the Night Court Judge. Even though it was uncredited, Paula Winslowe, a very busy voice actress in the 30s and 40s, dubbed Jean Harlow's speaking voice in a few scenes in Jean Harlow's final picture Saratoga. Jean Harlow died in June 1937 right before the completion of the picture, and Mary Dees was Jean Harlow's body double, with Paula Winslowe doing the speaking. Submitted by PaulDrake33, 1 January 2010.
+Also note that Ms Winslowe (murderer in episode 4 TCOT Drowning Duck) was the second female to appear as a judge in the series. The other actress, Lillian Bronson was in episodes 40,51 and 102 (as a judge). Added by H. Mason 12/26/14
++ The "e" was dropped from Paula's Last name in the DD Non-Judge credit. The Statistics page notes that 54 actors -- 2 Females & 52 Males -- played 278 credited Judges. Mike Bedard 3.7.15.
Character Names: Dickie Durham's real name is Richard William Durham. Submitted by gracep, 1/12/2011.
Sightings: Just after Dickie tries to pick a fight with Gil, we find "Miss Carmody" having drinks with her escort at the Zebra Club. She also appears in the front row of the courtroom gallery. More about her and other regulars here. Submitted by gracep, 1/13/2011.
Location: About 6 minutes in, the Tudor house at 801 Stanhope Road is also used in "TCOT Injured Innocent" and "TCOT Unwelcome Bride." Submitted by Eric Cooper, 1 June 2011.
Although the proprietor/bartender's name was "George Coleman," the name of the bar (shown in neon in the window during the scene in which Dickie refuses to return to Australia) is "Joe's." Submitted by CGraul, 23 August 2011.
NO CARS, but lots of ships at dockside. The bow lettering of at least one freighter can be read at 20:29, right after Lord Harry stops bartender Coleman from phoning the police. It's the:
We saw another Matson liner, S.S. Mariposa, in Ep#140. Added by Gary Woloski, 6/22/13.
Two rarities in this episode: 1. One of Perry's fees is mentioned ($100 for a will), and 2. Della testifies. Submitted by 65tosspowertrap, 11/1/2013.
+ I just learned Della testifies again only two episodes later. Submitted by 65tosspowertrap, 11/5/2013.
+ This was the fourth time Della was on the witness stand (episodes 8,30,63). This time Perry didn't object to any of Burger's questions (he probably should have - see comments below). He was distracted by Paul's arrival with important information. Della would later sit on the stand in episodes 162,172,187). Submitted by H. Mason 9/25/14
Judge: Actor Charles Irving made his fourth appearance as a judge. In the first two (episodes 130 and 135) he presided over cases outside of L.A. The other time he was on the bench for a disturbing the peace case in episode 150 (TCOT Counterfeit Crank). Submitted by H. Mason 12/26/14
Barbara Parkins, like Raymond Burr, was born in British Columbia...MikeM. 11/10/2016
This is the only PM appearance for Anna Lee, who was born in England and passed in Beverly Hills in 2004 at the age of 91...MikeM. 2/16/2017
This is the only PM appearance for Howard Smith who had a recurring role as Harvey Griffin on the "Hazel" television series from 1961-1965. Howard Smith was also memorable as the pushy boss in the 1960 Twilight Zone episode "A Stop at Willoughby"...MikeM. 3/8/2018
TCOT Curious Coffee Set: At 3:26 the Durhams are breakfasting from the Curious Coffee Cups -- but even more amazing, we see a matching bread plate and luncheon plate! Submitted by catyron, 04/24/18
+ The set is now minus one cup as we see Russell bandaging his hand, explaining that he "hit Dickie with a coffee cup." jfh 28Nov2018
Blink and You'll Miss It: The great old time radio actor (and television character actor) Harry Bartell has exactly one line in this episode. Submitted by catyron, 04/24/18
Like the recurring appearances of the curious coffee set, the No Credit No Checks Cashed sign makes at least its fourth PM episode appearance in Joe's Bar. Submitted by Kilo 8/2/2018.
Comments

Edit
Usually in Perry episodes, the murder victim is sufficiently loathsome to evoke little sympathy; but Dickie is actually more honorable than his brother or his brother's business associates. Submitted by 10yearoldfan, 13 September 2013.
And, does anyone else feel that TCOT Unsuitable Uncle resembles a soap opera? There are a love triangle, skeletons in the closet, and a character who appears from the past to ruin an illusory paradise. Submitted by 10yearoldfan, 13 September 2013.
Continuity: Dickie Durham's face is remarkably pristine following his barroom brawl. Submitted by 65tosspowertrap, 11/1/2013.
Questioning Della: "Dickie" was a client of Perry's and in her duties as private secretary Miss Street would look at the mail. How did Mr. Burger get to question Della about the letter? Shouldn't that letter have been considered a priviliged communication between lawyer and client even though Richard was dead? Submitted by H. Mason 12/26/14
That staircase set makes its fifth appearance in the last dozen episodes. Not sure, but I think we get a glimpse of Distinguished Gentleman waiting tables in the Zebra Club. DODay 11/16/17
The Title: Who was the "Unsuitable Uncle"? It was revealed that Richard was the father and Russell raised her but wasn't her father, he was really the uncle. The title fits either man, but it was meant to describe Richard. Submitted by H. Mason 12/26/14
The (Not)Great Indoors One of the attractions of PM, I think, was the frequent use of location filming - one has to go back only to the previous episode, with it's apartment court and beach scenes (with or without Ellen Burstyn's prancing figure); but that wasn't the case today: the "waterfront" and "garden" scenes stand out in particular as unconvincing efforts. Grumbling by Notcom, 080918.
<< Dodging Domino | Episodes | Stand-In Sister >>