Show140
<< Shapely Shadow | Episodes | Tarnished Trademark >>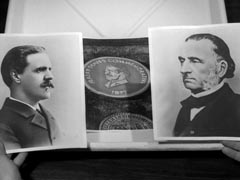 #140: The Case of the
Captain's Coins
Original Airdate: 01/13/62
From The Perry Mason TV Show Book
When a historian/sea buff tries to make a case that his fiancée is entitled to a piece of a large shipping company fortune, he finds himself charged with murdering the company's top man and must call on Perry to save him.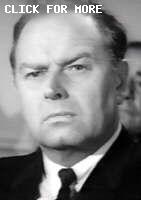 Opening
Starring Raymond Burr
in The Case of THE CAPTAIN'S COINS
Based upon Characters Created by Erle Stanley Gardner
Barbara Hale, William Hopper, William Talman, Ray Collins
Trailing
Directed by Arthur Marks
Written by Adrian Gendot
"Perry Mason"
Art Seid | Producer
Gail Patrick Jackson | Executive Producer
Jackson Gillis | Associate Producer
Produced by The CBS Television Network in association with Paisano Productions
Samuel Newman | Story Consultant
Raymond Burr as Perry Mason
Barbara Hale as Della Street
William Hopper as Paul Drake
William Talman as Hamilton Burger
Ray Collins as Lt. Tragg
Cast
Jeremy Slate as Philip Andrews
Arthur Franz as Evans
Joan Patrick as Evelyn Farraday
Jay Novello as Nickolas Trevelian
Herbert Rudley as Ben Farraday
Wesley Lau as Lt. Anderson
Parley Baer as Edward Farraday
Don Beddoe as Carter Farraday
Henry Beckman as Garth
Allison Hayes as Jane Weeks
Lauren Gilbert as Henry Cosgrove
Morris Ankrum as Judge
Eddie Quillan as Photographer
Tom Palmer as Charles Noymann
Will J. White as Sailor
Tafa Lee as Mrs. Ionescu
Uncredited Actors
Don Anderson as Dock Pedestrian (spotted by FredK 11/28/2010)
Lee Miller as Sgt. Brice (spotted by gracep 12/15/2010)
Crew
Director of Photography … Robert G. Hager
Art Direction … Lewis Creber
Assistant Director … Robert G. Stone
Film Editor … John D. Faure
Casting … Harvey Clermont
Makeup … Irving Pringle
Hair Stylist … Annabell
Wardrobe Supervision … Ed McDermott, Evelyn Carruth
Set Decoration … Charles Q. Vassar
Properties … Ray Thompson
Production Sound Mixer … Herman Lewis
Script Supervision … M.E.M. Gibsone
Sound … Glen Glenn Sound Co.
Automobiles Supplied by … Ford Motor Company
Titles and Opticals … Pacific Title
Perry Mason \ A Film Presentation
A CBS Television Network Production
The passenger liner seen in the opening scenes is the S.S. Mariposa. Read more about her here at Great Ships. Submitted by Steve Fox, 11/23/2004.
Uncredited Actors: Don Anderson appears two or perhaps three times among the extras on the dock as the Mariposa arrives. As Phil Andrews (Jeremy Slate) goes up the gangway, Anderson, wearing a dark hat, and a short, dark-haired woman companion pass behind him. As he talks to purser Evans (Arthur Franz) on deck, Anderson, now hatless, and the woman start down the gangway. It's difficult to be sure, but when Garth (Henry Beckman) stands at the rail watching Andrews leave and moves to follow, Anderson and another extra pass behind him going in the opposite direction. Submitted by FredK, 28 Nov 2010.
+ Regarding the first sighting of Anderson, the woman is wearing the same dress, but discerning Anderson himself seems dodgy. Maybe if we had some stills? Submitted by gracep, 12/15/2010.
Sightings: The Little Old Lady in a Hat sits right next to Evans in the courtroom gallery (although later she magically moves to a different seat). A woman, probably Distinguished Lady #1, is hiding behind Garth, too. Read more about the recurring spectators on the "Who Is That?" page. Submitted by gracep, 12/15/2010.
Character Names: We learn that Mrs. Ionescu's first name is Fedori and that Farraday's valet's full name is Sidney L. Garth, and we even learn that his mother's name is Clara, but we never learn Evans' full name. Submitted by gracep, 12/15/2010.
Once again, Ray Collins receives credit for Lt. Tragg but does not actually appear in the episode, but luckily we have Wesley Lau playing Lt. Anderson. Submitted by gracep, 1/7/2010.
CARS. (1) Philip Andrews's white 1961 Mercury Commuter 4-door station wagon with "FARRADAY LINE" & "CAR No 5" on door.
Background Cars. (a) medium-color 1960 Ford Country Sedan 4-door station wagon parked inside the steamship terminal building.
Added by Gary Woloski, 2/2/13.
Social Security Number: The number (548-05-4960) on the Sidney L. Garth employment card was used in episode 70 for Grace Norwood. Submitted by H. Mason 11/22/14
This is the third of three PM writing credits for Adrian Gendot. It's also the last writing credit showing on his IMDb page. IMDb says his television writing career began in 1952 with thirty episodes of "Dangerous Assignment" ..MikeM. 10/13/2016
This is the second of five PM appearances for Allison Hayes, who was Miss District of Columbia in the 1949 Miss America pageant...MikeM. 1/19/2017
+Allison Hayes is arguably best known for her starring role in Attack of the 50 Foot Woman. Submitted by Kenmore 8/29/2020
In the scene where Jay Novello is searching the coins on the desk in the owner's cabin take a close look at the ID bracelet he is wearing. On a large screen TV you can clearly read Novello on it. It appears to have his full name but due to the angle "Jay" was not easily discernible...Added by KRunner 1/5/19
Comments

Edit
This is another instance when the "Based upon characters…" credit fills the screen rather than appearing to the right of the Justice statue. Submitted by gracenote, 7/17/2011.
Philip Andrews is slugged once in the stomach and goes out like a light! He looks to be in better shape than the Pillsbury dough boy he apparently actually is. cgraul 8.13.12
+It appears to me that when he doubles over from the punch to the gut, he hits his head on the fence rail which knocks him out. jfh 19Jan2017.
++IIRC the actor (Jeremy Slate) also got hit on the head in his previous appearance (TCOT Ominous Outcast): I can just imagine his agent: "grab the Bayer, Jer, I've got another one for you..." Theorized by Notcom, 012017.
This was the second story that didn't explain how the current victim was killed. It also happened in episode 30 TCOT Screaming Woman. Submitted by H. Mason 11/19/14
She's back! So good to see Della back in action: present, speaking, participating. Maybe Hale just needed a lighter work load in the previous episodes, for personal reasons. Anyway, it was delightful! Submitted by JazzBaby, 3/7/2019.
<< Shapely Shadow | Episodes | Tarnished Trademark >>