Show141
<< Captain's Coins | Episodes | Glamorous Ghost >>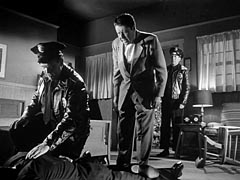 #141: The Case of the
Tarnished Trademark
Original Airdate: 01/20/62
From The Perry Mason TV Show Book
Axel Norstaad, employer of a small Danish community of furniture craftsmen, is hoodwinked into selling their much respected trademark to Martin Somers on a promise that the profits will build a children's hospital.
When Axel learns that Somers is a con artist, he's enraged and wants to bash in the crook's skull. Although someone beats him to it, Axel is arrested for the murder anyway. To complicate matters, Axel is in love with Edie Morrow, whom he suspects of foul play in the matter.
It's a tough one for Perry, but well worth the win.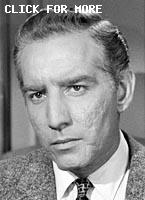 Opening
Starring Raymond Burr
in The Case of THE TARNISHED TRADMARK
Based upon characters created by Erle Stanley Gardner
Barbara Hale, William Hopper, William Talman, Ray Collins
Trailing
Directed by Jerry Hopper
Written by Oliver Crawford and Maurice Zimm
"Perry Mason"
Arthur Marks | Producer
Gail Patrick Jackson | Executive Producer
Jackson Gillis | Associate Producer
Produced by The CBS Television Network in association with Paisano Productions
Samuel Newman | Story Consultant
Raymond Burr as Perry Mason
Barbara Hale as Della Street
William Hopper as Paul Drake
William Talman as Hamilton Burger
Ray Collins as Lt. Tragg
Cast
Karl Swenson as Axel Norstaad
Osa Massen as Lisa Pedersen
Marie Windsor as Edie Morrow
Malcolm Atterbury as Maigret
Phillip Terry as Latham Reed
Wesley Lau as Lt. Anderson
Dennis Patrick as Martin Somers
Morgan Woodward as Carl Pedersen
Edward Norris as Sam Hadley
Francis De Sales as Floyd Chapman
S. John Launer as Judge
Tommy Farrell as Salesman
William Tracy as Motel Manager
Thom Carney as Policeman
Don Dillaway as Ramsey
Robert Ball as Clerk
Stafford Repp as Bartender
Lisa Davis as Secretary
James Hansen as Attendant
Frank Hagney as 1st Workman
Harry Strang as 2nd Workman
Ted White as Foreman
Uncredited Actors
Don Anderson as 2nd Policeman
Bert Stevens as Craftsman
Crew
Director of Photography … Robert G. Hager
Art Direction … Lewis Creber
Assistant Director … Gordon Webb
Film Editor … Richard H. Cahoon, A.C.E.
Casting … Harvey Clermont
Makeup … Irving Pringle
Hair Stylist … Annabell
Wardrobe Supervision … Ed McDermott, Evelyn Carruth
Set Decoration … Charles Q. Vassar
Properties … Ray Thompson
Production Sound Mixer … Herman Lewis
Script Supervision … M.E.M. Gibsone
Sound … Glen Glenn Sound Co.
Automobiles Supplied by … Ford Motor Company
Titles and Opticals … Pacific Title
Perry Mason \ A Film Presentation
A CBS Television Network Production
When Edie Morrow takes the stand, she's wearing a narrow brimmed hat. When the camera angle changes, so does her hat. The original hat reappears later in the scene only to change again shortly afterward. See all here. Submitted by daveb, date unknown.
+ Isn't that the same hat? I think it's elliptical, not circular. From the side it looks narrow. From front or back it looks wide. Submitted by alan_sings, 9/18/2010.
Character Names: Maigret's first initial is , though we never learn what it stands for. The Policeman's name is Lars (but unclear as to whether first or last). "Edie" is a nickname for Edith Morrow. The motel manager's name is Mr. Swetson. Submitted by gracep, 12/15/2010.
Uncredited Actors: In the first scene, Bert Stevens appears as a craftsman listening to Norstaad's announcement. In the factory he reappears twice—once behind Norstaad and once in front of Mason)—each time carrying a partially-made chair. Submitted by gracep, 12/15/2010.
+ Don Anderson plays the silent police officer in the background as the body is discovered. (He's in the picture on this page.) Submitted by gracenote, 7/18/2011.
Sightings: That might be Distinguished Lady #1 in the courtroom gallery. The Pencil Mustache Man also peeks in, barely onscreen near the end of the hearing. Read more about these and other favorite frequent faces here. Submitted by gracep, 12/15/2010.
+ In the opening scene, Distinguished Gentleman #1 plays a workman listening with rapt attention to Norstaad. Sporting a cap, he is inconspicuous, as usual. Submitted by gracenote, 7/18/2011.
+ + And DG#1 is good old Rudy Salinger. Submitted by catyron, May 1st 2021.
Although credited, Lt. Tragg (Ray Collins) does not appear, leaving Lt. Anderson to do all the work. Submitted by gracep, 12/16/2010
When Perry meets a fellow attorney for a "meeting of the bar" at a restaurant, the latter is partCurious Coffee Set. He offers Perry and Della some coffee with the set, too, but only Della indulges. A lady in the background may also be using it. Submitted by gracenote, 7/18/2011.
Goof: On the stand, Osa Massen (as Lisa Pederson) accidentally refers to Norstaad's Danish trademark as German. Submitted by gracenote, 7/18/2011.
Location: About 16 minutes in Axel's Danish Furniture factory is at 17001 Ventura Blvd in Encino CA 91316. If you Google map it you can see an excellent view. Della and Perry exit their car parked next to Encino Park and Della walks into 17001 Ventura Blvd. for some pastries while Perry continues on to Axel's at 17003 Ventura Blvd. which you can faintly see to the right of his head on a good DVD copy. On one shot you can also see Monty's steakhouse across the street. That was a Valley landmark until it burned down in 1988. Submitted by Eric Cooper 22 Dec 11.
CARS. (1) Perry's all-white 1961 Lincoln Continental Convertible, top up.
Background Cars. When stopped at Encino Park, Della & Perry look toward the smorgasbord restaurant on the corner and see the police car (2) plus:
When Della & Perry get out of Perry's Lincoln and cross the street we see:
Car (3) was a fitting choice for Axel's thrifty, no-nonsense character; factory price of this baseline 4-door '62 Galaxie was $2507. The equivalent '62 Chevy Biscayne 4-door Sedan was $2378 while Edie's Buick convertible was $4366 before options. Maybe Ford felt that it had the $129 price differential with Chevy covered by its '62-Model-Year-intro of a new line of "Intermediate-Sized" cars called the Fairlane! 1962 Fairlane sedan/coupes ranged from $2154 to $2607. Added by Gary Woloski, 3/6/13.
This is the only PM writing credit for Oliver Crawford, who had been blacklisted for refusing to name suspected communists to the HUAC...MikeM. 10/14/2016
This is the first of four PM appearances for Lisa Davis, who appeared in a film in her native England when she was thirteen...MikeM. 1/20/2017
This was Osa Massen's final appearance on screen, after a 27-year career. Submitted by vgy7ujm on 18 June 2020
This is the third of four PM appearances for prolific television actor Dennis Patrick, who was born Dennis Patrick Harrison. Dennis Patrick was killed in a house fire in Hollywood in 2002, aged 84...MikeM. 10/20/2017

This is the third of four PM appearances for the wonderful Marie Windsor (Linda Griffith in TCOT Daring Decoy ep 28 3/29/58, Flavia Pierce in TCOT Madcap Modiste ep 91 4/30/60, Edie Morrow here, and Mrs. Helen Reed in TCOT Wednesday Woman ep 194 1/2/64). Ms. Windsor died one day before her 81st birthday on 10Dec2000. jfh 01Nov2018
Comments

Edit
Say…what happened to Stafford Repp's Irish brogue, heard when he played Chief O'Hara in the 1960s Batman? Could it have been affected just for the series?!? Submitted by gracep, 12/15/2010.
One of my favorite quotes from the series is when Axel tells Perry, "Don't make your lawyer talk with me!" Submitted by Masonite, 7/18/2011.
You're from where? You would think Karl Swenson, a Swede, could come up with a good Danish accent, but his effort in this episode is another example of awful foreign accents common to this series. Leaving aside for a moment his pronunciation of Copenhagen ("Copen-hay-gen," when any Dane would say "Copen-Hog-en"), Swenson's accent caroms from Denmark to Transylvania. Submitted by francis, 5/07/12.
>There seems to be some dispute. Perhaps the lovely Ms. Massen, an actual native of said city offered input (or maybe she covered her ears in protest). Notcom (soft "o"s all around) 032820.
I find Axel Norstaad to be one of Perry's least-likeable clients. Indeed, his behavior makes this episode almost unwatchable for me. Submitted by 65tosspowertrap, 10/17/2013.
As is often the case on PM, a plausible business situation is presented in such a way that it ends up making little sense. Sadly, the idea of milking a brand for quick-profits by substituting inferior quality is all too real; so Paul's statement that Somers planned to dupe wholesalers before they became the wiser makes (some) sense. What makes little sense is that the plot has him offering his product at rock-bottom prices, tipping off (at least one of) the wholesalers that something is wrong, and giving away the whole plan. Presumably this was done to expedite the action and get Axel involved, but it undermines the basic premise. Submitted by Notcom, 011116.
Funny how the court allows witnesses to testify from the gallery. In this episode it happens TWICE without objection from the attorneys or the judge. Submitted by WJones 7/8/16
The real crime is that dreadful wig and equally dreadful series of hats inflicted on the glorious Marie Windsor. Whoever was responsible deserves a one way ticket to the gas chamber! J. Maigret - a tribute, perhaps, to Simenon's Jules Maigret? DODay 10/17/17
And the real mystery is not who killed Somers, but rather why Edie would fall for Axel! Ed Zoerner, 8/27/23

For the second Consecutive story the first name of the killer wasn't mentioned. Anybody else annoyed by this? Submitted by H. Mason 11/19/14
In an interesting twist, Marie Windsor plays a bad girl gone good!
As a Hogan's Heroes fan, I chuckled at the last scene for its general similarity to the ending of Karl Swenson's only appearance on that series, in the episode, "How to Win Friends and Influence Nazis". In that episode, Karl Swenson plays -- believe it or not -- Dr. Karl Svenson, a Swedish scientist recruited by the Nazis who defects to the Allies after Col. Hogan sets him up with the woman whom Svenson declares to be love of his life (after having been married four times) -- at the end, the couple hurriedly run off to wed. TriviaSleuth 8/12/19
<< Captain's Coins | Episodes | Glamorous Ghost >>