Show139
<< Roving River | Episodes | Captain's Coins >>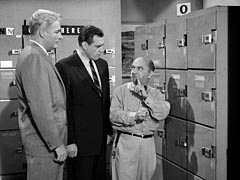 #139: The Case of the
Shapely Shadow
Original Airdate: 01/06/62
From The Perry Mason TV Show Book (Revised)
A beautiful but naive secretary, Janice Wainwright, is only carrying out her boss's orders when she unloads a briefcase carrying more than $100,000 in a train station locker. Then she waits for her boss's ex-wife at a train station in Las Vegas, but Tragg arrives instead with a murder rap, accusing her of killing her boss, Morley Thielman.
It seems that Thielman's former partner, Cole B. Troy, saw a woman's shadow through his (Troy's) office window move along the sidewalk behind Thielman shortly before the murder. Troy says the sexy silhouette belonged to Janice. Although Tragg brags that Janice has been arrested outside Perry's legal jurisdiction*, our man gets the case anyway and causes Burger to blow his top once again at some typical Mason maneuvers in the courtroom.
*See comment below on the usage of "jurisdiction."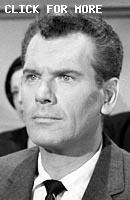 Opening
Starring Raymond Burr
in Erle Stanley Gardner's
The Case of THE SHAPELY SHADOW
Barbara Hale, William Hopper, William Talman, Ray Collins
Trailing
Directed by Christian Nyby
Teleplay by Jackson Gillis
"Perry Mason"
Art Seid | Producer
Gail Patrick Jackson | Executive Producer
Jackson Gillis | Associate Producer
Produced by The CBS Television Network in association with Paisano Productions
Samuel Newman | Story Consultant
Raymond Burr as Perry Mason
Barbara Hale as Della Street
William Hopper as Paul Drake
William Talman as Hamilton Burger
Ray Collins as Lt. Tragg
Cast
Robert Rockwell as Cole B. Troy
Dorothy Green as Carlotta Theilman
Elaine Devry as Janice Wainwright
Barbara Lawrence as Mrs. Theilman
Karl Held as David Gideon
George Neise as Morley Theilman
James Callahan as Fred Carlyle
Willis Bouchey as Judge
Ray Hemphill as Henry Battle
John Dennis as Lt. Sophia
John Zaremba as Autopsy Surgeon
Hal Smith as Moulage Man
William McLean as Newsdealer
Austin Green as Meteorologist
Ollie O'Toole as Dudley Roberts
Olan Soulé as Water Company Official
Phil Arnold as Smitty
Uncredited Actors
Arthur Tovey as Juror
Crew
Director of Photography … Robert G. Hager, A.S.C.
Art Direction … Lewis Creber
Assistant Director … Gordon Webb
Film Editor … Richard H. Cahoon, A.C.E.
Casting … Harvey Clermont
Makeup … Irving Pringle
Hair Stylist … Annabell
Wardrobe Supervision … Ed McDermott, Evelyn Carruth
Set Decoration … Charles Q. Vassar
Properties … Ray Thompson
Production Sound Mixer … Herman Lewis
Script Supervision … M.E.M. Gibsone
Sound … Glen Glenn Sound Co.
Automobiles Supplied by … Ford Motor Company
Titles and Opticals … Pacific Title
Perry Mason \ A Film Presentation
A CBS Television Network Production
Location: About 8:43 into the episode, Janice Wainwright and Della arrive by taxi at Union Station. The street with the traffic is N. Alameda. The actual access/exit road is N. Los Angeles. It loops in front of the station. Union Station looks much as it did then, a mixture of Art Deco and interpreted Spanish Colonial. See here for an interesting interactive panorama. The lockers by the entrance seem to have gone in the interim. The buildings seen opposite the entrance to Union Station as the ladies exit the taxi don't seem to be there anymore, either, as far as I can tell. Submitted by billp, 26 & 28 November 2010.
Location: About 17:48 we see an image that could very well be the Union Pacific Railroad Station in Las Vegas. It was at the west end of Fremont Street at Main Street. The Union Plaza Hotel Casino was built on the site in 1971. The pan from Hotel Fremont to the station might be in place at the station. See here for how the station looked. Submitted by billp, 26 November 2010.
The City of Los Angeles passenger train mentioned in the episode did stop in Las Vegas. See here for more details. Today there is no rail service between Las Vegas and Los Angeles. Submitted by billp, 26 November 2010.
Location: Note that according to the envelope that contained the supposed blackmail note, Morley Theilman lives/works at 1040 N. Las [Palmas?]. See here for more information on this oft-occurring address in Perry Mason. Submitted by billp, 26 November 2010.
Continuity: We're treated to another out-of-body experience here as Mason cross examines bookkeeper Fred Carlyle (James Callahan). At one point there is a cut for reaction to the face of Henry Battle (Ray Hemphill) in the first row of the gallery that shows Carlyle rather disinterestedly watching two rows behind Battle. Submitted by FredK, 28 Nov 2010.
+ The cut to Henry's face was during Burger's direct examination. Unless it was cut out, Mason didn't cross-examine him. Submitted by Wiseguy70005, 6/11/12.
This episode marks the ninth and last appearance of Karl Held as David Gideon, Perry Mason's dapper young assistant. Submitted by gracep, 12/13/2010.
+ Hallelujah! Submitted by francis, 5/6/12.
+"Nothing in the show became him like his leaving it." Submitted by BobH, 28 March 2017.
+ Perhaps the David Gideon character didn't work as well as intended, but it did tend to make the series more realistic (Mason would indeed have an assistant as he did in the early novels/episodes (usually Jackson)), just as the disappearance of Burger in the third/fourth seasons (would the district attorney really handle so many preliminary cases?) and the losing cases such as "The Case of the Deadly Verdict." Seems like some people complain about the program not being realistic while others complain about the realistic parts! Submitted by Wiseguy70005, 4/14/15.
+ To me, David Gideon always looked hung over. JohnK, 15 October 2015
+ I think the problem is the character was uneccessary; the plot could have have moved forward without him or by others; some of his scenes seem tacked on. If the point was to present a young person, it's too bad his delivery could have been presented by a 40 year old. There didn't seem to be much of a youth angle to his character, IMHO. Submitted by Wjones 2/19/2016.
He really doesn't do much this episode, and is noticeably absent from the closing scene. DOD 11/12/19 + I actually liked David. Clearly he was put in to attract the "youth"even in a ham-handed way. In TCOT Renegade Refugee he even propels the plot although Perry is clearly annoyed.
+ + By Season 5, Raymond Burr was ready to quit the series. Perhaps the character of David Gideon was introduced to test audience reaction to a new lead attorney. jfh 03Oct2016
+Despite his hung-over look, David Gideon revealed himself to be a true Renaissance Man over the course of his brief run as Perry's legal eager beaver. He displayed his legal expertise in maritime law (TCOT Malicious Mariner), his athletic prowess in arm-wrestling (TCOT Malicious Mariner, again) and handball (TCOT Left-Handed Liar), and his general know-it-all familiarity with how to detect whether someone might have ESP (TCOT Meddling Medium) and whether a painting might be a forgery (TCOT Posthumous Painter). The only thing he seemed unable to demonstrate was why he should remain an ongoing series character. Submitted by BobH, 11 April 2017.
++ David Gideon's irrelevance is confirmed by his ignominious absence from the wrap-up. Reported from New York City by JohnK, 5 August 2022
Sightings: Little Old Lady #1, with "Miss Carmody" beside her, watches the trial from behind the defendant and the first Mrs. Theilman. Read about her and other favorite frequent faces. Submitted by gracep 12/13/2010.
One of the few episodes with an actual jury trial rather than a preliminary hearing. Submitted by gracenote, 7/13/2011.
Uncredited Actors: Prominently featured among the jury is Arthur Tovey, who appeared in hundreds of films, but you never noticed him. Although we do not have him on our Uncredited Actors page yet, in 1984 People ran a story about him. Submitted by gracenote, 7/13/2011.
CARS. (1) 1961 Ford Fairlane 4-Door Sedan TAXI, light color with the fare rates on the front doors, takes Della and Janice to Union Station.
(2) Perry's black 1959 Ford Fairlane 500 Galaxie Skyliner, top down, Lic No RTS 277. Perry drives his old Skyliner to the Theilman house to see Mrs T. The street number on one of the stone pillars at the driveway entrance is 144.
Perry first drove the '59 Skyliner in Ep#59 and he traded it in after Ep#97 for the '60 Galaxie Sunliner he had for Ep#98. The '59 Skyliner did appear once more, however, in Episode #106. The shot seen in this ep#139 would seem to be old footage from Seasons 2 or 3. The Theilman house exterior and its street number 144 may be a clue to what episode the shot is from. Added by Gary Woloski, 2/28/13.
In this show we are made aware of a third L.A. newspaper. In earlier episodes (and this one) the L.A. Chronicle is mentioned or shown. The Los Angeles Star-News appeared in episodes 29 and 41. Here the L.A. Bulletin is mentioned as the source of letters and words cut and added to a blackmail letter. A copy of the newspaper is never shown. A fourth L.A. paper appears in episode 181. Submitted by H. Mason 9/26/14 + A reporter for a fifth L.A. paper is a character in episode 156 TCOT Playboy Pugilist. Added by H. Mason 9/29/14
Life Imitates Lights: At 21:30 or thereabouts on the DVD, we see Henry Battle, brother of the first Mrs. Theilman. In his Hank Williams outfit, which I bet was powder blue, he looks an awful lot like the lanky neon cowboy on the Vegas strip. JohnK, 15 October 2015
++The lanky neon cowboy in Las Vegas is not on the Strip but rather is downtown on Fremont Street where he still resides. His name is "Vegas Vic". See here for more details. Added by PD 4/08/2021
His character seems superfluous. He really doesn't contribute to the story other than to steal the girl from Paul at the end. DOD 11/12/19
+ He's a good looking young man; that he "beats out" Drake for the gorgeous client makes for a great final scene. Rick P 10/12/21

Barbara Bain lookalike - and IMHO actalike - Barbara Lawrence makes here fourth and final PM appearance here; but she is not alone: the episode peppers itself with plenty of gorgeous dolls - as Paul might put it - and makes every effort - including, of course, the title - to make us aware of that. Submitted by Notcom, 011716.
A Mistrial?! This episode features a legendary Hamilton Burger courtroom meltdown. At approximately 46:20, Burger, in front of the jury, attempts to introduce additional evidence during his closing argument. This prompts Perry to rise to his feet and interrupt with, "I ask the court to declare a mistrial." An exasperated Burger then shouts "A mistrial?!" at the top of his lungs. This same sound bite (Burger) is used in Episode #197 TCOT Ice-Cold Hands. Submitted by Dan K, 6/28/16.
This is the first of three PM appearances for Elaine Devry, who was married to Mickey Rooney for six years...MikeM. 10/12/2016
This is the third of three PM appearances for Dorothy Green, who had a recurring role on the television series "Tammy"...MikeM. 1/18/2017
Comments

Edit
There is currently (22 January 2010) an original copy of the script of this show that was formerly owned by Hal Smith (The Moulage Man) for sale at Weaver's Department Store. Submitted by PaulDrake 33, 22 January 2010.
The summary says "outside Perry's legal jurisdiction." This makes no sense. Prosecutors and policeman have jurisdiction; it means the official power to make legal decisions and judgments, or the territory over which one may do so. A defense lawyer may go where he is hired (many wealthy defendants, for example, have hired high-priced lawyers from out-of-state), if he can practice there. Now I understand Perry may not be licensed to practice law in Nevada, but that is not "jurisdiction," which only belongs to the State or other legal authority. Submitted by gracep, 12/13/2010.
The policeman who advises Perry about his "jurisdiction" doesn't use that word. He says, "You're out of your bailiwick." He may have been speaking metaphorically. :) Submitted by katest 10/13/2011
+ "You're not on your own bailiwick here, Mr. Mason. This is the State of Nevada." Lieutenant Sophia of the Las Vegas Police to Perry. Hear/read at about 21:12 of the 2010 Paramount DVD. Sophia's intent could be for Perry to stop giving advice to his client if he knows what's good for him. Submitted by (lowercase, with a comma and period) masonite, 03/18/19.
If not licensed in Nevada, Perry could not represent anyone in court there, but he could certainly offer advice. There seems to be a higher than usual amount of sexism in this episode. Morley kissing Janice, Morley having divorced Carlotta for getting fat, and Carlotta determined to win him back by dieting. DOD 11/12/19
Perhaps someone with a DVD copy can answer this question. When Lt.Tragg is testifying, what is Perry doing at the defense table? Is he dialing a telephone? I just caught a glimpse. Thanks. Submitted by MikeM, 2/16/2013. \\ Perry is reading and taking notes. Certainly not dialing a phone. + Tragg, in his only time on the stand, is testifying that he had an experiment performed which duplicated the blackmail message with words cut out from the headlines of the L.A. CHRONICLE & L.A. BULLETIN from the day before the murder. While he speaks, the camera switches to the defence table for seven seconds: Perry picks up a wooden pencil from the writing pad at his right hand, twiddles it and puts it down, all the while looking at the pad and maintaining a thoughtful expression. The seven second shot is of no import but simply gives the viewer a break from looking at Burger and Tragg for so long. The soundtrack with Tragg speaking continues without break before, during and following the shot. Sorry for the anti-climactic answer. Added by Gary Woloski, 2/27/13.
Perry really brought his A-game to this case. He had several witnesses, Burger, and even the judge tied in knots! Submitted by 65tosspowertrap 8-28-13
+Perry may have brought his A-game to this one but I'm not sure the scriptwriters did. The key clue is that it had to rain at exactly the right time, and the right place, for the defendant to become implicated; and at a time when only she had access to her car. That's not logical planning, that's winning the lottery. Submitted by pauloh1 20/11/14
+ I concur: and to add to the absurdity, not only does the above have to occur, but the murderer him/herself also does something right before the murder takes place, which logically wouldn't have been timed so neatly; (indeed the ultimate solution of the case is pulled out of thin air). In short, this episode offered much for those wanting to ogle, but frustration for those wanting to think. Submitted by Notcom, 010816.
Ditto the above. Our killer would have had the foresight to have the water turned on and bring along a garden hose. Simply not believable. Near the end, as the clerk goes through a file box looking for the name of the person who had the water turned on, the camera darts around the court. Seems to me Little Old Lady in a Hat shows up in two or three different seats! After her makeover, Janice looks remarkably like Kim Novak in 'Vertigo' in several shots. I think it's the eyebrows. DODay 10/16/17
Novel Notes: A very straightforward adaptation of the novel, the main difference the shortened length to fit it in 50 minutes;
the bill number mentioned in court in the novel was G78342831A (probably a real bill Gardner had in his possession at the time); in the episode Burger reads it as LA4961136B; given the propensity of the Mason writers to use numbers as in-jokes, it may have had some hidden meaning;
the newspapers mentioned in the novel are The Los Angeles Times and Examiner;
perhaps someone with a copy of this novel can comment here, but my copy [Ballantine Books, First Edition, July 1981] appears to be printed for a foreign audience (British? Canadian?): Single quotes are used throughout, dashes (when someone interrupts someone's speech, for example) are more than a quarter-inch long, abbreviations such as Mr and Mrs are printed without periods and, most telling, words such as curb, tire (automobile), mold, honor, favor, color, parlor and defense are spelled kerb, tyre, mould, honour, favour, colour, parlour and defence. [The book states that it is manufactured in the USA but also simultaneously published in Canada by Random House of Canada.];
there are the usual typos as well: In the third paragraph of Chapter 3 "Mason said" is written as "Mason aid" and in the first line of Chapter Fourteen "nine-thirty" appears as "nine-thiry." Submitted by Wiseguy70005, 4/14/15.
Excellent Episode: This I believe is my favorite episode: (1) Perry's courtroom theatrics which trip up Burger; (2) scenes of the early-days Las Vegas strip; (3) the suitcase, which somehow fits the money exactly; and (4) Elaine Devry as Janice Wainwright. Hubba hubba. It only lacks a roscoe or two. JohnK, 15 October 2015
+ Totally agree! Great acting, a great plot, and PM's maneuvering of the prosecution for the courtroom finale are terrific! An added bonus is the hilarious rejection of Drake for the younger, handsome man by the client in the final scene. I agree in hindsight the coincidence of the rainshower is farfetched, but the fast-paced, intriguing story obscures these little factors. Rick P 10/12/21
The Autopsy Surgeon seems unusually antagonistic and belligerent towards Perry from the outset; Perry remains cool throughout, however. Submitted by WJones 2/19/2016.
The moulage expert is none other than Otis Campbell, Mayberry's town drunk. DOD 11/12/19
Does anyone know who plays Drake's operative (silent part) in the phone booth? Is it possibly DG#2 or someone else? Submitted WJones 7/8/16
<< Roving River | Episodes | Captain's Coins >>