Show172
<< Two-Faced Turn-A-Bout | Episodes | Golden Oranges >>
#172: The Case of the
Surplus Suitor
Original Airdate: 02/28/63
From The Perry Mason TV Show Book
Although just a corporation lawyer, Sherman Hatfield—played by Walter Pidgeon—takes the job of defending Hollis Wilburn, a woman accused of murdering her uncle. Paul Drake is hired for the footwork.
Interestingly, at one time in the early 1940s Pidgeon was almost hired to be the voice of Perry Mason in the popular radio series.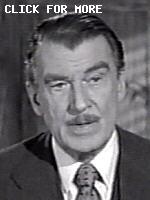 Opening
Starring Raymond Burr
With special guest star Walter Pidgeon
in The Case of THE SURPLUS SUITOR
Based upon characters created by Erle Stanley Gardner
Barbara Hale, William Hopper, William Talman, Ray Collins

Trailing
Directed by Jesse Hibbs
Written by Robert C. Dennis
Arthur Marks | Producer
Gail Patrick Jackson | Executive Producer
Jackson Gillis | Associate Producer
Samuel Newman | Story Consultant
Raymond Burr as Perry Mason
Barbara Hale as Della Street
William Hopper as Paul Drake
Wiliam Talman as Hamilton Burger
Ray Collins as Lt. Tragg
Wesley Lau as Lt. Anderson
Music composed and conducted by Van Cleave
Cast
Walter Pidgeon as Sherman Hatfield
Joyce Bulifant as Hollis Wilburn
James Best as Martin Potter
Carl Benton Reid as John Wilburn
Nellie Burt as Mrs. Abernathy
Linden Chiles as Vernon Elliot
Andrea King as Jean Crewe
Hayden Rorke as Gage McKinney
John Siegfried as Alex Gaussner
Lisa Davis as Receptionist
James Cross as Cabbie
Grandon Rhodes as Judge
Jean Harvey as Janitress
Russell Grieve as Cop
Uncredited Actors
Ralph Brooks as Burger's Co-Counsel (from IMDb)
Lee Miller as Sgt. Brice
Bert Stevens as Courtroom Spectator
Crew
[TBA]
Big time movie star Walter Pidgeon makes his only Perry appearance here filling in for the ailing Raymond Burr. Walter Pidgeon was twice nominated for an Academy Award in 1943 and 1944. Each time he played the husband of Greer Garson who was also nominated each year. Mr. Pidgeon lost out in 1943 to Jimmy Cagney and in 1944 to Paul Lukas. Submitted by PaulDrake 33, 9 September 2009.
+ The first nomination was for Mrs. Miniver (1942) and the second for Madame Curie (1943). OLEF641 5/25/21
A most interesting connection (for adult eyes only!!) between Walter Pidgeon and Raymond Burr appears here. Submitted by Bob61571, 26 March 2018.
+ Thanks for the link. It's an interesting article. Submitted by catyron, 05/05/18
Once again, Lt. Tragg (Ray Collins) does not appear despite his listing in the credits. Submitted by g, 1/28/2011.
Kentucky-born James Best is best known, of course, as the befuddled sheriff Roscoe P. Coltraine on the 1970s series The Dukes of Hazzard. A coal-miner's son, he often played bumpkins on TV and movies, and he owns his own production company now. Submitted by g, 1/28/2011.
He got to show off his guitar playing skills on several episodes of "Andy Griffith". His role here as a sophisticated businessman is certainly an outlier, but he carries it off very well. DOD 01/26/22
Linden Chiles appeared in 5 FBI, 4 PM & 2 Ironside episodes [IMDb] Mike Bedard 2.9.15.
Sightings: Pencil Mustache Man enters the courtroom and after looking around for a bit, watches Hollis and her attorney confer before the hearing. While Burger is interrogating a witness, however, we see that the Man has moved a few seats over. Rudolph Salinger, known here as Distinguished Gentleman #1, sits on the back row on the defense side, and we can just discern Quiet Old Man #1 blurred in the back row on the other side. More on the "Who Is That?" page. Submitted by g, 1/28/2011. We also have a couple of glimpses of Miss Carmody. Submitted by Clothears 10th June 2020.
Uncredited Actors: Sgt. Brice (Lee Miller) stands silently by in the hallway while Lt. Anderson confronts the grieving niece (and her attorney) in her parlor. Bert Stevens plays a courtroom spectator who walks in before the hearing. A special treat is Ralph Brooks sharing the table with Hamilton Burger during the trial. Submitted by gracenote, 7/26/2011.
Just ONE CAR. "Cabbie" appears three times with his yellow 1962 Checker Series A9 Taxicab number 3045, Licence Number X92 069 (1956-pattern yellow-plate). It could alternately be a 1963 Series A11. This car appears to be a genuine working taxi from the Real World:
"X92 069" is the correct format for a commercial plate issued to a real taxi (one letter followed by five numerals). Contrast with the plate on "tv & movie taxi" Car(1) in the preceding ep#171.
Looking to the center of the dash at 13:30 & 16:29, you'll see that the Checker actually has a fare-meter: the striped flag is up.
More on CHECKER and this car in the "Comments" section. Added by Gary Woloski, 9/4/13.
For the sixth time Della was on the witness stand. (see episodes 8,30,63,160,162). She would be called to testify one more time in episode 187 TCOT Reluctant Model. Submitted by H. Mason 9/25/14
Phone Call: When Della called Perry she dialed nine numbers. Did she have to get an outside line? Submitted by H. Mason 1/19/15
Shooting Pool: When Mr. Hatfield was at the pool table talking to Hollis look at the numbers on the balls. At least two of the balls he hit into a pocket were back on the table. Submitted by H. Mason 1/19/15
This is the first of two PM appearances for Joyce Bulifant, who played Murray's wife on The Mary Tyler Moore Show...MikeM. 11/28/2016
This is the final of four PM appearances for Andrea King, who was reportedly born in Paris in 1919 to an American mother...MikeM. 3/6/2017
This is the only PM appearance for "Janitress" Jean Harvey. Just two months after this episode aired, Jean Harvey's husband unexpectedly died. Jean Harvey apparently never worked in film or television again. She passed away in 1966 at the age of 66...MikeM. 3/26/2018
Comments

Edit
"Janitress"? Really?!? Submitted by gracep, 1/27/2011.
+ I didn't believe it either but then looked it up here! HamBurger 7/23/2016
++ Same as stewardess, actress, mistress, hostess, seamstress, ... jfh 27Dec2019
Checker Motors Corporation was established in 1922 and built only taxicabs until 1959. It launched its first-ever passenger car models for sale to the general public in late 1959. Checker production was always tiny compared to the big automakers, reaching its all-time high in 1962 at 8,173 cars (6943 taxis, 1230 non-taxis).† The factory price of the 1962 Marathon 4-Door Sedan pictured in the linked ad was $2650; the roughly equivalent 6-cyl Chevrolet Bel Air and Ford Galaxie 4-door sedans were $2510 and $2507 respectively. I recommend this quick-read Illustrated History of Checker Motors by Paul Niedermeyer. A comprehensive history at coachbuilt.com includes lurid details of the 20th Century American Taxi Wars, incidentally explaining some of the names and structures of the North American Taxi Industry today.
Strictly speaking, the car in this episode is a "Series A9" or A11 although Checker Taxis built from 1960 onwards are commonly but erroneously referred to as "Marathon"s. Marathon was a civilianized copy of the Checker Taxi and was the foremost model offered for retail sale to the general public from 1960-'82, see here. Considering that original Checker Cabs were driven hundreds of thousands of miles into scrap condition, there is a reasonable tendency for collectors to paint and accessorize originally-civilian Marathons as taxicabs, perhaps as this beautifully-restored example may have been (note the side trim and "CHECKER Marathon" lettering, absent from real taxis).
Because the original airdate of this episode roughly coincides with the all-time peak of Checker Motors production, I believe this Checker's appearance may be a product placement as part of a general sales effort. Added by Gary Woloski, 9/5/13.
† Standard Catalogue of American Cars, 1946-1975 ed. Ron Kowalke; Checker chapter pp46-75 by G Marshall Naul contains Checker data for 1960-75.

Grammar Police: Mr. Hatfield asked Hollis, "Whom did you give the number to?". Properly, he should have asked, "To whom did you give the number?", or even (less properly but more conversationally) "Who did you give the number to?" jfh 27Dec2019
+ Sorry, Officer, but the program writers were correct in using "whom." In the interrogative sentence "Whom did you give the number to?" the subject is "you" and the object is "whom." Recasting the sentence in the declarative would result in "You did give the number to him/her," not "You did give the number to he/she." However, I agree that eliminating the trailing preposition with "To whom did you give the number?" is the better option. Pedantic Professor 5Apr2020

Business Location: Were the Wilburn and McKinney Electronic Industries and Mr. Hatfield's office supposed to be in the Brent Building? The establishing shot looked like the Bank of California Building seen in previous stories. Submitted by H. Mason 1/19/15
Perry's cameo: I was watching MeTV on 04/03/15 (I believe) and did not record it, so I could not review it, BUT when I saw this, I had to write in down to see if anyone commented. No one did, so here goes: When Perry makes his "cameo", to me, it looks like his hair was "frosted/highlighted", or in a style I've never seen before. Does anyone think so, or can leave a comment? It looked wild! Thanks in advance! Submitted by mesave31, 04/21/15.
+ Nope, both my wife and I agree, it is the lighting above their heads as it shows similar in the scene with Della and Mr. Hatfield. HamBurger 7/23/2016
++ See my comment on the previous episode (Show 171): I saw the same thing last week and commented that Burr's hair was shorter (brushy, not wavy) and looked grey. I suggested that he did not show up at the studio and thus Annabelle did not do his hair. This hairdo (and/or the lighting) makes him look aged. Submitted by catron, 05/05/18
+++ IMHO, Perry, away from the office, in his PJs, recuperating at home, simply didn't apply his usual hairdressing prior to answering the phone. jfh 27Dec2019
++++ I'm just happy he wasn't shown recuperating in a suit !! Smarta**ed by Notcom, 052621.
IMHO Paul Drake looks mighty dapper in this episode. jfh 06Mar2017.
About halfway in, Walter Pidgeon struggles trying to remove a cigarette from the pack.
This final episode without Perry actually works! In the previous 3 episodes, Bette Davis is just plain weird; Michael Rennie is painfully out of his element as a law professor in the courtroom (those who can't, teach); and Hugh O'Brian is a fantasy playboy lawyer/international man of mystery. Walter Pidgeon is totally convincing here as a wise old lawyer who knows how to surprise the truth out of people, bringing us properly back into Perry's realm with style and integrity. Joyce Bulifant is also fun to watch, playing a seeming goofball who's smarter than she looks. ckbtao 7/19/20
<< Two-Faced Turn-A-Bout | Episodes | Golden Oranges >>