Show214
<< Paper Bullets | Episodes | Sleepy Slayer >>
#214: The Case of the
Scandalous Sculptor
Original Airdate: 10/08/64
From The Perry Mason TV Show Book (Revised)
June Lockhart (Lassie, Lost In Space) plays Mona Stanton Harvey, principal stockholder in a publishing company run by her brother, Everett, and wife of a screwy sculptor who goes by the name of Hannibal Harvey.
Hannibal is being blackmailed. Trouble is, Mona is in Seattle and he can't get at her bank account because the publishing company is being audited. So, he gets his even screwier model, Bonnie, to write a blackmail note to Mona's brother. Predictably, Everett gets the money out of petty cash and sends it to Bonnie. In the meantime, Mona returns from Seattle, finds Bonnie's blackmail note, and decides to pay the model a visit. So does Hannibal. Without seeing each other, husband and wife both discover Bonnie's dead body. Although it is Mona who's arrested for murder, she's afraid her husband is the real killer.
Tom Grossman points out that Mona Stanton Harvey is actually Everett Stanton's niece not his sister.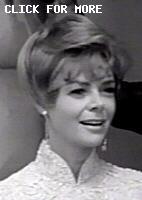 Opening
Starring Raymond Burr
in The Case of THE SCANDALOUS SCULPTOR
Based upon characters created by Erle Stanley Gardner
Barbara Hale, William Hopper, William Talman, Ray Collins
Trailing
Directed by Jack Arnold
Written by Philip Saltzman
Arthur Marks \ Art Seid | Producers
Gail Patrick Jackson | Executive Producer
Jackson Gillis | Associate Producer
Samuel Newman | Story Consultant
Raymond Burr as Perry Mason
Barbara Hale as Della Street
William Hopper as Paul Drake
William Talman as Hamilton Burger
Ray Collins as Lt. Tragg
Wesley Lau as Lt. Anderson
Music Composed and Conducted by Richard Shores
Music Supervision by Herschel Burke Gilbert
Cast
June Lockhart as Mona Stanton Harvey
Stuart Erwin as Everett Stanton
Sue Ane Langdon as Bonnie
Sean McClory as Hannibal Harvey
Dan Tobin as Dickens
Nydia Westman as Ivy Stanton
Simon Scott as Rex Ainsley
Carlos Romero as Nonno Volente
Isabel Randolph as Lottie Porter
Willis Bouchey as Judge
Jonathan Hole as Whitey
Ellen Atterbury as Secretary
Ralph Manza as Yard Man
Frances Morris as Matron
Don Washbrook as Messenger
Don Anderson as Bartender
Uncredited Actors
Shirley Mitchell as Mrs. Banks
Robert Wegner as Door Bailiff
Crew
Director of Photography … John M. Nickolaus, Jr.
Art Direction … Lewis Creber
Assistant Director … Gordon A. Webb
Film Editor … Richard W. Farrell
Casting … Harvey Clermont
Makeup … Irving Pringle
Hair Stylist … Annabell
Wardrobe Supervision … Ed McDermott, Evelyn Carruth
Set Decoration … Carl Biddiscombe
Properties … Ray Thompson
Production Sound Mixer … Herman Lewis
Script Supervision … George A. Rutter
Theme Composed by … Fred Steiner
Automobiles Supplied by … Ford Motor Company
Perry Mason
Produced by the CBS Television Network in association with Paisano Productions
Goof: In the final scene, listen closely to Hannibal Harvey's good-bye. It sounds like he starts to say "Bye Ray!" (as in Ray Burr) but he catches himself and then adds another "Bye" to cover. Submitted by Adam Kamil, 10/23/2004.
Uncredited Actors, with a line or two, are seen occasionally in the show. But, in this episode, the actress playing "Mrs. Banks" really should have been credited. Her scene lasts about 90 seconds as she is questioned by Perry in court. Submitted by Mitch English, 3/23/2005.
+ It looks like this is Shirley Mitchell. See here. Her scene is completely missing in the Hallmark version of this show. Submitted by daveb, date unknown.
++ It is, however, in the regular syndication print. Submitted by gracenote, 3/31/2011.
+++ The scene is also in the MeTV airing 25Jan2017
Location: About halfway through this episode Paul and Perry drive east on Sunset Blvd toward La Brea. Over Perry's head you can make out the SAHARAN MOTOR HOTEL's neon sign. The hotel is still there. You can see a current photo if you Google 7212 Sunset Blvd, Hollywood, CA. Or go to the hotel's website for lots of photos. A few seconds later Paul makes a right turn onto La Brea. Between Paul and Perry you can clearly see "CAROLINA PINES JR." in the background. It was a famous Googie styled 24 hour coffee shop. Unfortunately, it is no longer there. However, it was located at 1518 N. La Brea which in fact was just north of the intersection of Sunset and La Brea and would have been visible behind them as they turned south on La Brea. Unlike most shows that cut and paste different backgrounds, this driving sequence makes perfect sense and appears to be in real time. Furthermore, when Perry and Paul confront Mr. Harvey outside the bar, I believe they are just where their journey took them... just south of Sunset on La Brea. That shingle work behind them is the Charlie Chaplin Studios which is now the Jim Henson Studios. However, at the time of this filming it was owned by CBS Studios and is where Perry Mason was filmed and where Raymond Burr often slept during shooting. Posted by Eric Cooper, 7/16/2009. Some pictures here.
Location: When Hannibal drives to Bonnie's (to discover her body), he drives through Beverly Hills, heading eastbound on Wilshire Blvd, and turning south on N. Hamel Drive. There is an Earl Scheib neon sign in the upper left hand corner of the shot. Scheib's corporate headquarters were at 8737 Wilshire Blvd, and remained there at least another 46 years. Earl himself also lived in Beverly Hills. OldDave 10/8/2020
Location: About 39 minutes into the episode, Perry walks up the steps and into the courthouse as he does numerous times in this series. It's amazing that Perry is always able to find parking right in front of the courthouse. The Stanley Mosk Superior Courthouse is still there, located at 111 N. Hill Street, near the intersection of 1st street. You can see the street sign for 1st street as Perry walks up. Submitted by Eric Cooper, 30 July 2010. Some pictures here.
And yet again the interior courtroom set has no relation to the building's modern exterior. DO 1/30/18
Sightings: Sitting behind the defendant and also behind Ainsley is Quiet Old Man #1. Possibly, Distinguished Gentleman #1 strolls in the background during a recess, just as Paul enters the scene. Learn more about these and other favorite frequent faces, and help us spot them! Submitted by gracenote, 3/31/2011.
+ Blue Collar Guy is the cab driver for Mrs. Stanton and Mrs. Porter at the beginning of the story. alan_sings, 11/8/2011.
Location: At the end, the steps down which Drake and Mason saunter look remarkably like the ones featured in the Magic Donut scene (a continuity error) in #101, "TCOT Wandering Widow." Submitted by gracenote, 3/31/2011.
+ Same steps. That house and property also in episodes 128 and 149. Added by H. Mason 4/6/15
Once more, Ray Collins, who by now has been ill for some time, received credit for Lt. Tragg, but did not appear (nor did anyone seem to notice). Submitted by gracenote, 3/31/2011.
Uncredited Actors: In addition to playing a bartender who speaks and gets billing, Don Anderson appears as a passerby outside the courtroom. As Mason and Della discuss things, Anderson passes them twice, once apparently coming from the courtroom and once going toward it. Submitted by FredK, 7 April 2011.
Hannibal's Song: (TCOT Spoiled Chowder). Hannibal sang the old ditty (late 19th Century) twice. The words I got were:
"'Who threw the overalls in Mrs Murphy's chowder?'
Nobody answered so he hollered all the louder
'It's an Irish trick that's true, I can . . .' " (inaudible)
You can find the answer to the mystery by reading the lyrics here or by listening to this 1901 Edison recording. Added by Gary Woloski, 1/11/12.
+ I don't have to look them up. A friend of mine used to be in a barbershop quartet, and I think it was one of their songs. It goes (pardon the politically incorrect reference):
'It's an Irish trick, that's true, I can lick the mick that threw
The overalls in Mrs. Murphy's chowder.' JohnK, 10 December 2017
Character Names Bonnie's last name is Dunbar. jfh 25Jan2017
This is the first of two PM directing credits for Jack Arnold, who directed 26 episodes of "Gilligan's Island"...MikeM. 1/25/2017
Not a particularly satisfying episode, perhaps because of the reliance on a few too many stock characters - blustering artist, ditzy model, latin lover, cute little old ladies, virtuous wife. The whole thing had the flavor of a Carol Burnett skit. Some interesting camerawork in the courtroom,though,including a few closeup zoom shots. Looks like that well worn staircase set finally got a makeover. DO 1/30/18
This is the third of three PM appearances for Irish actor Sean McClory, whose career on stage, screen, and television spanned over forty years. In 1983, McClory married Peggy Webber, and they were still married when Sean McClory passed in 2003 at the age of 79...MikeM. 6/6/2018
Comments

Edit
I have to say that, to my surprise, I rather enjoyed Sue Ane Langdon's ditzy but good-hearted performance, especially in the scenes with the very Irish and very demonstrative Sean McClory. The two of them are hilarious together! (Until the game turns dark.) Submitted by gracenote, 3/31/2011.
+ Sue Ane Langdon reminds me of a slightly older Joyce Bulifant, both in appearance and in the portrayal of their characters. jfh 30Aug2022.
I would have given anything to be the 'eyes' of the two women who came in upon 'Bonnie' in the opening scenes as she was posing for 'Hannibal'. That Sue Ane Langdon .. whew! Yes, I know she was not likely truly topless, but a man can imagine, can't he?? Submitted by MikeReese, 3/27/2014.
--- the above comment demonstrates that objectifying women still persists even though the fifties are long gone and we are now well into the 21st century ---
In the first scene, as Ivy pays off the taxi driver (who appears to be in his 60s), she says, "There you go, Sonny," a bit of humor revealing her lively personality. Submitted by cgraul, 11/8/2011.
+ It was actually Ivy's companion, Lottie (Isabel Randolph), who said it ("Here you are, son. Keep the change."). Ivy is played by Nydia Westman who, 25 years earlier in "The Cat and the Canary", fed Bob Hope the line, "Don't big, empty houses scare you?" Submitted by masonite, 12/10/12.
++ Answer: "Not me, I used to be in Vaudeville.". Kilo 3/25/2020.
It seems to be a "stock character" trait in PM episodes that if an artist is involved, he must emote all his lines loudly and appear emotionally uncontrolled. The artists I have known are all controlled, calm and pleasant personalities. cgraul 3.13.2013
The goofy tone and breakneck pacing of much of this episode suggests a screwball comedy from 1930's, not very Perry at all. At first, I thought I had accidentally tuned in an old, silly movie. Submitted by EricM 12/8/14
Of all the times Paul and Perry "tipped" for information, the bill given to the bartender seemed unnecessary. There didn't seem to be a reluctance to answer that would necessitate a cash payment. Was Paul impatient or was the scene poorly played? Submitted by H. Mason 4/6/15
But, what a great name for a bar. The Potted Penguin. The penguin looked rather dapper to me. Submitted soberly by Rickapolis 03/25/2022
Hannibal Harvey -- what an annoying character! I barely lasted through the opening scene where, for some reason, he's "singing" a song at the top of his lungs and can be heard all the way down on the first floor. Do real sculptors scream while they work? And later on he smashes some of his own artworks, and a mirror. Maybe he should try selling them instead of destroying them if he needs $10,000 so bad. Unfortunately, he wasn't the murder victim. Submitted by scarter 4/19/15
+ I agree. He was annoying, and worse. He acted like a person with bipolar disorder having a manic phase. Submitted by catyron, June 16th, 2108
++ Ditto (times three). Hannibal gives Aunt Clara Thorpe (Episode #97, TCOT Credulous Quarry) a run for her money as the Most Annoying Character in Series History. Submitted by BobH, 18 June 2018.
+++ Ugh. I made it 17 minutes in (including commercials) and couldn't watch any more. I couldn't stand the sculptor, and I don't care for Mona's uncle (the actor always seems to play some sad sack type). I can't believe someone like Mona (although I only saw a few minutes of her) would marry him. I couldn't take it. -yelocab 18JUN18
The Twilight of the Cups: For the first time in this series, the trio of Perry, Della, and Paul neither retired to Perry's office during a court recess, where Della could serve coffee from the Curious Coffee Set, nor did they stop off at a cozy restaurant, where Miss Carmody, doubling as a waitress, could serve them from the Coffee Set. Instead, Della put money into a horrible vending machine in the courthouse hall, which produced a striped paper cup of swill for her to slavishly carry to Perry, and Paul got nothing to drink and neither did Della. Between the utter waste of a potentially great appearance by the wonderful June Lockhart because she has to tenderly emote over the terrible overacting of the repellent sculptor, the almost complete lack of courtroom terminology and procedure, and the social descent of Della as she is forced to procure instant coffee from a vending machine, this is the episode in which the show jumped the shark for me. Submitted by catyron, June 16th, 2018
TCOT Atrocious Acting Jumping on the bandwagon here to say ugh! Is this the worst PM episode ever? It didn't even feel like PM. It was a showcase for Sean McClory's OTT style. It felt like a soap opera; the murder was delayed and had no impact; there was zero tension; the oft-mentioned board of directors' meeting and the struggle for control of the business, a venerable PM theme, felt irrelevant at best; neither the blackmail scheme nor the secret affair that led to murder had any emotional punch or believability. It was a trashy script, badly acted. Perry and Paul barely went through the motions. Pure slop! Submitted by JazzBaby, 5/29/2019.

Agree. Just - ugh. Ironically, Stu Erwin was in my contender for the finest episode, TCOT Double Entry Mind. DOD 04/11/23 + Even Perry seems to be rude, abrupt, sarcastic, and accusatory in this episode, even going so far as to continually interrupt his own witnesses. jfh 26Jun2019
++ Is this the worst PM episode ever? JazzBaby, you have my vote. I just watched the entire series in sequence, but kept skipping this one because I could barely stand the first 15 minutes of Sean McClory's inexcusable performance. He makes the performances of Robert H. Harris and Victor Buono (both of whom I love -- there is a place for big acting) look minimalist and restrained. OldDave 10/8/2020
> It's a contender. Notcom 072321.
+ According to IMDB this episode is rated 7.2/10. The worst rated PM is TCOT Sad Sicilian, 6.8/10. (And FYI the highest rated show is TCOT Deadly Verdict, 9.0/10.) Kilo 6/6/2022.
Tridefecta three dud episodes in a row... a sign of things to come ?? Unfortunately, we know the answer. Notcom, 071020.
Season 8 does get off to a poor start, doesn't it. Rickapolis 03/25/2022
<< Paper Bullets | Episodes | Sleepy Slayer >>