Show271
<< Crafty Kidnapper | Episodes | Horoscope Homicide >>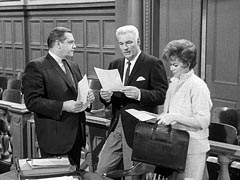 #271: The Case of the
Final Fade-Out
Original Airdate: 05/22/66
From The Perry Mason TV Show Book
In this final episode of the Mason series, the storyline is secondary. This is how a close-knit cast and crew say goodbye to their fans…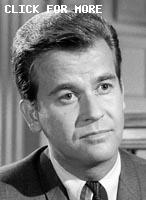 Opening
Starring Raymond Burr
in The Case of The Final Fade-Out
Based upon characters created by Erle Stanley Gardner
Barbara Hale, William Hopper, William Talman
Trailing
Directed by Jesse Hibbs
Written by Ernest Frankel & Orville H. Hampton
Arthur Marks \ Art Seid | Producers
Gail Patrick Jackson | Executive Producer
Ernest Frankel | Story Consultant
Orville H. Hampton | Associate Story Consultant
Raymond Burr as Perry Mason
Barbara Hale as Della Street
William Hopper as Paul Drake
William Talman as Hamilton Burger
Richard Anderson as Lt. Steve Drumm
Music | Richard Shores
Cast
James Stacy as Barry Conrad
Estelle Winwood as Winifred Glover
Jackie Coogan as Pete Desmond
Denver Pyle as Jackson Sidemark
Dick Clark as Leif Early
Gerald Mohr as Andy Rubin
Marlyn Mason as Erna Landry
Kenneth MacDonald as Judge One
William Tannen as Studio Guard
Margaret Shinn as Starlet #1
Linda Burton as Starlet #2
Maureen Crow as Adlib
Louis Elias as Stunt Man No. 1
Saul Gorss as Stunt Man No. 2
Lee Miller as Sgt. Brice
Uncredited Actors
Don Anderson as Police Officer
Erle Stanley Gardner as Judge Two
Gail Patrick as Courtroom Spectator
Crew
Director of Photography … John M. Nickolaus, Jr.
Art Direction … Lewis Creber
Assistant Director … Gordon A. Webb
Film Editor … Richard H. Cahoon, A.C.E.
Casting … Harvey Clermont
Makeup … Irving Pringle
Hair Styling … Annabell
Wardrobe Supervision … Bob Wolfe, Evelyn Carruth
Set Decoration … Carl Biddiscombe
Properties … Ray Thompson
Production Sound Mixer … Herman Lewis
Script Supervision … Marshall Schlom
Theme Composed by … Fred Steiner
Automobiles supplied by … Ford Motor Company
Produced by the CBS Television Network in Association with Paisano Productions
Uncredited Actors: Erle Stanley Gardner appears uncredited as the second judge in this episode. He was remembered in this role in an Associated Press wire-photo distributed with his obituary. Submitted by Thom Smith, N8DXR, 8/22/2004.
+ In what could sum up his career on the Mason series, Don Anderson appears as an extra/stuntman in a police uniform participating in the gun battle in which Barry is killed. Submitted by FredK, 28 Nov 2010.
Actor Mark Roberts apparently wanted to be in the final episode even without a part. He is at the table to the left of where Barbara Hale is being a southern belle.
Producers Art Seid and Gail Patrick Jackson are the two at the bar discussing not wanting to go up against Bonanza. DaveH
Denver Pyle was both a defendant and a victim in this episode. See the Statistics page for more info about defendants, murderers and victims. Submitted by daveb, date unknown.
Four members of the cast appear in the last episode, just as they had appeared in the first episode. Barbara Hale, Raymond Burr, William Hopper, and Lee Miller. Although Miller was not billed in the first episode, TCOT Restless Redhead, he appeared on screen several times, both as a policeman and as a spectator at the trial. Submitted by PaulDrake 33, 4 October 2009.
+ What about William Talman? Submitted by Wiseguy70005, 6/29/12.
++ Indeed! Saving his best histrionics for last, Hamilton Burger blows a gasket in this episode, shouting at a witness and calling Perry a "shyster." His last act is to treat the gang to dinner at Clay's Grill, where presumably he ordered crow. Submitted by francis, 5/10/14.
When Denver Pyle is placed under arrest for murder he is shown being driven away in a police car, yet he is not in handcuffs as can be seen by the fact he is resting his arm on the car window ledge. Submitted by Craig, 2/3/2010
+ In my opinion, the mustache that Denver Pyle wears in this episode is laughable. I can't imagine it looked any better in 1966. Submitted by Wiseguy70005, 4/11/18.
+ + I like that mustache a lot. Submitted by catyron, August 19th, 2018
Sightings: "Miss Carmody" is seated in two places in the gallery at once! She is clearly visible on the left end of the first row on the prosecution side during a wide view of the prosecution table. Moments later, she is on the defense side behind Leif Early during a closeup. Submitted by alan_sings, 3 Oct 2010.
+ She's not the only favorite to return for the last episode. Quiet Old Man #1 appears in the courtroom gallery, between Burger and Mason as they face off early in the first evidentiary hearing. In the second hearing, he returns along with Pencil Mustache Man. Read more about these and other favorite frequent faces on the "Who Is That?" page. Submitted by gracenote, 6/17/2011.
+++ For those interested, our "Miss Carmody" can be spotted in several scenes in the very fun Audie Murphy, western The Guns of Fort Petticoat. When the women storm the Court-Martial at the end of the movie, she is very noticeable stood by the door. Tragg 12th November 2022.
++ The young brunette occasionally in the last few seasons make an appearance in the last court gallery. Submitted by Perry Baby 2/8/14
+++ I've just finished watching all the shows in the last couple of seasons. In this episode, and in quite a few preceding, we have not seen DG#1. I wonder if he split with the producers during the last season over creative differences. JohnK, 27 February 2018.
Crew Members as Characters: It is pretty obvious that most of the extras in the courtroom gallery and in the bar scene where various uncredited actors delivered lines were from the cast. One set up in the bar references not doing a series opposite of Bonanza ... the time slot Perry Mason had. Submitted by Perry Baby 2/8/14
+ Lt. Steve Drum (Richard Anderson) apparently interviews 3 actual long-time PM crew members in 1 scene. They include Irving Pringle (Makeup), Annabelle (Hair Styling) and ?? ("I work with Irving"). Kudos deserved for putting them (and apparently many others) on camera in the last PM episode!! ... Bob 61571, 19 April 2018
++ The deep-voiced man referred to as Phil, the director, is not credited. Could he in fact be one of the real directors on the series? Submitted by gracenote, 6/17/2011.
+++ The "director" called "Phil" was Assistant Prop Man John Ferry, according to Jim Davidson's "Who's Who in the Final Fade-Out" page, available online with photos...MikeM. 4/19/2018
++++ In fact, if you go to Who's Who in The Final Fadeout you will find that most of the people Drumm interviews were actual crew members. You can also see who appears as extras in other scenes. Fascinating stuff! Submitted by JazzBaby, 6/29/2019.
Barbara Hale (Della) as the blond? In the bar scene, there is blond (obvious wig) female and sunglasses with a silly southern accent who makes a comment and then turns and kisses the man next to her. She looks like Barbara Hale with a wig on. I watched the DVD several times and pretty sure..submitted by Perry Baby 2/15/17
+ And I believe that's the only time Della has ever been kissed. Kilo 5/22/2020.
+ And the man she kisses appears to be Arthur Marks, one of the producers and quite often the director of Perry Mason episodes. Submitted by Kenmore 7/06/2021.
The glorious Estelle Winwood, who died at 101, was both the oldest credited actress (at 96), and the oldest member of the Screen Actors Guild. DOD 4/20/18
Perhaps fittingly, the first trial judge is played by Kenneth MacDonald who has the distinction of being the only actor, outside the main cast, to appear with billing in all nine seasons of the Mason series. In addition, he was the judge in the second series episode, TCOT Sleepwalker's Niece. While my favorite judge actor S. John Launer eked out a narrow 33 to 32 victory in the Judge Episode count, Mr. Launer did not appear until the second season, TCOT Curious Bride (#44). [unsigned, undated]
James Stacy makes his second appearance (and of course his last) on Perry playing one of the vilest, most despicable, characters ever. Maybe Mr. Stacy was not acting, because several years later James Stacy was sent to a state prison in California for 6 years after being convicted of molesting an 11 year old girl. Submitted by PaulDrake 33. 4 March 2014.
+Since, as Perry would say, you've 'opened the door' to Stacy's personal life here, it's worth noting that in 1973 he was struck by a drunk driver while riding a motorcycle and lost his left arm and leg. The molestation conviction occurred in 1996. ckb 29 Oct 2020
+ I have heard that Stacy's character was based on Robert Conrad (was the name Conrad a coincidence?) The Wild Wild West had just finished its first season at the time this episode aired and since both series were CBS owned perhaps Robert Conrad's behavior filtered over to the PM set. Submitted by Wiseguy70005, 4/11/18.
I can believe it. Stacy not only greatly resembles Conrad - a bit short, dark, athletic build - he seems to channel Conrad's mannerisms and somewhat belligerent attitude. DOD 05/28/21
License plate hanging in prop room: CA CJF 925...MikeM. 7/7/2016
Pinky Rings: Paul Drake, Ham Burger, Jackson Sidemark, Andy Rubin...Perry none?...MikeM. 7/7/2016
+ I think Paul has worn a pinky ring for the entire PM series. Perry wore one for most of the series, but not for some of the final episodes. Ham Burger did not wear one for most of the series, but did for some of the last episodes. Della wore one from time to time...MikeM. 4/19/2018
Perhaps Barbara Hale and Ernest Frankel are watching this episode tonight on MeTV. Thanks to all the wonderful people who gave us this classy series which has stood the test of time....MikeM. 7/7/2016
+ Barbara Hale sadly passed in January 2017, but writer/producer Ernest Frankel is still with us, according to IMDb...MikeM. 4/19/2018
Director Jesse Hibbs directed 45 episodes of PM, 28 episodes of "The FBI", and 20 episodes of "Gunsmoke". Hibbs was mostly known for directing fifties/sixties TV westerns, but also directed some movies. The Normal, Illinois native first found fame as a USC football All-American tackle in 1927, 1928. John Wayne and Ward Bond were football teammates. Hibbs played for USC when "It Girl" Clara Bow's fandom inspired wild rumors (now debunked) about Bow and members of the football team ... Bob61571, 10 April 2018
Dick Clark made his only PM appearance in this episode. Clark was known as the TV host of "American Bandstand", TV game show host of "The $10,000 Pyramid", and TV show producer/entrepreneur. His "good guy" public persona was in conflict with his reputation in the business. From a 1986 People magazine interview: "Friends call Clark a "perfectionist;" abraded acquaintances are often less flattering. All agree, Clark included, that he has a deserved reputation as a demanding taskmaster with an ego-shriveling temper." ... Bob 61571, 19 April 2018
The street entrance to the studio lot is the actual well-used address of 1416 No. La Brea. You can verify this on Google street view by matching the iron gates, the post and finial at the corner of the guard house, and other features. It is most noticeable when Perry and Paul drive onto the lot to speak with Pete Desmond. ...Chuck_H, May 14, 2020
Following a conversation between Barry Conrad (James Stacy) and Jackson Sidemark (Denver Pyle), Andy Rubin (Gerald Mohr) and Conrad walk away from Sidemark. Rubin uses the yiddish word for trouble, "tsuris." Otto Gervaert, 5/28/21.
Comments

Edit
I finally finished watching the entire series from DVD's I had purchased over the years. My addiction to Perry Mason started when Ted Turner's new TBS Superstation starting broadcasting Perry Mason every day for years and thanks to the VCR I could record them for delayed viewing. The core casting was perfect although I never felt the characters that replaced Tragg had the humor that Ray Collins brought to the role. The series had lost some of its quickness due to Raymond Burr's weight and health issues in season 7 and 8 although season 9 was better than the previous two seasons. As Perry says in the last scene, you start at the beginning so I will start again watching them regularly starting with Season 1. Submitted by Perry Baby 2/8/14
+ Everything I've read about Burr tells of what a generous, loyal, and kind person he was. Ray Collins said he was always the first to come to someone's aid in time of trouble. He also went out of his way to find work for friends from his days in radio who were down on their luck. When asked to do the new Perry Mason movies, he insisted on having his Della with him. Later, as an orchid breeder, he would name a new variety for Barbara Hale. DOD 05/28/21
Doing the same! I spent late nights as a teen watching PM reruns at 11:00 p.m. Just watched the entire series on DVD, thanks to my sweet dad gifting me with the set. And now...back to Episode 1! I need to refresh myself with the early sharp, noirish PM...plus, I much prefer the ambience of the late 50s/early Sixties...the cars, the clothes, the music. Submitted by JazzBaby, 6/29/2019.
When Pete Desmond confesses to Paul that he purposely arranged to be caught in a lie on the stand in order to help Sidemark, he says he got the idea from a movie he saw. No doubt he refers to "Witness for the Prosecution". DOD 05/14/20
As noted before, Jackie Coogan may be the only PM alum with a law named after him. The highest paid child star of the silent era, he had earned about $4,000,000 (about $45,000,000 today), virtually all of which was spent - legally - by his mother and stepfather. At age 21, he had to sue his own mother to recover about $120,000 of what remained. A law popularly named for him was passed in 1939 requiring that a percentage of a minor's earnings be put in trust until age 21, as well as setting education and time off requirements. DOD 05/28/21
After the judge dismisses the charges against Jackson Sidemark, Hamilton Burger tells Mr. Sidemark, "You're free for the moment, but I'm not through with you". Surely Hamilton must know that once the preliminary hearing starts, witnesses are sworn, evidence introduced, and testimony given, jeopardy has been attached. Once the charges are dismissed against Mr. Sidemark, the rule of double jeopardy applies and he can no longer be made to answer for the murder of Barry Conrad. Submitted by PaulDrake 33. 4 March 2014.
+ Jeopardy does not attach until a jury is impaneled. Submitted by D. Tlougan, 5/1/15.
++ Actually, you are both a bit off. There is no requirement of a jury; bench trials are frequently held. And the jeopardy is not dependent upon impaneling of a jury; in a bench trial it attaches upon swearing in the first witness. It can also be upon a change of plea entered and accepted by the court.
+++ Preliminary hearings are have no risk of conviction, as they only determine that a crime has been committed and the defendant should be bound over (probable cause) (which is not determined "beyond a reasonable doubt." cgraul 4.13.17
++++ My understanding of double jeopardy is that once acquitted you cannot be retried for the same crime. If legal proceedings don't make it to a verdict, it is still possible that you can be accused/tried again. Again, my understanding; if this is wrong please correct me. OLEF641 10/12/21
Pete Desmond (Jackie Coogan), tells Paul Drake that the reason he committed perjury was to help his friend Jackson Sidemark. Mr. Desmond tells Paul that he saw this ploy in a movie. The movie to which Mr. Desmond is referring is the wonderful 1957 movie "Witness For The Prosecution". Submitted by PaulDrake 33. 4 March 2014.
The name of the fictional producer in this episode, Jackson Sidemark, pays tribute to the real-life producers of Perry Mason, Gail Patrick Jackson, the executive producer, and Art Seid and Arthur Marks, the producers. Submitted by DyNama, 6/13/2014.
+ Thank you, DyNama! I was trying to figure out to whom his name was a salute! Well done! Submitted by JazzBaby, 6/29/2019.
++ You are welcome, JazzBaby! Submitted by DyNama, 9/13/2019.
The final episode of Perry concerned evil doings around a television show. This was probably designed to give all the behind-the-scenes workers a chance to come in front of the cameras and introduce themselves and say a little about their jobs. Submitted by PaulDrake 33. 4 March 2014.
Coincidentally on May 22, 1966, "In LA, the 18th Annual Emmy Awards are presented to 'The Fugitive [Outstanding Drama],' 'The Dick Van Dyke Show [Outstanding Comedy],' DVD/Leading Actor-Comedy & Mary Tyler Moore/Leading Actress-Comedy," wikipedia observes [takemeback.to 5.22.66 page]. Mike Bedard 3.19.15: MeTV AM airing of Episode 271.
FF has 2 Perry Rarities: Multiple Murders & One the viewers actually witness. Mike Bedard 3.19.15
The final line of the final show belongs to Perry. "Now it seems to me the place to start is at the beginning". What a wonderful boss and co-worker Raymond Burr must have been, considering how many people did the whole 9 years. Submitted by PaulDrake 33. 4 March 2014.
+ AMEN! The series came Full Circle! Mike Bedard 2.27.15.
The show never had a Christmas episode. Submitted by Perry Baby 10/17/16.
+ No, but it had a Valentine's Day episode ("Romantic Rogue," broadcast on 2/14/59) and a Memorial Day episode ("Golden Oranges," which featured a Memorial Day parade even though the episode was originally broadcast in March). Submitted by Wiseguy70005, 4/11/18.
++ The series also had a Hallowe'en episode, #159 The Case Of The Dodging Domino, original airdate of 25Oct1962. jfh 15May2020
I've just finished watching every episode on DVD and have read every page here right after watching each episode. A couple of minor things have bugged me. The same interior has been used many times for a wealthy person's house. The same staircase, lobby and study, with only minor changes. Never seen that mentioned in these pages. Also none of the exteriors used for Perry's office could be possible as Perry's office has a balcony and none of the buildings shown has balconies. Submitted by Larry Baby 10/23/17.
+ Excellent observation, Larry. Don't forget this show was associated with the low-budget Columbia Pictures system, so those interiors also likely appeared in the works of The Three Stooges, as well as the Boston Blackie series. JohnK, 23 October 2017.
++ I've made both observations several times. There is also an apartment set that appears dozens of times (Silent Six). Also various stage dressing - the door with decorative plaques, screen with elongated stars, sconces with pierced metal shades, black chest with curvy gold trim- that appear over and over. This was a very economically produced show. DOD 04/20/18
+++ Comments on the re-use of the "rich house" stair case set, as well as paintings, lamps, and more, have been made a number of times. Ditto for the topological impossibilities associated with Perry's office building. As time goes on, more and more of these are noted in the Trivia sections. If i ever watch the series again, i will take note of the "banjo" barometer, the paired sconces, the big globe and the little globe, the metal money box, the tubular door chimes, and many more things i saw repeatedly but did not note. I am grateful to those who tracked the Curious Coffee Set, and i did my part by tracking the West Bend Thermo-Serv set and mysterious Menorah Mailbox. Submitted catyron, August 19th, 2018.
What catyron said. There is abundant note taken in the trivia sections about every detail, from the famous staircase to the paintings used. I am massively impressed by the eye for detail of so many PM fans; without them, I would never have noticed these things! Submitted by JazzBaby, 6/29/2019.
I don't know if anyone has so speculated elsewhere, but "judging" from ESG's surprised reaction, I think that Raymond Burr completely ad-libbed the "Would you mark this?" bit during the second court case so as to involve him more in the action. TriviaSleuth 8/8/19
Super trivial trivia: When Jackson calls Barry a "super egomaniac" he isn't very accurate: the "super ego" is "the part of a person's mind that acts as a self-critical conscience, reflecting social standards learned from parents and teachers". Yeah, yeah, I know, the writers intended the comment to mean an extreme egomaniac, it just caught my ear this time. jfh 15May2020
Pete Desmond tells Lt. Drumm that a 7th gun showed up in the prop box. What does Drumm do? He says "Thank you" and walks away leaving the evidence in the box. Kilo 5/21/2020.
<< Crafty Kidnapper | Episodes | Horoscope Homicide >>