<< Malicious Mariner | Episodes | Meddling Medium >>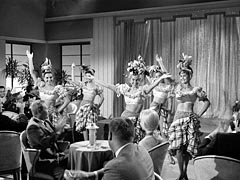 #128: The Case of the
Crying Comedian
Original Airdate: 10/14/61
From The Perry Mason TV Show Book (Revised)
Big-time comedian Charlie Hatch learns that the woman he loved and lost, Anne Gilrain, has escaped from a sanitarium for alcoholics. Charlie knows her husband had talked her into committing herself and he would like to take Anne away from the dirty situation.
When the husband is murdered, Charlie is afraid that Anne may have done it. He sets himself up as a likely, suspect to protect Anne. (Now that's either real love or real stupidity.) He easily gets himself arrested for the murder, and now he needs a heck of an attorney to cut through this facade.
Watch for Jackie Coogan, Uncle Fester of The Addams Family, who plays Gunner Grimes in this episode.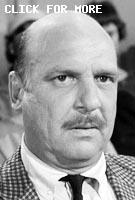 Opening
Starring Raymond Burr
in The Case of THE CRYING COMEDIAN
Based upon Characters Created by Erle Stanley Gardner
Barbara Hale, William Hopper, William Talman, Ray Collins
Trailing
Directed by Arthur Marks
Written by Robert C. Dennis
"Perry Mason"
Art Seid | Producer
Gail Patrick Jackson | Executive Producer
Jackson Gillis | Associate Producer
Produced by The CBS Television Network in association with Paisano Productions
Samuel Newman | Story Consultant
Raymond Burr as Perry Mason
Barbara Hale as Della Street
William Hopper as Paul Drake
William Talman as Hamilton Burger
Ray Collins as Lt. Tragg
Cast
Tommy Noonan as Charlie Hatch
Jackie Coogan as Gunner Grimes
Gloria Talbott as Ann Gilrain
Sue Ane Langdon as Rowena
Med Flory as Sgt. McVey
Stacy Harris as Ed Brigham
Liam Sullivan as Tom Gilrain
John Gallaudet as Judge
Nestor Paiva as Nico
John Alvin as Manager
Louis Mercier as Remy
Ray Dannis as Reese Lordan
Art Lewis as M. C.
Alan Reynolds as Dr. Iverson
Carl Milletaire as Bolin
Charles Stroud as Court Clerk
Crew
Director of Photography … Robert G. Hager
Art Direction … Lewis Creber
Assistant Director … Robert G. Stone
Film Editor … Richard H. Cahoon, A.C.E.
Casting … Harvey Clermont
Makeup … Irving Pringle
Hair Stylist … Annabell
Wardrobe Supervision … Ed McDermott, Evelyn Carruth
Set Decoration … Charles Q. Vassar
Properties … Ray Thompson
Production Sound Mixer … Herman Lewis
Script Supervision … M.E.M. Gibsone
Automobiles Supplied by … Ford Motor Company
Titles and Opticals by … Pacific Title
Anomaly: Med Flory, listed as Sgt. McVey, is introduced to Perry as Lt. McVey by Lt. Tragg. Submitted by daveb, 12/20/2007.
Stacy Harris makes his final of three appearances on Perry here playing Ed Brigham. Stacy Harris was a favorite of Jack Webb. Stacy Harris starred in the 1954 Dragnet movie, was in the original Dragnet five times and in Dragnet 1967 eight times. Jack Webb even named his eldest daughter "Stacy" after Stacy Harris. Submitted by PaulDrake 33, 3 November 2009.
+ This is the first of three Perry episodes for Stacy Harris. jfh 20Feb2019

Tommy Noonan plays comedian Charlie Hatch in his only Perry appearance here. Tommy Noonan was in fact a stand-up comedian, teaming up with Peter Marshall (Yes, the same Peter Marshall who later hosted Hollywood Squares), in a Martin and Lewis-style act for several years. Tommy Noonan was the half brother of western actor John Ireland. Tommy Noonan died much too early at the age of 46 from brain cancer. Submitted by PaulDrake 33, 3 November 2009.
+ Noonan is best known for his role in "Gentleman Prefer Blondes". DOD 10/14/18
Sightings: Distinguished Gentleman #1 appears as a waiter in the restaurant scene (Nico's) with Hatch (Tommy Noonan), Tom Gilrain (Liam Sullivan), & Ann Gilrain (Gloria Talbott). The Gentleman actually holds back Hatch from hitting Gilrain. And in the courtroom scene, the Pencil Mustache Man sits next to Ann Gilrain. Submitted by Kenmore 9/19/10.
+ Also in the courtroom gallery, just two seats away from the Pencil Mustache Man, sits Quiet Old Man #2. On the prosecutor's side, Distinguished Lady #1 watches with great interest. Submitted by gracep, 11/28/2010.
+ The Little Old Lady in a Hat can also seen on the prosecution side just as court adjourns the first time. Submitted by daveb, 12/5/2010.
: Paul takes Ann Gilrain to the drive-in restaurant for a burger and coffee in his black 1961 Thunderbird Convertible, top down, Lic No VNE 547. Some of the background cars in and around the drive-in are:
See Ep#121 Comments for a Jaguar primer. Added by Gary Woloski, 1/21/13.
Continuity Error: In the scene at Nico's, we see Rowena (Sue Ann Langdon) standing in the background near the stairs when Tom Gilrain arrives and confronts Hatch. Yet when Gilrain tells Hatch to stay out of it because he's "talking to his wife," we get a cutaway of Rowena descending the stairs and arriving in the restaurant. Submitted by Kenmore, 9/19/2010.
Character Names: During the course of the hearing, we learn that Rowena's last name is Leach and that Gunner's real name is Elwood P. Grimes. Submitted by gracep, 11/28/2010.
+ "Elwood P." is the first name and middle initial of the main visible character of the hugely popular 1944 play Harvey by the American playwright Mary Chase. In 1950, Harvey was made into a hugely successful movie starring James Stewart. jfh 15Oct2018.

Location: The famous Culver Hotel where the Munchkins stayed making the Wizard of Oz is seen briefly 13:20 into the DVD version of this episode. It is also seen in episodes #56 and #168. Submitted by Eric Cooper, 20 May 2011.
+ The sign on the building reads "Hotel Culver City." Submitted by catyron, 2/3/2018.
Honorable Discharge: Actor Med Florey was USAF Captain McVey in episode 120 TCOT Misguided Missile. In this story he was LAPD Lt. McVey. Submitted by H. Mason 11/12/14
The Glen Haven Sanitarium was the Kendall home in episode 101 TCOT Wandering Widow. Submitted by H. Mason 11/12/14
After Burger finishes examining Mrs. Gilrain, Perry isn't given an opportunity to cross-examine at the time, or even asked if his cross-examination will take too much time before adjournment. The judge automatically announces that court will reconvene the next morning. This artificially gives Perry time to investigate the bank before the cross-examination the next day. Submitted by Wiseguy70005, 12/14/14.
Even though court reconvenes the next morning, other than Perry, Paul (seen in the tag presumably on the night of the trial's end with Perry wearing the same clothes) and Burger, most characters are wearing the same clothes as the day before. In addition, the same woman shown sitting next to Lt. McVey previously is there again the next morning. Charlie, however, was allowed to change out of his prison/trial suit. Submitted by Wiseguy70005, 12/14/14.
Barbara Hale does not appear in this episode. Since it was the first episode produced for the fifth season (the first two episodes broadcast were holdovers from the fourth season) perhaps she couldn't get back from a vacation or another acting job in time. Perhaps because of her absence two other actual fifth-season episodes were aired before this one. Submitted by Wiseguy70005, 12/14/14.
+ CC was Barbara's 3rd Credit-Only episode. "As a young girl, Ms. Hale intended to major in art & drawing...she [attended] the Chicago Academy of Fine Arts...On the Perry Mason set she sketched constantly," IMDb observes. Mike Bedard 3.18.15
This is the first of three PM appearances for Sue Ane Langdon, whose mother was an operatic soprano...MikeM. 9.27/2016
This is the second of four PM appearances for Gloria Talbott, who was a child actress in 1937 and became inactive in 1966...MikeM. 1/3/2017
Jackie Coogan may be the only PM alumnus with a law named after him. The best known and highest paid child star of the silent era (Charlie Chaplin's "The Kid"), virtually all his earnings were spent by his mother and stepfather, leaving him broke when he reached adulthood. At the time, the earnings of a minor legally belonged to the parents. His mother was thoroughly unrepentant and was dubbed The Most Hated Woman in America. California later passed what was dubbed The Jackie Coogan Law, requiring a percentage of a child's earnings to be put in trust until the child reached maturity. Coogan was the first husband of a teenage Betty Grable, and they both appear briefly in the fun movie "College Swing". DOD 10/13/18
Comments

Edit
Here is another example of the bizarre and terrible treatment of women throughout this series—which is of course a reflection of its time. In the restaurant, Ann Gilrain has made it clear that she doesn't want to return to her husband, Tom. When the owner breaks up the fight between Gilrain and Hatch, he tells Gilrain to take his wife home. When Hatch tries to stop them, the owner says, "A man's got a right to take his wife home. A cop would tell you the same thing." What about her right to decide when and where she will be? Getting married means a woman gives up all her rights as an adult? Submitted by gracep 11/28/2010.
+ In the early 60s it did. Women were considered to be the property of their husbands. In general, they had no rights of their own. So this show is just portraying things EXACTLY as they were back then. In reality, even though things are much better now, things haven't really changed all that much; but just enough to look like they have.
++ Here's a perfect example of how things were. My parents divorced in '64. She had a charge account at a local department store. They informed her that, in order to keep her charge account she needed a letter from my father giving her permission to have an account.
She went and spoke directly to the owner and reminded him that she had always had an account there and her ex-husband wasn't even on it, nor was he even one of their customers, so if they were going to cancel her account because of the divorce, she would never set foot in there again, and neither would any of her friends.
The manager looked through the records & confirmed that she had never needed permission before, AND had spent quite a bit of money there, and let her keep the account.
Be thankful you live in 2010, not 50 years earlier. Submitted by Arisia, 03/20/18.
+++ The woman as property is prevalent in Perry Mason and other shows, and is still evident today in the "engagement ring," designed to show that the woman has been purchased. Ironically, women brag of their rings! cgraul 7.26.12
Sue Ane Langdon. Dimples and more. Absolutely delicious .. Submitted by MikeReese 12/24/2015.
+ See above discussion of "Women As Property". jfh 15Oct2018.

Men's fashions: I particularly like the light colored ties worn with light colored (presumably, white) dress shirts worn by both Perry and Hamilton in the courtroom scenes in this episode. jfh 20Fen2019
<< Malicious Mariner | Episodes | Meddling Medium >>