Show144
<< Poison Pen-Pal | Episodes | Crippled Cougar >>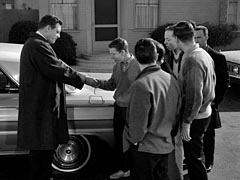 #144: The Case of the
Mystified Miner
Original Airdate: 02/24/62
From The Perry Mason TV Show Book (Revised)
There's something very wrong at the Corning Company. First, $200,000 mysteriously turns up in a shoebox. Then an employee reports she's been forwarding a large payroll to the company's Mojave Monarch Mine. Trouble is, the mine is "dry." Things really get strange when a woman claiming to be the company owner, Amelia Corning, shows up; no one has ever seen her before. No matter, because she soon disappears.
Perry enters the case when the mine's foreman winds up dead and one of the company's employees is charged with the murder. This thoroughly enjoyable episode is based on one of Erle Stanley Gardner's later books.
[Revised to correct "Mojave" spelling.]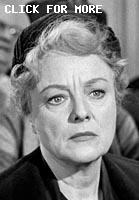 Opening
Starring Raymond Burr
in Erle Stanley Gardner's
The Case of THE MYSTIFIED MINER
Based on The Case of the Spurious Spinster
Barbara Hale, William Hopper, William Talman, Ray Collins
Trailing
Directed by Francis D. Lyon
Teleplay by Jackson Gillis
"Perry Mason"
Art Seid | Producer
Gail Patrick Jackson | Executive Producer
Jackson Gillis | Associate Producer
Produced by The CBS Television Network in association with Paisano Productions
Samuel Newman | Story Consultant
Raymond Burr as Perry Mason
Barbara Hale as Della Street
William Hopper as Paul Drake
William Talman as Hamilton Burger
Ray Collins as Lt. Tragg
Cast
Kathie Brown as Susan Fisher
Josephine Hutchinson as Amelia Corning
Carlos Rivas as Alfredo Gomez
Bartlett Robinson as Endicott Campbell
Sheila Bromley as Elizabeth Dow
Wesley Lau as Lt. Anderson
John Gallaudet as Judge
Stanja Lowe as Sophia Elliot
Louise Lorimer as Cindy Hastings
Patrick Thompson as Carlton Campbell
Michael Harvey as Ken Lowry
Helen Brown as Carlotta Jackson
Maidie Norman as Maid
Robert J. Stevenson as Myrton Abert
Lenny Geer as Station Attendant
Pitt Herbert as Autopsy Surgeon
Howard Redman as Boy No. 1
Martin Dean as Boy No. 2
Christian Pasques as Boy No. 3
Uncredited Actors
Lee Miller as Sgt. Brice
Crew
Director of Photography … Robert G. Hager
Art Direction … Lewis Creber
Assistant Director … Robert G. Stone
Film Editor … John D. Faure
Casting … Harvey Clermont
Makeup … Irving Pringle
Hair Stylist … Annabell
Wardrobe Supervision … Ed McDermott, Evelyn Carruth
Set Decoration … Charles Q. Vassar
Properties … Ray Thompson
Production Sound Mixer … Herman Lewis
Script Supervision … M.E.M. Gibsone
Sound … Glen Glenn Sound Co.
Automobiles Supplied by … Ford Motor Company
Titles and Opticals by … Pacific Title
Perry Mason \ A Film Presentation
A CBS Television Network Production
TCOT Mystified Miner (this current Perry Mason episode) was based on the Erle Stanley Gardner novel titled ''The Case of the Spurious Spinster". Submitted by Charles Richmond, 26 April 2013.
Location: The establishing shot of where the Corning Company offices are (presumably) located is the former Tishman building at 615 S. Flower. (The lettering at the top of the building probably says "Tishman 615"). Nowadways it also has an entrance at 811 Wilshire. The building was built circa 1960 and at the time was one of the tallest buildings (22 stories or so) in LA. I think LA used to have a prohibition against really tall building because of the earthquake danger. When these images where taken, the building had a rather striking blue applied ceramic tile exterior. It was remodeled in the early 1990s and has a travertine facade now. While the lines of the building are the same, it looks very much different. Not sure what direction the Perry Mason image is taken from at present, though. Today it's dwarfed by much taller buildings which, IMHO, have ruined the character of places like San Francisco and Los Angeles. Submitted by billp, 23 November 2010.
+ If you want a good idea of what the building looked like circa the time of this episode, watch the beginning of the cult sci-fi classic, The Omega Man, which was filmed circa 1971. The building features prominently in that film's opening. See here for how the building used to look, about 42 seconds into the excerpt. Note the YouTube poster has edited another musical selection onto the clip. It actually used "A Summer Place." For other pics, see also here and here. Submitted by billp, 23 November 2010.
About 45:44 into the episode, we see a police car travel down East 1st Street, heading in a roughly southeasterly direction. The camera starts shooting near the entrance to City Hall South, travels southeast with Parker Center on the left, etc. Submitted by billp, 25 November 2010.
LOCATION: About midpoint Perry tells Della and Paul he's going to see if he can find a movie that just got out. We see a shot of Hollywood Blvd with a FOODTOWN Neon sign. Next to that sign you can see a half barrel shaped protrusion from the 2nd floor and barely read the words Sy Amber. Well, the Sy Amber clothing store is now Amber Enterprises. Its at 6646 Hollywood Blvd near Cherokee St. and if you google the address you can still see that half barrel shaped protrusion at 6636 Hollywood Blvd. Eric Cooper 21 Oct 16
Uncredited Actors: Very fleetingly, as Paul strolls through a restaurant's dining room to Perry's table, we see Bert Stevens at a table with a lady companion. Later, Lee Miller makes a cameo as the tight-lipped Sgt. Brice. Submitted by gracenote, 7/19/2011.
Sightings: In the back row of the courtroom gallery, we find Little Old Lady #1 and Quiet Old Man #1, not to mention Distinguished Gentleman #1 on the other side of the courtroom. These are some of the many favorite frequent faces to lurk in the background of this long-running series. Submitted by gracenote, 7/19/2011.
Words of the day: Campbell uses two fancy words for embezzlement when speaking of Ms. Fisher: peculations and defalcations. Submitted by gracenote, 7/19/2011.
CARS. (1) Paul's black 1962 Thunderbird Convertible, top down.
Background Cars. Perry drives to the Service Station to get Della. Cars in the service bays are:
Perry drives the rental Buick (5) to a drive-in restaurant and enters the parking lot behind a
Left to Right around the parking lot, the cars parked on the nearest laneway behind seating area are:
On the extreme Left, parked beyond the nose of the MG TD:
The screenshot at the top of this page shows Perry and the rental Buick, Car(5), stopped ahead of the white Comet, Car(m). After Perry hands over $20 and his keys (pictured), the boys push the rental Buick (5) past the old '49 Pontiac, Car(ℓ). Added by Gary Woloski, 3/20/13.
I want to thank Gary Woloski for his careful identification of classic cars! I especially enjoyed reviewing each car in the parking lot scene. Submitted by 10yearoldfan, 19 July 2013.
As part of her ploy to entice information from the Service Station Attendant, Della says "Would you believe I'm 42?" On the original airdate, Barbara Hale was actually Jack Benny's age. Added by Gary Woloski, 3/22/13.
Goof: Soon after Miss Dow begins talking to Susan Fisher in the office, there is a moving shadow on her, as if someone had bumped into a light. It is quite obvious and I'm surprised the director didn't yell "Cut!" and start over. Submitted by 65tosspowertrap, 10/19/2013.
It's for you, Mr. Mason: In Amelia Corning's suite, Perry's questioning the rather creepy Sophia Elliot when she fields a call for him from Della. Submitted by francis, 10/24/14.
The Big 3: near the end we got to see Lt. Tragg, Lt. Anderson and Sgt. Brice working with Perry and Paul. Submitted by H. Mason 11/25/14
This is the first of four PM directing credits for Francis Lyon, who was co-recipient of the 1947 Academy Award for Editing on "Body and Soul"...MikeM. 10/19/2016
This is the second of four PM appearances for Kathie Browne, who was married 34 years to Darren McGavin...MikeM. 1/25/2017
This is the second of six PM appearances for Bartlett Robinson, who was the first radio voice of Perry Mason...MikeM. 20/25/2017
Comments

Edit
According to IMDb, Ray Collins once again did not appear despite being billed as Lt. Arthur Tragg. (I forgot to note this at the time I watched it, so I am not sure if this is so.) Submitted by gracep, 1/7/2010.
+ Having just seen the episode, I can verify that Ray Collins does appear in the episode. He has a rather amusing scene at Della's desk with Perry as he learns about the fingerprints left on the rental car. Submitted by Kenmore 1/15/2011.
Not only does he appear, he gets to pull Perry's stunt of getting a call on someone else's phone. DOD 12/02/20
+ and he does so over Perry's objection: Tragg reaching to answer Della's ringing phone while perched on Della's desk, "May I?", in response to which Perry answers,"No." Tragg answers Della's phone anyway. jfh 08Aug2022

Lt. Anderson appears in court but plays no part in the story. DOD 12/02/20

"Maid" was played by an actress named "Maidie". According to IMDb, "Maidie Norman was born Maidie Ruth Gamble on October 16, 1912, in Villa Rica, Georgia, to Louis and Lila Gamble. She received a B.A. from Bennett College in 1934 and a master's degree from Columbia University three years later." jfh 08Aug2022

That staircase set from the previous episode appears again. A subtly racially diverse episode - the gallery features some African American and Asian spectators, and the bailiff is Af-Am. No testimony as to the cause of death, which we never learn. We get a good view of Della's unique filing system - separate drawers for each of the first eight letters of the alphabet, but not in order. DOD 11/06/18
+ The cause of death was a blow to his head using a heavy rock. jfh 08Aug2022
Very unusual episode in that the murder victim is someone who appears in exactly one scene, and doesn't seem to be very important (at least not at first). But it is thoroughly enjoyable, as the Summary says, with plenty of surprises. Submitted by gracenote, 7/19/2011.
I agree - in all the series, I think this episode has the most unexpected villain and victim. DOD 12/17/31
It really was a kinder, gentler time. You can bet if Perry gave a set of car keys to a group of youths in LA today, he would likely not return to the car with the tire changed. Submitted by Mason Jar, 7/21/2011.
There is some very clever camera work in this episode: at 41:20, as Perry mocks the police interrogation techniques, we see the pertinacious Tragg watching dispassionately, just over Mason's right shoulder, and shortly thereafter Lt. Anderson and the uniformed bailiff join the camera picture; I give another example below the spoiler bar. Submitted by 10yearoldfan, 19 July 2013.
At the risk of stating the obvious, Kathie Brown is very easy on the eyes. Submitted by 65tosspowertrap, 10/19/2013.
+ as are Raymond Burr and William Hopper. jfh 08Aug2022
Susan was working on a day the business was closed. Why was the suite door unlocked? Carlton was able to walk in. Submitted by H. Mason 11/25/14
I wondered the same. While Susan is working alone on Saturday, the building is unlocked, the office is unlocked, and the safe is unlocked. And after she puts a large sum of cash in the safe, she still doesn't even bother to close the safe door. Maybe people were more trusting in those days, or maybe I am just overly paranoid. --yelocab 26MAR19
I don't know how often Della discovered a dead body, but she sure seemed rather blase about the situation. Submitted by WJones 2/21/16

One of the women is kidnapped and sequestered several days before the preliminary hearing. When Tragg and company locate her during the hearing, drugged and on a bed, her hair and makeup including lipstick still look well cared for. I guess that the kidnappers took good care of her appearance because they didn't know if or when the police would drop by unannounced. Submitted by masonite, 23 November 2010.
+ That's actually not too farfetched. I remember seeing a TV show based on a Graham Greene story; a British businessman was arrested in the old USSR and accused of spying. (I think he was, but the story initially portrayed him as innocent.) Just before his trial "in camera" came up, they served him a big meal, and he said, "Ah, they want to fatten me up for the spectators." (Not verbatim.) He tucked right in to it. Submitted by MikeReese, 12/1/2011.
Another example of clever camera work in this episode: at 28:00 ff. in the foreground (!) we see Cindy Hastings (the kidnapper) working at the Car Rental Agency before Perry even surmises her existence! Submitted by 10yearoldfan, 19 July 2013.
It's also clever writing to have the guileless child begin the episode shouting, "The pirates are coming!" before the eventual killer enters the screen, searching for him. Submitted by 10yearoldfan, 19 July 2013.
I'm a big fan of Perry, and I like the episode, but there are a number of holes in this plot:
How did the governess, Elizabeth Dow, find out that the mine was failing when Mr. Campbell himself did not know this information?
As a place to hide the money, why would Elizabeth Dow choose Mr. Campbell's closet, where either he or Carlton could find it?
Why would Elizabeth Dow not recognize her own shoebox and be sure to get it back from Carlton or from Susan Fisher?
How did Elizabeth Dow find out that Mrs. Corning had arrived a day early?
How could Elizabeth Dow fake a passport quickly enough to fool Paul's operative?
How could there possibly be only two sets of fingerprints in a rental car? The ladies hadn't planned to kill Ken Lowry, so why would they wipe the car clean before the crime, and if they had wiped the car clean after the crime, how were Lowry's prints on it, and how could they possibly have done such a careful job?\\-<
Submitted by 10yearoldfan, 19 July 2013.
+ You're absolutely right about the points you made, especially the passport. The women were supposed to be acting in desperation. To get a fake ID good enough to fool Paul and his operative would cost money (they lost their cash) and it would take connections. Submitted by H. Mason 11/26/14
++ Hands off The last point is fairly easy to explain: remember this was the early 60's...women routinely wore gloves; so it's not hard to imagine the victim's prints being present, but not the perp's (the complete absence of any other prints is less logical....U-drive must do a thorough cleaning!) But if we've taken away one problem, let's add another: what, exactly, were they planning to do with (the real) Mrs. Corning?? And why kill Lowry, when he really had far less in the way of incriminating info that either she or Susan?? Notcom 051623.
Yes, like so many episodes, this plot does not stand close scrutiny. I'm not sure the passport would have been necessary, though. The impostor would sim[ly have to be at the airport and claim to have just gotten off a plane. DOD 11/06/18
Other Questions: Why was the money kept at the Campbell house? Couldn't Perry or Paul have checked airport records to see the second (phony) Amelia Corning didn't arrive from South America and the first (real) Amelia did? Submitted by H. Mason 11/25/14
<< Poison Pen-Pal | Episodes | Crippled Cougar >>