Show150
<< Borrowed Baby | Episodes | Ancient Romeo >>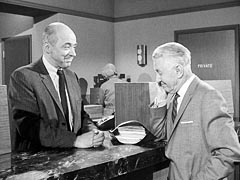 #150: The Case of the
Counterfeit Crank
Original Airdate: 04/28/62
From The Perry Mason TV Show Book (Revised)
A young Burt Reynolds has a bit part in this episode, and Connie Hines (Carol in Mr. Ed) plays the victim's wife.
Businessman August Dalgran enjoys throwing money away. In the opening scene he is dropping fistsful of dollars from his office window and gleefully observing the pedestrians below as they scramble for the loot.
Gus agrees to psychiatric testing but later, when he is accused of killing his nephew Kenneth, he admits the insanity was all an act.
Opening
Starring Raymond Burr
in The Case of THE COUNTERFEIT CRANK
Based upon Characters Created by Erle Stanley Gardner
Barbara Hale, William Hopper, William Talman, Ray Collins
Trailing
Directed by Jerry Hopper
Written by Robert Leslie Bellem
"Perry Mason"
Art Seid | Producer
Gail Patrick Jackson | Executive Producer
Jackson Gillis | Associate Producer
Produced by The CBS Television Network in association with Paisano Productions
Samuel Newman | Story Consultant
Raymond Burr as Perry Mason
Barbara Hale as Della Street
William Hopper as Paul Drake
Wiliam Talman as Hamilton Burger
Ray Collins as Lt. Tragg
Cast
Otto Kruger as August Dalgran
Jeanette Nolan as Martha Blair
Don Dubbins as Kenneth
Connie Hines as Sandra
John Larkin as Jay Fenton
Burt Reynolds as Chuck Blair
Michael King as Don Morley
William Woodson as Dr. Jackman
Paul Langton as Bertram Telford
Charles Irving as Judge #1
S. John Launer as Judge #2
William Keene as Bank Teller
John Hubbard as Joseph Tayback
Russ Bender as Deputy Bowman
Barney Biro as Judge #3
Paul McGuire as Deputy Turner
David Saber as Joe Fanning
Uncredited Actors
Lee Miller as Sgt. Brice (spotted by gracep, 1/4/2010)
Crew
Director of Photography … Robert G. Hager
Art Direction … Lewis Creber
Assistant Director … Robert G. Stone
Film Editor … John D. Faure
Casting … Harvey Clermont
Makeup … Irving Pringle
Hair Stylist … Annabell
Wardrobe Supervision … Ed McDermott, Evelyn Carruth
Set Decoration … Charles Q. Vassar
Properties … Ray Thompson
Production Sound Mixer … Herman Lewis
Script Supervision … M.E.M. Gibsone
Sound … Glen Glenn Sound Co.
Automobiles Supplied by … Ford Motor Company
Titles and Opticals by … Pacific Title
Perry Mason \ A Film Presentation
A CBS Television Network Production
At August Dalgran's competency hearing, Perry intervenes saying "...Section 1461 of the California Probate Code provides that any relative or friend of the alleged insane or incompetent person may appear and oppose such a petition." There is in fact such a code and section. Read it here if you dare. Submitted by Steve Fox, 12/2/04. [Perry's statement doesn't seem to jibe with the current code.]

Also at the competency hearing, August Dalgren quotes, "Ask no questions, and you'll be told no lies.", then attributes the quote to Kipling. It is actually a quote by Charles Dickens. jfh 08Aug2022 >>>>>>>
John Larkin makes his first of four appearances on Perry playing Jay Fenton. John Larkin was the voice of Perry Mason on radio for several years. He is probably best known to television viewers as D.A. Mike Karr on the afternoon soap opera Edge of Night. Submitted by PaulDrake 33, 9 August 2009.
Location: The final scene was probably in Upper Iverson Ranch, Garden of the Gods area, in Chatsworth where many movies and television shows were shot. See episode #88 TCOT Bashful Burro for more about this area. Submitted by Eric Cooper, 3 May 2010. See also Location Trivia.
+ I agree and would vote to change Eric Cooper's "probably" to "certainly." As a long-time fan of the Iverson Movie Ranch, i am sure that's the location. Submitted by catyron, April 2, 2018.
++ The Dalgran offices are in Hollywood, on the Walk of Fame: when August opens the window and looks down, before tossing out the money, you can see the "Walk of Fame" stars in the sidewalk. OLEF641 2/24/21
Character Names: We learn that Kenneth and Sandra's last name is also Dalgran (so presumably Ken is August's brother's son). Submitted by gracep, 1/4/2011.
Continuity Error: A slight editing error. In court, during the murder hearing, just before the break, there's a shot of Sandra (Connie Hines) in the gallery wearing a different hat than she wore earlier on the stand and in other such shots. This hat is seen again after the break during Burger's summation and afterward. This appears to be on the next day as it was dark outside during the break scene in Perry's office. And, Martha Blair's hat has changed as well. Submitted by dave, 4/20/2011.
CARS. (1) white 1962 Mercury Commuter 4-door station wagon, Gus Dalgran.
Car (2) appears again in Ep#169. Added by Gary Woloski, 4/08/13.
It's for you, Mr. Mason: We get a double-header in this episode. Perry is quizzing the delectable Sandra in her living room when she hands him over to Paul, who's calling from a phone booth (remember those?). Later, Perry's in the Dalgran offices when the secretary summons him to her desk. It's that detective again. Submitted by francis, 11/01/14.
Judge: Actor Charles Irving made his third appearance as a judge. He was on the bench in the disturbing the peace case (Judge #1). His other two cases were outside of Los Angeles, episode 130 - Palm View and episode 135 - Euclid Heights, which seemed to be in L.A. County. Submitted by H. Mason 12/9/14
"Judges" ?: How many Perrys had 2 Judges in the Same episode & how many had 3 like this one? Mike Bedard 2.15.15.
Perry's client on the stand: This was the first time Perry had his client testify. Because of a technicality in episode 38 (TCOT Terrified Typist) the man on the witness stand wasn't Perry's client. In this story Mr. Burger didn't get a chance to question the defendant. Submitted by H. Mason 12/9/14
Unsolved Mysteries: What happened to the murder weapon? (see comments below) Submitted by H. Mason 12/10/14
In a Rare "casual dress" scene, Perry's tie is undone and hanging loosely around his neck in the office. Mike Bedard 4.27.2016
This is the second of two PM appearances for Connie Hines. Connie Hines began her role as Carol Post on the Mister Ed series in 1961. She did the 144th final episode in 1966...MikeM. 10/27/2016
This is the only PM appearance for Burt Reynolds, who would later star for one season in the television series "Dan August"...MikeM. 2/2/2017
+ He would also begin, within six months of the airing of this episode, a three-season run as Quint Asper in the long-running CBS series "Gunsmoke". Notcom, 020317.
++ I believed that Burt Reynolds' career did pretty well after that. Submitted by Kenmore 08/31/2020
+++ Amidst that not too bad run appeared the 1973 movie Shamus, suggesting that the term - seen on PM in TCOT Jaded Joker - was at least fairly well known. Notcom 083120.
This is the second of seven appearances for Don Dubbins. A frequent player who played a character named "Bill Vincent" in two separate episodes, as well as a character whose last name is "Vincent" in his last PM appearance: Hartley Elliott in the Duplicate Daughter 121 5/20/61; Kenneth [Dalgran] in the Counterfeit Crank 150 4/28/62; Ned Bertell in the Prankish Professor 168 1/17/63; Burt Blair in the Duplicate Case 238 4/22/65; Bill Vincent in the Impetuous Imp 246 10/10/65; Bill Vincent in the Golfer's Gambit 259 1/30/66; Deputy D.A. Vincent in the Misguided Model 268 4/24/66. jfh 14Nov2018.
Dubbins joins HM Wynant and Walter Burke in playing a prosecutor as well as a victim, suspect, or killer. DOD 12/27/21
Counterfeit Crank...Late 18th century (in the sense 'sickly, in poor health'): perhaps from obsolete (counterfeit) crank 'a rogue feigning sickness,' from Dutch or German krank 'sick.'...MikeM. 11/2/2017
Clever Tragg: At about 31 minutes in, when Perry is in the Dalgran offices sneaking a late-night look at the books, Tragg and Brice arrive and Tragg quips something about "McGuffey's Readers" (meaning the company's ledgers). McGuffey's Readers was a series for primary school students in the late 19th and early 20th centuries; they sold in the zillions and are still available today (so says Wikipedia). Maybe Ray Collins learned from them himself. JohnK, 27 December 2021.
Comments

Edit
Sandra Dalgran's alibi is that she was at the movies watching Too Soon Blues. This may have been a nod to the film Too Late Blues, made in 1961 and released in January of 1962. The cast included Bobby Darin, Stella Stevens and Vince Edwards. Submitted by Mason Jar, 7/29/2011.
For some reason, a wood panel was placed beneath the witness chair blocking the view through the legs. Don Dubbins joins H M Wynant and Walter Burke in playing a prosecutor as well as victim, suspect, or killer. DOD 12/10/20
Crime Scene?: The murder happened at Kenneth Dalgran's house. Perry and Mrs. Dalgran were there a short time after the body was moved. Perry mentioned to his client that blood stains and scuff marks were seen at the house but the police were never shown examining the house or closing it while it was examined. Mrs Dalgran was there soon after the murder as if nothing had happened. Submitted by H. Mason 12/9/14
The Gun: Near the end of the hearing the defendant said the gun was beside the body. He never said he tried to hide it. The murderer said "that gun" during his confession almost seeming to indicate that it was in the courtroom. The gun was never shown and police or forensic personnel were not seen being questioned about the murder weapon. Submitted by H. Mason 12/10/14
+The 2nd gun: Chuck showed Perry & Paul his pistol at the oil rig, describing it as "my .45 Automatic. I've had it since I got out of the Army"; Technically, the M1911 is a SEMI-automatic because the 1st round has to be Manually chambered by pulling the slide to the rear. Mike Bedard 2.15.15.
+The M1911 was/is chambered in .45 ACP (Automatic Colt Pistol) aka .45 Auto by C.I.P. or 45 Auto by SAAMI, which adds to the term usage of "my .45 Automatic". Semi-Automatic refers to the requirement of one trigger pull for each round whereas Automatic refers to holding down the trigger which continuously discharges rounds as long as it is held in trigger pull. HamBurger 6.19.2016
Military Motifs: "Napoleon" & "Missile base" are part of the dialogue & "Dalgran" is similar to Dahlgren: The New York Times, March 10, 1862 states: "The new Ericsson Battery...or Monitor...has already had her first engagement with the enemy...The armament consists of two 11-inch DAHLGREN guns, which are the heaviest now used by the navy." Mike Bedard 2.15.15.
Unusual that a Mrs. Farnham testified (Mr.Burger says so) that the defendant put the body in a car trunk, but she was never seen in the episode! Submitted byWJones 2/25/16
Best part of this episode is the way Burt Reynolds filled out those white jeans! Why wouldn't August simply let his partners know why he wanted to hold on to that desert tract? In fact, it seems to me he would have a fiduciary obligation to do so. DODay 11/02/17

If we are to believe the final "confession", this is the second straight episode in which the circumstances of the decedent's demise are virtually the same: no premeditation, a quarrel arose, the decedent pulled out a gun and attacked, and the gun went off in the ensuing struggle, with it being unclear as to exactly who pulled the trigger. TriviaSleuth 8/12/2019
Derailed train-of-thought? I struggle to understand August's thinking: he repeatedly calls his nephew a "fine boy" and (even) engages in a lengthy charade so that said nephew will be appointed guardian, yet - as it is revaled at the trial - he is aware this person has embezzled money from the company....wouldn't that fact at least give a person pause ?? I think Perry may have concluded too soon a competency hearing is just a ploy. Notcom 051022
<< Borrowed Baby | Episodes | Ancient Romeo >>