Show151
<< Counterfeit Crank | Episodes | Promoter's Pillbox >>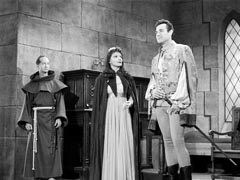 #151: The Case of the
Ancient Romeo
Original Airdate: 05/05/62
From The Perry Mason TV Show Book (Revised)
A night at the theater proves fatal. The lights mysteriously go out during the dueling scene between Romeo and Paris. When the lights come back on, the audience is shocked to see that the leading man playing Romeo has been stabbed to death. Perry's actor friend, Steve Brock, is accused of the murder, so the lawyer goes behind the scenes to investigate the cast of characters.
Perry decides to have the cast reenact the final scene that was played before "Romeo's" death to upstage the killer. When the action begins, this play begins to look more like Macbeth than Romeo and Juliet.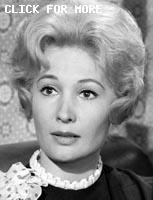 Opening
Starring Raymond Burr
in The Case of THE ANCIENT ROMEO
Based upon characters created by Erle Stanley Gardner
Barbara Hale, William Hopper, William Talman, Ray Collins
Trailing
Directed by Arthur Marks
Written by True Boardman
"Perry Mason"
Art Seid | Producer
Gail Patrick Jackson | Executive Producer
Jackson Gillis | Associate Producer
Produced by The CBS Television Network in association with Paisano Productions
Samuel Newman | Story Consultant
Raymond Burr as Perry Mason
Barbara Hale as Della Street
William Hopper as Paul Drake
Wiliam Talman as Hamilton Burger
Ray Collins as Lt. Tragg
Cast
Jeff Morrow as Franz Lachman
Rex Reason as Steve Brock
Harry von Zell as Phil Scharf
Patricia Huston as Claire Adams
Antoinette Bower as Ellen Carson
Wesley Lau as Lt. Anderson
K. T. Stevens as Margit Bruner
Kendrick Huxham as Kelvin MacRae
Robert Cornthwaite as Carl Bruner
Willis Bouchey as Judge
Donald Curtis as Amos Martin
Stafford Repp as Shipping Agent
Rosemary Day as Helen Finney
Charles Stroud as Court Clerk
Uncredited Actors
Don Anderson as Pilot Henry Whalen (spotted by FredK)
Bess Flowers as Audience Member (spotted by gracep)
Lee Miller as Sgt. Brice (spotted by gracep)
Crew
Director of Photography … Robert G. Hager
Art Direction … Lewis Creber
Assistant Director … Gordon Webb
Film Editor … Richard H. Cahoon, A.C.E.
Casting … Harvey Clermont
Makeup … Irving Pringle
Hair Stylist … Annabell
Wardrobe Supervision … Ed McDermott, Evelyn Carruth
Set Decoration … Charles Q. Vassar
Properties … Ray Thompson
Production Sound Mixer … Herman Lewis
Script Supervision … M.E.M. Gibsone
Sound … Glen Glenn Sound Co.
Automobiles Supplied by … Ford Motor Company
Titles and Opticals by … Pacific Title
Perry Mason \ A Film Presentation
A CBS Television Network Production
Harry von Zell makes his first of two appearances here on Perry playing Phil Scharf. Harry von Zell was a prolific old time radio announcer, most notably for George Burns, following him to television. Harry von Zell will forever be remembered as the announcer who introduced the 31st President of the United States as Hoobert Heever. Submitted by PaulDrake 33, 12 August 2009.
+ According to snopes.com, the slip-up occurred at the end of a narrative about Hoover in honor of the anniversary of his birth. The apocryphal story of him mis-introducing the President during his inauguration comes from a re-enactment on a blooper record. Submitted by gracenote, 2/2/2011.
The following commercials were shown during this episode's initial broadcast: Brought to you By (BTYB): Gleem Toothpaste commercial with Ken Wetherwax (Pugsly from the Addams Family); Prell Concentrate Shampoo; Loving Care hair color; Tarryton Cigarettes; Philips Milk of Magnesia; [Bayer card in credits] BTYB: Bayer and Philips Milk of Magnesia; CBS TV tag. Submitted by billp, 25 October 2009
Location: About 30 minutes in, Perry and Paul visit Amos Martin. I think the rock formation when they drive up is of Upper Iverson Ranch. Since there was a similar scene in the previous episode (#150) I am going to speculate that they filmed both at the same time to save money. If not they should have. Ha! Upper Iverson was used numerous times by Perry Mason as well as shows like Roy Rogers and many westerns. However, Perry's confrontation with Amos Martin seems to be shot in the studio and intercut with location footage. Other than this quick shot of the jeep pulling up and a scene in the theater alley, every other scene in this episode was shot inside. Submitted by Eric Cooper, 5 May 2010.
+ Eric's observation is supported by there being a different jeep in the studio-filmed "Confrontation Shot" than the jeep in the on-location "Approach Shot" which preceded it. See Car (2) below. Added by Gary Woloski, 4/09/13.
Submitted by Eric Cooper, 5 May 2010.
+ I love the magnificent Iverson Movie Ranch. How pathetic, then, that the director cut to the set-bound studio shot with a painted rock backdrop. Cheap, unconvincing, and unaesthetic. Submitted by catyron, April 2, 2018.
++ ... but much easier to control lighting, sound, etc. for filming. OLEF641 2/23/21
Uncredited Actors: This is one of Don Anderson's potentially more significant appearances. He portrays Henry Whalen, Amos Martin's driver and pilot. As Mason and Drake attempt to interview Martin, Anderson pulls a rifle from the Jeep he's driving and does some low-key intimidation of the unwelcome visitors. Later, we discover that Whalen was at the scene of the murder and is a key member of a smuggling ring. Improbably, he does not appear at the trial where his testimony would have been vital. Perhaps we're supposed to presume that he's in hiding. Despite his importance, Anderson has no lines. Submitted by FredK, 25 Oct. 2010.
Perry whispers to Della that Claire Adams is "not Katharine Cornell." Quite likely, as Miss Cornell (1893-1974) of Buffalo, NY, was once called "The First Lady of American Theater." More information at her website. Submitted by gracenote, 1/5/2011.
Uncredited Actors: This seems to be the episode for unacknowledged players. Besides Don Anderson (see above), we find a couple of others. During the Romeo & Juliet performance, Bess Flowers sits in front of unentertained Perry and Della. And Sgt. Brice (Lee Miller) shows up at the crime scene and dutifully questions potential witnesses in the background. Submitted by gracenote, 1/5/2011.
Although credited, Lt. Tragg (Ray Collins) does not appear, leaving the younger Lt. Anderson (Wesley Lau) to handle matters. Submitted by gracenote, 1/5/2011.
Reunited in this episode are Jeff Morrow and Rex Reason, who appeared in the 1955 sci-fi classic This Island Earth. Submitted by Kenmore, 1/18/2011.
+They also appeared together in the 1956 sci-fi not-so-classic "The Creature Walks Among Us." Submitted by BobH, 30 January 2017.
CARS. The sinister plate number KYL 907 re-appears in this episode!
(1) Perry' s black 1962 Ford Galaxie 500 Sunliner, top down, Licence Number XCF 015. Perry drives out to the NIDO ALTO Ranch with Paul.
(2) 1955 Willys Jeep CJ-5 or later year, med color, no top, Lic No KYL 907, Amos Martin with driver Whelan. Creepy KYL 907 previously appeared in episodes 9, 41, 97 & 107.
Two different jeeps were used to represent Car (2):
In the jeep's approach (shot on location) the windshield frame is the same color as the body and the jeep has no front attachments.
As Amos Martin gets out of the jeep to confront Perry & Paul (shot in studio), the jeep's windshield frame is black gloss and there is an A-frame towing attachment folded up on the jeep's front. Tipped-off by Eric Cooper's "Location" entry above.
"CJ" stood for "Civilian Jeep" derived from military Jeep M38A1. Added by Gary Woloski, 4/09/13.
+ KYL 907 also appeared in ep37 TCOT Black-Eyed Blonde. H. Mason 12/10/14
This is the first of two PM writing credits for True Boardman, who would later have writing duties on three episodes of Ironside...MikeM. 10/28/2016
This is the third of four PM appearances for Patricia Huston, who had a recurring role as Hilda Brunschwager on "L.A.Law"...MikeM. 2/3/2017
This is the only PM appearance for Rex Reason, who was born into an American family visiting Germany in 1928. Rex Reason passed in Walnut CA in 2015 at the age of 86...MikeM. 2/3/2017
+ Rhoades Reason, the younger brother of Rex, was also in a single Perry episode, The Case Of The Bogus Buccaneer. Rhoades died in 2014, aged 84. jfh 15Nov2018.
++ Curiously, Antoinette Bower - Reason's character's SO-in-waiting - was also born in Germany. And speaking of things German, as in Doppelganger, perhaps Ray Collins (see bottom) wasn't the only one making an out-of-body appearance: methinks Reason bears a marked resemblance to PM alum Don Durant; this would bring our unofficial tally of pairings to seven (sizable, but not quite enough for a Congressional seat...yet) Notcom, 042721.
Syndicated Cuts from FETV:
08:22 - 10:12 .. 1:50 Claire Adams performs Juliet in rehearsal
31:11 - 31:56 .. 0:45 Margit Bruner testifies
36:22 - 36:53 .. 0:31 Burger questions Kelvin MacRae during hearing
39:48 - 41:00 .. 1:12 Perry talks with Steve Brock outside theater before re-enactment
Total ............... 4:18
Submitted by DexterLakeClub, 02/24/22.
Comments

Edit
I have to agree with FredK (see Trivia item, above) that it is improbable to have Whelan missing from the hearing. It seems rather convoluted going on without him. What a shame the producers just didn't seem to want to pony up the money for Anderson to appear. (It's more frustrating when one realizes it would have been possible to have Anderson on screen without speaking at a time when his presence was most critical). Submitted by gracenote, 7/21/2011.
+ I have read that some television shows had to cut costs near the end of a season because they were low on funds. That seemed to be happening in this and the previous episode (#150) where two key characters were only mentioned [Mrs. Farnham and Mr. Hollingsworth]. Added by H. Mason 12/10/14
A professional theatre of that size (note the large stage and house) would have been a union house. At the re-enactment, Perry has Paul lower a "tormenter" (side blocking curtain), which would have been allowed under no circumstances without a union stagehand present—and probably even then the union would have prohibited Paul from operating the curtain rail, insisting a stagehand perform the function (at scale rates of course). Submitted by cgraul, 11/30/2011.
Having only ever seen Harry Von Zell as the jovial announcer on "Burns and Allen", I was very impressed by his dramatic ability here. The smuggling method may allude to a major plot point in "Gaslight". DODay 11/03/17
The Next Best Thing to Being There. As gracenote dutifully notes (above), Ray Collins does not appear in the episode...or does he ?? Maybe I'm the only one who thinks this, but don't Harry Von Zell's speech, mannerisms, and - to some extent - even his appearance in this episode bear an uncanny resemblance to Lt. Tragg ?? Notcom, 022418.
<< Counterfeit Crank | Episodes | Promoter's Pillbox >>