Show152
<< Ancient Romeo | Episodes | Lonely Eloper >>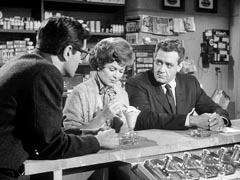 #152: The Case of the
Promoter's Pillbox
Original Airdate: 05/19/62
From The Perry Mason TV Show Book (Revised)
Perry goes back to "the old soda fountain" he frequented as a second home during his college days. He looks up old buddy Herbert Simms and learns that Herb aspires to become a TV scriptwriter. Herb's mom wants him to take over the family pharmacy, but Herbert has already submitted his first teleplay to producer Charlie Corby — who jokes he'd rather hire Rod Serling.
It's a shot in the dark for Herbert Simms, especially when Corby tries to use the play as his own. The scheme doesn't last long -- someone fatally clubs Corby with a whiskey bottle after a party. Herbert is seen running from the scene of the crime, and is arrested for Corby's murder. With Perry's help this won't be Herbert's last scene. Watch for Ivan Dixon, the actor who played Kinchloe in Hogan's Heroes and went on to be a TV director, in this episode.
Opening
Starring Raymond Burr
in The Case of THE PROMOTER'S PILLBOX
Based upon Characters Created by Erle Stanley Gardner
Barbara Hale, William Hopper, William Talman, Ray Collins
Trailing
Directed by Jesse Hibbs
Written by Peter Martin
"Perry Mason"
Art Seid | Producer
Gail Patrick Jackson | Executive Producer
Jackson Gillis | Associate Producer
Produced by The CBS Television Network in association with Paisano Productions
Samuel Newman | Story Consultant
Raymond Burr as Perry Mason
Barbara Hale as Della Street
William Hopper as Paul Drake
Wiliam Talman as Hamilton Burger
Ray Collins as Lt. Tragg
Cast
Geraldine Brooks as Miriam Waters
Dianne Foster as Nelly Lawton
George Matthews as Mike Flint
Ben Cooper as Davis Crane
Linden Chiles as Herbert Simms
Wesley Lau as Lt. Anderson
John Lasell as Charlie Corby
Edmon Ryan as Jerome Stokes
John Gallaudet as Judge
Geraldine Wall as Mrs. Simms
James O'Hara as Kelsey
Danielle Aubrey as Alice
Dan Seymour as Markett
Michael Fox as Autopsy Surgeon
Ivan Dixon as Parness
Kitty Kelly as Ethel Mowry
Chuck Webster as Gustavson
George Conrad as Chico
Crew
Director of Photography … Robert G. Hager
Art Direction … Lewis Creber
Assistant Director … Robert G. Stone
Film Editor … John D. Faure
Casting … Harvey Clermont
Makeup … Irving Pringle
Hair Stylist … Annabell
Wardrobe Supervision … Ed McDermott, Evelyn Carruth
Set Decoration … Charles Q. Vassar
Properties … Ray Thompson
Production Sound Mixer … Herman Lewis
Script Supervision … M.E.M. Gibsone
Sound … Glen Glenn Sound Co.
Automobiles Supplied by … Ford Motor Company
Titles and Opticals by … Pacific Title
Perry Mason \ A Film Presentation
A CBS Television Network Production
Anomaly: Ben Cooper, listed as Davis Crane, is called David or Davey by Charlie Corby, Nelly Lawton, and himself! Submitted via email by Mitch English, 12/27/2004.
Location: The opening scene (and another about 15 minutes into episode) of National Studios is actually General Services Studio where… you guessed it, the Perry Mason TV show was filmed. It still exists pretty much the way you see it except it's now Hollywood Center Studios. There are numerous references in various episodes to its address at 1040 N. Las Palmas. More information and photos can be found at 1040 N. Las Palmas. Episode #111, TCOT Waylaid Wolf, also features the guard gate shown in the opening scene of this episode. Submitted by Eric Cooper, 5 May 2010.
This studio has gone through many changes in ownership during almost a century.It is now the Sunset Las Palmas Studios. Submitted by Phil Ayling, 13 June 2018
There's a cup from the Curious Coffee Set on the table when Nelly makers her phone call. Submitted by daveb, 12/30/2010.
Sightings: That might be Distinguished Gentleman #1 seen through the pharmacy window as he walks, bespectacled, down the sidewalk. Additionally, a certain pencil-mustached man appears in the courtroom gallery in several shots. Learn more about these and other favorite frequent faces. Submitted by gracep, 1/6/2011.
+ In addition, the Pencil Mustache Man reappears on the set during the last take. He's wearing a hat and stands on the right side of the screen when we see the camera. Submitted by Kenmore, 2/5/2011.
+ We get some really fun closer views of him in the same scene, as part of the crowd gathered around Charley celebrating the wrap-up of the shoot. He's grinning and having a good time. Submitted by JazzBaby, 3/15/2019.
+ Quiet Old Man #1 also appears in the courtroom gallery, in a brief shot. Submitted by gracenote, 7/22/2011.
Star Trek Alert: The stenographer is (uncredited) Clark Ross, who also played an uncredited alien in the original series Star Trek episode, "A Piece of the Action." IMDb Clark Ross Credits. Submitted by MyFavoritePolarBear, 11/18/22.
First of two PM appearances for Ivan Dixon, who later played Sgt. James Kinchloe on "Hogan's Heroes". jfh 31Oct2016.
+Ivan Dixon also starred in the brilliant 1964 indie film "Nothing But a Man" about a railroad worker who meets and falls in love with a schoolteacher who is a preacher's daughter. If you have never seen this film, do seek it out it. Submitted by catyron, April 18, 2018.
++ To a large extent Dixon's appearance here marked the apogee of the show's efforts to portray African Americans in less stereotypical roles (he's an expert witness*). A year later it would take what might seem to be the ultimate step - an even loftier professional position (judge vs. a pharmacy inspector) - but that also marked something of a regression as the character never spoke (why he didn't speak is open to speculation, but it's noticeable that he doesn't). Notcom 042821. .*Perhpas a stretch as his observations don't really involve any expertise, but he's a witness because of his professional status, as opposed to simply being an incidental witness.
Character Names: The autopsy surgeon is presumably Dr. Hoxie since the same actor, Michael Fox, is portraying him as before. Board of Pharmacy inspector Parness's first name is Maurice. Submitted by gracep, 1/6/2011.
Music: The jazzy "Big Band" music that begins after Mike Flint shoots the final Mr. Nobody scene (approximately 16:50 on the DVD) is the same music that features prominently in Episode #108 TCOT Envious Editor. Submitted by Dan K, 17 February 2019.
CARS. (1) 1961 Chevrolet C60 Truck, light color, covered Stake Bed, "NATIONAL STUDIOS" markings. In the opening scene, Herbert Simms gets onto the studio lot by hitching a ride in the back of this truck. Hey! Keep your eyes on the truck's cargo - I think we've seen one of those crates before!
Amongst the tons of cars parked on the National Studios lot, these stand out:
Since it's likely that the "National Studios lot" is the real-world Paisano Studios, I'm inclined to say that the Paisano staff had very good taste in cars!
The large crate carried by the Chevy C60 Truck is labelled "NATHAN CLAVER COLLECTION - RIO DE JANEIRO"! The exact same crate is in the first and the last two screenshots here. The Claver Collection also appears in Episodes 118, 127 & 166 being burned, sunk, salvaged and/or warehoused. This ep roughly falls between the "salvaged" and the "warehoused". Added by Gary Woloski, 4/13/13.
Law Student: In this story we learned that Perry took some courses in the L. A. area. In episode 245 (TCOT Cheating Chancellor) we will see his alma mater. Submitted by H. Mason 12/11/14
Perry's (Not so) "Old Buddy": if IMDB is to be believed, Linden Chiles (Herbert Simms) was young enough to be Raymond Burr's son...still the right side of 30 when this episode was filmed. Submitted by Notcom, 012616.
+ I believe, Notcom, that a closer listen to the script will convince you that Perry was the friend of Herbert Simm's father, the late pharmacist, and was cared for, motheringly, by Herbert's mother, Mrs. Simms. In other words, he fell between the two generations and was a college student when he met the Simms family. I would also like to note that despite the name Simms, Mrs. Simms' character dialogue, right down to the chicken soup at the end, is played as "stage Yiddish," or Jewish-American. Submitted by catyron, April 18, 2018.
This is the first of four PM appearances for Dianne Foster who, like Raymond Burr, was born in Canada...MikeM. 10/31/2016
This is the only PM appearance for Geraldine Brooks, who was married to writer Budd Schulberg...MikeM. 2/6/2017
According to IMDb, the Peter Martin who wrote this episode has one other writing credit, in 1955 for the television series "I Spy", which featured Raymond Massey as Anton the Spymaster...MikeM. 2/6/2017
The Case of the Missing Jews: This episode is highly strange to me, a Jewish-American woman. I have no idea of the ethnicity of the relatively unknown screenwriter Peter Martin, but this script is filled to the brim and overflowing with old-school Jewish / Yiddish jokes and phrases, many of them mouthed, very poorly, by non Jewish actors.
Phrases like "the whole megillah" (the entire scroll, a reference to the Book of Esther and the reading of the whole megillah at the festival of Purim),
The Stan Lee like character Corby calling everyone "Baby" and wearing a white shirt and dark cravat (Stan Lee was Jewish)
The Jewish-appearing and speaking bartender named Chico (a shout-out to Chico Marx, a Jew who famously played a Sicilian / Italian)
The Simms family pharmacy (at that time, there was a preponderance of Jewish-owned drug stores in America)
The repeated mentions of Rod Serling (Serling was a well-known Jewish screen writer of the era)
Mrs. Simms with her home-made chicken soup in an obvious dill pickle jar inappropriately foisted on the non-Jewish Perry (dill pickles are a Jewish stereotype food, as is chicken soup, and motherly women forcing Jewish-ethnic food on non-Jewish friends of the family is a typical Jewish comedy stereotype)
Repeated Germanic / Yiddish sentence constructions ("You should [verb], already" is typical)
The whole bit at the end where Mrs. Simms says it's "like Grand Central Station" (a reference to the large number of Eastern European Jews who settled in New York City)
Even the name of the Ivan Dixon character -- Mr. Parness -- is Jewish, because a parness (also spelled barness) is the Ashkenazi Jewish equivalent of a deacon in a synagogue -- the person responsible for the physical building and for expenditures

These, and many more slices of nonessential dialogue are clearly New York Jewish jokes and shtick of the 1920s - 1950s, easily recognizable to me.
I mention all of this with no intention to offend anyone -- but, as a Jew, it was crazy watching this episode, just wondering how much farther the screenwriter would take it in the script without any character actually being played by a Jew with a New York accent! It was almost insane to watch.
Submitted by catyron, April 18, 2018.
++ This post brings back some fond memories of growing up in the Lawndale area in Chicago; the local drugstore, right around the corner from my home was owned by a Mr. Galler: it even had a working soda fountain all the way up until the mid-seventies; I didn't know until I got older that the neighborhood had been pretty much all Jewish until about the late fifties. And that explained those square boxes my friends and I would see on some doorways were mezuzahs and what they meant! Submitted by MikeReese, 1/13/2021.
+++ Wandering In Plain Sight: Prolific character Dan Seymour has a small part in this PM (one of seven appearances), providing a brief exposition about delivering some film stock or whatever. Wikipedia tells us Seymour was Jewish (ne Katz, albeit in Chicago), but in my view he's not one of this episode's broadly faux-Jewish characters. JohnK, 29 December 2021. Happy New Year!
Comments

Edit
Twilight Zone: I have to wonder if there isn't a deeper reason for the mentioning of Rod Serling in this episode, as he had worked for CBS until his series The Twilight Zone was cancelled in 1961. Submitted by gracenote, 7/21/2011.
+ Cross Over to The Twilight Zone: There is more evidence of interaction between the two series! In the delightful Twilight Zone ep#90 "The Fugitive" (aired 9 March 62) six of the eight credited actors were also in at least one P. M. episode (the other two were child actors, as was Stephen Talbot seen in P.M. #101 here):
- J. Pat O'Malley, Episodes #83 and #138;
- Nancy Kulp, Episodes #36 and #66;
- Russ Bender, Episodes #64, #97, #115 and #150;
- Paul Tripp, Episodes #153 and #157;
- Stephen Talbot, Episode #101; and
- Wesley Lau, first PM appearance in #125 (16 Sep 61) as "Amory Fallon", before becoming Lt Anderson in ep#127 (7 Oct 61).
Wesley Lau has a prominent, detective-like role in Twilight Zone "The Fugitive" and is instantly recognizable. He looks like he walked straight off the Mason set and portrays the same personality and character-type (One of his early lines is "eh, If you don't mind, we'll ask the questions."). His partner in pursuit of "The Fugitive" is Paul Tripp seen in P.M. here. Lau also wears EXACTLY THE SAME HAT in "The Fugitive" as you see here, here and elsewhere in P.M.. Since Twilight Zone was shot at MGM, I guess the rule for freelance actors playing plain-clothes cops was "Yuh shows up wit' yer own hat, flat-foot!". I regret that I can't provide gracep any "deeper reason" for the mention of Rod Serling in this episode but nevertheless, it appears that there were close friendships between the two shows. I wonder if there was ever any plot to transport the Mason Principal Cast over into the Twilight Zone! Added by Gary Woloski 10/27/11.
+ Technically, The Twilight Zone was cancelled in 1962 but it returned mid-season the following year for a half year of hour-long episodes. Following another season of half-hour episodes it was cancelled in 1964. [Some sources say TZ had a sixth season in 1964-65 but these were all reruns broadcast by CBS.] Submitted by Wiseguy70005, 7/01/12.
+ Fiction meets reality: we learn that Perry knows Rod Serling personally. Serling was one of TV's best-known writers in the 1950s and 60s. His original Twilight Zone ran on CBS from 1959 to 1964. The fifth season of Perry Mason appeared Saturday nights on CBS while Twilight Zone, in its third season, had a Friday night slot. Submitted by Dan Tritle, 9/21/2011.
+ I must also mention that at least one of our "Who is That?" actors, Sasha Magaloff was seen in the Twilight Zone episode "What's in the Box" (1964)as one of the neighbors who comes into the apartment at the end of the episode. Submitted by Kenmore 7/1/2012
+ Another frequent uncredited actor who appeared in the Twilight Zone was Don Anderson. In the amusing episode "A Penny for Your Thoughts" star Dick York is given the power to read the minds of others, which he uses to get a better job and a new girlfriend, frequent Mason player June Dayton. At the end of the story, somewhat to his relief, he loses the power, but checks out his loss by grabbing several passers-by, the last one being Anderson wearing the familiar Alpine-type hat he wore so often in PM. Submitted by FredK, 4 July 2012.
Information Please: During Paul Drake's interaction with the bartender (approximately 29:35 on the DVD) we get a glimpse of how Paul accomplishes much of his detective work: Cash. Submitted by Dan K, 17 February 2019.
Perry's visit to Nelly Lawton's patio is a remarkable scene in which Nelly, despite her perennial smile, launches into a lengthy sarcastic monologue that seems to disparage most of the major characters in the episode, and Perry barely gets a chance to ask her a single question throughout the whole thing. Submitted by Dan K, 16 February 2020.
One wonders why Mr. Corby is so intent on working on the rewrite to the script to "Mr. Nobody!" Ed Zoerner, 12/16/12
Look out for the appearance of the most commonly-selected supposedly-random two-digit number, 37, in this episode. --Submitted by 10yearoldfan, 26 August 2013.

The early dialogue about saving money using stock footage is amusing. Regular viewers recognize dozens of stock clips used over and over, including many that, judging by cars and clothes, are decades old. DOD 01/13/23
Jackson Gillis, who was Associate Producer and wrote several stories for Perry Mason, was the writer of the seventh episode of Lost In Space. It had the title "My Friend, Mr. Nobody". Submitted by H. Mason 12/12/14
Geraldine Brooks would later play a very important role in the pilot for Raymond Burr's next series "Ironside". Her character Honor Thompson would shoot Ironside and thus permanently disable him. Submitted by D. Tlougan 1/10/15.
From the look on Mason's face at the end, one wonders whether he really enjoyed Mrs. Simms' chicken soup. It's as if that jar had Aunt Bea's pickles in it! TriviaSleuth, 8/12/19
'A Really Odd Thought: I wonder if Rod Serling, who was supposedly being hired as a ghost writer by Corby on "Mr. Nobody", might not be a pseudonym for our otherwise unknown screenwrter, the "Nobody" Peter Martin -- and that the constant use of the name of Rod Serling in the script might not be an in-joke, pay-off, or tip-off of sorts. Just an idea. submitted by catyron, May 22, 2021.
Make Mine Arsenic: Yet again we learn of the manifold uses of the miracle poison, arsenic trioxide -- so many that Perry can ensnare several suspects with their gardening, mining, rodenticide, and blueprinting activities, and now film processing. (The Internet tells us it also has some valid medical applications.) Asbestos is similarly flexible in its uses, but I suppose not fast-acting enough for a 60-minute drama. JohnK, December 29 2021
<< Ancient Romeo | Episodes | Lonely Eloper >>