Show174
<< Golden Oranges | Episodes | Velvet Claws >>
#174: The Case of the
Lawful Lazarus
Original Airdate: 03/14/63
From The Perry Mason TV Show Book
When a man who has been declared legally dead reappears and attempts to gain control of his dying wife's millions, her family rallies against him. This results in one murder and a call for Perry.
+He didn't attempt to gain control of his dying wife's millions. He just wanted to ensure proper guardianship of his children. Submitted by Wick 6/14/2022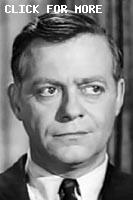 Opening
Starring Raymond Burr
in The Case of THE LAWFUL LAZARUS
Based upon characters created by Erle Stanley Gardner
Barbara Hale, William Hopper, William Talman, Ray Collins

Trailing
Directed by Jesse Hibbs
Written by True Boardman
Art Seid | Producer
Gail Patrick Jackson | Executive Producer
Jackson Gillis | Associate Producer
Samuel Newman | Story Consultant
Raymond Burr as Perry Mason
Barbara Hale as Della Street
William Hopper as Paul Drake
Wiliam Talman as Hamilton Burger
Ray Collins as Lt. Tragg
Wesley Lau as Lt. Anderson
Cast
David McLean as Trevor Harris
Maria Palmer as Nora Kasner
Irene Hervey as Jill Garson
Max Showalter as Clarence Henry
Philip Bourneuf as Edgar Thorne
Abbagail Shelton as Michaela Martin
Joy Hodges as Clara Thorne
Kay Stewart as Barbara Billings
Morris Ankrum as Judge
Mack Williams as Doctor
Ted Stanhope as Pawn Broker
Uncredited Actors
Lee Miller as Sgt. Brice
Crew
"Perry Mason"
Director of Photography … Robert G. Hager
Art Direction … Lewis Creber
Assistant Director … Robert G. Stone
Film Editor … Richard H. Cahoon A.C.E.
Casting … Harvey Clermont
Makeup … Irving Pringle
Hair Stylist … Annabell
Wardrobe Supervision … Ed McDermott, Evelyn Carruth
Set Decoration … Sandy Grace
Properties … Ray Thompson
Production Sound Mixer … Herman Lewis
Script Supervision … Cosmo Genovese
Theme Composed by … Fred Steiner
Automobiles Supplied by … Ford Motor Company
Perry Mason
Produced by the CBS Television Network in association with Paisano Productions
Continuity: In an early view of Perry's desk, his intercom box is missing. Later, it's back. See here. Submitted by daveb, 11/29/2007.
Sightings: First, Quiet Old Man #1 peeks through the audience in the courtroom gallery. Second, "Miss Carmody" is visible in cutaways to Clarence Henry (Max Showalter) when the hearing reconvenes. Learn more about these familiar faces, and help us spot others! Submitted by g, 1/30/2011.
Max Showalter had recently reclaimed his birth name; after signing with 20th Century Fox in the '40s, he'd been persuaded by the studio to change his name to the more "bankable" Casey Adams. Submitted by francis, 6/8/12.
Perry finds a MOVIE CAMERA hidden in a flower pot in the murder room. The camera looks like a 1950's Revere 8mm Cine Zoom with Wollensak lens. The close-up shot at 22:06 shows the camera's film magazine wide-open and empty. "Revere" and "WOLLENSAK" were the "budget" and "premium" brands of essentially the same camera made by the same company (Revere); see story & collector's page. Added by Gary Woloski, 9/13/13.
Only ONE CAR but there's not enough of it visible for absolute identification. After leaving the murder scene, Perry (in driver's seat) and Paul (passenger seat) sit in a convertible while discussing the missing film (23:37-23:55). Only a corner of the windshield, vent window and bit of the interior is seen. TBird, Lincoln and other makes can be ruled out but what is shown corresponds closely to any 1960 -1963 Galaxie convertible. Based on the context of past episodes, this car is probably Perry's (old) black 1962 Ford Galaxie 500 Sunliner (a new 1963 Sunliner for Perry shows up in Ep#178).
The portion of the interior seen is the Left side aft of the driver's seat. If you'd like to strain your eyes further, here are links to '60, '61, '62 and '63 Galaxie interiors. Since full-sized Mercury convertibles of those years had the same underlying design but with fancier trim, you should have a look at them too: '60, '62 Mercury. Added by Gary Woloski, 9/15/13.
"A graduate of the University of Southern California School of Law, Morris Ankrum was an Attorney and Economics Professor before switching careers & joining the theater," IMDb observes, listing him as Judge in 22 Perrys (8.1%) from #3/"Nervous Accomplice" in '57 to "Sleepy Slayer" in '64. Mike Bedard 2.10.15.
The furniture in the hallway outside of Perry's private door was not the same shown in episode 160 TCOT Unsuitable Uncle. Submitted by H. Mason 1/31/15
This is the second of two PM writing credits for True Boardman, who was born William True Boardman,Jr., son of actor parents...MikeM. 11/30/2016
This is the second of three PM appearances for Philip Bourneuf, who had a recurring role as Dr. Wickens on the "Dr. Kildare" television series...MikeM. 3/8/2017
This is the only PM appearance for David McLean, who appeared as the Marlboro Man in television commercials. After David McLean died from lung cancer, his widow sued Philip Morris, blaming the company for David's health problems. The suit was thrown out by a California court...MikeM. 3/28/2018
Of course I could be mistaken, but judging by the decorative pattern we see on the wall behind the bed in the second scene, the unfortunate Barbara Billings may have been staying in the hospital room where Perry was recuperating a few episodes back. JohnK, 28 January 2022
The Simoleon Sea If I heard it correctly, $150 Million - in current terms...well a lot more! - the inheritance at issue in this episode, far overtops anything else we've seen. (As is often the case on PM, the figure seems quite fantastic and it's hard to believe there wouldn't be an army of lawyers and accountants involved in looking after it.) Suitably impressed, Notcom 062723.
Comments

Edit
Another example of the domestic violence that goes unpunished in this series. Edgar slaps his wife in front of a witness because she mouthed off to him, and he bellows, "Take her out of my sight." So, the witness does that, instead of calling the police and having him arrested for assault. Submitted by g, 1/30/2011.
+ Please keep in mind that this series portrays life (and the law) as it was in the 50s & 60s. Back then women were considered to be the property of their husbands and had no rights, other than the right to vote. The husband had the legal right to hit, slap, beat, and even spank HIS wife. Therefore, there was no assault, period, and there was no such thing as domestic violence' or 'abuse' back then. This isn't meant to be a moral issue, it's simply how things were back then. Also, except in rare circumstances, both parties had to agree to a divorce, and divorces were ONLY granted if there was evidence of wrongdoing by either spouse (yes, not 'giving' your husband sex was considered grounds for divorce). I hope this puts some of the confusing issues people today come across when watching the show into perspective. -Lazarus 03/22/2016
++ Domestic violence, yes, but perhaps not so easy for the witness to call the police. See the scene starting at around 17:09 on the 2011 Paramount DVD. Nora, the witness, arrives at 17:41, and Edgar Thorne slaps his wife, Clara, at 17:47. ("Get her out of my sight," Edgar coldly tells Nora. I hope that this was a one-take scene.) Nora had been the housekeeper for Mrs. Billings, Edgar's niece, for 20 years, so she was likely aware of how and why the marriage of Edgar and Clara was disintegrating. Joy Hodges did have something to sing happily about, 27 years earlier. YouTube has a clip here of Joy, along with Jeanne Gray and Betty Grable, singing backup (about 1:10 onward) to Ginger Rogers and "Let Yourself Go" from Follow the Fleet. lowercase masonite, 3/2/16.
+++ I think it is significant that the abusive husband is a man of bad character. His abuse of his wife is part of his overall nastiness. I could be wrong, but I don't recall any episode where a good or sympathetic character beats up women. In other words, just because domestic abuse was legal, the scriptwriters were not approving of it. They were using it to reveal his bad character. Submitted by JazzBaby, 04/02/2019.
++++ Wow. The slapping scene was cut from the MeTV version I just watched. I could tell Edgar was a bit shady, but leaving that scene out really left out a big part of what type of person he was. It also removed some of the suspicion about why Jill would have left the children in his care. I was a little suspicious of her, whether she was good or bad. --yelocab 12MAY19
+++++ If the abused tolerates the abuse, there's nothing the authorities can do. jfh 31Dec2019
++++++ I believe that in many places now, the abused spouse doesn't have to complain to law enforcement: if the local authorities have evidence of the abuse, the abuser can be arrested and prosecuted. Submitted by MikeReese, 05/28/2021.
+++++++ Keep in mind that the witness to this spousal abuse was a woman who intended to have something to gain. She was a highly motivated not to say anything. Submitted by Wick 6/14/2022
This strikes me as one of the better episodes, in part because of the complexity of character of Perry's client, Trevor Harris. It's a nice change of pace from the usual innocent-young-girl defendant, and I think that David McLean does a good job with the role. Ed Zoerner, 8/10/11.
+ Trevor Harris' international flight to Saudi Arabia departs in 2 hours, yet he hasn't yet left for the airport and doesn't appear to be in any hurry. Times sure have changed. Otto Gervaert, 1/13/21.
That staircase set is starting to appear with almost comic regularity. DOD 01/13/21
Those supposedly "infrared" images (both the movie and the prints) are bogus. They appear to be negative images from regular panchromatic film. Infrared images would not look like that. Evidently the producers, unable or unwilling to obtain true infrared images, were hoping to fool the audience by showing negative images made from regular film. And why not? I suspect very few people in 1963 had any idea what a true infrared image looked like. Submitted by 65tosspowertrap, 11/14/2013.
The quote which Lt Anderson finishes, "There is some soul of goodness in things evil," comes from Shakespeare's Henry V. Ed Zoerner, 11/7/14.
The scene where Trevor Harris comes to the house to meet with the family is notable for its bitter sarcasm, possibly one of the most sarcastic scenes in the entire series. After greeting everyone as he enters the room, Trevor tells Edgar Thorne that Edgar was previously "thirty-third vice-president in charge of emptying wastebaskets" at the family business, and proceeds to call him "a scheming, unprincipled parasite." Submitted by Dan K, 13 February 2020.
Bad/Deadpan acting: David McLean as Trevor Harris just says words without any emotion at all. He might have done better if he held the script in front of him and read it. ;-> Just my humble 2¢ of course. Submitted by mesave31, 04/03/15.
+David McLean's "deadpan" acting style in this episode is comparable to Michael Miller's in "The Case of the Lucky Legs" (#79). McLean should have consulted with John Conte, who only two episodes after this one (in "The Case of the Lover's Leap"), showed how someone can be thought dead and still be full of histrionic life. Submitted by BobH, 27 June 2023.
One Life to Give...or not Quick (trick) question: at the end of the episode , how many "dead" people do we have ?? At one point during their initial consultation Perry tells Trevor that the first thing to do is re-establish identity (something to which - rather incredibly, methinks - Trevor demurs). But this ultimately leads to a later quandry: if the State of California has declared Trevor Harris legally dead, then how can it put him on trial ?? (I'm not suggesting, of course, that this would actually be an impediment, only that it would seem to set up the kind of arcane legal arguments of which Perry is fond.) Notcom, 042519.

Several things in this story don't make sense. All revolve around the 10 year old embezzlement. Edgar said (about Trevor): "Of course, with the statute of limitations, prosecution is impossible." Later in the story Clarence, a lawyer, talked about how he could have been sent to prison in connection to that crime. Edgar used that crime to make Jill allow him to be guardian of the Trevor's children. Submitted by H. Mason 1/31/15
There is no confusion here. For Trevor, the statute of limitations had expired. However, since Clarence still had dealings with Edgar, the documented evidence could be updated to show that the embezzlement was current. This could not be done to Trevor as he had left a long time ago. -Lazarus 03/22/2016
Could also have still been used against Clarence to have him fired, disbarred and ruined his professional reputation. -yelocab 30MAR18
TCOT Flawed Father I enjoy this episode a lot, but the end always makes me sad, when the runaway dad still refuses to see his kids. While I appreciate that this may be realistic, I am accustomed to the more usual happy endings! He had a lot of opportunity to grow in the course of this story, but didn't. Many hints were dropped about a potential romance with Jill, which would have given the children a stepmother and a father, but no. He runs out on them again and right after their mother has died. He really is deeply flawed and seems proud of it! Submitted by JazzBaby, 04/02/2019.
+ Realistically, Trevor IS doing the right thing. About halfway through, he points out to Perry his reasons -- and they make sense. He ran out ten years ago, when the children were probably less than ten years old, rough estimate based on the photo of them seen earlier and the fact that they were still in need of a guardian. They were certainly old enough at the time to realize he had done so, and young enough to be quite hurt by his actions. They likely have no good memories of him. And, there is no suggestion that he has had any contact with them since his return. His sudden insertion back into their lives would have done more harm than good: he is a total stranger to them. OLEF641 5/28/21
> Then why the He## come back in the first place ?? (he offered up some half-a**ed explanation: I thought I'd drop by, maybe see the kids...) Sorry, but I found his one of the most loathsome characters in the series' history....one that I not only wished would be found guilty, but would have been the victim himself. Notcom 061122.
<< Golden Oranges | Episodes | Velvet Claws >>