Show206
<< Simple Simon | Episodes | Antic Angel >>
#206: The Case of the
Illicit Illusion
Original Airdate: 04/09/64
From The Perry Mason TV Show Book (Revised)
A young woman thinks she's losing her mind. Her doctor is not so sure…and neither is Perry.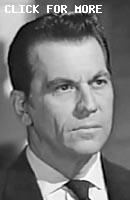 Opening
Starring Raymond Burr
in The Case of THE ILLICIT ILLUSION
Based upon characters created by Erle Stanley Gardner
Barbara Hale, William Hopper, William Talman, Ray Collins
Trailing
Directed by Irving J. Moore
Written by Samuel Newman
Arthur Marks \ Art Seid | Producer
Gail Patrick Jackson | Executive Producer
Jackson Gillis | Associate Producer
Samuel Newman | Story Consultant
Raymond Burr as Perry Mason
Barbara Hale as Della Street
William Hopper as Paul Drake
William Talman as Hamilton Burger
Ray Collins as Lt. Tragg
Wesley Lau as Lt. Anderson
Cast
Mona Freeman as Rosanne Ambrose
Keith Andes as Dr. Jesse Young
Ron Randell as Hubert Ambrose
Norma Varden as Winifred Wileen
Rebecca Welles as Leslie Eden
Jena Engstrom as Vera Janel
Oliver McGowan as Fillmore Garrett
Berry Kroeger as Kirk Cameron
Willis Bouchey as Judge Two
John Gallaudet as Judge
Dick Garton as Lt. Barlow
Melville Ruick as Michael Rancer
Lee Miller as Sgt. Brice
Uncredited Actors
Don Anderson as Courtroom Spectator
Crew
"Perry Mason"
Director of Photography … Howard Schwartz, A.S.C.
Art Direction … Lewis Creber
Assistant Director … Robert G. Stone
Film Editor … Richard H. Cahoon, A.C.E
Casting … Harvey Clermont
Makeup … Irving Pringle
Hair Stylist … Annabell
Wardrobe Supervision … Ed McDermott, Evelyn Carruth
Set Decoration … Carl Biddiscombe
Properties … Ray Thompson
Production Sound Mixer … Herman Lewis
Script Supervision … Marshall Schlom
Theme Composed by … Fred Steiner

Perry Mason
Produced by the CBS Television Network in association with Paisano Productions
Sightings: Among the spectators in the courtroom gallery sit Quiet Old Man #1 and "Miss Carmody"—the latter sporting a straighter hairdo and a new hat. Distinguished Gentleman #1 is barely visible and nods ever so slightly when a witness reveals something surprising. Learn more about these recurring spectators. Submitted by gracenote, 3/19/2011.
+ She's difficult to spot, but Little Old Lady #1 is in the back row, on Burger's side of the coutroom. Submitted by gracenote, 8/13/2011.
Here is yet another episode in which Lt. Tragg (Ray Collins) does not appear despite billing. Submitted by gracenote, 8/13/2011.
There are NO CARS or outdoor scenes in this episode. Gary Woloski, 1/30/15.
Different People: Actress Jena Engstrom, who played the part of Vera Janel, is not Jean Engstrom who appeared in episodes 155 and 195. Submitted by H. Mason 3/28/15
+Correct because Jena is Jean's daughter. Jean was also in episode 255. HamBurger 9/3/2016
NYC Connection: This was the third story that also involved a New York murder. (see episodes 60 and 156) Submitted by H. Mason 3/28/15
This is the only PM appearance for Jena Engstrom, who may have stopped performing in 1964 due to health reasons, according to Wikipedia...MikeM. 1/13/2017

This is also the only PM appearance for handsome Ron Randell (as Hubert Ambrose). Mr. Randell also appeared as Cole Porter in Kiss Me Kate and as Edmund Parry in the 'B' noir, The Girl In Black Stockings alongside Anne Bancroft, and Marie Windsor, another PM alum. jfh 25Aug2022

This is the second of three PM appearances for Mona Freeman, who was a professional model while still in high school. Mona Freeman passed in Beverly Hills in 2014 at the age of 87...MikeM. 5/25/2018
+ Somewhat unusually, she played the defendant in all of them (and although the plots are completely different, in each she tried to help some troubled man - or in one case, a boy - and was rewarded for her efforts with troubles of her own...the film noir ethos at its purest). Notcom 071321.
Comments

Edit
EmphasizedHallmark Movie Channel showed episode 207 first today, then 206. Their original odd-even, sequential, showings had become even-odd, sequential, sometime in the past month. Of course, today puts the shows out of sequence. Will Tuesday be 209, then 208? I'll try to post the answer tomorrow. Submitted by MikeM, 10/1/2012
+ Ditto for the FeTV airing today. The channel guide indicates that they will be shown in sequential order, but 207 is airing first and 206 next. hmmm. jfh 22Nov2022

This is another episode with a Twilight Zone-ish nature to it. The courtroom sparring between Mason and Burger was especially contentious in this episode. Submitted by 65tosspowertrap, 12/12/2013.

Mr. Burger is very careless handling the murder weapon as Andy is testifying: Hamilton's finger is actually on the trigger and the barrel pointing directly at Andy! jfh 13Jan2017
+ Re-watching the episode today, I note a touch of humor in the scene: when Andy returns the gun to Hamilton, Hamilton grabs the gun by the grip, his index finger on the trigger once more. Andy then actually removes Hamilton's finger from the trigger and places it on the grip. jfh 19Jan2018.

For once, Perry threatens to subpeona Hamilton's testimony instead of Hamilton threatening Perry. jfh 13Jan2017

DA Burger mentions the McNaughton precedent when he questions the MD. "The McNaughton rules for determining whether a person can be successfully defended on the grounds of mental incompetence were determined by...the House of Lords in 1843...as a consequence of the trial of Daniel McNaughton for the killing of Prime Minister Sir Robert Peel's secretary. In retrospect it is clear that McNaughton suffered from schizophrenia," ncbi.nlm.nih.gov/pubmed/19296283 observes. Sir Robert founded the modern London Police Dept.: BOBBIES are named in his honor. Mike Bedard 3.28.15
Article 4, Section 2 of the Constitution: "A person charged in any State with treason, felony, or other crime, who shall flee from justice, and be found in another State, shall, on demand of the executive authority of the State from which he fled, be delivered up, to be removed to the State having jurisdiction of the crime." EXTRADITION (from CA to NY) figures prominently in this case. Mike Bedard 3.28.15
Did Paul get to take his fishing trip or was he forced to change his plans again? (see episodes 1, 23, 77 and 99) Submitted by H. Mason 3/28/15
Just last week in TCOT Frightened Fisherman, Paul admitted to NOT knowing anything about fishing. DOD 02/13/20 +Because he always has to cancel his fishing trips. Apofisu 02/26/23
Alternate Title: This story could have been called The Case of the Abundant Acronyms. Submitted by H. Mason 3/28/15
Norma Varden: I'll always remember her as the party guest that was almost strangled in Hitchcock's Strangers on a Train. Submitted by H. Mason 3/28/15
Formal Attire: Notice the clothing worn by the judge at the extradition hearing. Submitted by H. Mason 3/30/15
Why would Ms Janel leave anything to Ambrose in her will? That staircase set used in the opening scene is really showing signs of age. DOD 1/19/18 That staircase looks very much like the staircase used in the Collinwood set on 'Dark Shadows'. In fact, that whole entryway, staircase, door underneath, doors to the sitting room are similar in appearance and position to Collinwood. Bizyfe0415 2/13/20

At the end Hubert Ambrose was still being extradited to New York for the murder of Ms. Janel. The story makes more sense if Kirk Cameron killed her. Both Cameron and Ambrose were stealing money from Ms Janel (not sure if they were working together). Cameron saw a letter, either to Mr. Garrett or to Hubert, about the handling of her money. Cameron made the reservations in a fake name and went to NYC. Hubert said he hadn't been to New York for several months. Cameron sent a telegram to Ms. Janel instead of calling her because she should have known Hubert's voice. Then Cameron killed Ms. Janel to protect himself. Later when Hubert became a suspect Leslie killed Cameron. She didn't do it to "throw him to the wolves", she did it to preserve the inheritance of her partner. She just did a bad job staging the fake suicide. If there were two guns what happened to the second bullet (and the gun)? The story might have been changed or rewritten. The way it ended a few parts don't seem to fit. The way the story was shown might have been to give Rosanne and the doctor a chance to get together without complications. Submitted by H. Mason 3/28/15
The dramatic device of trying to convince someone she is going crazy is often called "gaslighting" after the great Ingrid Bergman/Charles Boyer movie. The plot hinges largely on the suspicion that Mona would kill someone to protect the husband she is divorcing and has stolen all her money. A bit far fetched for my taste.DOD 1/19/18
+ Her motive would be to ensure he inherited Ms. Janel's money, so she could then claim a chunk of it in their divorce. If he were convicted of a crime (based on Cameron's testimony), he could not inherit. Killing Cameron would have protected her interest in the money. Submitted by JazzBaby, 05/05/2019.
True - but how would Mona know anything about any will? DOD 02/26/21
<< Simple Simon | Episodes | Antic Angel >>