Show223
<< Latent Lover | Episodes | Blonde Bonanza >>
#223: The Case of the
Wooden Nickels
Original Airdate: 12/10/64
From The Perry Mason TV Show Book
Some people will do anything for money, and in this case it's not even new money. An embezzling scheme involving counterfeit but rare Confederate coins leads to blackmail and a murder, and keeps Paul and Perry busy.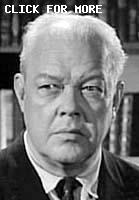 Opening
Starring Raymond Burr
in The Case of THE WOODEN NICKELS
Based upon characters created by Erle Stanley Gardner
Barbara Hale, William Hopper, William Talman, Ray Collins
Trailing
Directed by Arthur Marks
Written by Jonathan Latimer
Arthur Marks \ Art Seid | Producers
Gail Patrick Jackson | Executive Producer
Jackson Gillis | Associate Producer
Samuel Newman | Story Consultant
Raymond Burr as Perry Mason
Barbara Hale as Della Street
William Hopper as Paul Drake
William Talman as Hamilton Burger
Ray Collins as Lt. Tragg
Wesley Lau as Lt. Anderson
Music Composed by Richard Shores
Music Supervision by Herschel Burke Gilbert
Cast
Will Kuluva as Homer Doubleday
Phyllis Love as Minerva Doubleday
Nancy Berg as Vivian Norman
Murray Matheson as Howard Hopkins
Walter Burke as Panhandler (Kelso)
Berry Kroeger as Rexford Wyler
Hunt Powers as George Parsons
Grandon Rhodes as Judge
Penny O'Donnell as Cigarette Girl
Vera Marshe as Woman Apartment Manager
Sherwood Keith as Museum Curator
Thomas Freebairn-Smith as Hotel Desk Clerk
Karen Norris as Matron
Lee Miller as Sgt. Brice
Uncredited Actors
Don Anderson as:
Pedestrian
Police Officer
Bar Patron
Bert Stevens as Court Reporter
Crew
Director of Photography … John M. Nickolaus, Jr.
Art Direction … Lewis Creber
Assistant Director … Robert G. Stone
Film Editor … Richard H. Cahoon, A.C.E.
Casting … Harvey Clermont
Makeup … Irving Pringle
Hair Stylist … Annabell
Wardrobe Supervision … Ed McDermott, Evelyn Carruth
Set Decoration … Carl Biddiscombe
Properties … Ray Thompson
Production Sound Mixer … Herman Lewis
Script Supervision … Marshall Schlom
Theme Composed by … Fred Steiner
Automobiles Supplied by … Ford Motor Company
Perry Mason
Produced by the CBS Television Network in association with Paisano Productions
The basic premise about the coin is true. Only 4 of the 1861 Confederate half dollars were struck, making it a highly sought after coin. Submitted by Eric Cooper, 12 August 2010.
+ "In late April 1861, 4 Confederate Half Dollars were struck on a hand press by...employees of the New Orleans Mint. Because of the high relief of the coin die, a test striking was made to see if coins would release from the Confederate die...made by printing plate engraver A.H.M. Peterson...who was unfamiliar with techniques required to engrave coining dies. The coins were struck using a U.S. obverse die (Seated Liberty) and the Confederate die made by Peterson," en.wikipedia.org/wiki/Confederate_States_of America observes. Mike Bedard 4.21.15
++ The Wikipedia link is outdated and does not contain the info. See this link instead: https://www.ngccoin.com/news/article/6237/newman-ix-realized/ --yelocab 09JUL18
+++ The obverse and reverse of the coin shown in the episode are remarkably identical to the real coin shown in the above reference. Could the PM prop department have created such a realistic reproduction? By the way, rare/valuable coins aren't handled with the bare hands as they are in this episode. Kilo 10/4/2018.
Location: Thirty minutes into the episode, Paul stands on the corner of Lebanon and Wilshire. This is an actual, although unremarkable, location which is just 2 blocks from the Los Angeles Central Library at 630 W. 5th Street, which is shown in the next scene. Submitted by Eric Cooper, 12 August 2010.
+ Yes, that was unusual -- to just name a seemingly random location and then use it as-is, so to speak. I rather enjoyed it. Submitted by catyron, June 26th, 2018.
TCOT Synonymous Spy. In an apparent attempt to avoid trademark infringement while still making a voguish espionage allusion, Perry refers to Della as "Operative Naught-Naught-Seven." (Naught means the digit 0 [zero]). And this was some thirty-five years before the copyright laws became more draconian. Submitted by gracenote, 4/16/2011.
+ In the 03Mar1965 episode of The Beverly Hillbillies, Jethro watches a James Bond movie and decides to become a "double naught spy", dubbing himself "Double Naught Ten". jfh 23Feb2023

TCOT Curious Coffee Set Two cups from the Curious Coffee Set make an appearance on the table in front of Paul and Perry at the restaurant where Della meets them for their delayed luncheon. jfh 07Feb2017.
Yet another Case Of The Upside Down Law Books as we see Vivian Norman in Perry's office, this time over Perry's left shoulder; the book is righted for the epilogue in Perry's office. jfh 13Feb2018.
Uncredited Actors: As Minerva looks around her uncle's store to see if anyone is listening, Don Anderson and an escort walk along the sidewalke in front of the glass door of The Numismatic Shop. Later, he's a silent cop standing at the back door. Submitted by gracenote, 4/16/2011.
+ Don also show up at the bar when Perry and Paul have dinner and later as a courtroom spectator on Perry's side. Submitted by BigBill767, 6/18/2016.
++ As Operative Naught-Naught-Seven makes her report, Bert Stevens and his dining companion walk behind the restaurant booth. Submitted by gracenote, 4/16/2011.
+++ This episode marks the last appearance of Bert Stevens, who died of a heart attack just four days after this episode originally aired. Submitted by gracenote, 7/26/2011.
Goof: Perry slightly mispronounces planchet, which is a plain metal disk from which a coin is made, while he reads from a book. Submitted by gracenote, 4/16/2011.
Sightings: In the lobby of the Wilshire Palace is an oblivious Distinguished Gentleman #1, reading his newspaper. Quiet Old Man #1 and Little Old Lady #1 appear in the rear of the courtroom gallery. Read more about them and other favorite frequent faces. Submitted by gracenote, 4/16/2011.
+ We find the Distinguished Gentleman #1 grabbing a bite to eat at the back of the room where Perry, Paul, and Della are dining. He later shows up at the museum admiring artwork as Perry and Paul examines coins. Miss Carmody makes a courtroom appearance in the front row behind Perry. Submitted by BigBill767, 6/18/2016.
Character Names The Panhandler (Kelso)'s first name is Gerald. jfh 07Feb2017.
The phrase "Don't take any wooden nickels," alluded to in the story, is a warning against being duped in one's business dealings. Submitted by gracenote, 4/16/2011.
+ although, in this case, the wooden nickels help prove the sincerity of the anonymous buyer, and are worth $1,000 each (in 1965). jfh 23Feb2023

After George Parsons is murdered, Homer tells Perry that Homer has "a private way" of identifying the duplicates he makes, yet both Rexford Wyler (on the witness stand) and the Museum Curator state Homer's "private" method of identification. jfh 23Feb2023
Location: About 48 minutes in, Paul and Perry fly to San Francisco and we see the exterior of the M.H. de Young Memorial Museum in Golden Gate Park, where an expert tells of purchasing the coin. Submitted by Eric Cooper, 26 August 2011.
Brent Building: A new tenant was introduced. A sign for "Adams & Son - Bonds" was visible at the corner when Perry and Della got off the elevator. Submitted by H. Mason 4/15/15
Business for Perry: Paul's client needed Perry's help again. Submitted by H. Mason 4/15/15
Paul Drake: For the second time Mr. Drake used a fake name when he presented himself as J. Davis in the hotel (see episode 184). This does not include episode 125 when another person introduced Paul as "Mr. Henry". Submitted by H. Mason 4/15/15
Paul Drake - Witness: Paul was on the witness stand for the eighth time. Submitted by H. Mason 4/15/15
The Pitkin Corollary: apparently, the Pitkin Principle doesn't apply if the name grasps at straws without the aid of dual surnames: we never learn if Minerva is related to either Abner or Frank, but we've little doubt she has a memorable appelation. Postulated by Notcom, 052516
+ Which leads, of course, to the fascinating question of whether the show's writers ever pulled a "Reverse Pitkin"--changing an ordinary ESG character name (e.g. Sam Plotkin) to a weird variant thereof (e.g. Henderson Plotkin). Inquiring minds would like to know, Submitted by BobH, 26 May 2016.
This is the only PM appearance for model/actress Nancy Berg, who had a credited role in the movie "Fail-Safe"...MikeM. 2/7/2017
+ According to Wikipedia, Ms. Berg is still alive at 91 years old. She was a stunning model in the 50s. She also had a very odd nightly 5-minute TV show in New York in 1955: "The nightgown-clad Miss Berg would appear, get into bed, perform a bit of business, such as read from Romeo and Juliet or eat grapes off a toy Ferris wheel, and then, in extreme close-up, whisper a good night to the camera and pretend to go to sleep as animated sheep jumped over a fence." Rick P 12/17/21
++ Sorrowful Update: According to IMDb, Nancy Berg died February 4, 2022 (age 90). jfh 08Jun2022
This is the second of two PM appearances for Australian-born Murray Matheson, who played the clown in the Twilight Zone episode " Five Characters in Search of an Exit"...MikeM. 2/13/2018
This is the only PM appearance for Penny O'Donnell (Cigarette Girl), and is also her only Filmography listing on IMDb...MikeM. 6/19/2018
+ Apparently, IMDb has been updated since 19Jun2018 to now include an additional listing for Penny O'Donnell as "Miss Feldman" in one 1965 episode of the television series Insight (1960-1984). jfh 09Mar2020
This is the second of four PM appearances for Hunt Powers (aka, Jack Betts) who was born in 1929 and has IMDb credits as recent as 2019. jfh 09Mar2020
Crew visible: At 19:30 on the dvd a crew member's shadow can be seen on the wall as the camera zooms in on the telephone booth. Kilo 10/4/2018.
Comments

Edit
For the second time the hallway outside of Perry's private door was shown (see #149 TCOT Borrowed Baby). The elevator this time was different from the earlier story. The first one had a round floor indicator and different up / down buttons. Perry and company also had a longer walk to get to his door than they did in the previous story. The way the hall was shown where were Perry's office window and balcony supposed to be? Submitted by H. Mason 4/15/15

The Brent Building has been renamed for the Bank of California. DOD 04/21/23
+ Now we know why people like radio !! Inconsistencies in set design, sometimes even within an episode, are, of course, common in television, for a variety of technical reasons having to do with lighting, camera angles, etc. (and sometimes to match source material that is itself just plain inconsistent); but they do seem ironic - maybe even galling - don't they, in a show that so often hinges on obscure details and detecting (seemingly) undetectable flaws ?? IMHO the best way to interpret the PM set(s) is in a very general sense - a three-room in line suite, w/ a balcony on one side and (parallel) corridor on the other - and ignore the odd angles and continuity issues for what they are...artistic license. Opined by Notcom, 050516.

Interesting that Howard Hopkins's office is decorated with a shark's skeletal jaws. jfh 09Mar2020

Especially in his first scene, Hunt Powers has a startling resemblance to the young Clark Gable.

Question: why does Homer say that he has a private way to identify his replicas when it seems that everyone knows that his replicas will not stand on edge? jfh 27Nov2022

Question: What happened to Vivian Norman, Rexford Wyler and Gerald Kelso? Submitted by H. Mason 4/15/15
"The Bluegrass State provided presidents for both sides: Abraham Lincoln for the Union and Jefferson Davis for the Confederacy. Both men were born in log cabins on the Kentucky frontier [less than 100 miles apart]," dispatch.com notes ("Birthplaces of Lincoln, Davis Illustrate Divide in 1860s Kentucky"). Mike Bedard 4.22.15
Rebel without a cause Paul is chided for trying to pass a fake Confederate half-dollar - as an aside, the charge is doubly false as he gave it by mistake, and it isn't fake - so are we to assume the recipient would have been fine taking an authentic Confederate coin ?? Notcom 081922.
<< Latent Lover | Episodes | Blonde Bonanza >>