Show233
<< Fatal Fetish | Episodes | Murderous Mermaid >>
#233: The Case of the
Sad Sicilian
Original Airdate: 03/11/65
From The Perry Mason TV Show Book (Revised)
Paulo Porro is a charming, clever young man from Sicily visiting Italian-American relations. But when he tries his charms on Enrico Bacio, Paulo runs into a problem. It seems that back in Sicily, there is a bad blood between the Bacio and Porro families. In fact, Bacio thinks Paulo has come to kill him. When Bacio is found with a file lodged in his neck, this indeed seems to be the case. What's worse, Paulo admits that he met the murdered man that evening, having been lured to Bacio's house by a telegram making him an offer he couldn't refuse if he agreed to leave the country. Now it's up to Perry to sort things out.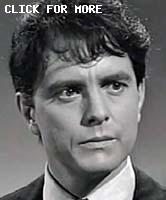 Opening
Starring Raymond Burr
in The Case of THE SAD SICILIAN
Based upon characters created by Erle Stanley Gardner
Barbara Hale, William Hopper, William Talman, Ray Collins
Trailing
Directed by Jesse Hibbs
Written by Milton Krims
Arthur Marks \ Art Seid | Producers
Gail Patrick Jackson | Executive Producer
Jackson Gillis | Associate Producer
Samuel Newman | Story Consultant
Raymond Burr as Perry Mason
Barbara Hale as Della Street
William Hopper as Paul Drake
William Talman as Hamilton Burger
Ray Collins as Lt. Tragg
Wesley Lau as Lt. Anderson
Music Composed by Richard Shores
Music Supervised and Conducted by Herschel Burke Gilbert
Cast
Margo as Serafina
Nico Minardos as Giangiacomo
Anthony Caruso as Enrico Bacio
Fabrizio Mioni as Paulo Porro
Rudy Solari as Massimo Bacio
Linda Marsh as Elizabeth Bacio
Dabbs Greer as Dodson
Paul Comi as Father Reggiani
Charles Irving as Judge
Dort Clark as Desk Sergeant
Alexander Lockwood as Coroner
Charles La Torre as Uncle Fiastri
Tommy Cook as Joe (Bellboy)
Jack LaRue as Cafe Proprietor
Patricia Joyce as Woman Customer
Uncredited Actors
Don Anderson as Bailiff (sighted by Ram Anand, 8/27/10)
Crew
Director of Photography … John M. Nickolaus, Jr.
Art Direction … Lewis Creber
Assistant Director … Gordon A. Webb
Film Editor … Richard W. Farrell
Casting … Harvey Clermont
Makeup … Irving Pringle
Hair Stylist … Annabell
Wardrobe Supervision … Ed McDermott, Evelyn Carruth
Set Decoration … Carl Biddiscombe
Properties … Ray Thompson
Production Sound Mixer … Herman Lewis
Script Supervision … Marshall Schlom
Theme Composed by … Fred Steiner
Automobiles Supplied by … Ford Motor Company
Perry Mason
Produced by the CBS Television Network in association with Paisano Production
This is the only appearance on Perry Mason for the Mexican-American actress Margo. This would also be her last appearance in either TV or movies. While Margo appeared as Maria in the 1937 classic film Lost Horizon, she is best known as the wife of Eddie Albert for 40 years, and the mother of Eddie Albert, Jr. Submitted by PaulDrake 33, 18 August 2009.
The is the only appearance on PM by Rudy Solari (1934-1991). He later appeared on the Star Trek episode "The Paradise Syndrome". Fans of both may notice that he shows no humour, and smiles not once in either episode. Submitted by Chief Kurtz, 10 January 2022
Star Trek Alert: In addition to Rudy Solari mentioned above, two other actors in this episode will appear in the Star Trek universe. Anthony Caruso, who was cast in three Perry episodes, portrayed the alien mobster Bela Okmyx in the original series Star Trek episode "A Piece of the Action." Paul Comi, who makes his only Perry appearance here, was in the original series Star Trek episode, "Balance of Terror," along with fellow Perry alum Robert Francis Chadwick (TCOT Fatal Fetish). Submitted by MyFavoritePolarBear, 11/23/22.
Music:The tune that Paulo Porro (Fabrizio Mioni) hums in the opening scene (and whistles in a later scene) is "La Donna É Mobile," from the opera Rigoletto by Verdi. Submitted by gracenote, 4/26/2011.
+ In the Italian restaurant, when Perry dines with the priest, an instrumental version of the famous Neapolitan song "Santa Lucia" plays in the background. This song was popularized by the Neapolitan operatic tenor Enrico Caruso, and we have, in this episode, a Mr. Caruso portraying a character named Enrico, plus a stray reference to Naples at the close of the show.. Submitted by catyron, July 7th, 2018
+ And when Perry and the priest return to the restaurant with Paulo from the police station, "Santa Lucia" is again playing, as if on a loop. Submitted by Chief Kurtz 10 January 2022
Sightings: The Pencil Mustache Man who resembles Leo Carrillo turns up in the courtroom gallery as the people file in. Distinguished Gentleman #1 is the court reporter. Submitted by gracenote, 4/26/2011.
Character Names: Although not listed in the credits, Giangiacomo's last name is a Bacio, too. Submitted by gracenote, 4/26/2011.
+This was another story where a few characters were not given a first and last name: Serafina, Mr. Dodson and Uncle Fiastri. Added by H. Mason 4/26/15
San Francisco: For at least the fourth time Paul Drake went to San Francisco to get information for a Perry Mason murder case (#73, 96 and 223 [went with Perry]). In episode 189, TCOT Floating Stones, the murder and court proceedings were in San Francisco. Submitted by H. Mason 4/26/15
This is the only PM appearance for Linda Marsh, who also made a single appearance on "Ironside"...MikeM. 2/21/2017
This is the last of eight PM writing credits for Milton Krims. According to IMDb, this is the final television writing credit for Krims. Per IMDb, Milton Krims last screenplay credit was in 1963, a joint US-Italian movie filmed in Italy...MikeM. 2/27/2018
This is the only PM appearance for Nico Minardos (Giangiacomo), who was born in Athens, Greece. Minardos would later appear in two episodes of "Ironside". Nico Minardos passed in 2011 at the age of 81...MikeM. 7/3/2018
Comments

Edit
Perry's arm is still in a sling in this episode. Submitted by Francis 10 June 2011.
Paulo's little scam, that of pretending to be a family member might be familiar to anyone who has accidentally (or deliberately) walked into any large family gathering either in a public area like a park, or even a private place .. if someone thinks you're 'Aunt Ida's boy', and forces a plate on you, what do you do if you're hungry? Yes, it's dishonest .. but pretty benign as scams go. The point he made about how familiar the name he used is telling: one of the first Black FBI agents used the familiarity of the name 'Charles' to catch an elusive suspect. When asked, he said, "Everybody in the hood knows someone named Charles!" Submitted by MikeReese 4/9/2013
Did anyone notice Paulo saying "buenos dias? They are supposed to be Italian and he was speaking Spanish! Submitted by DickieC, 4/10/2013.
+ Perhaps, but I didn't. At 11:36 on the 2013 Region 1 Paramount DVD he greets Mexican Margo with, "Buona sera, signorina." Per IMDb, Fabrizio Mioni is from Rome, Italy, and started his career in Italian films. Submitted by (lowercase, with a comma and period) masonite, 06/28/13.
Speaking of accents, Paolo later admits to Perry and people that he is from Naples, and has never been to the village of Sciccata in Sicily. However, Naples is 200 miles north of Sicily, and on the mainland, so I would expect the native Sicilians to at least hear a different Italian accent, if not also a different dialect, from Paolo. Or maybe he was more studious in his youth. Submitted by (lowercase, with a comma and period) masonite, 06/28/13.
+ To my ear Paolo sounds more Sicilian than any of the family that he is trying to scam. For example, whenever he says Sicily or Sicilians, he says 'See-shee-lee-a'. They usually say 'See-chee-lee-a'. Similarly he says 'bona' where the family members generally say 'buona'.
I think it is precisely because the actor playing Paolo (Fabrizio Mioni) is a native Italian that he has more of a sense of Sicilian accents, than the 'authentic' Sicilian family who probably were instructed by a dialog/language coach. Submitted by Phil 06/6/2018.
Paulo notes that his family name, Porro, means "wart". It also means "leek". Did writer Milton Krims think of going a little bit further and naming Paolo "leech", Mignatta? Submitted by (lowercase, with a comma and period) masonite, 06/28/13.
I enjoy this episode, cuz Paulo is so cute, and melts Della's heart, and the way all the Italians are portrayed, living with gusto! I chuckle every time all the Italians in the courtroom yell at Paulo. We see 2 meals served at the Bacio table, both spaghetti? And Paulo has more spaghetti at the restaurant? I love spaghetti but I like more variety...perhaps one of those meals should've been lasagna. Submitted by DyNama, 1/29/2015
+ I had quite the opposite reaction: the long, sad slide of our heroine Della, from the wily assistant seen in the first seasons, to a stereotypically googly-eyed female - he's so Italian!! - seemed to reach a nadir here. Rebutted by Notcom, 051716.
++ Apparently Perry and Paul had a somewhat similar response as they both rolled their eyes and walked out of the office after Della's he's so Italian comment. Submitted by HamBurger, 7/6/2020
That early scene at the dinner table features some of the finest ensemble acting I recall in any episode.
After the convolutions of the last two episodes, this one has a refreshingly straightforward plot.
According to imdb.com this episode has a viewer rating of 6.8/10, the lowest rating of all 271 PM episodes. Kilo 5/28/2021.
+ And here as well. Although I'd hesitate to call either of these "objective", nevertheless, given the large sample size, I think we can describe the opinion as a consensus. Notcom 072321.

Police didn't collect Bacio's gun till Paul pointed it out? Bacio didn't notice Giangiacomo and Serafina loading the truck? Submitted by DyNama, 1/29/2015
+ Serafina's confession, half of it in Italian, has to be one of the most unremorsefull and emotional, of any episode. Joe B.02/26/2020.
Sloppy Police Work: When Perry questioned Lt. Anderson about Giangiacomo's tire tracks, the answer he gave for not pursuing the investigation made absolutely no sense. People lie and the time of the rain didn't matter because the truck was there at the time of the murder. For some reason the Judge made Perry drop the subject. Mr. Mason then asked about the shotgun. Paul spotted the gun hours after the murder (as mentioned above). It was still in the yard with no police around. Did the same team from episode 9, TCOT Vagabond Vixen, do the investigation? Submitted by H. Mason 4/26/15
<< Fatal Fetish | Episodes | Murderous Mermaid >>