Show232
<< Lover's Gamble | Episodes | Sad Sicilian >>
#232: The Case of the
Fatal Fetish
Original Airdate: 03/04/65
From The Perry Mason TV Show Book (Revised)
Fay Wray plays Mignon Germaine, a voodoo dancer whose son Larry (played by actor/talk-show host Gary Collins) is no less than the assistant of Hamilton Burger.
Larry is handling a case of criminal fraud against Allied Chemical, a charge he'd like to drop. But then the firm's lawyer claims that Larry compromised himself by having his girlfriend, Carina Wileen, broker a deal on the fraud case in exchange for a partnership in the law firm representing Allied. Hamilton has no choice; he suspends Larry.
Larry's voodoo-dancer mother will do anything to help him. During a performance, Mignon approaches Carina's table and pins a voodoo doll to the table with a ceremonial dagger. Carina immediately falls into a coma. Is it black magic or something more mundane but no less malevolent? Larry doesn't help his résumé any when he is later found in Carina's hospital room, standing over her body, which has the ceremonial dagger protruding from it.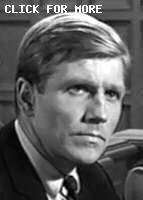 Opening
Starring Raymond Burr
in The Case of THE FATAL FETISH
Based upon characters created by Erle Stanley Gardner
Barbara Hale, William Hopper, William Talman, Ray Collins
Trailing
Directed by Charles R. Rondeau
Written by Samuel Newman
Arthur Marks \ Art Seid | Producers
Gail Patrick Jackson | Executive Producer
Jackson Gillis | Associate Producer
Samuel Newman | Story Consultant
Raymond Burr as Perry Mason
Barbara Hale as Della Street
William Hopper as Paul Drake
William Talman as Hamilton Burger
Ray Collins as Lt. Tragg
Wesley Lau as Lt. Anderson
Music Composed by Richard Shores
Music Supervision by Herschel Burke Gilbert
Cast
Fay Wray as Mignon Germaine
Karen Steele as Carina Wileen
Alan Hewitt as Curt Ordway
Gary Collins as Larry Germaine
Lynn Bari as Ruth Duncan
Douglas Kennedy as Brady Duncan
Erin Leigh as Agnes Fanchon
Richard Devon as Neil Howard
James Griffith as Jack Randall
John Gallaudet as Judge Penner
William Keene as Mr. Kenneth
Robert Chadwick as Policeman
Douglas Evans as Magistrate
Breena Howard as Nurse
Wilda Taylor as Choreographer and Dancer
Johnny Francis as Master of Ceremonies
Crew
Director of Photography … John M. Nickolaus, Jr.
Art Direction … Lewis Creber
Assistant Director … Robert G. Stone
Film Editor … Richard H. Cahoon, A.C.E.
Casting … Harvey Clermont
Makeup … Irving Pringle
Hair Stylist … Annabell
Wardrobe Supervision … Ed McDermott, Evelyn Carruth
Set Decoration … Carl Biddiscombe
Properties … Ray Thompson
Production Sound Mixer … Herman Lewis
Script Supervision … Marshall Schlom
Theme Composed by … Fred Steiner
Automobiles Supplied by … Ford Motor Company
Perry Mason
Produced by the CBS Television Network in association with Paisano Productions
Fay Wray was, of course, the damsel in distress in the original King Kong (1933). She was blonde then, but now appears to be a brunette. Submitted by gracenote, 4/25/2011.
+ Ms Wray's memoir has the subtly witty title "On the Other Hand".
++ I seem to recall, from reading her bio recently, that blonde was NOT her natural color. OLEF641 8/18/21
Douglas Kennedy, a longtime friend of Burr's, was one of the most powerful of the myriad character actors to appear in Perry Mason - especially with his memorable performances in TCOT Moth-Eaten Mink from early in Season 1, and in TCOT Lucky Loser, from Season 2. Nice to see him here, after several years had elapsed. Submitted by dwhite 1.18.13
+ "Making his debut in 1940, [Douglas Kennedy] appeared in many westerns & detective thrillers, usually as the villain. World War II interrupted his career, and he spent the war years as a Signal Corps officer and operative in the OSS & Army Intelligence" [IMDb]. Mike Bedard 5.4.15
Sightings: At the Club Caribe, Distinguished Gentleman #1 is rapt with attention at Mignon's second performance as the drums stop and everyone wonders what happens next. Later, he turns up on the prosecutor's side of the courtroom gallery, along with Quiet Old Man #1. Meanwhile, Pencil Mustache Man is on the defendant's side. Read more about these and other frequent faces, and help us spot them. Submitted by gracenote, 4/25/2011.
+ The Distinguished Gentleman #1 also makes an appearance admiring art at the museum as Paul asks a few questions. He also makes an appearance at the airport as Paul talks on the phone before his flight. Do you think that he is following or stalking Paul? Submitted by BigBill767, 6/22/2016.
I have noticed a young brunette (dark hair) in this episode that was in the club (was on left side at bar) and then looks like she was again in the courtroom behind in back row on defendant side and then back again at the club at the bar during the epilogue. PerryBaby 10/23/13
The nurse, who is gorgeous, is "Brenda" in IMDB, which also mentions her credits as Brena, Brenna, and Breena Howard--the name she uses in this, her only credit in PM. She plays a nurse in 3 tv show episodes, receptionist in 2, waitress in 2. Submitted by DyNama, 1/29/2015
++ Not only is Brenda, Brena, Brenna, or Breena a good looker - she's a good screamer, too (at about 32 minutes in). JohnK, 20 April, 2022
+++ I definitely believe that the incredible scream let out by Breena Howard (Nurse), on seeing the dead body of Carina Wileen (Karen Steele) was a homage and tribute to Fay Wray (Mignon Germaine), who was known throughout Hollywood and her career as 'The Queen of Scream'. Submitted by Tragg, 21 August 2022.
Murder Method: Carina Wileen was at least the thirty-second murder victim to die from stabbing. Submitted by H. Mason 4/24/15
Paul Drake: For at least the second time he went to New Orleans for Perry Mason (#204 TCOT Woeful Widower). Submitted by H. Mason 4/24/15
This is the second of two PM appearances for Karen Steele, who was born in 1931 in the Territory of Hawaii...MikeM. 2/20/2017
Wiktionary defines "mignon" as "small and cute; pretty in a delicate way; dainty."...MikeM. 2/26/2018
This is the third of three PM appearances for the iconic Fay Wray (Mignon Germaine), who was born into a Mormon family in Alberta, Canada. The family migrated to the US, and Fay Wray eventually settled in Los Angeles. Wray's 1933 role in King Kong helped save RKO from bankruptcy. Fay Wray passed in New York City in 2004 at the age of 96. In her honor, the lights of the Empire State Building were dimmed for fifteen minutes...MikeM. 7/2/2018
This is the second of two PM appearances for Lynn Bari, who was also known as "The Woo Woo Girl" and "The Girl with the Million Dollar Figure", and was a pin-up model during World War II. jfh 02Jul2018
Star Trek Alert: Three actors in this episode will later appear in Star Trek roles. The voluptuous Karen Steele, who appeared in two Perry episodes, was a pharmacologically enhanced mail-order bride for some lonely exo-miners, in the original series episode, "Mudd's Women." Wilda Taylor appeared as a Suliban woman in the Star Trek: Enterprise episode, "Detained." Robert Francis Chadwick was a Romulan scope operator on a cloaked War Bird trying to destroy the Enterprise, in the original series episode, "Balance of Terror." Submitted by MyFavoritePolarBear, 11/30/22.
TCOT Curious Coffee Cups: One curious coffee cup can be seen on Carina's nightstand as Mignon visits her at the opening of the episode. Submitted by catyron October 6th, 2021.
+ The West Bend Thermo-Serv plastic and aluminum travesty cups and carafe are used by Della in Perry's office. Submitted by catyron, 2018.
Once again, I find myself chuckling about how actors shave years off their age. If Gary Collins was really born in 1938, then he was about 26 in this episode. He looks pretty mature for 26! This is typical, with many of the actors looking much older than their supposed age in real life. The show routinely cast actors whose actual age was years older than the character's stated age. Rebellious "teenagers" were almost always played by actors in their 20s. Basically, everybody looked so old back then! ;-) Submitted by JazzBaby, 6/15/2019.
Carina's payment of $18,000/year from Brady Duncan is the equivalent of just over $150,000 in 2021 money. OLEF641 8/18/21
Comments

Edit
A cup and saucer from The Curious Coffee Set appear in Carina's apartment in the opening scene. jfh 20Feb2017.
What happened to Perry? His arm is in a sling beneath his suit jacket. Submitted by Francis, 10 June 2011.
+ In a scene at the Club Caribe, Mignon mentions Perry's accident (but no details are revealed). Submitted by gracenote, 8/17/2011.
++ Paul also mentions it in Perry's office: "How's the arm?" cgraul 12.19.12
+++ this episode was probably filmed in early 1965. Raymond Burr had taken a fall outside his studio 'cottage' in January. Submitted by dwhite 1.18.13
++++ I'm surprised no one is claiming he injured it "while visiting the troops in Vietnam." 65tosspowertrap, 1-18-2014.
Richard Devon (Neil Howard) looks like a cross of the vampire from Sesame Street and Eugene Levy. DOD 04/05/21
The epilogue here is almost all Paul explaining away the solution to the mystery. He has to talk a mile a minute to fit it all in--and I'm still not sure it makes perfect sense! I do like the atmosphere of the Club Carib, though! Ed Zoerner, 7/7/12
+ No, not Paul, Hamilton does the explanation. Paul interjects one comment. cgraul 12.19.12
++ As much as I love to see Burger in on the final scene (there are precious few episodes where he is - most memorably TCOT Lame Canary), this is one of the weakest of the epilogues. No one else at the club seems bothered by the fact that they talk loudly while the floor-show is on! dwhite 1.18.13
+++ Della, stunning in her cocktail dress, does "shush" the men. jfh 02Jun2017.
Raymond Burr is already displaying his tendency to weight which came to total fruition in his wheelchair show, "Ironside." cgraul 12.19.12
+ I read somewhere that Raymond Burr lost 100 lbs in order to initially win the role of Perry Mason. I'm certain it was difficult to keep the weight off. jfh 02Jun2017.
++ With his arm always under his coat, it did not help reduce the appearance of added weight Submitted by Perry Baby 12/12/16.
+++ If you watch the first episode right after the last one (easy to do in syndication) you can see quite a difference in Burr's size. Of course, watching the episodes in order, his "expansion" is gradual and fairly unnoticeable. OLEF641 8/18/21
When Larry is shown in the hospital, there is a strong low-light effect, as if a flashlight was held below his face. As the wall sconces are 6 foot or so high, there is no logical source for this light, and is only a poor effect intended to introduce premonition suspense. cgraul 12.19.12
+ It appears to me that the uplight is coming from the street lights below shining up through the windows. jfh 02Jun2017.
Wonder who the casting director was that thought it was a good idea to cast a 58 year old woman (Fay Wray) as some sort of exotic dancer? Submitted by Paul Drake 33. 26 January 2015.
+ IMHO, not "exotic" dancer, rather, "cultural" dancer. jfh 02Jun2017
I know, I know, it is only a show, but in real life, Hamilton Burger and everyone else on the District Attorney's staff would be forced to recuse themselves in the prosecution of Larry Germaine, one of their colleagues. Submitted by PaulDrake 33, 26 January 2015.
+ Which explains why Hamilton seems happy when Perry tells him Larry is withdrawing his 'pro se' and immediately gets on the phone. HamBurger 11/06/2016.
In the courtroom scene, every time Jack Randall (James Griffith) is shown in the courtroom, there appears to be a fluer-de-lis embossed in the wall over his left shoulder; appropriate for an episode so heavily influenced by New Orleans culture. jfh 20Feb2017.
Apparently just about every "swank" apartment in Los Angeles has that screen with elongated stars on diagonal rods, although Carina's place is the first I recall with that groovy wall mounted Hi-Fi system.
The whole story borders on the edge of absurdity. Too many unbelievable situations, even for a melodramatic television episode. This story didn't come from from the bottom of the barrel, it came from under the barrel. Submitted by H. Mason 4/24/15
+ Agreed, H. Mason! One of the worst episodes ever. Am I alone in finding the producers' use of "exotic" elements a desperate attempt to attract audience interest? We just had the awful trip to Hawaii a couple of episodes ago, and here we are again, with not-so-suitable actors faking the dances and customs of other cultures. Any excuse for skimpily clad women to wiggle on camera, I guess. Poor Fay Wray's gestural performance--not exactly dancing--is so embarrassing, I want to cry for her. It is almost impossible to believe that her character and Perry are friends. In fact, the whole story is almost impossible to believe. The only positive thing about the episode is the solid cast of supporting actors, from Douglas Kennedy to James Griffith. Their plotline--competitive corporate executives, a stolen formula, blackmail--is solid, but it can't compensate for the goofy, obnoxious voodoo-mama/drunken slut/compromised young man surface plot. Submitted by JazzBaby, 6/15/2019.
++ The Devil Made Them Do it ?? (Piling on ?? Sure...but this deserves it !!) Beyond the complaints (above), and much as was true in TCOT Paper Bullets, we have character flaws so fundamental they render the requisite "happy ending" disturbing more than satisfying: young Germaine - for reasons the show never even attempts to explain - has taken up with a woman accurately described as an "alcoholic floozie" - and that was actually a compliment: let's add blackmailer and dimwit - and is supposedly a "good lawyer", yet allows himself to be caught up in not one but two compromising situations; are we supposed to be happy at the intimation that someone so lacking in judgement will be continuing on in the DA's office ?? Notcom 0724319.
+++ What he does now have is a lot of expensive experience. I once had a boss whose policy was to only fire people after their second instance of a big mistake; he felt the first one was a learning experience, the second an indication the lesson had not been learned. OLEF641 8/18/21
There certainly are a lot of "misunderstandings" in this episode! OLEF641 8/18/21
<< Lover's Gamble | Episodes | Sad Sicilian >>