Show245
<< Candy Queen | Episodes | Impetuous Imp >>
#245: The Case of the
Cheating Chancellor
Original Airdate: 10/03/65
From The Perry Mason TV Show Book (Revised)
A touching scene: Della and Perry are celebrating her birthday. The party doesn't last long; Perry's called away to defend Van Fowler for killing a professor at Perry's old alma mater, Tanner College.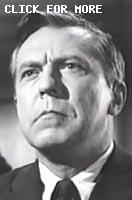 Opening
Starring Raymond Burr
in The Case of THE CHEATING CHANCELLOR
Based upon characters created by Erle Stanley Gardner
Barbara Hale, William Hopper
Trailing
Directed by Arthur Marks
Written by Lawrence Louis Goldman
Arthur Marks \ Art Seid | Producers
Gail Patrick Jackson | Executive Producer
Ernest Frankel | Story Consultant
Orville H. Hampton | Associate Story Consultant
Raymond Burr as Perry Mason
Barbara Hale as Della Street
William Hopper as Paul Drake
Music Composed and Conducted by Richard Shores

Cast
Peter Helm as Bob Hyatt
Louise Latham as Shirley Logan
James Noah as Van Fowler
Michael Walker as Joe Price
G. B. Atwater as Dr. Stuart Logan
Peter Hobbs as James Hyatt
Jay Barney as District Attorney
Lee Meriwether as Evelyn Wilcox
Adrianne Ellis as Myra Finlay
Linda Leighton as Mrs. Hyatt
Joseph Mell as Medical Examiner
Phil Chambers as Guard
Stacy Keach as Judge
Crew
Director of Photography … John M. Nickolaus, Jr.
Art Direction … Lewis Creber
Assistant Director … Robert G. Stone
Film Editor … Richard W. Farrell
Casting … Harvey Clermont
Makeup … Irving Pringle
Hair Stylist … Annabell
Wardrobe Supervision … Bob Wolfe, Evelyn Carruth
Set Decoration … Carl Biddiscombe
Properties … Ray Thompson
Production Sound Mixer … Herman Lewis
Script Supervision … Hazel W. Hall
Theme Composed by … Fred Steiner
Perry Mason
Produced by the CBS Television Network in association with Paisano Productions
Goof: In the scene where the judge adjourns court until tomorrow and everybody rises, Della has on a jumper and sweater. When court resumes, supposedly on the next day, Della has on the same outfit! See here. Submitted by Carol Barton 2/10/2005.
Although providing for the requisite alliteration, the title is misleading: it's not the chancellor who cheats (indeed, he seems to one of the few people at this college who doesn't!) Notcom, 080919.
+ IMHO, the cheater referred to was Logan, but "The Case of the Cheating Man Who Expects to Become Chancellor When the Current Chancellor Retires" was a little too awkward ;-) OLEF641 9/4/21
Continuity: Keep an eye on Myra Finlay and Evelyn Wilcox in the two courtroom scenes for odd costume changes. See here. Submitted by daveb, 12/11/2007.
Lee Meriwether makes her last of two appearances here on Perry playing Evelyn Wilcox. Meriwether was chosen Miss America in September 1954, the first year the pageant was telecast. She is probably best known for playing Barnaby Jones' daughter-in-law on the show of the same name. Submitted by Paul Drake 33, 18 August 2009.
+ I think of her more for being the Catwoman in the movie "Batman," doing the role due to the unavailability of Julie Newmar. She looked great in the outfit. cgraul 5.8.14
++ Agreed, Lee Merriwether looks fantastic as Catwoman! She also was for a few episodes a regular member of the Mission:Impossible team, and one of the scientists at the Time Tunnel, but I think of her more for guest starring on Star Trek, "That Which Survives". Her character, Losira, is well-played as a projected image that unintentionally kills a Red Shirt or two. Submitted by Trekkie DyNama, 2014.05.09.
+++ Lee played CRIME LAB technician Joanne Laurens in 3 "FBI" episodes of 1965 [IMDb]. Mike Bedard 2.11.15.
++++Star Trek Alert: Meriwether isn't the only Perry alum in this episode to join the Star Trek universe. There are three others. James Noah guest starred in Star Trek: Deep Space Nine and Star Trek: Voyager episodes, as Dr. Hanor Pren in "Rejoined", and Dr. Rislan in "Displaced," respectively. This is his sole Perry appearance. Barry Atwater, who appeared in three Perry episodes originated the role of Surak (the founder of Vulcan rationalism) in the Star Trek: The Original Series episode "The Savage Curtain". Or at least he played a simulacra of Surak, since the character was recreated by an alien race from the mind of Spock to test the meaning of good and evil with the Enterprise crew. Finally, Joseph Mell, also a veteran of three Perry episodes, played an illusory Earth trader in the first pilot of original series Star Trek, "The Cage." He was so illusory that his role was uncredited. It's notable that the cast of the Star Trek pilot included not only Mell, but seven additional Perry alums: John Hoyt (McCoy's predecessor), a favorite Perry character actor with five episodes under his belt; Anthony Jochim, a three-fer in Perry world; Jon Lormer, who appeared in 13 episodes, with a recurring role as an autopsy surgeon; Malachi Throne, with one Perry appearance; Meg Wyllie, with four; Janos Prohaska, who had the distinction, such as it is, of being the only actor to portray a gorilla in Perry world (TCOT Grinning Gorilla - yes, Janos was in the gorilla suit); and of course, last but not least, Leonard Nimoy, who appeared in TCOT Shoplifter's Shoe. In short, the planet of "The Cage" was a veritable Perry reunion. Submitted by MyFavoritePolarBear, 12/4/22.
Stacy Keach, the judge in this episode, appeared in Pet Semetary (1989) and Pretty Woman (1990), among other movies. He is the father of actors James Keach and Stacy Keach. Paul'sGal, September, 2021
Location: Lee Meriwether's Malibu beach house plays double duty by appearing in "TCOT Frightened Fisherman." Submitted by Eric Cooper, 28 April 2011.
+ The Beach House was best known as the Mildred Pierce House. It was at 26652 Latigo Shores Dr. in Malibu until it fell into the ocean after a 1983 storm. Submitted by Eric Cooper 28 January 2013.
++ The courthouse exterior shot is the Old Orange County Courthouse in Santa Ana. Per the CA Supreme Court Historical Website: "One of Southern California's oldest court buildings, the Old Orange County Courthouse is also one of the state's few surviving Romanesque Revival-style buildings. The courts occupied the building until 1969, when they moved to more modern facilities on Civic Center Drive. Restoration of the old courthouse began in 1983 and was completed in 1992. The building now houses the Orange County History Center as well as county offices and is listed on the National Register of Historic Places." OldDave, added 4/13/20
+++ The campus building looks like it's UCLA, although I can't find a matching building on the campus map. It's clearly labeled "375". OldDave, added 4/13/20
Sighting: The young brunette made brief appearance sitting in the courtroom on the row behind of Joe Price played by one of Robert Walker's sons, Michael Walker. Perry Baby 12/8/13
NOTICE: This story was remade as the season 3 episode of MURDER, SHE WROTE - "Murder in a Minor Key". Submitted by H. Mason 9/24/14 - Revised 11/8/14
This is the second of three PM writing credits for Lawrence Goldman, who had six writing credits on "The Millionaire" television series...MikeM. 3/9/2017
This is the second of two PM appearances for prolific character actor Peter Hobbs (James Hyatt), who was born in France in 1918 and passed in Santa Monica CA in 2011...MikeM. 3/15/2018
This is the only PM appearance for Peter Helm (Bob Hyatt), who was born in Toronto, Canada, in 1941. He was in a single episode of "Ironside" in 1967. One of his children, Tiffany Helm, is an actress. Peter Helm is now 76 years old...MikeM. 7/19/2018
'The Return of the Tudor House: Our favourite Tudor house is seen in this episode again. Submitted by , July 20, 2018
The "$95 negligee" would cost nearly $825 today (2021). OLEF641 9/4/21

This is Louise Latham's second - and final - appearance, only 10 episodes after her previous one. (According to several web sources she is still alive at 93, making her one of PM's more senior alumni.*) In both cases she plays a woman who murders her philandering husband, and gives hints of such by acting in a slightly daft manner thruout the show. Observed by Notcom, 060316. *Died in 2018 at age 95.
When Michael Walker "Joe" is loading papers into a truck he can be seen wearing a Manzana Valley Prep sweatshirt. That was the school in episode 186, TCOT Decadent Dean.
Comments

Edit
During the student demonstration Shirley Logan says, "You came to college to drive your convertibles and do 'The Swim'." Bobby Freeman's "C'mon and Swim" (#5 Pop, #5 R&B) was released in 1964 and became a popular dance craze. Nice pop culture reference for the time. Submitted by Mason Jar 8/23/11
Corpus Ridiculus, the Season Nine Runner-Up. Were it not for Richard Carlson's assuming a weird "palms up" position in "TCOT Avenging Angel" (#263), the winner of this season's CR Award would probably be Barry Atwater, whose body is found stretched far too far over his office desk with his left hand tucked nicely in at his side. Probably the only way the entire top half of his body could remain as it's found atop the desk would be if he were fully impaled by the paper spike onto it, and, given the murderer's identity, I doubt that was the scriptwriter's intent. Submitted by BobH, 30 January 2018.
The set designers often showed questionable taste in wallpaper, but they outdid themselves with the ugly and clashing patterns in the Logan house.
I'm impressed by the direction of the courtroom scenes, especially the dramatic lunge of the murder weapon.
The first opening credits omitting both Ray Collins and William Talman. DOD 3/20/18
Amazing how much Michael Walker looks like his brother, Robert Walker Jr. I really thought it was Robert who acted in this episode. Robert was noted for his role in the original Star Trek episode, Charlie X. Feat of Clay 4/9/18.
+ Even more amazing the resemblance to their father, Robert Walker. DOD 04/08/20
++ Thank you! I was certain I saw Charlie in this episode and was there was no mention of that episode in the Star Trek Alert section above! post by Apofisu 03/03/23
Two themes permeate this episode: the explicit one, of course, is integrity.. or lack of same; but the implicit one - which was a major concern of the 60's, and thus rather dates it - is respect... particularly respect between generations. Unfortunately the courtroom behavior of the attorneys demonstrates why it became a concern: Bob is a senior, likely 21 or 22 - the actor himself was almost 24 - thus an adult (even by the more restrictive definition of majority existing at the time), yet the Prosecutor addresses him not as 'Mr. Hyatt', but 'Bob'; and Perry is little better: he gives a brief, rather patronizing pep-talk on responsibility, yet later refers to him as a "teenager". PM seemed at its best with the hardboiled and clearly defined stereotypes of the Depression/ film noir era(s), and when it left that milieu for the increasing complexities of the 60's the results were often awkward. Notcom, 080919.
Creepy again What is it with Perry, getting himself let into people's rooms and then sitting in the dark, waiting for them? He did this in #220, TCOT Tragic Trophy, too - it's just creepy. Why wouldn't he at least turn on the light while he's waiting? Instead, he just sits there, silently in Bob Hyatt's dorm room, staring into the dark, for who knows how long... Submitted by BellaDella, 13 May 2021
<< Candy Queen | Episodes | Impetuous Imp >>