Show262
<< Scarlet Scandal | Episodes | Avenging Angel >>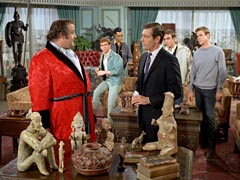 #262: The Case of the
Twice-Told Twist
Original Airdate: 02/27/66
From The Perry Mason TV Show Book
This is the one and only Mason episode shot in color.
Eighteen-year-old Lennie Beale is involved with a gang of thieves who strip Perry's car to the frame. It turns out that Lennie has been with a cast of characters straight out of Oliver Twist. Benjamin Huggins, a wealthy art collector, is the modern-day Fagin who oversees a teenage car-stripping operation. Before Lennie gets Perry's message offering him immunity from prosecution in exchange for testimony against the gang, the boy is charged with murder. It appears that Bill Sikes, Lennie's immediate boss, shot Lennie's girlfriend, and Lennie stabbed the man to death.
"'Oliver Twist' (1836-37) appeared at Irregular intervals in a monthly magazine, 'Bentley's Miscellany,' edited by Dickens," dickens.wpi.edu/history observes. Mike Bedard 3.8.15.
Opening
Starring Raymond Burr
in The Case of THE TWICE-TOLD TWIST
Based Upon Characters Created By Erle Stanley Gardner
Barbara Hale, William Hopper, William Talman
Trailing
Directed by Arthur Marks
Written by Ernest Frankel and Orville H. Hampton
Arthur Marks, Art Seid | Producers
Gail Patrick Jackson | Executive Producer
Ernest Frankel | Story Consultant
Orville H. Hampton | Associate Story Consultant
Raymond Burr as Perry Mason
Barbara Hale as Della Street
William Hopper as Paul Drake
William Talman as Hamilton Burger
Richard Anderson as Lt. Steve Drumm
Dan Tobin as Terrance Clay
Music … Richard Shores
Cast
Victor Buono as Ben Huggins
Kevin O'Neal as Lennie Beale
Scott Graham as Bill Sikes
Lisa Pera as Donna Reales
Lisa Seagram as Robin Spring
Nicolas Surovy as Tick Gleason
Marc Rambeau as Jody Laird
Keg Johnson as Lester
Judson Pratt as Tom Loman
Beverly Hills as Sue
Harlan Warde as Sgt. Roddin
Harry Holcombe as Judge #1
Byron Morrow as Judge #2
Helen Kleeb as Welfare Worker
Will J. White as Deputy D.A.
Coby Denton as 1st Officer
Jim Farley as 3rd Officer
Crew
Director of Photography … John M. Nickolaus, Jr.
Art Direction … Lewis Creber
Assistant Director … Robert G. Stone
Film Editor … George Hively
Casting … Harvey Clermont
Makeup … Irving Pringle
Hair Stylist … Annabell
Wardrobe Supervision … Bob Wolfe, Evelyn Carruth
Set Decoration … Carl Biddiscombe
Properties … Ray Thompson
Production Sound Mixer … Herman Lewis
Script Supervision … Marshall Schlom
Theme Composed by … Fred Steiner
Automobiles supplied by … Ford Motor Company
Produced by the CBS Television Network in Association with Paisano Productions
Locations: This episode opens with Perry and Della taking Angels Flight the Funicular railroad (more information here) in downtown Los Angeles. About halfway through this episode Perry and Steve go to Los Angeles County Hospital (some pictures here) and then a few minutes later Paul Drake gives chase through historic Olvera Street, one of the oldest areas of downtown. A tourist stop, Olvera Street is still there and looks basically the same. Posted by Eric Cooper, 25 September 2009.
+ It was a real treat to see the Angel's Flight railroad in action ... but the use of Olvera Street as a location simply confused me. I recognized it as once, and figured Paul was running around in Los Angeles, so i was very slow on the uptake when Paul began talking about the young man being a U.S. citizen -- it was well into the dialogue between Paul and Donna Reales before i realized that the entire Olvera Street scene was supposed to be taking place in Mexico! Submitted by catyron, August 10th, 2018
Beverly Hills (birth name Beverly Powers) makes her only appearance on Perry here as Sue. Beverly Hills played a stripper in quite a few of her video appearances, including Breakfast At Tiffany's. Beverly Powers changed her name to Beverly Hills to accentuate her two biggest assets. Submitted by PaulDrake 33, 17 November 2009.
This episode is the *only* episode of Perry Mason filmed in color. This "experimental" color episode is episode #262. Coincidentally, in Nazi Germany, their first experimental jet fighter (built my Messerschmitt) was the ME-262. Submitted by Charles Richmond, 9/14/2013.
+ "How Hitler Lost The War" is a great documentary that looks at Nazi "Wonder Weapons" like the 262 & the V1/V2 Rockets that led to the US Space Program & Perry Space-oriented episodes. Mike Bedard 3.8.15.
That's a good way to remember "262" and it was missing on MeTV's lineup. Found a nearly complete YouTube version: https://www.youtube.com/watch?v=Jg2Vd3ckI1s&t=14s This was uploaded last month (12/2016) and although I watched it on a UHD TV it seemed formatted for a SmartPhone in 'Portrait' mode. It's missing first and last few seconds, credits and edges of the picture and the audio has a "Donald Duck" quality. Submitted by pilotart 01/21/2017.
Curious Coffee: Ben Huggins serves coffee to Donna Reales using cups from the Curious Coffee Set. More info here. Submitted by daveb, 12/30/2010.
+ As in episode 243, The Case Of The Fatal Fortune, there appears to be a graphic design of some sort inside the rim of the cup. jfh 18May2018.
+ + I see no graphic design inside the curious coffee cups (served by a silver-plate carafe with matching creamer and sugar) -- they look like the same cups to me that they have always been for almost 200 episodes. What appears black in the b&w episodes is a very dark green. Also, the transferware cups seen frequently at Clay's Grill, with the image of a cabin-style building on them, are red-on-white, and the cup interiors are also covered with a transferware pattern. Submitted by catyron, August 10th, 2018
Just watched this scene and there is indeed a design on the inside facing a right handed drinker. DOD 04/23/19
Kevin O'Neal (Lennie Beale) is the son of Patricia O'Neal and the younger brother of Ryan O'Neal. jfh 16May2016.
Sightings: We get to see the Pencil Mustache Man in full color! He sits on the defense side, second row and is best seen behind Perry as he finishes questioning Donna Reales (Lisa Pera) while standing at his table. Submitted by Kenmore, 9/24/2010.
+ Distinguished Gentleman #1 plays a yellow-clad waiter at Clay's Grill in at least two scenes. "Miss Carmody" turns up among the courtroom spectators. More about these folks on the "Who Is That?" page. Submitted by gracenote, 6/5/2011.
+ + The Pencil Mustache Man also appears at the crime seen of Lennie's dead girlfriend. He's standing in the back wearing what look's like a cabbie's hat. Submitted by Kenmore, 10/3/2011
Harry Holcombe Judged 3 Perrys & appeared in 2 others as Mr. Big & a Senator [IMDb]. Mike Bedard 3.5.15.
Viewers will remember Victor Buono as King Tut in the Batman series of the mid sixties. Seems like he acts and dresses like he was previewing his character in that series here in this episode. Submitted by HamBurger, 07/02/2017
This is the only PM appearance for Lisa Seagram, who is the daughter of an NYPD detective...MikeM. 4/9/2018
This is the only PM appearance for Helen Kleeb, whose 137 IMDb credits stretch from 1952 to 1997...MikeM. 5/18/2018
Character Names Sue's last name is Sawyer. [unsigned, undated]
+ In a nod to Oliver Twist, which featured a brutal member of Fagin's gang named Bill Sikes, this episode also features a character of the same name. Submitted by Chief Kurtz, 19 January 2022
The van in the opening sequence (1966 Ford Econoline, I think) doesn't have a license plate, front or rear. Kilo 5/13/2020.
Comments

Edit
I don't know if a question counts as a comment, but: does anyone know WHY this episode, and only this one, was shot in color? I actually prefer the black-and-white presentation. Submitted by Ed Zoerner, 3/1/11.
+ I think I have an answer. On the introduction to "Twice Told Twist" on the 50th Anniversary of Perry Mason DVD, Arthur Marx related that Mr. Paley, the head of CBS wanted to see a Perry Mason episode in color in case the show was renewed for a 10th season. Perry Mason was not renewed of course. Submitted by Kenmore 10/27/2012.
++ I get that the color in this episode was likely a trial balloon for the next season, but I don't like it a bit. It calls to mind a line from the 1982 movie "Diner" (set in 1959), when a customer at a furniture store waves off a salesman pushing a color teevee. "I saw Bonanza in color at my in-laws," he observes, "and The Ponderosa looked fake. Hardly recognized Little Joe." JohnK, 17 May 2021
Hamilton needs a new tailor. During his opening statement, it's obvious his cuffs are at least 1 1/2" too short. DOD 06/01/22
We get to see that staircase set in glorious color! Odd that none of the gang seem concerned about fingerprints. I would have enjoyed this episode more except Buono reminded me too much of his King Tut character in 'Batman', especially when seen in his apartment with his art collection and gang. Lennie's sleeve has blood on it but no bullet hole. The summary says Robin was shot - she was stabbed with scissors. In fact, the gun is a bit of a red herring as both victims were stabbed. We had another double murder just two shows ago in "Sausalito Sunrise". DOD 04/23/19
+ Another Summary quibble: Perry's car was not stripped "to the frame". Yes, they took the wheels, radio, steering wheel, etc. (for a nearly complete list, see very next scene), but to be "stripped to the frame", the fenders, doors, bumpers, engine, etc. would have been gone, leaving nothing but, you guessed it, the frame ;-) OLEF641 9/29/21
+ A gang wouldn't normally strip a car in situ. I believe the usual modus operandi is to simply steal the car outright and take it to a secluded location to strip "to the frame". Kilo, 10/27/2021.
Continuity: When Perry and Paul find Sikes dead and Lennie unconscious, the butt of the gun is lying first on Lennie's fingertips, the next view shows the butt of the gun resting on the webbing between Lennie's thumb and forefinger, then the next view shows the gun lying on the floor very close to but not touching Lennie's open hand. jfh 01May2020
Bad Accent Dept. Lisa Pera plays a Mexican woman but sounds more like she hails from Transylvania. I often wonder why the producers didn't just cast a native Latino actress, in this instance, with a believable accent. [I don't know what nationality Ms. Pera is, but her son Radames played the young (half-Chinese) Kwai Chang Caine in the Kung Fu TV series, so go figure.] Submitted by francis, 5/6/13
+ I did some searching, and found this in Radames Pera's bio at IMDb (emphasis mine):
"Born ... to ... Louise (also known as Lisa) Vinnichenko [Pera was her married name] (1940-2013), Radames Pera moved to Hollywood in 1963 with his Russian-born mother, who was pursuing her own acting career."
In those days such things as as continuity (for example: Paul obviously being an expert fisherman in the previous episode, but earlier claiming ignorance of fishing in TCOT Frightened Fisherman) and details, such as the right accent, were not of high importance. If they needed a good-looking woman who sounded foreign, any accent would do, since I doubt the WASP casting directors could tell the difference anyway. OLEF641 9/29/21
I liked the color and wish the last season had been in color. It may have helped it stay on the air another season. The color opening features Perry with the new haircut. The interesting part is sets used in B&W were often painted shades of green. In the courtroom, the wood is grayish with purplish trim. Perry Baby 1/18/14
+ Amen! The Network execs could have asked for a Trio to get a better idea. Mike Bedard 3.5.15.
I'd vote for more color episodes just to see Della looking so good - she is stunning in that scarlet evening cape in the opening scene. DOD 05/17/21
+ And, of course, there's Raymond/Perry's BIG blue eyes! But I must say, the series did fine in B&W. OLEF641 9/29/21
26 COLOR MOVIES began 19 years later with "PERRY MASON RETURNS," followed by TCOT Notorious Nun & Shooting Star ('86); TCOT Lost Love, Sinister Spirit, Murdered Madam & Scandalous Scoundrel ('87); TCOT Avenging Ace & Lady In The Lake ('88); TCOT Lethal Lesson, Musical Murder & All-Star Assassin ('89); TCOT Poisoned Pen, Desperate Deception, Silenced Singer & Defiant Daughter ('90); TCOT Ruthless Reporter, Maligned Model, Glass Coffin & Fatal Fashion ('91); TCOT Fatal Framing, Reckless Romeo & Heartbroken Bride ('92); TCOT Skin-Deep Scandal, Telltale Talk Show Host & Killer Kiss ('93) [IMDb RB Filmography]. Mike Bedard 3.5.15.
An African-American young man was a member of the gang and got a couple of good close-ups in court. I can't identify the actor from the cast list because I never heard him called by name. Another example of PM trying to be more inclusive and diverse. Submitted by JazzBaby, 6/28/2019.
+ He is Keg Johnson.
It's a matter of taste, but I find this attempt to update PM not only with color but with "hip" music and "bad boys" repulsive. The acting by the guest stars was uniformly awful. Every time they tried to go in this direction, with juvenile delinquents, etc., it ends up campy, unbelievable, and far removed from the gravitas, intrigue and cleverness that made the show unique and a hit. Submitted by JazzBaby, 6/28/2019.
+ I concur. Fully. It takes little imagination so see that a color "Perry Mason" would have become what a color "Dragnet" did become: a (once) respected crime drama that embarrassed itself. Notcom 093021.
<< Scarlet Scandal | Episodes | Avenging Angel >>