Show47
<< Married Moonlighter | Episodes | Purple Woman >>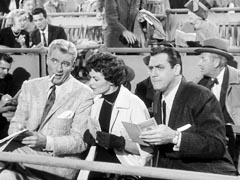 #47: The Case of the
Jilted Jockey
Original Airdate: 11/15/58
From The Perry Mason TV Show Book (Revised)
The horse-racing footage is excellent and the music unusually upbeat in this episode about dirty doings at a racetrack.
When racehorse Bright Magic loses a fixed race, jockey Tic Barton gets his walking papers. A little man with big problems, Tic confronts bigshot Johnny Starr and they fight over whether the horse was doped. Johnny knocks Tic down and throws him out—but not his gun. Two shots later, Starr is dead. The police have an eyewitness who saw Tic leave the apartment, and the little guy is arrested for murder.
To complicate matters, Tic's tall, shapely wife was having an affair with Starr. This sounds like a job only Perry can handle.
Billy Pearson, a real-life jockey, quiz-show winner, and art connoisseur, made his acting debut in this episode.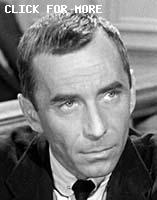 Opening
Starring Raymond Burr
in The Case of THE JILTED JOCKEY
Based upon Characters created by Erle Stanley Gardner
Barbara Hale as Della Street
William Hopper as Paul Drake
William Talman as Hamilton Burger
Ray Collins as Lt. Tragg
Trailing
Directed by William D. Russell
Story by Robert Warnes Leach
Teleplay by Robert Warnes Leach and Seeleg Lester
Ben Brady | Producer
Produced by CBS Television in association with Paisano Productions
Gail Patrick Jackson | Executive Producer
Sam White | Associate Producer
Raymond Burr as Perry Mason
Barbara Hale as Della Street
William Hopper as Paul Drake
William Talman as Hamilton Burger
Ray Collins as Lt. Tragg
Cast
Billy Pearson as Tic Barton
Barbara Lawrence as Gloria Barton
June Vincent as Victoria Bannion
Don Durant as Johnny Starr
Joe di Reda as Eddie Davis
Hugh Sanders as Dion Bannion
Nolan Leary as Bob Allen
Kenneth R. MacDonald as Judge
Roy Engel as Mr. Horty
Joe Forte as Coroner
Uncredited Actors
Lee Miller as Sgt. Brice and Race Spectator (spotted by gracep 1/6/2010)
Don Anderson as Courtroom Spectator

Crew
Gene Wang | Story Consultant
Production Supervisor … J. Paul Popkin
Story Editor … Alice Young
Director of Photography … Frank Redman, A.S.C.
Assistant Producer … Robert Wechsler
Art Direction …
Lyle Wheeler
Lewis Creber
Assistant Director … Robert G. Stone
Editorial Supervisor … Art Seid, A.C.E.
Film Editor … Otto W. Meyer, A.C.E.
Casting … Marvin Schnall, Harvey Clermont
Makeup … Richard Hamilton
Hair Stylist … Annabell, S.C.H.
Wardrobe Supervision … Dick James
Set Decoration … Walter M. Scott, Charles Q. Vassar
Properties … Ray Thompson
Sound Editor … Gene Eliot, M.P.S.E.
Production Sound Mixer … Robert O'Brien
Script Supervision … William E. Orr
This has been a CBS Television Network Production
Filmed in Hollywood by TCF Television Productions, Inc.
CARS: 1958 DeSoto Fireflite 4Dr station wagon, Shopper or Explorer, medium color. From The Cars by Greg Cockerill.
Goof: In the horse race, Bright Magic is horse number 1. Tic Barton has the number 1 on his sleeve, and it is easy to see the number 1 on the horse. When the horses cross the finish line, the announcer says Bright Magic came in third. If you pay attention, the number 4 horse won the race, followed by horses numbered 10 - 8 - 7 - 9. Nowhere can you see horse number 1. Submitted by PaulDrake 33.
When jockey Tic Barton (Billy Pearson) stops to see his horse the night before the big race, assistant trainer Eddie Davis (Joe diReda) tells him that his wife left a number where she can be reached if he has decided to throw the race. The number is WEbster 12499. According to the last episode ("TCOT Married Moonlighter") calling this number should connect one with Walsh's Appliance store (where Your Credit is Good!). I wonder if this number was some kind of in-joke on the Mason set at the time. Submitted by FredK, October 25, 2009.
+ When Tic made the call from the phone booth he really did dial the phone number WE 1-2499. A few other times in the series a character would dial the number mentioned in the story. Added by H. Mason 10/14/14
Sightings: Distinguished Gentleman #1 made it out to the races, along with "Miss Carmody" and Quiet Old Man #1. We can see all three of them in the stands behind the owner and trainer just before the race starts. The Quiet Old Man is not so quiet, however; he puts his face in the shot in front of Starr and cheers on his horse! ("Miss Carmody" shows up later in the courtroom as well.) Submitted by gracep, 1/6/2010.
+ At the race, seated behind Perry is the Distinguished Gentleman #1, and Little Old Lady #1. Little Old Lady #2 and Distinguished Lady #4 attend court on Perry's side. Submitted by BigBill767, 12/9/16.
Uncredited Actors: Lee Miller attends the big race seated behind Perry. Don Anderson attends court on Burger's side. Submitted by BigBill767, 12/9/16.
Continuity: After the shot of Quiet Old Man #1 clearly in front of Starr in the grandstand (see above), other shots show him clearly behind. And in the courtroom gallery, "Miss Carmody" (see above) moves around a bit, too. Submitted by gracep, 1/6/2010.
Stock Music: The music heard after Eddie gives Tic the phone number to reach his wife and during his call to Starr and later as he approaches and enters Starr's apartment was composed by Jerry Goldsmith for an earlier CBS pilot. It was reused several times on Perry Mason and The Twilight Zone (in particular, the episode "The Fever") and has become so identified with the latter series that it was included on Varese Sarabande's Twilight Zone soundtrack. The 3:13 track entitled "Jazz Theme" can be found on the album (Volume Four, STV81192) and CD (''The Best of... Volume One, VCD47233). A slower version of the jazz theme (not heard on the soundtrack) can be heard in this episode after the judge adjourns for the day. Submitted by Wiseguy70005, 8/03/12.
Syndicated cuts: The announcement that the horses are approaching the starting gate and Perry, Della and Paul watching; scene with Tragg investigating the murder with the coroner and witness Horty; Perry and Paul questioning Eddie about his injury and the doping of the horse; a horse trailer arriving at Bannion Stock Farms; In jail, Tic recounting to Mason the events at Starr's apartment and Perry asking who tipped off the police. Submitted by Wiseguy70005, 8/03/12.
Joseph Forte makes his second Mason appearance here, and as he did in episode #4, TCOT Drowning Duck he plays the Coroner. Mr. Forte also appeared in Them (1954), another film heavily populated by future Mason actors. Naturally, he plays the county medical examiner who performs an autopsy on one of the victims of giant mutant ants. He gets the million dollar line: "And here's one for Sherlock Holmes. There was enough formic acid in him to kill twenty men." Submitted by FredK 12 December 2012.
This is beautiful Barbara Lawrence's second appearance on Perry Mason so far. In both episodes she was married to a short man. Submitted by Duffy, 12 May 2014.
That would be 'Half Wakened Wife'. It was almost a shame to set beautiful Barbara Lawrence in these roles - but she does a great job of convincing you to dislike her character! Submitted by MikeReese, 9/25/2016.
Writer Robert Warnes Leach became a victims advocate after his stepdaughter was murdered by her ex-boyfriend...MikeM. 9/12/2016
This is the second of five PM appearances for prolific character actor Hugh Sanders (Dion Bannion). Hugh Sanders passed in Los Angeles in 1966 at the age of 54...MikeM. 6/22/2018
Gavel Tally - Judge adjourns court for the day with a quick bang of his gavel. OLEF641 1/16/22
Comments

Edit
Billy Pearson's acting is painful to watch in this episode. I guess you could say that as an actor he was a wonderful jockey. Small wonder that he had only one other appearance, 14 years later on the screen. Submitted by PaulDrake 33, 7/17/2008.
+ That role was "Stationmaster" In "The Life And Times of Judge Roy Bean" [1972 IMDb]. Mike Bedard 6.1.16.
++ As bad as Billy Pearson was, Joe Di Reda was terrific. I enjoyed his performance very much. Rickapolis 09/14/16
We get a rare view of the back wall of the office, where we see that decorative plate that briefly hung where the mask hangs. In the closing scene, we see yet another door in that wall. Wonder where that goes? DOD 07/20/20
Wikipedia says that in 1958, the year of this episode, Billy Pearson played the lead in a TV pilot based on a book written by Erle Stanley Gardner, under the pen name of A. A. Fair. Wiki says that no episodes were made after the pilot. Submitted by MikeM, 10/23/2012
+ I loved A.A. Fair/Earl Stanley Gardner's 29 Cool and Lam mysteries as much as Perry Mason! I always wondered (without bothering to google it) if anyone had ever considered a Cool and Lam series. Benay Venuta played Bertha Cool ("Fry me for an oyster!") to Pearson's Donald Lam in this pilot which, as MikeM states, was not picked up. Both Pearson and Venuta would retire from acting soon after this half-hour-long pilot was shot, but Venuta would make a couple appearances over the years. Submitted by DyNama, 8/21/2014
The Case Of The Mispronounced Name: At one point in court, Hamilton pronounces "Dion" as "Die-on" (with a long i). In episode 227 TCOT Thermal Thief, a witness pronounces the same name as "Dee-an". jfh 07Jul2019.
+ At about 4 minutes in, standing outside the stable with his wife, Dion pronounces his own name with a long i. Kilo 6/21/2023.
At the end of the episode, Tic Barton won't take a call from his wife, whom he will presumably divorce. Tic tells Perry it's great to be free. Wiki says that jockey/actor Billy Pearson was married six times. Submitted by MikeM, 10/23/2012
+ For those who might be interested, there's a lengthy obit published by Variety magazine here. Pearson led a very interesting life, including a winning stint on The $64,000 Question and an ongoing association with John Huston and Pre-Colombian art. OLEF641 12/2/2020
Does Don Durant (Johnny Starr) ever play a good guy? He seems to have a built-in sneer .. and Tic Barton's marital situation reminded me of the old Johnny Soul song - "If You Want To Be Happy" .. and finally, what a policeman once told me: "If you have a gun, it's for shooting, not scaring." Submitted by MikeReese, 8/6/2013
When Della inadvertently provides the solution to the case, Perry says "Della! You're a doll! A stunned Della says "I didn't think you noticed." Submitted by DellaFan, 5-13-2014.
Question: What did Perry and Della do with their tickets to the "big race"? Since all three seemed to be able to buy tickets on or near race day there didn't appear to be much problem getting them. Perry probably just gave them away. Submitted by H. Mason 10/14/14
+ Does anyone know what racetrack the long shots, and I guess all the racing scenes were filmed at? IMDb has Santa Anita, but Santa Anita never had houses right across the fence from the turn leading into the home stretch. And, SA has a grass track right inside the dirt track, which also seems to not be there. OLEF641 12/2/2020
Much noise from the camera dolly in the courtroom, when Starr's neighbour is on the stand and the camera pans around. Submitted by Clothears, 24/12/2019.
+ I didn't hear any noises but I think you mean truck. Panning is when the dolly is stationary and the camera is rotated left or right. Trucking is when the entire dolly is moved left or right, for instance. Kilo 6/21/2023.
<< Married Moonlighter | Episodes | Purple Woman >>