Show60
<< Stuttering Bishop | Episodes | Bedeviled Doctor >>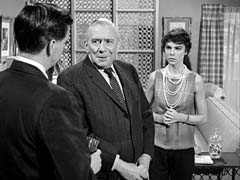 #60: The Case of the
Lost Last Act
Original Airdate: 03/21/59
From The Perry Mason TV Show Book
When playwright Ernest Royce is found shot to death in much the same manner as a character in one of his unproduced plays, Perry is puzzled by coincidences. Royce's play dealt with characters very close to real people, and a murder very close to the real murder case of underworld figure Rick Valponi, who was killed in New York City twelve years before. Frank Brooks, Perry's client, was there at the time, as were most of the other principals in the case. Perry is convinced Royce's murder and the play are connected, but the crucial last act is missing. It will be the finale for Brooks if Perry cannot find the missing piece.
+ "Old Murders Make Fascinating Plays," Perry says, quoting the script Twice during cross. Mike Bedard 6.23.16.
A variation on "old sins cast long shadows". DOD 08/20/21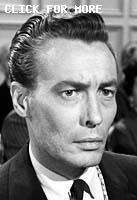 Opening
Starring Raymond Burr
in The Case of THE LOST LAST ACT
Based upon characters created by Erle Stanley Gardner
Barbara Hale as Della Street
William Hopper as Paul Drake
William Talman as Hamilton Burger
Ray Collins as Lt. Tragg

Trailing
Directed by Gerd Oswald
Written by Milton Krims
Ben Brady | Producer
Produced by CBS Television in association with Paisano Productions
Gail Patrick Jackson | Executive Producer
Sam White | Associate Producer
Raymond Burr as Perry Mason
Barbara Hale as Della Street
William Hopper as Paul Drake
William Talman as Hamilton Burger
Ray Collins as Lt. Tragg
Cast
Joanne Gilbert as Faith Foster
Katharine Bard as Helen Dwight
Jerome Cowan as Royce
Stacy Harris as Frank Brooks
Richard Erdman as Jim West
David Lewis as John Gifford
Robert McQueeney as Michael Dwight
Richard Gaines as Judge
Connie Cezon as Gertie
George E. Stone as Court Clerk

Uncredited Actors
Lee Miller as Sgt. Brice (sighted by BigBill767 2/4/17)
Don Anderson as courtroom spectator.

Crew
Gene Wang | Story Consultant
Production Supervisor … J. Paul Popkin
Story Editor … Alice Young
Director of Photography … Frank Redman, A.S.C.
Art Direction …
Lyle Wheeler
Lewis Creber
Editorial Supervision … Art Seid, A.C.E.
Film Editor … Richard W. Farrell
Assistant Director … Robert G. Stone
Casting … Harvey Clermont
Makeup … Richard Hamilton
Hair Stylist … Annabell, S.C.H.
Wardrobe Supervision … Dick James
Set Decoration … Walter M. Scott, Charles Q. Vassar
Properties … Ray Thompson
Sound Editor … Gene Eliot, M.P.S.E.
Production Sound Mixer … Roy Meadows
Script Supervision … William E. Orr
Perry Mason
Filmed in Hollywood by TCF Television Productions, Inc.
A CBS Television Network Production
CARS: 1957* Ford Skyliner retractable, black, top up (Mason) *stock footage from prior season. From The Cars by Greg Cockerill.
Speaking of cars, when Perry pulls his Ford Skyliner into the studio gate, if you watch closely, you see that a VW Beetle passes by, a rare sight in 1959. Submitted by PaulDrake 33, 21 July 2008.
+ This happens a little past 21:30 into the episode. Submitted by Raja99, 5/7/2009.
+ There appears to be a large black cloth covering the signage on the building Perry stops at as he enters the studio (Fidelity Studio). I presume this building is supposed to be the security guard shack. However, as Perry proceeds, a sign that says Police Dept. can be seen above the door on the rear of the building. That makes me wonder what that black cloth is covering up. Submitted by Kilo 4/18/2018.
Sightings / Uncredited Actors: The Little Old Lady in Hat (a/k/a Little Old Lady #1) watches events unfold as she sits behind Faith Foster. More about her and other recurring anonymous extras here. Submitted by gracep, 8/25/2010.
+ Distinguished Gentleman #1 goes into a bar. No joke. He enters the hotel bar and talks to a couple of friends, just after Perry, Della, and Paul come out into the lobby, and just prior to the first courtroom scene. Later, he is another spectator in court, as are "Miss Carmody", Quiet Old Man #2, and Don Anderson. Submitted by alan_sings, 16 Oct 2010.
+ Not to be left out, Distinguished Gentleman #2 is sitting in an aisle seat, back row. Submitted by gracenote, 5/2/2011.
+Distinguished Lady #4 joins the courtroom scene on Perry's side. submitted by Bigbill767, 2/4/17.
Actor Jerome Cowan (Royce) once had the unenviable task of prosecuting Santa Claus. Submitted by MikeM, 11/01/2012.
Cold case / old case Perry also solved the murder of Rick Volponi - killed twelve years earlier. Submitted by H. Mason 9/28/14
Volpone was the name of a play by Ben Jonson, first produced in 1605-06 about a man who spreads a rumor that he's at death's door in order to test the reactions of his greedy acquaintences. The play was also the basis of a 1967 movie, "The Honey Pot" starring Rex Harrison, and that movie paid an homage to Perry Mason by having an episode of the show plaing (in italian) in the background of a scene, about which the Police Insector coomments, "A great genius. If it were not for Signor Perry Mason, every week, in America, an innocent person would be convicted of murder". Since the clip also shows Dee Hartford, it must be from TCOT Accosted Accountant, TCOT Missing Button, or TCOT Baffling Bug. jfh 12Jul2022

This is the only PM appearance for Joanne Gilbert (Faith Foster), the daughter of composer Ray Gilbert...MikeM. 9/29/2016
The clock radio seen in Faith Foster's apartment is a Jewel model 910 manufactured for Crosby-Paige Industries, Inc. Chicago 6 Illinois. Submitted by Kilo 6/28/2017.
This is the last of four PM directing credits for Gerd Oswald, who was born in Berlin, Germany, in 1919...MikeM. 6/29/2017
This is the only PM appearance for Katharine Bard (Helen Dwight), who was married to producer Martin Manulis from 1939 until her death from cancer in 1983. Their son, John Bard Manulis, is a motion picture producer...MikeM. (7/11/2018)

TCOT Loud Dress: One thing I love about the show is the production sound -- what you hear, absent the odd dubbed line, is the sound recorded on set. The crinoline Katharine Bard wears in the scene where she puts slippers on her husband makes quite the racket! OldDave 8/11/20
Comments

Edit
There is an awful lot of smoking in this episode. At least two of the characters are never seen without a cigarette in their hand. Submitted by gracep, 8/25/2010.
+ Gene Roddenberry's Star Trek ran against the character-smoking tide of the '60s. Mike Bedard 6.20.16.
++ a quote from a TV Guide article on February 21, 1959:
"Burr chuckled. 'Funny,' he said, 'we've got a cigarette sponsor this season and all of a sudden the scripts are loaded with smoking.' "
OLEF641; 10/19/2017.
Lt. Tragg was in a very playful mood when he delivered the arrest warrant. Submitted by MikeM, 11/01/2012
+ "You're it," the Lieutenant says, as he hands the warrant to Frank. Mike B.
++ Thankfully!! Tragg's bit of levity - small tho it was - along with a similar witticism from Richard Erdman were the only things I found to enjoy in this otherwise lifeless episode. Grumbled by Notcom, 102017.
+++ Funny how different minds differ: I don't like anything about Tragg, but I really enjoy this episode! It's noir-ish without being ghoulish, more like the earlier episodes; it's classy without being stuffy; it's playful; it has a happy ending with the long-married couple being brought even closer by the truth. Great stuff! jfh 11Jul2018
++++ I interpret this scene, beginning at 20:57, very differently than other commentators have. I neither see it as "playful" nor as "a bit of levity." i see it as a clear instance of the actress Joanne Gilbert (Faith) freezing and dropping her cue, and Ray Collins ad-libbing brilliantly (which he did in other episodes as well). Her line should gave been, "Whaddaya want," but she freezes, so Ray laughs, turns away from her and toward Stacy Harris (Frank), and says, "Heh. You know it's ... it's always easier if somebody says, eh, 'Whaddaya want?" Stacy cleverly ad libs "Well, ten to one it ain't a hamburger." Joanne then rouses from her freeze and blurts out, "Whaddaya want?" and Ray, turning back toward her, says, "Thank you, Miss." She blows her next line too, and Stacy steps in this time, with "You got a warrant?" Ray says, "Course," and pulls out his CRIB SHEET. If you freeze frame it, you can see his handwriting all over the paper! Ray then turns toward Stacy, who spoke last, but he has to turn back again toward Joanne who was supposed to have been the recipient of that line. Joanne is still frozen, wringing her hands, and Ray again covers for her by saying, "Miss Foster, I'm sorry to bother you this way," and only then does he turn back toward Stacy, while she continues to wring her hands. Ray slaps Stacy with the crib sheet and chuckles, "You're it." Together Ray Collins and Stacy Harris make a fantastic and hilarious save of an otherwise blown scene, pulling it off without a hiccup as befuddled Joanne Gilbert allows them to roll right over her muffed lines. Submitted by catyron, January 3rd, 2021.
+++++ AND what looks like another ad lib at the end; "Ill eat the sword". Submitted by hojocola Nov 9, 2021. \\ Two of the lines were very lyrical, almost like they came from some other script. One, when Richard Erdman was describing his love of the theatre. The other when David Lewis was describing the gun he was holding, in the last courtroom scene.Joe B. 01/07/2023
Jury trial?: a couple of the camera shots suggested this was a jury trial. When the judge told the recorder to remove a statement made by West from the record he did not instruct the jury to ignore it. Submitted by H. Mason 10/18/14
Charge her: Did anything happen to Helen? She knew who killed both people. Many of these stories need a few extra lines of dialog in the final scene to let the viewers know some of the other crimes didn't go unpunished. Submitted by H. Mason 10/18/14
2 Flourishes: Perry & Hamilton quote Shakespeare in a Theater case; a Witness identifies the Murderer in Open court. Mike B. 6.23.16.
Not picking on any specific episode, I find it funny how new evidence is handled by the clerk. Paper is often stamped with some rubber stamp . Submitted by Perry Baby 1/11/18
I thought it was.... Does anyone else notice the resemblance between Stacy Harris and Noah Beery Jr.? Enough for a double look the first time. Submitted Bizyfe0415 09/6/22
<< Stuttering Bishop | Episodes | Bedeviled Doctor >>