Show148
<< Melancholy Marksman | Episodes | Borrowed Baby >>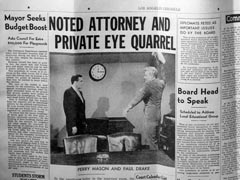 #148: The Case of the
Angry Astronaut
Original Airdate: 04/07/62
From The Perry Mason TV Show Book (Revised)
Mitchell Heller (Robert Bray, who later played Corey Stewart, the forest ranger who adopted Lassie), an overworked astronaut, is marked as a murder suspect after his worst enemy, Major General Addison Brand (James Coburn) is murdered. The police figure Heller had motive since Brand stole his job and his girlfriend, and was suspected of stealing his valuable invention.
Perry believes Heller is innocent, and now he must figure out how a dead man can talk.
This is the episode where Paul—resisting all the way—goes for a spin in a simulated space capsule.
Opening
Starring Raymond Burr
in The Case of THE ANGRY ASTRONAUT
Based upon Characters Created by Erle Stanley Gardner
Barbara Hale, William Hopper, William Talman, Ray Collins
Trailing
Directed by Francis D. Lyon
Written by Samuel Newman
"Perry Mason"
Arthur Marks | Producer
Gail Patrick Jackson | Executive Producer
Jackson Gillis | Associate Producer
Produced by The CBS Television Network in association with Paisano Productions
Samuel Newman | Story Consultant
Raymond Burr as Perry Mason
Barbara Hale as Della Street
William Hopper as Paul Drake
William Talman as Hamilton Burger
Ray Collins as Lt. Tragg
Cast
James Coburn as General Addison Brand
Robert Bray as Mitch Heller
Jeanne Bal as Linda Carey
Patricia Donahue as Bonnie Winslow
Steve Brodie as Eddie Lewis
Wesley Lau as Lt. Anderson
Paula Raymond as Terry Faye
John Marley as Matthew Owen
Robert Casper as Bruce Young
Richard Grant as Gordon Kendall
Ned Roberts as Sewell
Tom Harkness as Judge
Richard Geary as Attendant
Crew
Director of Photography … Robert G. Hager
Art Direction … Lewis Creber
Assistant Director … Robert G. Stone
Film Editor … John D. Faure
Casting … Harvey Clermont
Makeup … Irving Pringle
Hair Stylist … Annabell
Wardrobe Supervision … Ed McDermott, Evelyn Carruth
Set Decoration … Charles Q. Vassar
Properties … Ray Thompson
Production Sound Mixer … Herman Lewis
Script Supervision … M.E.M. Gibsone
Sound … Glen Glenn Sound Co.
Automobiles Supplied by … Ford Motor Company
Titles and Opticals by … Pacific Title
Perry Mason \ A Film Presentation
A CBS Television Network Production
Character Names: Jeanne Bal's character is actually Linda Carey. The omission of her title from the closing credits is puzzling, as her actions and decisions as physician in the Human Factors section of Project Moonstone is rather important to the plot. (They left in Brand's title as General, after all, and he's retired.) Additionally, Sewell's first name is Jamison. Submitted by gracep, 12/23/2010.
Jeanne Bal appeared on the first aired episode of Star Trek on 9/8/66. (Counting the two pilots, it was the sixth episode filmed.) Submitted by Wiseguy70005, 6/25/12.
+ Jeanne Bal also had a part in TCOT Misguided Missile, which also had a space program theme. Maybe she had a flair for aeronautics. JohnK, 18 October 2015.
Sightings: We see a few regulars in the courtroom gallery today. "Miss Carmody" is in the front row, behind the defense table; later she moves to the back row. The Pencil Mustache Man is hiding in the shadows in the back row. Quiet Old Man #1 also appears in the back row, near the end. Submitted by gracep, 12/23/2010.

Was that Robert Wegner guarding the door at Gen Brand's house? Submitted by WJones 7/12/16
The famous opening movement of Beethoven's Fifth Symphony is playing on the hi-fi when the body is discovered. (That's Symphony No. 5 in C minor, Op. 67, for the erudite viewers.) Submitted by gracenote, 7/20/2011.
This episode features a Polaroid Camera (possibly the J66) although they do not refer to it by the brand name. Submitted by Mason Jar, 7/27/2011.
I still have the Polaroid camera my parents bought about the time this episode aired. I can still recall the unique smell of the developing film. DOD 12/23/21
CARS. (1) 1962 Buick LeSabre 2-Door HardTop, dark color, Mitch Heller.
(2) 1962 Buick Electra 225 4-Door HardTop, medium color w/ white roof. Probably Addison Brand's: it's parked in front of his "Winslow Lodge" each of the 3 times we go there.
(3) 1962 Mercury Meteor 4-Door Sedan (2dr shown), light color, Bonnie Winslow, parked at Winslow Lodge on Mitch's first visit there. It has a Temporary Permit pasted to the right side of rear bumper in lieu of licence plate (also see "Perry's new Lincoln", Car 2 in Ep#144).
(4) 1962 Ford Galaxie 4-Door Sedan POLICE B&W, Brice driving Anderson & Tragg.
Added by Gary Woloski, 3/31/13.
Business for Perry: Another story where Paul's client became Perry's client. Submitted by H. Mason 12/6/14
Godfather Connection: Another point of connection between PM and The Godfather -- John Marley, who played scientist Matthew Owen, appeared in The Godfather as film mogul Jack Woltz. In a widely-quoted scene early in the film, Woltz is made an offer "he won't refuse" but pays dearly when he defies the mob. Marley also played Ali McGraw's father in Love Story. JohnK, 18 October 2015
The Shifting Spice Jar: From the very beginning, Perry has kept an objet d'art, a spice jar sort of thing, on the credenza behind his desk (on the right-hand side). At 27 minutes on the DVD, however, it's missing. (Out at the furbishers, I imagine.) In the following episode, TCOT Borrowed Baby, it's not clear whether it's there again, but it's definitely back for TCOT Counterfeit Crank. JohnK, 18 October 2015
According to Wikipedia, Paula Raymond's nose was severed in an auto crash on Sunset Boulevard in 1962. She returned to acting after a year of operations and recovery...MikeM. 10/25/2016
You can't say it's exactly (or even remotely) like Tracy and Hepburn, but both Paula Raymond and Steve Brodie previously appeared in Episode #72, "TCOT Garrulous Gambler," as well as in the granddaddy--and, arguably, the best--of all dinosaur-on-the-loose movies, "The Beast from 20,000 Fathoms" (1953). Submitted by BobH, 22 December 2016.
This is the second of two PM appearances for Patricia Donahue, who had a recurring role as a neighbor, Hazel, on the television series "The Thin Man"...MikeM. 1/31/2017
They're Getting Promoted (and Retiring) Much Earlier Than They Used To. James Coburn was nothing if not flexible. In this episode, he plays "Retired" Major General Addison Brand. Coburn was 33 years old when the episode aired. Submitted by BobH, 28 April 2017.
+ Almost every episode includes at least one actor who appears, as Coburn does here, decidedly older than their reported age. My guess is that many performers faked their DOB to take some years off their age. Either that, or life was REALLY hard on these people and they aged much faster than we do now. Coburn doesn't look retirement age, to be sure, but...33? Hard to believe! Submitted by JazzBaby, 3/11/2019.
++ Interestingly enough, in James Coburn's only other PM appearance (#108, TCOT Envious Editor in the previous season), he plays a younger character, a rich jerk of a "kid" in his early to mid-twenties who uses his wealth to buy himself into a position to tell older, more experienced businessmen what to do. The similarity between the two characters is noteworthy: both take over an organization, berate the current officials for lack of success, stir up a lot of resentment, and wind up murdered. TriviaSleuth, 8/11/2019
John Glenn orbited the earth three times on 2/20/1962, and that fact is mentioned in this episode which aired on 4/7/1962...MikeM. 10/31/2017
Comments

Edit
In the test lab scenes, on the table near the video display, there sits a Heathkit oscilloscope. It looks like a model OM-2. I had one of these at the time. I guess Winslow Aeronautics was trying to save money on test gear. Posted by daveb, 11/23/10.
+"General Brand, Meet Tom Swift." Winslow's cost-cutting measures extend well beyond its test gear. Some of the rocketship drawings on the walls of the Winslow offices look like they were borrowed from the covers of several 1950s Tom Swift, Jr. novels. One can easily understand General Addison Brand's concerns about the future of the U.S. space program if it had to depend on Winslow's production line. Submitted by BobH, 22 August 2016.
This is another one of my favorite episodes as it involves technology from the Space Age. Submitted by gracep, 12/23/2010.
+ And Real History from the Space Race: "Project Mercury" was mentioned twice, and astronauts "Grissom, Shepard & Colonel Glenn" once. Submitted by History teacher Mike Bedard, 2/2/2015.
Paul Drake as guinea pig and the scene involving the newspaper article pictured above make this one a delight, too! Submitted by gracenote, 7/20/2011.
And then there is the lovely Jeanne Bal … wow! Submitted by Mike Reese, 11/26/2011.
+ Amen to that! Submitted by 65tosspowertrap, 10/23/2013.
+ Indeed! PM features many beautiful actresses, but she is top of the list, in my opinion. I always thought Bones McCoy scored THE most beautiful love interest on ST TOS with her as his old flame in THE MAN TRAP, despite Capt. Kirk's way with women! Submitted by JazzBaby, 3/11/2019.
Anomaly: General Brand & Major Heller were identified as former Air Force officers, but the murderer says on the witness stand they knew each other "in the Army." Submitted by Mike Bedard, 2/2/2015.
+ The USAF was originally a division of the Army, so depending on the time frame, that might make sense. Submitted by Notcom, 011916.
++ Yes, the National Security Act of 1947 created a new Dept. of the Air Force: the USA & USAF became separate services from then on. Mike Bedard 4.27.16
Project Gemini was officially named in Jan. 1962 & continued through the Gemini 12 splashdown of Nov. 1966: "The...program consisted of...19 launches, 2...uncrewed, 7 target...and 10 crewed... each...carried 2 astronauts to...orbit," nssdc.gsfc.nasa.gov/planetary/gemini.html observes. Mike Bedard 3.16.15.
Astronaut Arguments: OK, I like the technology, and the editing showing glimpses of the instruments. And I certainly won't argue with Jeanne Bal. But the case hung on the imitation of the voices. I watch and enjoy this episode, but for the story itself I find it pretty dopey. JohnK, 19 January 2016
+ That's a Rodger, JohnK: they did a good job of name-dropping (of actual NASA programs and people) and set-up a scenario for how this company could be involved, but the premise that the whole Space Program would be allowed to be dependent on one individual - one considered "unreliable" at that !! - is ludicrous. Major government programs aren't run by a handful of employees sitting around a table..at least they weren't back in the early 60's. Notcom, 040820.

In court, Dr. Linda Carey wears no jewelry, not even her space lab pearls. All in all, not a satisfactory episode, with a overly elaborate crime that would have collapsed had one person shown up a few minutes late or the other a few minutes early. And how did the voice artist know what our victim sounded like? DODay 10/31/17
+My guess as to how the voice artist would know Brand's voice is that it was on tape. It was recorded when he stated he was firing Heller. While only a transcript was read in court, the original tape still existed and Perry could've gotten access to it. Submitted by Kenmore 9/30/2020.



"The Last of General Brand . . . and Sheila." As John K notes, the plot hinges on the murderer's ability to imitate General Brand's--i.e. James Coburn's--voice. More than a decade later, in the movie whodunit "The Last of Sheila" (1973), the plot again depends on the murderer's ability to mimic James Coburn's distinctive voice. Submitted by BobH, 29 April 2017.
Yes, as I think about it more, the plot does seem a little far-fetched. The main clue is the metal strip from the Polaroid, but would the murderer really need to take a photo of the scene in order to re-create it again? A lamp and chair were tipped over, a few things on the floor. The witness isn't going to remember exactly where they were positioned.
...and the glass shade of that lamp is miraculously unbroken.
+The witness, Bruce Young, had taken photos of the scene when he arrived at 8:45. Recreating the scene to exactly match his photographs required another photograph. dpj 2/19/2021.
<< Melancholy Marksman | Episodes | Borrowed Baby >>