Show226
<< Ruinous Road | Episodes | Thermal Thief >>
#226: The Case of the
Frustrated Folk Singer
Original Airdate: 01/07/65
From The Perry Mason TV Show Book (Revised)
Amy Jo Jennings is an aspiring folksinger all too fresh from the hills and full of dreams of being a big star. But besides being very naïve, Amy Jo is also very rich, having inherited her father's successful Home Folk's Remedy Company. This explains talent agent Harry Bronson's interest in her. He's offered her a starring role in a cross-country musical—for $50,000, that is. Amy Jo finally wakes up and smells the coffee at a swinging party at Bronson's house thrown by Bronson. She goes looking for Bronson at his house, but he appears to be asleep. Actually, he's dead. As Amy Jo has the best motive for the crime, she's soon singing a sad song of murder to Perry.
This episode features Gary Crosby (Bing's son), Lee Meriwether, and Mark Goddard, who portrayed Don West on Lost in Space.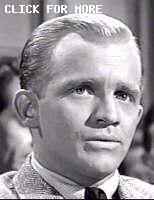 Opening
Starring Raymond Burr
in The Case of THE FRUSTRATED FOLKSINGER
Based upon characters created by Erle Stanley Gardner
Barbara Hale, William Hopper, William Talman, Ray Collins
Trailing
Directed by Arthur Marks
Written by John Elliotte
Arthur Marks \ Art Seid | Producers
Gail Patrick Jackson | Executive Producer
Jackson Gillis | Associate Producer
Samuel Newman | Story Consultant
Raymond Burr as Perry Mason
Barbara Hale as Della Street
William Hopper as Paul Drake
William Talman as Hamilton Burger
Ray Collins as Lt. Tragg
Wesley Lau as Lt. Anderson
Music Composed by Richard Shores
Music Supervision by Herschel Burke Gilbert
Cast
Gary Crosby as Jazbo Williams
Bonnie Jones as Amy Jo Jennings
Mark Goddard as Lester Crawford
Robert H. Harris as Harry Bronson
Richard Garland as Lionel Albright
Joyce Meadows as Audrey Stemple
John Considine as Chris Thompson
Leonard Stone as Al Siebring
Gale Robbins as Evelyn Bronson
Lee Meriwether as Natalie Graham
S. John Launer as Judge
Sidney Clute as Taxi Driver
Eddie Hanley as Photographer
BeBe Kelly as Starlet No. 1
Linda Burton as Starlet No. 2
Uncredited Actors
Don Anderson as Courtroom Spectator
Bess Flowers as Party Guest
Christopher Riordan as Young Man at Party (from IMDb)
Crew
Director of Photography … John M. Nickolaus, Jr.
Art Direction … Lewis Creber
Assistant Director … Gordon A. Webb
Film Editor … Richard W. Farrell
Casting … Harvey Clermont
Makeup … Irving Pringle
Hair Stylist … Annabell
Wardrobe Supervision … Ed McDermott, Evelyn Carruth
Set Decoration … Carl Biddiscombe
Properties … Ray Thompson
Production Sound Mixer … Herman Lewis
Script Supervision … Marshall Schlom
Theme Composed by … Fred Steiner
Automobiles Supplied by … Ford Motor Company
Perry Mason
Produced by the CBS Television Network in association with Paisano Productions
Location: About halfway through this episode, Della is on the phone with Paul in his car. Paul is driving south on Malibu Road. He has just passed the old Vet Clinic and is heading toward Webb Way. The Malibu Colony is just to his right. If you would like to see photos of a very similar scene go to Episode #201, TCOT Frightened Fishermen. Posted by Eric Cooper and Linda Shockley, 8/3/2009.
Location: About 6 minutes into the episode, Jazbo gives Amy Jo a ride home. He turns off Santa Monica Blvd and continues north on 1100 North Orange Grove Ave in West Hollywood. In the background you can see over Jazbo and Amy Jo's heads the 7836 and sign of the Hollywood Used Clothing store on Santa Monica Blvd (now Chevra Kadisha Mortuary.) If you Google-map 1102 North Orange Grove West Hollywood and then reverse the angle, you will see approximately the same view as you get in the episode. Also you can zoom in for a closer look. This location is a few blocks from Plummer Park featured in Episode #101. Submitted by Eric Cooper, 19 August 2010. Some pictures here.
Lee Meriweather had been crowned Miss America in 1955. jfh 17Feb2017.
Goof: The lettering on the office door spells it "Seibring" while the credits have "Siebring." Submitted by daveb, 11/23/2010.
+ Grammar rule:"I" before "E" except after "C"...or German rule "EI's" are "I's" and "IE's" are "E's"... ;-) Submitted by HamBurger 10/08/2016.
Gary Crosby had a short, sad life. In his autobiography, he details abuse inflicted by his mother and his father, Bing Crosby, who disinherited him. He was only 62 when he died of cancer. Submitted by gracenote, 4/19/2011.
Sightings In the table way in the back of Hillbilly Haven (but somewhat elevated) is Distinguished Gentleman #1 with yet another ladyfriend. He shows up again at Bronson's party -— but with glasses and sitting at a table by himself with his back to the camera. When the dancing starts, he's in the back, groovin' to the music but sans spectacles. We see him a third time at the bar, again no specs. Submitted by gracenote, 4/20/2011.
+ At the hearing we see the Gentleman again, along with Quiet Old Man #1 and Pencil Mustache Man, who is very prominent in several cutaways. He looks as pensive as he ever does. Submitted by gracenote, 4/20/2011.
Uncredited Actors: Don Anderson shows up at Bronson's party, too, as does the distinguished Bess Flowers. (See above). One of the young men at the party is Christopher Riordan (currently on the TV show Outsourced), according to IMDb. Submitted by gracenote, 4/20/2011.
TCOT Curious Coffee Set: The Curious Coffee Set appears in Jazbo's beach house. Folk singing must pay well if he could afford beachfront Malibu property. [unsigned]
+ Jazbo Williams may live humbly, but he is chic enough to entertain with that Curious Coffee Set which turns up in many an episode of Perry Mason. Submitted by gracenote, 4/20/2011.
Once again, Ray Collins is credited for playing Lt. Tragg, but that venerable detective makes no appearance. Submitted by gracenote, 4/20/2011.
Music: When Jazbo and Amy Jo are talking at the party, the band is playing -- and people are dancing to -- rock music. I believe this is the first occurrence of rock music on Perry Mason. Is it the only one? Submitted by 65tosspowertrap, 1-9-2014.
+ No, it is not the only one. Submitted by 65tosspowertrap, 2-23-2014.
++ Avenging Angel, #263, may have been the Last occurrence. Mike Bedard 4.24.15
+++ TCOT Scarlet Scandal, #261, also has rock music. Submitted by D. Tlougan, 4/28/15.
That mambo-ish tune heard at the start of the party scene is "Frenesi", a big hit for Artie Shaw. DOD 03/26/21
IMDb notes that "Singer in Nightclubs" was 1 of Raymond William Stacey Burr's Pre-Acting jobs. Mike Bedard 3.8.15.
Paul's Phone: For the seventh time Paul's car phone was used. Submitted by H. Mason 4/19/15
Murder Weapon: For at least the third time a person was killed with an ashtray (episodes 4 and 78). Submitted by H. Mason 4/19/15
This is the first of two PM appearances for Bonnie Jones, who was married 1967-1976 to actor/writer/director/producer Gene Reynolds...MikeM. 2/10/2017
This is the only PM appearance for John Considine III. He is the older brother of Tim Considine and the grandson of John Considine Sr. and Alexander Pantages...MikeM. 2/16/2018
This is the first of four PM appearances for Canada-born BeBe Kelly (Starlet No.1). BeBe Kelly would later have a recurring role as Nurse Clover in 18 episodes of the television series "Trapper John, M.D."...MikeM. 6/22/2018
I presume that Jazbo Williams was named after the then very popular (and bi-coastal) Jazzbo Collins, who hosted musical variety shows on both radio and television in New York, San Francisco, and Los Angeles from the 1950s through the 1980s. Submitted by catyron, June 28th, 2018
Comments

Edit
Mark Goddard's Southern accent is terrible. Bonnie Jones's isn't much better. Submitted by gracenote, 4/20/2011.
Always a treat to see versatile Robert H. Harris. Among his seven PM appearances, he played the murderer three times, the murder victim once, and the defendant once. Submitted by Paul'sGal.
Fender Telecasters were not exactly the guitar of choice for folk ensembles of the day (though they have always been a staple in blues and country music). Even more amusing is the opening jam. The audio track is one acoustic guitar playing chords and electric guitar (presumably the Telecaster) picking a lead. Despite that sonic reality, the Telecaster guitar is not plugged into an amp and the guitarist is happily strumming chords along with Jazbo. Submitted by Mason Jar, 9/12/2011.
+ The actual opening jam is quite nice -- sort of a Carter Family tune played ala Doc Watson and Chet Atkins. I wonder if the guitarist playing this piece (and the rock'n'roll dance number later on) was Glen Campbell. In any case, i liked it a lot. I cannot say as much for the doleful delivery of "Greensleeves" or "Careless Love" that follow. Ugh. Submitted by catyron, June 28th, 2018
An unusual number of noirish closeups in this episode.
Anything to sell more newspapers -- The Los Angeles Chronicle has a big photo of the face-up dead body, above the fold on page 1, below the big headline HOLLYWOOD AGENT SLAIN. Something for parents to explain to their kids, 4 weeks after Martin Luther King was awarded the Nobel Peace Prize. Submitted by (lowercase, with a comma and period) masonite, 12/17/12.
+ MLK, the youngest recipient up to that time, donated the prize $ to the Civil Rights movement [nobelprize.org]. "Put a king on our currency: His face, rather than Jackson's, would make the $20 bill a valuable reminder" appeared on The Philadelphia Inquirer Commentary Page 1.19.2004. Mike Bedard 4.24.15
Only 3 weeks previously, Mississippi's Mary Ann Mobley, Miss America 1959, starred in TCOT Blonde Bonanza. She, rather than New York's Bonnie Jones, could have more convincingly played the freckleless hillbilly, giving the show's promoters 2 recent Miss Americas in the same episode. (And the feckless Mr. Bronson could have had both under contract at the same time.) Submitted by (lowercase, with a comma and period) masonite, 12/17/12.
Names: Perry's client, Amy Jo Jennings, made me think of Billie Jo, Bobbie Jo and Betty Jo Bradley who were characters on Petticoat Junction, a show that was on CBS at the same time this story was first shown. Submitted by H. Mason 4/19/15
Bad Acting:Is it me or does Joyce Meadows appear to be forcing the drunk person a little too hard? Submitted by HamBurger 10/08/2016.
Deja pyew! This episode appeared about six months after the Twilight Zone episode "Come Wander With Me", in which Crosby also played an under-talented folk-singer (unconvincingly, suggesting you have to have talent to play someone who...doesn't). Did PM's writer's see - somehow - genius in that earlier portrayal, or were they just mad at the world that week ?? Queried by Notcom, 071319.

Mistakes: Summary above had two mistakes. Party was at Hilldale Country Club (somebody tried to cross out mistake) and victim wasn't dead when Amy Jo thought he was asleep. Submitted by H. Mason 4/19/15
Blackmail 101: Another dumb blackmailer killed by his payer.
Maybe I missed it, but do we ever learn the basis for the blackmail? DOD 04/12/22
<< Ruinous Road | Episodes | Thermal Thief >>