Show228
<< Thermal Thief | Episodes | Telltale Tap >>
#228: The Case of the
Golden Venom
Original Airdate: 01/21/65
From The Perry Mason TV Show Book
Because of her husband's recent demise, Lucille Forrest is the richest widow in Forrest Junction, California. Unfortunately, shortly before she became a widow, Lucille's son was killed in what appeared to have been a hunting accident. Although Lucille is convinced her son was murdered, a provision in her husband's will forbids her from investigating the death.
She goes to Perry for help. He has Paul investigate the matter, but this quickly ends when Ralph Day, a newspaperman Lucille suspects of killing her son, dies himself. Already suffering from a bleeding ulcer (typical for newspapermen), Day bled to death because his system was full of rattlesnake venom. When the police learn that Lucille was using the venom as a folk cure for her own ailments, they arrest her for murder.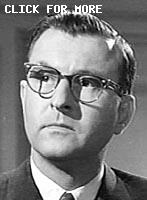 Opening
Starring Raymond Burr
in The Case of THE GOLDEN VENOM
Based upon characters created by Erle Stanley Gardner
Barbara Hale, William Hopper, William Talman, Ray Collins
Trailing
Directed by Jesse Hibbs
Teleplay by Jackson Gillis
Story by Albert V. Vail
Arthur Marks \ Art Seid | Producers
Gail Patrick Jackson | Executive Producer
Jackson Gillis | Associate Producer
Samuel Newman | Story Consultant
Raymond Burr as Perry Mason
Barbara Hale as Della Street
William Hopper as Paul Drake
William Talman as Hamilton Burger
Ray Collins as Lt. Tragg
Music Composed by Richard Shores
Music Supervision by Herschel Burke Gilbert
Cast
Lee Philips as Kevin Lawrence
Noah Beery as Tony Claus
Frances Reid as Lucille Forrest
Carole Wells as Mirna Lawrence
Frank Ferguson as Walter Coffee
Mort Mills as Sgt. Ben Landro
Arthur Malet as Ralph Day
Cal Bartlett as Joe Sullivan
Kenneth MacDonald as Judge
Richard Reinauer as Doctor
Uncredited Actors
Don Anderson as Courtroom Spectator
Crew
Director of Photography … John M. Nickolaus, Jr.
Art Direction … Lewis Creber
Assistant Director … Robert G. Stone
Film Editor … Richard H. Cahoon, A.C.E.
Casting … Harvey Clermont
Makeup … Irving Pringle
Hair Stylist … Annabell
Wardrobe Supervision … Ed McDermott, Evelyn Carruth
Set Decoration … Carl Biddiscombe
Properties … Ray Thompson
Production Sound Mixer … Herman Lewis
Script Supervision … Marshall Schlom
Theme Composed by … Fred Steiner
Automobiles Supplied by … Ford Motor Company
Perry Mason
Produced by the CBS Television Network in association with Paisano Production
Despite the billing in the credits, Noah Beery did not appear in this episode. Noah Beery, the silent film star died in 1946 long before this episode was filmed. The actor appearing in this episode was his son, Noah Beery, Jr., who also appeared in episode #248, "TCOT Hasty Honeymooner." Noah Beery, Jr. was probably best known for playing James Garner's father, Rocky Rockford, in the 1970s action television show, The Rockford Files. Submitted by PaulDrake 33, 30 September 2009.
+ Noah appeared in another COURTROOM CLASSIC, "Inherit The Wind," as farmer John Stebbins (1960). Mike Bedard 2.13.15.
++ Typically, men drop "Jr" when the "Sr" dies. jfh 29May2017. I would never do that.Joe B.(Jr.)02/24/23
Noah Beery's two appearances both involved poisoned drinks served at cocktail parties. DOD 04/26/23
Frances Reid makes the final of three appearances here on Perry playing Lucille Forrest. This episode was broadcast in January 1965, and on November 18, 1965, Ms. Reid would make her initial appearance on the daytime drama Days Of Our Lives, playing the grandmother Alice Horton, with McDonald Carey as her husband. Ms. Reid was only 50 at the time, and today she is still playing the role at the age of 95. Submitted by PaulDrake 33, 27 October 2009.
+ Ms. Reid died February, 2010. Submitted by cgraul, 11/28/2011.
++ Frances Reid was in only 2 PM episodes, this one and TCO-Constant Doyle. Submitted by HamBurger 6/28/2020
Sightings: In the back of courtroom gallery, Distinguished Gentleman #1 watches the proceedings with great interest. Pencil Mustache Man and Quiet Old Man #1 are there, too, if you look carefully enough. Don Anderson made it, too; he's right next to the Gentleman. Submitted by gracenote, 4/21/2011.
Character Cars. Two of the featured cars fit their assigned fictional owners very well:
Lucille Forrest had her well-timed blowout while driving her 1960 Ford Galaxie Club Sedan just like this one (other than the cop lights and paint). The Club Sedan was Ford's 1960 option for basic, sensible transportation in a 2-door full-sized car. Although this was the second year that Ford used the Galaxie model name, the 1960 Galaxie and Fairlane models remained virtually identical (see Trivia Ep#225). However, you can easily read the Galaxie script on the car's fender as Lucille has her tire mishap.
The little white sports car, whose owners are revealed later, is a TRIUMPH TR4 with optional hardtop. The TR4 first appeared in Perry Mason just 3 months previously in Ep#213.
Added by Gary Woloski, 2/3/12.
TR4 License Plate: DEM 265 was on the Triumph at the area near the railroad station and later at Mrs. Forrest's ranch . It was difficult to read, but a different plate with the numbers 518 could be seen on the car as it drove down the road. The plate DEM 265 was on different cars in #188, 192, 203 and 227. Submitted by H. Mason 4/20/15
+ The explanation is simple - it was the same car - even though at the station it was Lucille's car, newly taken out of storage from when she was off in "Europe"; and at the ranch it was Mirna's car, which Lucille comments on, saying, " I would like to have a car like that for myself". It would seem that the scene at the ranch was shot first, at à back lot someplace; and later on in the shooting, a car was needed for Lucille to drive home from the station, and the Triumph was used, because it was available, and even though it broke continuity. Submitted by Cspoleta 5/09/2016
++ Actually, Lucille drove her Ford Galaxie home, see above under 'Character Cars' OLEF641 8/12/21
Actor Frank Ferguson was in episode 167 TCOT Bluffing Blast as sheriff. That story included a 7 year old hunting death (murder) where the deceased was believed to have killed himself with his own gun. Submitted by H. Mason 4/20/15
This is the only PM appearance for Carole Wells, who attended Hollywood High School and is an opera singer...MIkeM. 2/14/2017
TCOT Curious Coffee Set: Two cups and saucers from The Curious Coffee Set make an appearance at Kevin Lawrence's restaurant. jfh 29May2017.
And in the background we see that door with three decorative panels that appears so often, usually as the entrance to a 'swank' apartment. DOD 03/03/21
The closing credits say story by Albert V. Vail. IMDb says that the story was by Albert A. Vail. IMDb also says Albert A. Vail wrote TCOT Accosted Accountant and that Albert A. Vail played Judge Two in TCOT Decadent Dean...MikeM. 2/20/2018
This is the first of two PM appearances for actor/director/writer/producer Lee Philips (Kevin Lawrence), who started his career of a Broadway stage before moving to Hollywood. Lee Philips kept acting even when he had primarily become a director. In 1965, the year of his two PM appearances, Lee Philips began directing the first of 60 episodes of "The Andy Griffith Show". Lee Philips passed in Brentwood CA in 1999 at the age of 72...MikeM. 6/26/2018
Mort Mills, as the sergeant, was almost always placed in a strangely ambiguous jurisdiction that covers murders committed outside of Los Angeles that are tried in Los Angeles. By the way, I like his ears. He has excellently shaped pointy ears. Submitted by catyron, June 30, 2018
+ Criminal trials are the baliwick of the county. As Los Angeles is the county seat, and the courts are there, pretty much any criminal case for a crime committed in the county would be tried there, I think. I'm guessing those trials on Perry Mason held in different venues were committed in different counties. Lawyers are members of the state bar, and so can practice anywhere in the state(s) where they are licensed. Of course, if I am wrong in any of this, I welcome correction ;-) OLEF641 8/12/21
Comments

Edit
Wow! I think this might become my new favorite episode! The acting, the plotting, the incidental music—it just all came together so well. Submitted by gracenote, 4/21/2011.
Agree. As with the previous episode, Thermal Thief, there is a tight, logical plot with none of those "What the...?" moments so common. I do think, as with many episodes, it would have been improved with more straightforward dialog. DOD 03/30/21
TIME TUNNEL Perspective: Ironically & Coincidentally, Original Viewers of "The Golden VENOM" may have listened to the #3 Song on January 21, 1965: "Love POTION Number Nine" by The Searchers [takemeback.to site]. Mike Bedard 4.28.15
The long arm of the law It seems surprising that the writers decided to place the trial in Los Angeles: although the location of Forrest Junction is never made explicit - and admittedly LA County is large - most of the details imply a remote location...maybe Paul Fix wasn't available that day?? Submitted by Notcom, 051316.
+ See above under Trivia for my comment on the venue, however ... based on the mileages given for the distance from the Forrest Junction train station to San Francisco and New Orleans, the station is located where the actual California town of Banning is located, well into San Bernardino County. (Curious that they used San Francisco instead of Los Angeles, which the train on the show was scheduled to pass through.)
The town itself is at least six miles from the station, up a curvy road at about 1500 feet, and there is no good candidate for the 'real' location of Forrest Junction itself, though it, too, is unlikely to be in Los Angeles County given the distances involved: Banning is nearly 50 miles from the border with Los Angeles County. Oh, well, people weren't nearly as nitpicky as we here at the Wiki are today. OLEF641 8/12/21
> Banning is actually in Riverside County...which of course isn't LA County either! As for the signage, I believe the protocol for the Southern Pacific was to list the terminal points of the system on its signboards...technically Los Angeles was just a way station (altho I can't say this was followed on every board, or what the practice was on branch lines, where such would have made little sense) Notcom 082622.
A memorable episode if only for the line, "He's always pooping somebody's party".
The reunion of 'Walter Coffee' and 'Lucille Forrest' is another one of those charming 'You two love each other, everyone knows it' moments I like in PM stories. It's so obvious when they meet at the beginning of the story, especially on 'Walter's' part .. Submitted by MikeReese, 5/29/2107.
As Walter drives Lucille in to town, the stop sign and warning barriers have magically reappeared. DOD 04/26/23

Cold case / old case: Perry also solved the murder of Richard Forrest - killed two years earlier. Submitted by H. Mason 9/27/14
Blackmail 101: Another story where a blackmailer was killed by the payer. Don't they know there should be a letter or documents with important information in the hands of another person ready to mail to authorities in case of death and the person paying should know it exists. Submitted by H. Mason 4/20/15
<< Thermal Thief | Episodes | Telltale Tap >>