Show253
<< Silent Six | Episodes | Baffling Bug >>
#253: The Case of the
Fugitive Fraulein
Original Airdate: 11/28/65
From The Perry Mason TV Show Book (Revised)
Physicist Hans Ritter has been contacted by the Soviet Union and told that his six-year-old granddaughter is living in an East Berlin orphanage. If he'll return to East Germany and work for the Communists, little Elke will be released to Ritter's wife.
Perry agrees to negotiate for the scientist, but Ritter is overanxious and goes on ahead. Perry, Della, and Paul catch up with Ritter and get involved in a murder case behind the Iron Curtain. Now Perry has to defend Ritter's wife before an East German court, where the Communists don't play fair.
Berlin looks suspiciously much like L.A. in this episode. Note that just about every car shown is either a Mercedes-Benz or a Volkswagen Beetle.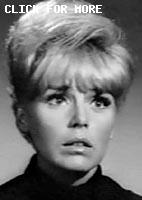 Opening
Starring Raymond Burr
in The Case of THE FUGITIVE FRAULEIN
Based upon characters created by Erle Stanley Gardner
Barbara Hale, William Hopper
Trailing
Directed by Arthur Marks
Written by Jonthan Latimer
Arthur Marks \ Art Seid || Producers
Gail Patrick Jackson || Executive Producer
Ernest Frankel || Story Consultant
Orville H. Hampton || Associate Story Consultant
Raymond Burr as Perry Mason
Barbara Hale as Della Street
William Hopper as Paul Drake
Music || Richard Shores

Cast
Susanne Cramer as Gerta
Jeanette Nolan as Emma Ritter
Gregory Morton as Wolfgang Stromm
Kevin Hagen as Samuel Carleton
Ronald Long as Franz Hoffer
Lilyan Chauvin as Matron
Wolfe Barzell as Prof. Hans Ritter
Eileen Baral as Elke
Barbara Morrison as Woman Magistrate
Peter Hellman as German Sergeant
Horst Ebersberg as German Border Guard
Hans Heyde as Guard at Courtroom
Charles Hradilac as 1st Associate Magistrate
George Perina as 2nd Associate Magistrate
Shony Alex Braun as Violinist
Crew
Director of Photography … John M. Nickolaus, Jr.
Art Direction … Lewis Creber
Assistant Director … Robert G. Stone
Film Editor … Richard H. Cahoon, A.C.E.
Casting … Harvey Clermont
Makeup … Irving Pringle
Hair Stylist … Annabell
Wardrobe Supervision … Bob Wolfe, Evelyn Carruth
Set Decoration … Carl Biddiscombe
Properties … Ray Thompson
Production Sound Mixer … Herman Lewis
Script Supervision … Marshall Schlom
Theme Composed by … Fred Steiner
Automobiles supplied by … Chrevrolet Division of General Motors Corp.
Perry Mason
Produced by the CBS Television Network in association with Paisano Productions
Susanne Cramer, playing Gerta, and Kevin Hagen, playing Samuel Carleton, were in real life husband and wife when this episode was filmed. Submitted by PaulDrake 33, 25 August 2009. Unfortunately, Susanne Cramer (prolific in European films) died at only 32 years old, reportedly of pneumonia. cgraul 1.3.11
In her last appearance on the Perry Mason TV series, Jeanette Nolan plays Emma Ritter in this episode, "TCOT Fugitive Fraulein." In her first appearance on Perry Mason, Nolan plays Mrs. Kirby in #22, "TCOT Fugitive Nurse." Both episode titles have the word fugitive in them. Submitted by Charles Richmond, 31 January 2011.
The Volkswagen Beetle driven by Gerta in the opening act is the "big-window" version of the German classic (i.e. made after 1964). The "big window" refers to the rear window. Indeed most of the Beetles in this episode are this sort. Later, in what appears to be stock footage, we can see an older split-window style. Submitted by gracenote, 5/22/2011.
+ The 2 window beetle was 1952 and earlier so those are definitely a lot older. Submitted by HamBurger, 8/2/2020
The sign that the patrolman passes in the very first scene in East Berlin reads FISCHE FÜTTERN VERBOTEN or "FEEDING FISH PROHIBITED." Submitted by gracenote, 5/22/2011.
+ The second sign -- Betreten Des Rasen Verboten stated that entering the lawn is forbidden. This supposed Berlin park is well supplied with Eucalyptus trees. Submitted by catyron, July 30th, 2018
++ And they're not even red gums !! Quipped by Notcom, 080919.
Character Names: Gerta's last name is Palmer. Elke's last name is Dietrich. Submitted by gracenote, 5/22/2011.
This is the only PM appearance for Eileen Baral (Elke), who was a cast member on the television series "Nanny and the Professor"...MikeM. 3/21/2017
+ The database also has Eileen Baral as born in August 1961 when her actual DOB is May 7, 1955 according to IMDB. Just looking at her you know she is older than 4 years old. Submitted by HamBurger, 06/17/2017, edited 8/2/2020.
++ "They do not need a six-year-old child." Spoken by Hans Ritter in his opening scene with Perry. OLEF641 9/16/21
This is the only PM appearance for "Violinist" Shony Alex Braun, a Hungarian Jew born in Romania in 1930. Braun was nominated for a Pulitzer prize in musical composition for his "Symphony of the Holocaust"...MikeM. 3/27/2018
+ Braun survived internment in both the Dachau and Auschwitz concentration camps. The pub he plays is in the Zigeuner Keller or Gypsy Cellar. At one point he performs a few lines of "Du Du Liegst Mir Im Hertzen" -- and if you want the full melody, you can find it here. This is the second time this song has appeared in the PM series. The earlier version was performed at a rousing beer-hall speed; Braun gives us the slower tempo version made popular by Marlene Dietrich. (Imagine Vanilla Fudge playing "The Pennsylvania Polka.") Submitted by catyron, July 30th, 2018
This is the final of six PM appearances for Gregory Morton (Wolfgang Stromm), who had a recurring role as Walter Williams for the final season (1965-1966) of the "Ben Casey" television series. Gregory Morton passed in Los Angeles in 1986 at the age of 74...MikeM. 7/31/2018
Who was the caller that Perry said Paul could "learn from my memoirs"? A Supreme Court Judge calling on behalf of the President? Joe B.04/20/2020
The $50,000 in prize money that Prof. Ritter offers in exchange for Elke would be more than $425,000 today (2021) OLEF641 9/16/21
Comments

Edit
Despite what the episode summary says, Della does not go to Germany with Perry and Paul. She is in the episode, just not in Berlin. Submitted by Neil Van Zile, 07/07/2014
Sussane Cramer as Gerta is the definition of "chewing the scenery" in this episode. She overacts throughout, but her performance in the climax of the episode is completely over the top, and I find it hard to watch. Submitted by Neil Van Zile, 07/07/2014
+ Her performance in TCO A Place Called Midnight ('64) as Greta Koning - war orphan & protector of the Corps of Engineer Lt. in love with her - was more moving/even touching. Mike Bedard 2.23.15.
East German leader Stromm refers to his country as "the People's Republic": a phrase associated with "Communist China"/the PRC in Nov. 1965. The "Democratic" Republic of EAST Germany & the "Federal" Republic of WEST Germany were Re-Unified in Oct. 1990: the COLD WAR ended on Christmas Day 1991 when Mikhail Gorbachev Disbanded the Soviet Union. Mike Bedard 2.24.15, TCOTFF shown on MeTV.
+ That "People's Republic" thing was annoying. Submitted by catyron, July 30th, 2018
That staircase set has magically crossed the Atlantic and appears as the hotel lobby. The phone booths have no glass in the doors and are labelled 'telephone', not the German 'telefon'. These "international intrigue" episodes are the least satisfying. The skimpy production values and highly improbable plots just don't work. DOD 3/25/18
What were they thinking ?? The writers that is: having earlier navigated the Cold War (ep171) and a European investigation (ep219, albeit w/o an actual trial) someone apparently came up with the (not too) bright idea of putting the concepts together...this time with an actual trial. And so we have the most implausible premise the series would offer: that Perry could not only argue a case in a (hostile) foreign country - of whose courts he would have little if any knowledge - but do so in a language of which he had never spoken even a word. If the IMF had been given this assignment, they would have passed it up !! Head shakingly by Notcom, 061416.
+ Head-shaking indeed: Lucky for Mason that the judges' English was so good. But this episode seems to borrow heavily from the outstanding 1965 film The Spy Who Came In From The Cold (based on the 1963 John Le Carre novel). The plots are not at all similar, but both show a lot of the east-west border in Berlin and "Checkpoint Charlie" (the PM producers actually managed this pretty well). More to the point, the movie had a trial scene, copied to some extent in this episode, although ours took place in a sterile granite-lined courtroom, while the movie's was in a rustic hall decorated with a lot of deer antlers.
P.S.: I checked the release date of the movie, and it did not come out until December 1965. This PM episode aired in November. Maybe my inference is all wrong, but they are just too similar to be coincidental. JohnK, 19 February 2018
<< Silent Six | Episodes | Baffling Bug >>