Show69
<< Dubious Bridegroom | Episodes | Spurious Sister >>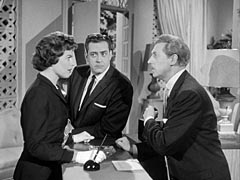 #69: The Case of the
Lame Canary
Original Airdate: 06/27/59
From The Perry Mason TV Show Book
Ruth Prescott wants to divorce her husband Walter so she can be with true love Jimmy MacLaine. After a brush with death, Ruth is convinced her husband is trying to kill her. When Walter turns up dead instead, the police believe Ruth shot him, but Perry doesn't think so. A lame canary and unusual bruises on the victim puzzle our young lawyer, if only momentarily.
The ending is quite humorous: "A Lame Canary turns out to be a Stool Pigeon"
Opening
Starring Raymond Burr
in Erle Stanley Gardner's The Case of THE LAME CANARY
Barbara Hale as Della Street
William Hopper as Paul Drake
William Talman as Hamilton Burger
Ray Collins as Lt. Tragg
Trailing
Directed by Arthur Marks
Teleplay by Seeleg Lester
Ben Brady | Producer
Produced by CBS Television in association with Paisano Productions
Gail Patrick Jackson | Executive Producer
Sam White | Associate Producer
Raymond Burr as Perry Mason
Barbara Hale as Della Street
William Hopper as Paul Drake
William Talman as Hamilton Burger
Ray Collins as Lt. Tragg
Cast
James Philbrook as Harry Jonson
Stacy Graham as Ruth Prescott
Biff Elliot as Jimmy McLain
Susan Cummings as Margaret Swaine
William Kendis as Walter Prescott
Berry Kroeger as Ernest Wray
S. John Launer as Judge
Michael Fox as Dr. Hoxie
Emerson Treacy as Dr. Fowler
Chet Stratton as Hotel Clerk
Ray Phillips as Police Officer
Lee Miller as Sgt. Brice
George E. Stone as Court Clerk
Richard Wessel as Transfer Man
Crew
Gene Wang | Story Consultant
Production Supervisor … J. Paul Popkin
Story Editor … Alice Young
Director of Photography … Frank Redman, A.S.C.
Art Direction …
Lyle Wheeler
Lewis Creber
Editorial Supervision … Art Seid, A.C.E.
Film Editor … Richard H. Cahoon, A.C.E.
Assistant Director … Morris Harmell
Casting … Harvey Clermont
Makeup … Irving Pringle
Hair Stylist … Annabell, S.C.H.
Wardrobe Supervision … Dick James
Set Decoration … Walter M. Scott, Charles Q. Vassar
Properties … Ray Thompson
Sound Editor … Gene Eliot, M.P.S.E.
Production Sound Mixer … Roy Meadows
Script Supervision … William E. Orr
PERRY MASON
Filmed in Hollywood by TCF Television Productions, Inc.
A CBS Television Network Production

CARS: 1949-50 Ford 2dr sedan, dark color, Late 40s Ford (?) COE moving van, Late 40s Dodge extended length 4dr sedan, light & medium color (Taxi), 1958 Ford Thunderbird convertible, black, top down & white top up (Drake), 1959 Cadillac series 62 convertible, black, top down & white top up (Mason), Multiple 1959 Ford Custom 300 4dr sedans, black & white (Police), Cameos: 1955 Chevrolet Nomad, medium color Early 50s Ford pickup. From The Cars by Greg Cockerill.
Sightings: Several recurring courtroom spectators appear in this episode. Distinguished Gentleman #1 sits behind the prosecutor, while across the aisle, Quiet Old Man #1 and the Little Old Lady in a Hat sit next to each other. She is especially visible in a close-up of Miss Swaine. DG #1 also plays an elevator operator named Rudy at the Westwood Arms. He doesn't speak a word, only nods. But we get a better look at him than ever, for he actually accompanies the Transfer Man to an apartment. Submitted by gracep, 9/05/2010.
+ DG #1 is once again hiding in plain sight in this episode. The actor's name is in fact Rudy -- Rudolph Salinger. This we know from #112, TCOT Wintry Wife, when RS speaks and gets a credit (but is not seen all that well). JohnK, 16 April 2018
++ In TCOT Artful Dodger DG #1 (Rudolph Salinger) played a waiter whom Perry again addressed as "Rudy," the actor's real name. Submitted by catyron, January 25, 2021.
+++ "Miss Carmody" can be seen among those filing out of court at adjournment while Tragg is speaking with Perry near the defense table. She can also be seen when court resumes, seated at the right end of the second row behind the defense table. Submitted by alan_sings, 3 Oct 2010.
++++ The distinctive visage of Quiet Old Man #2 peers over the shoulder of Ernest Wray in a cutaway. More about all these folks at Who Is That? Submitted by gracenote, 7/25/2011.
+++++ At the initial accident scene, we get a glimpse of the Cute Young Woman, who evidently has been let out of the gallery for the day. JohnK, 4 October 2023
Character Names: We learn that Ruth Prescott's maiden name is Jiuvenal. Submitted by gracenote, 7/25/2011.
It's for you, Mr. Mason: When a phone is heard ringing, it's a good bet it's for you-know-who. This time Paul finds Perry at Jimmy McLain's apartment. Submitted by francis, 7/24/14.
Taxi: Ruth took a cab from Jimmy's apartment to her house. It had Yellow on the dome light and Sky-View on the door. Were the companies merging? See trivia notes for previous episode. Submitted by H. Mason 10/22/14

When Jimmy wrote the note to Ruth, it appeared as though the little notebook he used was vertical. When Ruth read the note (tacked to the door), the message was written horizontally on the paper. Submitted by Otto Gervaert 9/19/2022.

This is the second of two PM appearances for Susan Cummings (Margaret Swaine), who was born in Germany. Cummings was the woman who deciphered the alien book in the Twilight Zone episode, "To Serve Man"...MikeM. 10/12/2016
There is a stack of magazines on Jimmy's coffee table: "New Era" and "Modern Spy Trails" are visible on top. New Era is the magazine for Church of Jesus Christ of Latter-Day Saints youth. I could find no further information on Modern Spy Trails. Submitted by Kilo 7/7/2017.
ESG: "The Case of the Lame Canary" is Perry Mason novel # 11, published in 1937. Submitted by catyron 11/3/2017
This is the first of two PM appearances for James Philbrook (Harry Jonson), who had a recurring role as Paul Belzer on "The New Loretta Young Show". James Philbrook passed in 1982 at the age of 58...MikeM. 7/24/2018
Gavel and Other Statistics For Season Two: Gavel: 8/30 (27%) episodes, Military Court: 1 episode, Pencil: 4 episode, Eyeglasses tapped: 1 episode -- OLEF641 1/17/22
Comments

Edit
Chet Stratton was one of those character actors who seemed to show up everywhere, and in this episode he turns in a fine performance as a sleazy desk clerk, not only listening in to guests' phone conversations but drooling over a copy of Police Beat magazine. Submitted by francis, 7/24/14.
Questioning Margaret Swain, Perry expresses surprise that she would just walk into a house with an open door. How many times have we seen him do just that? DOD 08/19/20
During the final scene of the show, some of Della's dialogue is obviously dubbed over. I wonder why. Did the canary make too much noise as she was speaking her lines, or did Barbara Hale blow the line in some way and they only realized it later and had to do it over? Submitted by scarter 8/17/14
Why does Jimmy take his gun out of the holster when he leaves his apartment, instead of carrying the gun in the holster? He says the gun is in his car. If he keeps the gun in his car, why is it up in his apartment when he gets Ruth's phone call? And why does he leave the holster lying on the table, knowing Ruth is coming over? She sees it and thinks the worst. Another example of the characters acting a certain way to advance the plot, not out of logic. Submitted by scarter 8/17/14
And why would Ruth think Jimmy would be so careless as to shoot her husband and just leave his gun by the body? He strikes me as far too cool a character to do something so foolish. DOD 09/02/2021
Perry hands Hamilton a folder and Hamilton opens it and looks at the contents. Apparently he has lost the X-ray vision he possessed during the season's opening credits. Submitted by scarter 8/17/14
Although some details are goofy, this episode has a plot that is logical and has a satisfying twist. The canary bit is rather forced and serves only to provide some feeble jokes at the end. The line "Is there a Harry Jonson in the courtroom?" sounds like the setup for a dirty joke, but I do love his necktie! DOD 07/23/18

++ Agreed that the TV script wrap-up was dopier than most, but Lame Canary is an original ESG story. Do any of our originalists know how closely this tracked the novel, and just where the canary came in? JohnK, 24 July 2018
+++The episode retains some of the novel's major plot elements (e.g. the troubled Prescott marriage, the insurance scam, Perry's flim-flam with the luggage). However, it significantly changes some characters (e.g. the episode's scheming secretary Margaret Swaine is a composite of two of the novel's characters, one of whom is Ruth Prescott's self-sacrificing sister, Rita Swaine), and eliminates others (e.g. Walter Prescott's murderer in the novel doesn't even appear in the episode). The lame canary assumes a more pivotal role in the novel, its lameness making Perry aware of an unsuccessful effort by one of the sisters to impersonate the other.
"Oh, and by the way . . ." One additional plot change worth noting: At the end of the novel, Perry and Della embark on an exotic cruise, during which Perry proposes marriage. Della declines. Submitted by BobH, 23 August 2018.
"Lookalikes?" Emerson Treacy, who plays Doctor Fowler in this episode, seems to bear more than a passing physical resemblance to always-reliable character actor Regis Toomey, who appeared in PM episode #s 105 and 249. Submitted by BobH, 25 August 2018.
And with her wide set eyes and high cheek bones, Stacy Graham strongly resembles Joan Crawford. DOD 08/19/20

It turns out that the "accident" at the beginning of the episode turns out as it was planned so why does Prescott run out of his house and tell Jonson "You fool! You bungled it!"? Submitted by Wiseguy70005, 4/08/13.
He was supposed to kill Frederic Walden in the fake accident and didn't. They had to take him to another location and murder him. Submitted by H. Mason 10/22/14
+ It seems dopey for the two conspirators to (1) murder Walden together, and (2) set it up across the street from Prescott's home. Convenient, though. JohnK, 16 December 2015
++Unfortunately, the same dopey plot element undermines the original novel as well. Submitted by BobH, 25 August 2018.
Though it set up some witty knowing remarks between Tragg, Mason and Street - the latter's (presumably) improvised explanation of the monogram was particularly rich - the whole "mistaken identity" scenario with the trunks made little sense: though Della gave permision, the important thing is that Margaret Swaine did not; and since she was readily available, and there was no emergency to justify opening then immediately, the impromtu search would IMHO certainly be deemed an "unreasonable search". Submitted by Notcom 100115
+ Lt. Tragg gave Perry a Rare compliment In Court: "That was a good point you scored with Miss Swaine, Perry." Mike Bedard 7/6/16.
<< Dubious Bridegroom | Episodes | Spurious Sister >>