Show71
<< Spurious Sister | Episodes | Garrulous Gambler >>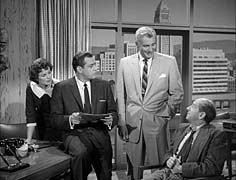 #71: The Case of the
Watery Witness
Original Airdate: 10/10/59
From The Perry Mason TV Show Book
Fay Wray plays Lorna Thomas, a slightly washed-up movie star who once abandoned her baby only to live—and die—to regret it.
George Clark's wife was given away as a child and now, as an adult, wishes to find her real mother. When her husband discovers the possibility that a former film star may be the missing mother, he consults with Perry to find out his wife's rights, but learns that since Betty was legally given up for adoption, she has no rights of child to her mother -- financial, emotional, or any other.
When Lorna is murdered, Tragg thinks motive, then arrests George.
CORRECTION George Clark is motivated by concern for his wife's emotional well-being, not by greed. Submitted by JazzBaby, 8/19/2019.
Opening
Starring Raymond Burr
In The Case of THE WATERY WITNESS
Based upon characters created by Erle Stanley Gardner
Barbara Hale as Della Street
William Hopper as Paul Drake
William Talman as Hamilton Burger
Ray Collins as Lt. Tragg

Trailing
Directed by Richard Kinon
Written by Jackson Gillis
Herbert Hirschman | Producer
Gail Patrick Jackson | Executive Producer
Produced by The CBS Television Network in association with Paisano Productions
Seeleg Lester | Associate Producer, Story Consultant
Arthur Marks | Associate Producer
Raymond Burr as Perry Mason
Barbara Hale as Della Street
William Hopper as Paul Drake
William Talman as Hamilton Burger
Ray Collins as Lt. Tragg

Cast
Fay Wray as Lorna Thomas
Douglas Dick as Fred Bushmiller
Malcolm Atterbury as Dennis Briggs
Lester Vail as Tony Raeburn
Dusty Anders as Betty Clark
John Bryant as George Clark
Kathryn Card as Harriet Snow
Charles J. Conrad as Judge
Ned Glass as Mr. Smith
Pat Moran as Court Clerk
Paul B. Kennedy as Court Stenographer
Uncredited Actors
Lee Miller as Sgt. Brice
Crew
Art Seid, A.C.E. | Assistant to the Producer
Production Supervisor … Dewey Starkey
Director of Photography … Frank Redman, A.S.C.
Art Direction … Lewis Creber
Film Editor … Richard H. Cahoon, A.C.E.
Assistant Director … Robert G. Stone
Casting … Harvey Clermont
Makeup … Irving Pringle
Hair Stylist … Annabell, S.C.H.
Set Decoration … Charles Q. Vassar
Sound Effects Editor … Gene Eliot, M.P.S.E.
Music Editor … Gene Feldman
Properties … Ray Thompson
Production Sound Mixer … Herman Lewis
Script Supervision … Robert Gary
PERRY MASON
A CBS Television Network Production
At the beginning of the show as Fred Bushmiller is walking up Lorna Thomas' driveway, he walks right past the same Edsel automobile that Marie Chapman drove in the previous episode. Submitted by PaulDrake 33.
Location: Yet another episode with some exterior scenes filmed at what looks like Malibou Lake. See the The Lakes for more. Submitted by daveb, 9/2/2009.
Location: The area of the lakeside cottage Perry stayed at in "TCOT Angry Mourner" was reused in this episode. When Della arrives, driving Perry's Cadillac, at the cottage in "Angry Mourner", note the pylon/lightpost near the water with the curious top that reminds one of a lighthouse; also the surrounding low wall. In this episode, when Perry and Della talk with Raeburn at the waterside, the same pylon is visible. So the site was reused. If someone takes a boat-ride around Malibou Lake today perhaps they might identify this pylon—if it still exists. Submitted by billp, 3 June 2011.
The pylon is still there. I found it on a Zillow listing https://www.zillow.com/homedetails/2070-Lakeshore-Dr-Agoura-Hills-CA-91301/2138359049_zpid/?mmlb=g,3 Submitted by JGafford, 14 September 2020.
+ The cottage/cabin also turns up in "TCOT Angry Dead Man." By the way, I wonder if that bag of cement is still there? Submitted by billp, 9 June 2011.
Sightings: A recurring courtoom spectator, affectionately known as the Little Old Lady in a Hat can be seen shifting behind Hamilton Burger as he chuckles at a remark made by a witness. Later she is seen behind Mr. Briggs. Another one known as Quiet Old Man (#1) appears sitting near the aisle as Paul Drake brings in a witness. As for a third spectator, Distinguished Gentleman #1, we can barely see him in the back row, behind Burger. More about these recurring spectators here. Submitted by gracep 9/8/2010.
+"Miss Carmody" can be seen at the right end of the first row of the gallery at the end of the episode when the Clarks are embracing. Submitted by alan_sings 3 Oct 2010.
+ The Thin Man appears as the police photographer at the murder scene. Submitted by alan_sings 9 Oct 2010.
+ Both Distinguished Lady #2 and Quiet Old Man #2 sit in the back row of the courtroom gallery, and they look very astonished and turn their heads when some shocking testimony is given. Submitted by gracenote, 8/8/2011.
++I believe this episode marks the first appearance of our Cute Young Lady, sitting all the way on the right side of the gallery. Her hair style evolves into a more flattering coif in later episodes. JohnK, 28 Dec. 2018
+++In fact, "Miss Carmody" and "Little Old Lady #2" can be seen in the back row of the gallery on the defense side--looking shocked when Raeburn testifies that Betty Clark might be Lorna's daughter. It's quite a gathering of our favorites, with Distinguished Lady #2 and Quiet Old Man #2 seated in the same row, as noted above. Submitted by JazzBaby, 8/19/2019.
Uncredited Actors: Strong and silent Sgt. Brice (Lee Miller) turns up at the scene of the crime. Submitted by gracenote, 8/8/2011.
CARS. (1) 1959 Edsel Corsair 2-Door HardTop, light color body w/med color roof, parked at Lorna Thomas Lake Club.
. . . and YES: Ford really did put all those tags on Perry's car! Added by Gary Woloski, 7/28/12.
This episode receives the syndication chop really bad. While watching the show 1/25/2012 on MY212 Harrisburg PA the very start of the show is removed. We never see Malcolm Atterbury & Fay Wray arguing as alluded to in the scene by the pool & later in court!! Added by GeoffS 1/26/2012.
+ There are some inconsistent edits in the original episode as well: at 24:31 Raeburn is shown holding his glasses chest-high and a newspaper. When the shot changes to a close-up the hand holding his glasses is below his waist and the newspaper shifts position; in Perry's office Paul is standing behind Perry in the long shots but in front in the close-ups and at 37:46 when the shot switches to a close-up, Drake's arms move from hanging straight down to folded at the wrists. His gaze shifts from looking in Perry's direction to directly at Smith and his body position turns toward Smith instantly as well. Submitted by Wiseguy70005, 5/5/13.
++ Yes, even in 2020 on FETV they used the same chop of the beginning ...no boat scene etc...Submitted by HamBurger, 12/17/2020
+++ If you mean the scene where the two of them are fighting on a boat in the middle of the lake, he falls overboard, she speeds off in the boat, then another man rows out and pulls him out, it was shown tonight, January 4, 2021, on METV. OLEF641 1/4/21
++++ I just watched this on Xfinity Demand, and I could not figure out its title. The whole boat scene was chopped! I had hoped these showings would be largely whole. Darn. Rick P 9/1/21
+++++ Actually most syndication cuts USUALLY start with the fight on the boat scene, but the actual beginning of this episode on the DVD has Fred Bushmiller driving up in that thunderbird and peeking in the windows of the house before the rowboat rescue he does. Submitted by HamBurger, 1/19/2023
In-Joke? Actor Ned Glass gets to say his name in the episode. When describing Lorna's jewelry his character Smith says "Junk. Glass. Paste." Submitted by Wiseguy70005, 5/5/13.
Parts of Bernard Herrmann's score for the pilot episode of The Twilight Zone "Where Is Everybody?" (broadcast only a week earlier than "The Watery Witness") can be heard at 2:01, 27:34 and 48:37. Submitted by Wiseguy70005, 5/5/13.
Kathryn Card appeared ten times as Lucy Ricardo's mother on the half-hour and hour versions of I Love Lucy. She also appeared earlier in 1959 in the Perry Mason episode "The Case of the Deadly Toy." Submitted by Wiseguy70005, 5/6/13.
Choked: This story had the second consecutive murder by strangulation. It is the second episode of the third season. Were the writers trying to balance the totals? There was only one victim known to have been strangled in the first 69 episodes (#56 - third victim in TCOT Romantic Rogue). Note: there were a few murders in those 69 stories (about 6) where the method was not mentioned. Submitted by H. Mason 10/23/14
This is the first of four PM directing credits for Richard Kinon...MikeM. 10/14/2016
Wardrobe: After last episode's ill-considered paisley patio dress, Della's wardrobe almost returns to the type of office clothing she has been wearing for the past two seasons -- but at one point she has to adjust her dress herself, just before Tragg tells Perry and her to leave the room. It's an extremely awkward moment for the normally poised Barbara Hale ... and, surprise! this episode has no credited Costume or Wardrobe personnel at all! Submitted by catyron 11/4/17
+ Speaking of wardrobe, when Fred Bushmiller enters Lorna Thomas' house he's wearing a solid colored coat and bow tie. But when he leaves to get in his car he's wearing a plaid coat and a regular tie. Submitted by Kilo 5/3/2018.
+I believe that Bushmiller's change of attire from when he enters the Thomas' house to going to the car can be explained. From the conversation and the way the scene ends, it appears some time has passed before he gets to the car. I believe that at least a few hours has passed for him to get his things, move in, change, and then go to the car. Perhaps even a day or two. Submitted by Kenmore 8/10/2021
This is the first of two PM appearances for Charles J. Conrad (Judge). According to IMDb, Charles Conrad was a CA Assembly Republican legislator starting in 1947 and continuing until 1972. He represented the south end of the San Fernando Valley, where many movie stars lived. This may account for him getting uncredited movie roles starting in 1949. His first credited acting role was on the television series "I Led 3 Lives" in 1955. Charles Conrad passed in 1998, at the age of 88...MikeM. 7/26/2018
Comments

Edit
When Perry is asked "do you know how to tell if someone is dead?" I was hoping Perry would respond, "Well yes, I do. In fact, I find a dead body almost every week." cgraul 1.4.21
Though not the most dynamic, this episode strikes me as one of the better-plotted and therefore pleasing ones. All of the characters behave consistently, Perry doesn't have to pull any previously unknown facts out of his hat at the last minute, and the audience doesn't have to figure out any puzzling loose ends at the finale. Submitted by Ed Zoerner, 3/18/2011.
I agree. A rare show that did not have me scratching my head saying "That doesn't make sense!" DOD 08/08/19
+Without giving anything away, this is a rare episode in which at least three people other than the defendant have no alibi. So, there is no need for Perry to pull any unknown facts since it seems that just about anyone could've done it. Submitted by Kenmore 8/10/2021
In this episode Fay Wray demonstrates why she is one of the most gifted yet underrated actresses. She delivers an Emmy-worthy performance. Submitted by francis, 2/29/12.
The mysterious Raphael O'Connor. Some interesting history regarding the Irish in South America. http://www.irishtimes.com/ancestor/magazine/articles/ir_stham.htm Submitted by Mason Jar 5/8/2012
Fay Wray wrote a memoir with the delicious title, "On the Other Hand". Too bad they didn't get Robert Armstrong as her costar. DOD 08/08/19
Another story with questions about the future of some of the characters. What happened to Fred Bushmiller? With Lorna dead, what happened to Harriet Snow and Dennis Briggs? Did they get proceeds from the lake property? Was Betty entitled to any of the estate? Submitted by H. Mason 10/23/14
"For the answer to these and other questions, tune in next week, same time, same channel."
Sunset Similarities? This story has many elements in common with Sunset Boulevard, the acclaimed film from 1950. I'm a writer, although not a screenwriter, and it bugs me that the PM people borrowed so freely from the hard-won ideas of others. I wonder what the reviews said at the time. JohnK, 17 December 2015

Well, I wouldn't get yourself too upset by the 'borrowing' of ideas. Back in those days, it was considered to be more of a compliment, NOT plagiarism; ESPECIALLY when the show was as popular as PM. I guarantee that, had it been considered, in any way, to be plagiarism, there would've been a major lawsuit, and PM would never have made it 9 seasons. To put it simply, the 'borrowing' was deliberate, and appreciated. By making viewers think of Sunset Boulevard, they renewed people's interest in the movie, causing them to watch it again... Submitted by Arisia, 02/20/18
+ There are a few similarities--an aging, overly dramatic star looking for comeback (although she looks great! --- "Not a comeback, It's a return, a return!"); a man who stands by her and supports her even though they are both broke (Norma in SB was not broke); a young man coming to live at her house and leech off her (although in this episode he was blackmailing her). That's where the similarities end. --yelocab 19DEC18
I think the connection is a bit of a stretch, especially since a decade separates this show from "Boulevard". DOD 08/21/20
Classic Line (said by Bushmiller to Briggs) "It's just not your day to be murdered, that's all"...oh that only more people could hear that !! Notcom, 110417.
Brings to my mind the line "You were born to be hanged". Rickapolis 09/06/21

<< Spurious Sister | Episodes | Garrulous Gambler >>