Show72
<< Watery Witness | Episodes | Blushing Pearls >>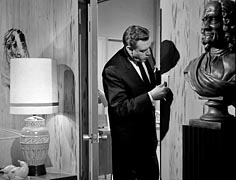 #72: The Case of the
Garrulous Gambler
Original Airdate: 10/17/59
From The Perry Mason TV Show Book
Larry Benton, a born troublemaker, is in a real jam this time. When he knocks a man cold arguing over a poker hand, his "friends" inform him the guy is dead. Larry doesn't realize the thugs are lying. They, in turn, put the finger on him for big bucks in hush money. Broke as usual, Larry forges his brother's check for $5000. Big man Johnny Clay tries to bleed Larry for another twenty Gs but gets himself iced instead.
When Larry's brother Steve tries to cover up Larry's involvement, he ends up with a murder charge. Steve gets smart and hires Perry, whose first task is to track down Mike Granger, the man Larry supposedly killed.
Correction: Larry didn't "knock a man cold". The man (Mike Granger) was shot while struggling over a gun with Larry. Submitted by Kilo 7/10/2017.
+ There was never any indication that (Mike Granger) was shot, only that the gun went off, which sets up the hush money scenario. Submitted by HamBurger 6/17/2018
++ After the gun goes off and Granger collapses, Clay rolls him over slightly (as Larry looks on terrified). When Clay withdraws his hand, it appears to have blood on it making it look as if Granger has been shot. Submitted by ccullinc 9/5/18
+++ Another oops: Clay succeeds in getting, not "another twenty Gs", but a total of $20,000 -- as four forged checks for $5000 each. An altogether poor synopsis for this show. OLEF641 1/6/21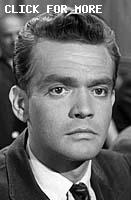 Opening
Starring Raymond Burr
In The Case of THE GARRULOUS GAMBLER
Based upon characters created by Erle Stanley Gardner
Barbara Hale as Della Street
William Hopper as Paul Drake
William Talman as Hamilton Burger
Ray Collins as Lt. Tragg

Trailing
Directed by Walter Grauman
Written by Gene Wang
Herbert Hirschman | Producer
Gail Patrick Jackson | Executive Producer
Produced by The CBS Television Network in association with Paisano Productions
Seeleg Lester | Associate Producer, Story Consultant
Arthur Marks | Associate Producer
Raymond Burr as Perry Mason
Barbara Hale as Della Street
William Hopper as Paul Drake
William Talman as Hamilton Burger
Ray Collins as Lt. Tragg
Cast
Dick Foran as Steve Benton
Paula Raymond as Doris Shackley
Steve Brodie as Ben Wallace
Wynn Pearce as Larry Benton
Tony Travis as Johnny Clay
Victor Sen Yung as Mickey Fong
Anne Barton as Nora Bradley
Gordon Wynn as Mike Granger
Morris Ankrum as Judge
Law Green as Doctor Victor
Irving Steinberg as Sergeant
Robert Nash as Earnshaw
Uncredited Actors
George E. Stone as Court Clerk (posted by gracep, 9/9/2010)
Arthur Tovey as Courtroom Spectator (posted by gracenote, 8/15/2011)
Suggested edit Tony Travis as Johnny Clay/John Nelson Bradley jfh 24Aug2020

Crew
Art Seid, A.C.E. | Assistant to the Producer
Production Supervisor … Dewey Starkey
Director of Photography … Frank Redman, A.S.C.
Art Direction … Lewis Creber
Film Editor … Richard H. Cahoon, A.C.E.
Assistant Director … Robert G. Stone
Casting … Harvey Clermont
Makeup … Irving Pringle
Hair Stylist … Annabell, S.C.H.
Wardrobe Supervision … William Zacha, Evelyn Carruth
Set Decoration … Charles Q. Vassar
Sound Effects Editor … Gene Eliot, M.P.S.E.
Music Editor … Gene Feldman
Properties … Ray Thompson
Production Sound Mixer … Herman Lewis
Script Supervision … Robert Gary
PERRY MASON
Filmed in Hollywood by TCF Television Productions, Inc.
A CBS Television Network Production
In this episode we are treated to a shot from behind Perry's office desk over Perry's right shoulder. Submitted by PaulDrake33, 9/9/2008.
Goof: Earlier in the episode, Steve Benton questions his brother Larry about checks made out to Ben Wallace. During the judicial hearing, however, Burger questions Doris Shackley about the same checks, which are made out to "cash." Submitted by gracep, 9/10/2010.
Sightings: The ubiquitous Distinguished Gentleman #1 makes another appearance in the courtroom gallery, on the prosecutor's side. He is visible during a long shot from the perspective of the judge's bench. Submitted by gracep, 9/10/2010
+ "Miss Carmody" can be seen filing out of the gallery at the end of the episode while the two Benton brothers are shaking hands. Submitted by alan_sings, 3 Oct 2010.
++ She materializes into an empty chair on the back row next to a woman in a black hat (Little Old Lady #2?). Kilo 11/5/2019.
+ The Thin Man appears as a police worker digging on the beach during the search for Mike Granger's body. Submitted by alan_sings, 9 Oct 2010.
++ He's almost unrecognizable in his spiffy new glasses, but surely that's Quiet Old Man #2 sitting in the corner behind Mason's table in court. (He moves a bit from session to session.) Submitted by gracenote, 8/15/2011.
Location: Opening scene is Malibu Road just north of the Colony. Submitted by Eric Cooper, 28 January 2011.
This episode was filmed in 1959 on 7/30, 7/31, and 8/3-8/7 (for 7 days). Confusing but accurate is that it filmed under the title "The Case of the Badgered Brother," a title which was recycled for a later episode. The address of the Malibu house was 24246 Malibu Road. Script is marked episode #83. Submitted by DRKIMBLE, 12 February 2011.
In real life, 19 years separated the actors playing the Benton brothers. Before I looked it up, I would have guessed the age difference much greater. Submitted by Ed Zoerner, 3/22/2011.
Uncredited Actors: The court clerk is played by veteran actor George E. Stone. One of the anonymous courtroom spectators is played by Arthur Tovey, known in his day as the King of the Extras. Last but not least, Don Anderson is a coutroom spectator. Submitted by gracenote, 8/15/2011.
CARS. (1) Paul's black 1958 Thunderbird Convertible, top down, Lic No PXY 260.
Background Cars. Parked on the roadside by the beachfront homes in the opening scene are:
Driving up Mrs Bradley's street in his TBird, Paul passes these parked cars:
Added by Gary Woloski, 7/30/12.
New business: For the second time, one of Paul's clients, Steve Benton, became Perry's client. (see episode 62 TCOT Howling Dog). Submitted by H. Mason 10/23/14
+ I believe Perry's client in that episode is Evelyn Forbes. Submitted by HamBurger 6/17/2018
Recycled newspapers: When Larry was checking the papers in his house he held one from episode 49 TCOT Fancy Figures. There was a folded paper on the desk with a partial headline visible that matched a paper from episode 61 TCOT Bedeviled Doctor. The third paper he got from across the room didn't seem to match any other newspapers shown in the series. Submitted by H. Mason 10/23/14
Hear YouTube presentation of the music edited for this episode by Bernard Herrmann. Added by filmscorerundowns, 8/21/16.
This is the first of two PM directing credits for Walter Grauman, who would later direct 53 episodes of "Murder, She Wrote"...MikeM. 10/17/2016
Pinky Rings: Perry, Paul, Ben Wallace, Johnny Clay...MikeM. 10/17/2016
The radio seen on the bar as the poker game scene opens is a General Electric Dual Speaker AM Tube Radio Alarm Clock combination, model T142. Submitted by Kilo 7/10/2017.
This is the second of five PM appearances for Paula Raymond (Doris Shackley), whose father was a corporate lawyer...MikeM. 7/17/2017
+ Paula Raymond and Steve Brodie both appear in this episode and # 148 TCOT Angry Astronaut Submitted by HamBurger 6/17/2018
This is the second of three PM appearances for Dick Foran (Steve Benton), who became interested in show business while earning a geology degree at Princeton University. Foran studied music, started singing on the radio, and became a lead singer for orchestras. Foran's first credited movie role was in 1934, and his first singing cowboy role was in 1935. Foran appeared on Broadway in the 1943 edition of "A Connecticut Yankee". Dick Foran passed in 1979 at the age of 69...MikeM. 7/27/2018
The most kindest cut of all As noted elsewhere, MeTV has instituted a policy - I guess it might be called a promotion - of showing the full episodes (i.e. without the syndication edits). If I'm not mistaken, what that allowed for tonight was showing the scene where Paul visits Mrs. Bradley(Clay;) and it also illustrates that, while such editing can really muck up a show, it can also make no difference at all...the scene does little to advance the story, and is fully described by Paul to Perry afterward. Notcom, 012022.
Comments

Edit
Morris Ankrum's hands are shaking a bit in this episode. And he makes some unnatural pauses in his delivery. Perhaps he was not feeling well when this was filmed? Submitted by gracep, 9/10/2010.
+ This is the 11th of Morris Ankrum's 22 appearances as a PM judge. Ankrum had a law degree from USC. He passed away in September 1964, the month before his last PM episode aired. Submitted by MikeM, 11/09/2012.
++ He was also an Economics professor & has 275 IMDb credits, including "Earth vs. the Flying Saucers" & "Invaders from Mars." Mike Bedard 7.11.16 MeTV airing.
+++ Interestingly, during his run on Perry Mason, Mr. Ankrum played a character called "Mr. Mason" on a 1962 episode of Bonanza. OLEF641 12/5/21
Must say, I appreciate the view of Tony Travis's legs in his bathing ensemble. DOD 09/22/22
Burger's Finest Hour: "The District Attorney's Office is more interested in Justice than in obtaining convictions," he told His Honor. Mike B. 7. 11. 16.
Steve Brodie reminds me of the 'Mayhem' character from those insurance commercials. And just where did those chimes in the final scene come from? Never heard those before.
The only episode I recall in which we have a body with eyes open. DOD 08/09/19
Even though the body of Mike Granger was buried when "it was pretty dark", Ben Wallace should've remembered seeing Johnny Clay bury a body under the beach house. jfh 17Jul2017.
The ending to this episode differs from most. After being named by Perry, the killer does not go through the normal "Yes, I did it" histrionics! Instead, Tragg leads the silent culprit off-scene at the end of the big reveal. Ed Zoerner, 3/22/2011.
Questions: How did Perry know Mrs. Bradley put in a claim for her husband's insurance? Paul didn't know. Where did he get that information? Submitted by H. Mason 10/23/14
Funny: Don't miss the last 20 seconds of the episode. I've heard Raymond Burr was a jokester and the last scene shows a good sense of humor and comic timing. As a clock strikes midnight, Della, Paul and Perry try to get out of the office before the last chime. But Della forgot the sliding door to the balcony and Perry forgot the lights. Eric Cooper 18 October 2016
It felt like they had time to fill in. When the chimes sounded, Perry seemed to look outside as if the sound was from an outside clock. Submitted by Perry Baby 1/11/18.
A clock? Sounded like Big Ben to me. Submitted by Clothears 19th March 2021
Burger makes one of his usual disclaimer about not interested in convictions but interested in justice. Actually Perry gave Burger the most convictions by getting the guilty to confess so when the confessed person went to trial they were likely convicted and often others associated in the trial for perjury and any number of other crimes. Perry created business for the DA. Submitted by Perry Baby 1/11/18
+ Yeah, Perry Mason made it all happen. All Burger really had to do was line up the courtroom and judge, and subpoena a few witnesses. JohnK, 27 July 2018
According to IMDb, Steve Brodie lobbied for Raymond Burr to be the bad guy in the film "Desperate" (1947), in what turned out to be the only film in Brodie's career in which he was the star. Brodie did this because Burr had been in a previous film with Brodie, "Code of the West" and thought he would make an excellent villain. "Desperate" turned out to be Burr's big break and he became one of the most recognizable bad guys in all of film noir. Burr returned the favor and had Brodie appear in three Perry Mason episodes. Submitted by Kenmore 9/03/2020.
<< Watery Witness | Episodes | Blushing Pearls >>