Show73
<< Garrulous Gambler | Episodes | Startled Stallion >>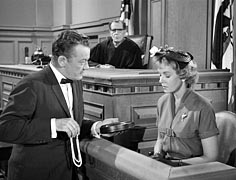 #73: The Case of the
Blushing Pearls
Original Airdate: 10/24/59
From The Perry Mason TV Show Book
Mitsou Kamuri has been seeing a great deal of Grove Nichols, son of wealthy businessman Hudson Nichols. But Hudson doesn't approve of his son's relationship. When the girl is "caught" with a string of valuable pearls belonging to Hudson's wife, the businessman agrees to drop all charges against her if stops seeing his son.
Perry gets involved and later the girl is charged with the murder of her uncle, who had originally strung the pearls. The uncle's death is made to look like a ceremonial suicide (as in hara-kiri) but the police know better.
Opening
Starring Raymond Burr
In The Case of THE BLUSHING PEARLS
Based upon characters created by Erle Stanley Gardner

Trailing
Directed by Richard B. Whorf
Written by Jonathan Latimer
Herbert Hirschman | Producer
Gail Patrick Jackson | Executive Producer
Produced by The CBS Television Network in association with Paisano Productions
Seeleg Lester | Associate Producer, Story Consultant
Arthur Marks | Associate Producer
Music composed and conducted by Jerry Goldsmith
Raymond Burr as Perry Mason
Barbara Hale as Della Street
William Hopper as Paul Drake
William Talman as Hamilton Burger
Ray Collins as Lt. Tragg
Cast
Nobu McCarthy as Mitsou Kamuri
Christine White as Alice Carson
Benson Fong as Itsubi Nogata
George Takei as Toma Sakai
Steve Terrell as Grove Nichols
Angela Greene as Thelma Nichols
Ralph Dumke as Hudson Nichols
John Gallaudet as Municipal Judge
Joe De Reda as Edgar Beals
Rollin Moriyama as Ito Kamuri
John Barclay as Judge
Bill Walker as Watchman
Lia Waggner as Maid
Tom Wilde as Detective
Jack Carol as Technician
Martha Wentworth as Landlady
Uncredited Actors
Sam Harris as Courtroom Spectator
Crew
Art Seid, A.C.E. | Assistant to the Producer
Director of Photography … Frank Redman, A.S.C.
Art Direction … Lewis Creber
Film Editor … John D. Faure
Assistant Director … Morris Harmell
Casting … Harvey Clermont
Makeup … Irving Pringle
Hair Stylist … Annabell, S.C.H.
Wardrobe Supervision … William Zacha, Evelyn Carruth
Set Decorations … Charles Q. Vassar
Sound Effects Editor … Gene Eliot, M.P.S.E.
Music Editor … Gene Feldman
Properties … Ray Thompson
Production Sound Mixer … Herman Lewis
Script Supervisor … Robert Gary
A CBS Television Network Production
The famous and award-winning Jerry Goldsmith "composed and conducted" music for this episode. Submitted by Wilson Maffetano, 7/22/2003.
+ In fact, Jerry Goldsmith's score for this episode has been released along with some of his other work for Playhouse 90 and a few other things. You can get the CD at Screen Archives Entertainment and other places. Submitted by Douglas Monce, 12/31/2007.

Location: There are a couple of quick shots of the Miracle Mile, which was a pretty popular area at the time. Now it's home to the LACMA (L. A. County Museum), the La Brea Tar Pits, and the Screen Actors Guild Headquarters. There's also a quick inset night shot of Miracle Mile with Orhbach's Dept Store and Van De Kamp's, which was a cool bakery in the 50s, 60s, and 70s. Submitted by Eric Cooper, 12/26/2008. Some pictures and vidcaps here.
+Both the day and night shot of the Miracle Mile show the Art Deco Wilshire Tower with the Desmond's department store sign at the top. The last establishing shot (which you can see here) is the Kinema or Cinema, originally known as the Fuji Kan Theater, and later as the Nichibei Kinema. Next door is Lem's Chop Suey. The location was 324 E 1st Street in Little Tokyo. For some history of the Kinema, see the post dated 5/18/18 at http://cinematreasures.org/theaters/3493/comments. For a daytime picture as the Fuji Kan, taken 1941, see http://cinematreasures.org/theaters/2396/photos/221654. For a picture of future Japanese PM Hayato Ikeda at dinner with local businessmen at Lem's in 1953, see http://www.janm.org/collections/item/96.267.190/. The site was demolished to make way for Japanese Village Plaza. OldDave in full Paul Drake mode, 8/27/2020
That's right, kids! George Takei makes an early TV appearance, years before his most famous role as Mr. Sulu in Star Trek. Submitted by gracep, 9/10/2010.
+ Coincidentally, when Kamuri is showing his pearls to Mason, he says "...these with the faint yellow cast are from the Sulu seas." Submitted by Wiseguy70005, 4/15/13.

The Sulu Sea is in SW Philippines, and separated from the South China Sea by the island of Palawan. About 1½ years after your comment that area became (in)famous as the place where a number of beheadings of prisoners took place by a certain terrorist group that is, finally, no longer around. Submitted by Arisia, 2/21/18
++ Per IMDb, TCOTBP in '59 was George's 5th role & 2nd Credited one since his initial "Godzilla Raids Again" citation ('55 voice uncredited). I had the honor of meeting Mr. Takei at the 2008 Shore Leave convention & have an autographed picture of us shaking hands. Mike Bedard 7.11.16.

+ Has anyone else noticed that, at times, Christine White looks remarkably like June Lockhart? Submitted by Arisia, 2/21/18

Sightings: While Hudson Nichols is on the stand, Mason confronts him with the presence of his secretary from San Francisco, "Miss Carmody," played by the often-seen elegant young lady whom we have labeled by that name. See "Miss Carmody" in the Who Is That? gallery for other sightings both in and out of court over many episodes. Submitted by alan_sings, 3 Oct 2010.
+ Quiet Old Man #1 sits inconspicuously in the back row of the courtroom. Elegantly dressed as ever, Distinguished Lady #3 sits very near Miss Carson. Lastly, Little Old Lady #2 is right behind young Mr. Nichols. Submitted by gracenote, 8/22/2011.
+"Distinguished Lady #2" sits at the far left of the back row of the defense side of the gallery, clearly visible as Mr. Nichols gets up to take the stand again. Submitted by JazzBaby, 8/20/2019.
Anomaly: Perry's pronunciation of his client's name varies in this episode. At the beginning, he correctly pronounces it "Mee-tsu." Later in his office, though, he incorrectly says "Mih-tsu." But then after that he pronounces it correctly throughout. Odd. Submitted by Ed Zoerner, 3/2/2011.

A tiny point, but the spelling "Mitsou" is not correct. The Japanese name should be transcribed into Romaji (the Roman alphabet) as MITSU. Trivial, but it bugs me! Submitted by JazzBaby, 8/20/2019.
And about halfway into the episode, Mr. Takei's character Toma uses the surname "Kimura" instead of "Kamuri." An understandable mistake, perhaps, with "Kimura" a very common Japanese family name. Submitted by Ed Zoerner, 3/24/2011.
+ Tragg pronounces the name Kamuri both ways in the pool scene, first correctly with Alice Carson, then incorrectly with Mason. Submitted by Wiseguy70005, 4/15/13.
++ TCOT Nebulous Name The judge who sets bail for Mitsu gives her family name as Kamura. Nichols calls her Miss Kimura, or Kimera or something like that. In the scene where Perry takes on Mitsu as a client, Della pronounces the family name as Kimuri. Perhaps the scriptwriter should have opted for a Japanese name Americans were familiar with. Tojo or Suzuki come to mind! (Apologies for being flippant in a reference to WWII.) After much digging around online, I can find no example of Kamuri being a Japanese family name. It does pop up as a popular first name for boys, with no reference to it being Japanese. Makes one wonder. Submitted by JazzBaby, 8/20/2019.
+++ I recall reading some detective novels a few years ago, set in modern day Japan, with a police detective named 'Kimura'...
Mason butchers "Samurai" at 28'10" and earlier in the scene mispronounced "HariKari". Edmahl 11/7/17
+ I heard Mason correctly pronounce Samurai and Hara Kiri...MikeM. 5/9/2018
++ I also heard hara-kiri correctly, both times he said it, but he says "sa-MU-rai the first time he says it; an odd emphasis on the second syllable, but much closer to correctly the second time, with almost no emphasis on the second syllable that time. OLEF641 1/7/21
Uncredited Actors: The venerable actor Sam Harris appears in the front row of the courtroom gallery. His last appearance in film was in the Disney classic The Ugly Dachsund (1966). He, Bess Flowers, and two other actors are the only ones to have appeared in five movies that won the Best Picture Oscar. Submitted by gracenote, 8/22/2011.
CARS. (1) light-color 1949 Ford Convertible 2-door, black top up, Lic No HFN 432, Toma Sakai. The '49 Ford won the 1949 Fashion Academy Award; repeated in 1950.
Background Cars parked in first two shots: (a) 1954 Chevrolet Sedan and
Added by Gary Woloski, 8/1/12.
Same apartment?: The wallpaper design in Mr. Nogata's apartment hallway was the same as in Mrs. Bradley's building in the previous story. Submitted by H. Mason 10/24/14 ''' At this point, the writer borrows a plot device (false fire alarm) from the Sherlock Holmes' story, "A Scandal in Bohemia."
This is the only PM directing credit for multi-talented Richard Whorf, who died of a heart attack in 1966 at the age of 60...MikeM. 10/18/2016
This is the third of 32 PM writing credits for crime writer Jonathan Latimer...MikeM. 10/18/2016
Like Raymond Burr, Nobu Atsumi McCarthy (Mitsou Kamuri) was born in Canada. Nobu Atsumi was the daughter of a Japanese diplomat living in Canada before World War II. The family returned to Japan where, after the war, Nobu Atsumi married US Army Sergeant David McCarthy...MikeM. 7/18/2017
Although Bill Walker (who was sometimes billed as William Walker) is officially credited as playing the "Watchman," the character is referred to more than once as "Mr. Connors." Submitted by catyron 11/13/2017.
This is the third of three PM appearances for Christine White (Alice Carson), who tried to calm her spouse, played by William Shatner, when he had his "Nightmare at 20,000 Feet" in a 1963 episode of the Twilight Zone television series...MikeM. 5/9/2018
This is the third of four PM appearances for Benson Fong (Itsubi Nogata), and his only PM role playing an ethnic Japanese. Benson Fong's final IMDb Filmography listing was in 1986. Benson Fong passed in Los Angeles in 1987 at the age of 70...MikeM. 7/30/2018

Has anyone counted the number of times Hamilton Burger wears that ugly, spotted bow tie? It seems to me he had worn it in a not-long previous episode. jfh 30Jul2018.
Comments

Edit
'Hudson Nichols' benign racism/classism in this episode may seem odd to those unfamiliar with such 'genteel' activities, but I can say I almost wanted him to be guilty of something as he attempted to 'make a deal' with Mitsou. "It's not you, you understand ..". Nauseating. Submitted by MikeReese, 9/20/2013.
+ I too had a negative reaction to some of the people associated with this episode, but in my case it's the writers: the show opens with a daring topic - only a decade earlier, Grove and Mitsou's marriage would have been unlawful, and while that was no longer the case when this was filmed, it was still a sensitve topic. Enter Mason, who, in keeping with his image of worldliness, is intimate with Japanese customs ...even if he has a hard time pronouncing them. In short it was an embracing of the kind of quiet liberalism the show was known for (Thomas Sowell notwithstanding). So then what happens?? Grove turns out to be a "heel" who has only feigned love as a form of rebellion, and Mitsou finds a nice Nisei handy.... how conveeenient!! Did the writers got second thoughts about turning the episode into a tolerance lesson, or was it never their intention in the first place ?? Whatever the reason(s), it was a rare retreat into the 19th Century....and had me sighing over missed opportunities Notcom, 110917.
++ On the other hand, the episode highlights the quiet dignity of the Japanese community and culture, contrasting that with the stressful, money-conscious culture of the west. Yes, it might have been progressive to have had Grove sincerely love Mitsou, but why would Mitsou have chosen Grove? She had told Perry earlier that her heart had not yet spoken. jfh 30Jul2018.
+++ Don't forget, this was only 15 years after the end of WWII. And we can't expect people in the late '50s and early '60s to be as enlightened as we are now. The Japanese-Americans took a low-profile attitude to rehabilitating themselves in the eyes of the nation that less than a generation before had packed them all off to concentration camps. OLEF641 1/7/21
Toma tells Perry the body was found with both hands clutching the sword; during the hearing, we are told the right hand was holding the sword. What we saw was neither hand on the sword - and a complete lack of blood. Presumably it was Hudson who tore the pages from the ledger, but this also presumes he knew such a ledger existed and could read Japanese. When Mitsou lets herself in the store at midnight, we see pearls in the display window. Jewelry stores always remove and secure their stock at closing. DOD 07/25/18
+ Wouldn't Nogata have torn out the pages? If there was a record of two duplicates made, it might have alerted the police/Perry that the original was still out there somewhere. OldDave, 8/27/2020.
++ Actually, Mr. Kamuri's right hand is curled around the hilt of the "sword"; what's lying on the floor by the body is the sheath and you can see by its length that the weapon is too short to be properly called a sword. And Toma says,, " . . his hand still clasping the sword." The 's' of 'still' kinda slurs onto 'hand' before it. OLEF641 1/7/21
Is this the Only episode where a. a Judge appears in Court Without a Robe (Arraignment scene)? b. Perry accepts a Fee in Foreign Money (Yen)? Mike Bedard 7.12.16 MeTV airing.
Missing scene?: When Burger receives the xray negatives in court he passes by his desk. There on his desk is a huge contraption. No mention is made of this. I'm thinking there was a deleted scene in the final cut. (This is from the DVD.) Kilo 1/31/2019.
+ It appears that the X-rays were taken in court. I expect that the scene was filmed, but during editing, it was realized how absurd such an event was. However they did not want to go to the expense of filming the X-ray discussion scene again without that contraption in the foreground. Submitted by vgy7ujm on 7 July 2020
++ Perhaps the whole x-ray idea was a mistake: I'm no more of a pearl expert than Mr. Burger, but it's hard to believe the only way to differentiate is by this method...I mean, how did they manage for centuries, before x-rays were possible ?? Even if this really is a case of truth stranger than fiction, simply having an expert examine them might have seemed more believable. Notcom, 012122.
<< Garrulous Gambler | Episodes | Startled Stallion >>